It's Monday night, you just knocked off work and you're absolutely craving your fave spicey rigatoni comfort dinner. You open the cupboard. No pasta. You check your booze shelf for your secret ingredient, gin, that makes the rigatoni sauce oh-so-silky smooth. No gin.
You groan loudly at the thought of having to venture back out into the world to grab supplies for dinner and curse yourself for not doing the groceries yesterday.
And then you remember MILKRUN is delivering booze now.
Within minutes you can get a bottle of gin delivered directly to your door alongside everything you could possibly need to whip up your rigatoni, lunch for the week, and a little naughty dessert too.
Yes, that's right, if you haven't already heard the news that will put grocery shopping time back in your week, MILKRUN is now delivering booze as well as farm-fresh produce, your fave local brands (hello, Fabricca Cacio E Pepe pasta kit) and thousands of essential daily groceries straight to your door.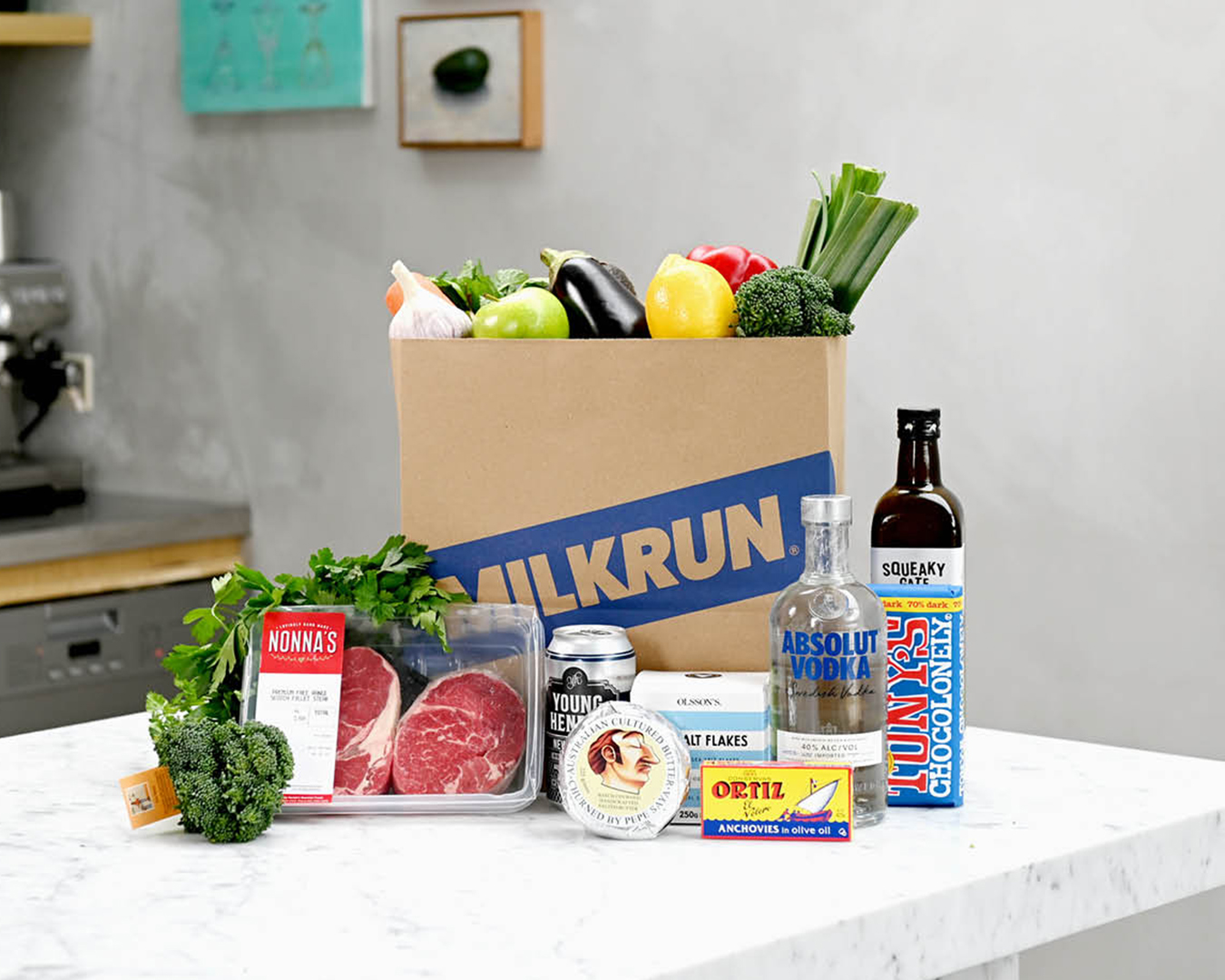 Not all heroes wear capes, like the ride e-bike riders, who are dedicated to gifting your precious time back to you by delivering your daily, weekly and monthly groceries straight to your door. From dental floss to Suzy Spoon sauso's, the digital shelves are packed with daily essentials and niche delights.
Say goodbye to rushing to the shops to pick up cheese and wine for a last-minute catch-up with mates, or missing out on all the delish flavours because you're out of wine to deglaze the saucepan. From wine and beer through to all your fave spirits, MILKRUN has your time and worries covered.
The best bit is, when you spend over $30, your delivery is totally free. We recommend using the bonus time you get back in your days to bask in the knowledge that the e-bikes are much kinder to the planet than your car, or the emissions from having your groceries delivered with petrol-powered vehicles. Or knowing that you'll never run out of toot paper ever again.
Score 25% Off Your First Order
Keen to give the MILKRUN magic a whirl? Simply download the MILKRUN app over here, and use the code URBANLIST at the checkout to score 25% off your first grocery order. This offer will save you some coin on whatever you need to whip up a delish bite to eat, those toiletries you keep forgetting to buy or even a new pair of earphones if yours go AWOL unexpectedly. Basically, anything that is available on the app except booze, because rules are rules.
For all the information and what, where and how MILKRUN deliver to your door, and to learn more about how they're keeping their community safe, trained and supported, head over here.
Image credit: Urban List, Supplied
Editor's note: This article is sponsored MILKRUN and proudly endorsed by Urban List. Thank you for supporting the sponsors who make Urban List possible. Click here for more information on our editorial policy.