Sure, going to the movies with a big box of buttered popcorn and a glass of wine is a nice mid-week treat. But for anyone wanting to dial things up or notch, or just channel Humphrey Bogart, we may have just found Sydney's ultimate movie night.
Yes, Restaurant Hubert has revived its Magnums and Movies night for yet another season.
Hosted in the venue's extra cool underground cinema "Theatre Royale" (if you know, you know), the evening includes cocktails, canapes, popcorn, a full buffet dinner and dessert and, of course, free-flowing magnums of wine and a retro film.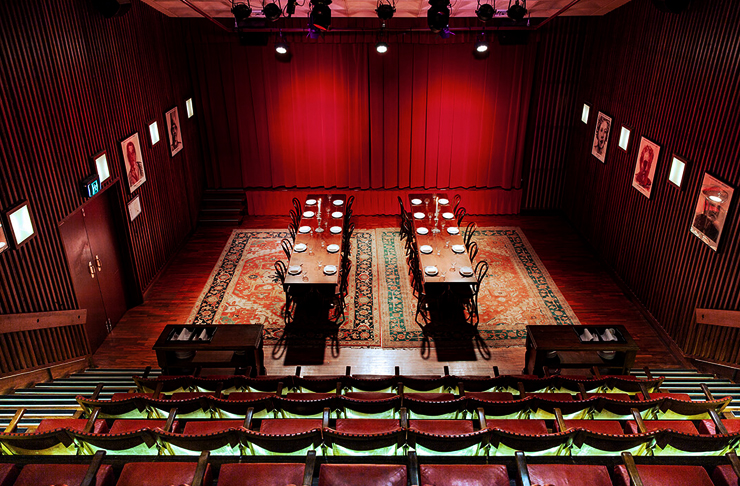 As usual, movies on Restaurant Hubert's winter line-up are all perfectly aligned with Restaurant Hubert's slick speakeasy aesthetic.
Across the next few months, you'll have the opportunity to wine and dine while watching the likes of Alexander Payne's 2004 Merlot-fuelled comedy Sideways, Sophia Coppola's dreamy Tokyo-set cult classic, Lost in Translation, as well as Inglourious Basterds, Being John Malkovich, and Alphaville.
As for the menu, your ticket includes canapes on arrival (like trout roe, crème fraiche, potato rostis), and salted butter popcorn throughout the film. Then, you'll be treated to a full-blown intermission buffet, which will feature Hubert's roast chicken with bread sauce, cavolo nero, and green beans; oven-roasted potatoes with cultured butter and garlic; and for dessert housemade Craquelin choux buns.
Scope the films and dates below:
July 12 - Sideways
July 26 - Lost in Translation
August 9, 16, 23 - Alphaville
September 5 - Inglourious Basterds
September 20 - Being John Malkovich
Complete with red velvet curtains and candlelight, we can't imagine a more romantic spot to be this winter.
Head here for more info and to grab your tickets.
The Details
What: Magnums and Movies
When: Dates from July - September, Monday evenings, from 6pm
Where: Restaurant Hubert, CBD
Cost: $165 per person (includes wine, canapes, popcorn, and intermission buffet)
Tickets: Here
Now, here are all the details for Sydney's upcoming Bastille Day festival.
Image credit: Restaurant Hubert