Because sweet cravings never sleep, we've roundup Sydney's most alluring, and satisfy, late-night desserts to quench those midnight desires. Indulge your late-night sweet tooth with this fine spread of gelato, chocolate, churros and pastries.
Ananas Bar & Brasserie
Bringing a taste of the French Riviera to Sydney's The Rocks, Ananas Bar & Brasserie serves up a tantalising dessert experience. The list spans salted caramel éclairs, sorbets, mille-feuille and their mind-blowing "snickers revolution", which can all be paired with one of their signature cocktails.
Gelato Messina | Darlinghurst
With daily specialty flavours (like peanut butter, orange custard and almond croissant), as well as all your usual suspects, Gelato Messina sets the benchmark for gelato nationwide. You'll find over 40 unique flavours, and a variety of dairy-free sorbets at this award-winning ice creamery. Plus, the dance music will get you psyched for your upcoming indulgence.
San Churro | Glebe
Offering mouth-watering morsels of seductive chocolates, Chocolateria San Churro is a sweet-lover's haven. Irresistible Spanish chocolate inventions, in the form of shakes, truffles, tasting plates and churros, are savoured by chocoholics city-wide.
Cafe Hernandez | Potts Point
For your late-night caffeine fix, look no further than Café Hernandez. With over four decades in the business of coffee, Café Hernandez has garnered a cult following for their smooth, dark roast. For sweets, there's Portuguese custard, mini ricotta cheesecakes, cinnamon buns, Spanish rice pudding and a selection of delicious cakes.
Kurtosh | Randwick
Kürtosh: a traditional Hungarian street food with a sweet, crispy, flaky skin that melts in your mouth. Yum. At this scrumptious dessert house, your Kürt?sh comes flavoured with cinnamon, coconut, sprinkles, chocolate, pistachios or hazelnut, making it the perfect evening nosh.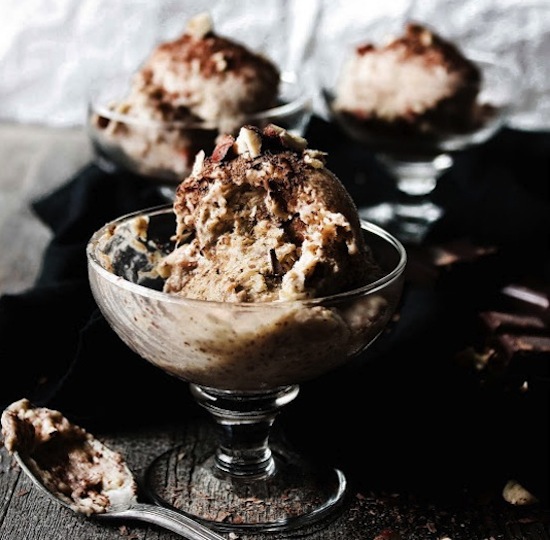 Caffe Roma | Potts Point
A selection of homemade desserts is the order of the day at this Italian-style eatery. Choose between delicious semifreddo, panna cotta, Nutella pizza or tiramisu—you simply can't resist.
Thanon Khaosan | Haymarket
The Thanon Khaosan Restaurant dessert trolley is well-known amongst Sydneysiders. The array of Thai sweets is impressive—lined in hawker carts you'll find coconut jelly wrapped in pandan leaf, sago sweets, pandan taro balls, sticky rice with mango and much more! All are available for takeaway.
Cheeky Chocolate | Strathfield
Serving creative desserts is a sure-fire way to attract hungry sweet tooths! Try their Read My Lips or Kiss My Cheeks sundae with peanut caramel, raspberry gel and banana gelato smothered in Cheeky Chocolate's signature chocolate sauce.
Cow and the Moon Gelato Bar | Enmore
Serving delicious late-night iced treats, Cow and the Moon Gelato Bar is constantly bustling with Enmore locals. At this family-run gelato bar, you'll find all the traditional flavours as well as some unique house-made creations, like popcorn, balsamic strawberry and red peppers.
Top image credit: mowielicious and Pratos & Travessas