Party planning for the upcoming festive season can be a minefield – so we've put together a list of the best caterers in Sydney so you can leave the food part of your event to the pros..Whether you're after the full French dining experience or the perfect nibblies, you're in good hands with these caterers.
Longrain

Why not skip the crowds and have Longrain, the immensely popular Surry Hills restaurant, bring the food to you? Perfect for a summer party, Longrain provides everything from a simple canapé menu to a sit down banquet complete with signature cocktails and dessert. So relax and enjoy your banana leaf fish, green curry or raw tuna green mango rice paper rolls.
Zushi

Your favourite Japanese restaurant in Surry Hills know what people want at events or occasions: easy and delicious finger food that won't leave them starving. Zushi offer nine assorted sushi platters ranging from classic assorted sushi rolls and healthy vegetarian options, to the indulgent nigiri platters. Zushi catering covers everything from corporate to casual occasions, as well as the times you need something to keep the office happy under pressure. Want an experience? Another option is Mobile Zushi, where the team will send a personal sushi master chef to cook up a storm at your event!
Animal Box

If you're planning your child's next birthday party and want healthy kid-friendly food, then
Animal Box
is perfect for you. There are individual party bags, mains and snack items and even customisable party platters with creative fruit plates or mini sliders. Adults, you haven't been forgotten. Enjoy bloody Mary muffins, pulled pork rolls or gourmet salads. Yum!
Chef Up!

Feeling Frenchy? Organise your own personal French chef to cater your next party. Sounds unbelievable, non? Chef Up! is a French cooking school and catering business brought to you by chefs with the know-how of Michelin Star restaurants. It offers an array of canapés for your function ranging from Mini "Provençale" tart to Scallop tartare and Apple crumbles verrines. If you want to get interactive, the Chef Up! team can organize DIY stands, such as DIY macarons where guests can get their favourite filling, as well as a French photobooth – but that's mostly just for fun. Bon appétit!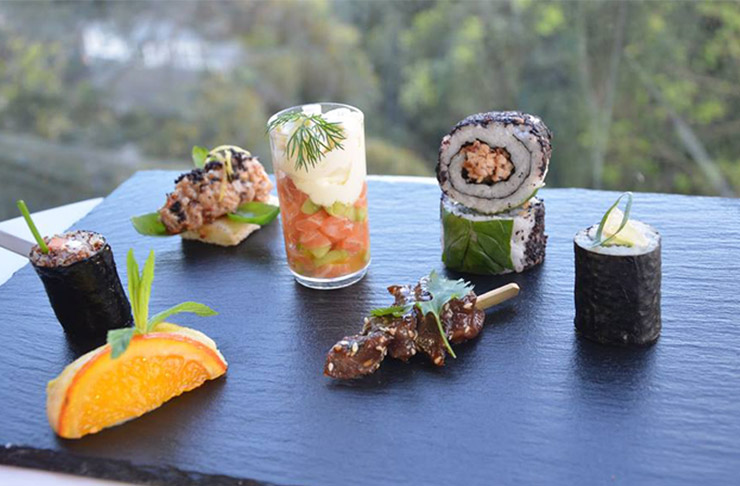 Aboutlife
If you're after nutritious yet convenient catering for any occasion then Aboutlife is for you. An organic, sustainable and wholesome approach means that you can make your event a healthy and environmentally friendly one. The guys at Aboutlife are flexible and offer anything under the sun, from cocktail parties, weddings and corporate meetings to professional tea and coffee set ups.
Jillian's Cakery
The perfect cake is often the hardest part of planning a function. Worry not! Jillian's Cakery in Surry Hills is here to the rescue, with a huge range of simple yet delicious American inspired desserts that are perfect for event catering in Sydney. Jillian's Cakery can help out with sweet and savoury treat boxes for your small or large events, or create a decadent dessert table with an array of their signature cakes – the Angel Food Cake with banana and salted caramel is a must! Corporate clients receive a generous 10% discount.
Orto Trading Co.
Quality is definitely on the cards with Orto Trading Co. catering. Depending on whether you're after an afternoon tea or a boardroom style lunch, Orto has you sorted with a selection of different menus to suit every style of function. Don't go past the gourmet salads option though, served in a paper box they are cute, tasty AND healthy. Win!
The Floury Baker
The Floury Baker is perfect if you're planning a party in the great outdoors, as the catering menu is specifically designed for the fresh summer air and sun. The party treats are super pretty and delicious, but there's also a small-sit down dinner party option complete with staff and equipment hire. So book early and enjoy the amazing seasonal menu for whatever function you are planning.
Grandma's
Offering a unique blend of traditional Mediterranean, Middle Eastern and European flavours and recipes, look no further than Grandma's at Alexandria for all your Sydney catering needs. For something on the smaller side all the way to bigger functions, there are heaps of delicious treats and meals to choose from to keep your guests full and happy. Check the website for more details.
Image credit: Longrain, Chef Up!