Bellingen Brewing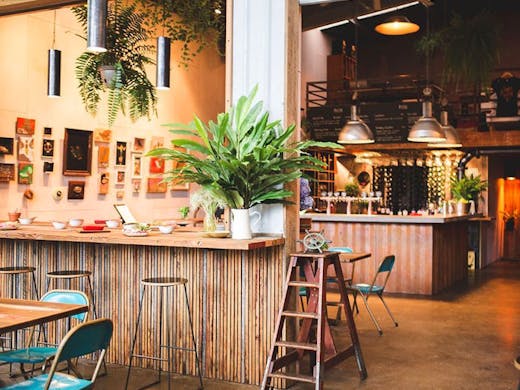 If you've never stopped into Bellingen while road tripping the NSW mid-north coast, you're missing out on one of Australia's cutest, most welcoming towns.
Located in between the sea and the magnificent hiking views of Dorrigo National Park, Bellingen sits amongst the lush grassy landscape of traditional Gumbaynggirr Land. And alongside the Bellinger River, plenty of quaint shops, cafes, and restaurants, is the ultimate hidden gem and a must add to your NSW bucket list: Bellingen Brewing Co.
After a long day of hiking the national park or swimming in the beautiful, crisp waters of nearby Never Never Creek, there's no better place in the bohemian township to grab a drink than the local brewery.
Sharing its wooden warehouse walls with Big Fig Arts, the space doubles as a local art display, which, alongside rustic furniture and eclectic pendant lights and greenery, feels as uniquely Bellingen as it gets. The building itself was put together with mindfulness for environmental impact, built sustainably from local timber and salvaged materials. And as an added bonus, if you pop outside later in the night for some fresh air, you can take in the smells of the neighbouring bakery preparing for the following day.
What's on tap depends entirely on what's available after a brew in the back—though you're sure to find the iconic "Bello Pale Ale" or the dark and delicious "Bello Porter".
In the hotter months, keep an eye out for the local favourite cloudy and slightly spicy ginger beer, which is sure to cool you down as the sun sets through the leafy greenery and past the wood panelling. Pop in at the right time, and you might even find the venue showing love to other independent breweries from around NSW. Don't worry if beer isn't your style because there's plenty of cocktails and wines on the venue as well.
Aside from an incredible location, a friendly local staff serving you with a smile, and a range of delicious beers, there's one thing that makes this microbrewery bar special—the pizzas. The large woodfire pizza oven is the first thing you'll spot (and smell) as soon as you walk in. Don't plan to drink here and go dinner elsewhere—this is the spot for both.
For us, the pick has to be either the "Funghi" with a white base, selection of local mushrooms, local buffalo mozzarella, and truffle oil, or the "Proscuitto" with local buffalo mozzarella, fresh basil, rocket, and aged prosciutto. Keep an eye out for the specials board because they throw up some wonderfully whacky options showcasing local produce like chilli or honey.
We should note that, like a few other joints around town, Bellingen Brewing Co. is only open Friday through Sunday. So, plan your stay accordingly. Handy hint: if you arrive and there are no spots, grab yourself a takeaway 6-pack and head down to the banks of the Bellinger river next to Lavenders Bridge for a relaxing time on the grass.
Image credit: Bellingen Brewing
---