Face Plus Medispa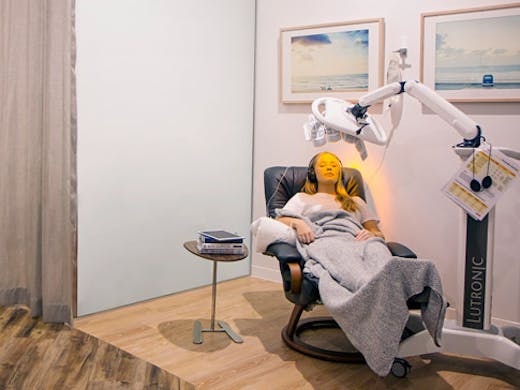 The verdict
Located in the beautiful beachside suburb of Bondi Beach, sits the luxurious Face Plus Medispa. At this beauty salon in Sydney, you can expect some of the most cutting edge technologies coupled with old-world healing, administered by some of Sydney's best. With an on site naturopath, Reiki practitioner, registered nurses, doctor, skincare and laser technology experts, and even a resident make up artist, you're in good hands.
What We Tried
Keen to give it a go ourselves, our editor stepped inside the space to try some of their signature treatments. You know, to make sure they're as good as they say they are. Spoiler: they are.
First up, a skin deep massage. I was taken into this dark and serene space by an equally serene massage therapist, who I will now call Tania with the magic hands. Tania talked to me about my needs and was able to create a massage experience especially for me (including the type of massage oils she used on me). 60 minutes flew by and I wish I could have Tania work her magic on me every damn day, she was that good. I floated out of the massage room and made my way to their Drip And Chill Lounge for an IV Vitamin Treatment.
Full disclosure, I have never had an IV drip before so was a little nervous about the whole thing, but the on site doctor made me feel at ease. We discussed what treatment might be best for me (they can also mix and match vitamins depending on your needs) and I went with the Jet Lag/Energy Loss option, which was promised to pep me up well and good.
She prepped my arm and the needle went in (no, I didn't look), but it wasn't painful at all. All I had to do was sit back and relax for the next 45 minutes while my body was being pumped with all sorts of vitamins. Time went fast thanks to the small snack tray (helloooo protein balls!), iPad with wifi and books that were provided, but I decided to use my time to catch up on some Podcasts and meditate (yes, I'm that person).
Note: Due to the liquid being room temperature, I did get a little chilly, but fortunately there was a comfy blanket to help with that.
I also opted for the LED light treatment to help improve my skin condition and reduce wrinkles (umm, yes please). This involved a bright yellow light pulsating on my face for 15 minutes, which was super bright at first but became strangely relaxing after a few minutes.
I coupled that with the oxygen treatment, which made me look like I was in hospital, but the pure oxygen promised to make me less tired and also help with sleep, so I was all in.
After the treatment finished, I was ready to face the world, full of beans, oxygen and vitamins.
Did it work? Well, yes. I felt more awake and quite relaxed (which is a different feeling to my coffee-awakeness). In fact, I didn't have a coffee the entire day, and didn't feel like I needed one. Win!
While I wouldn't do this every weekend (it ain't cheap), I would definitely look at doing this if I were jet lagged, a bit sick, or in a real need of an energy boost. And I would absolutely come back to Face Plus Medispa, their services and staff are out of this world.
Image credit: Face Plus Medispa
---