Jackalberry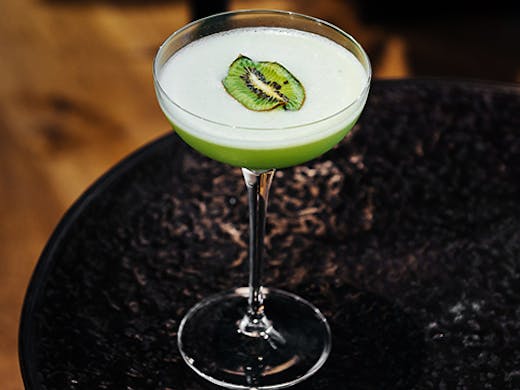 The Verdict
Sydney's newest immersive cocktail bar, Jackalberry offers punters a trip around the world right in the heart of the CBD.
You'll find it tucked into a heritage building on busy Sussex Street. Inspired by the age of exploration, the bar features emerald velvet booths, illustrated wallpapers and (the key to anyone's heart) a veritable jungle's worth of indoor plants.
Jackalberry's cocktail list is designed to take you on a journey of a lifetime. Each cocktail draws on the distinctive flavours of regions that inspired them—from London to Cancun, the Scottish highlands and Kyoto. As for the guy expertly navigating this expedition, it's Stuart Thompson who has developed his talent through the likes of United, Uncle Mings and The Morrison.
Signature cocktail destinations include a London-inspired, gin-heavy concoction titled "Hampstead Heath" and the "Livingstone Tiki", which is inspired by Tanzanian port town Dar es Salaam and features Mauritian rum, saffron gin, a rooibos tisane, lemon Pleo Saccharum and rosemary honey. As with any good explorer, the spirit is adventurous and experimental, with a tonne of treasures to be unearthed.
In addition to their extensive cocktail list, Jackalberry churns out a wide range of international and local wines that can be ordered either by the glass or by the bottle.
The bar menu means a series of shareable small plates inspired by the best comfort food from around the world. Highlights include the Norwegian style smoked cod fritters or the stuffed pumpkin flowers designed to remind you more and more of Marrakesh by the mouthful.
Image credit: Supplied.
---