Jolene's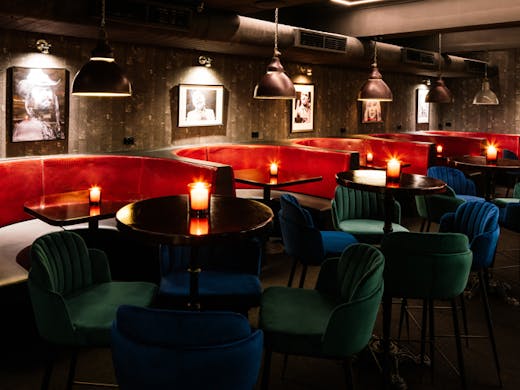 It's been a minute since Sydney's whisky scene scored a new player. Opening this week, just in time for the cool change and chillier evenings ahead, Jolene's is a new Nashville-inspired whisky joint in the heart of the CBD.
The undergound bar is headed up by Simon Rose-Hopki, whose resume ticks off other epic Southern-style haunts like Surly's American BBQ and Nola Smokehouse & Bar. As its name suggests, Jolene's is Dolly Parton meets Johnny Cash—with dark, moody red velvet booths named after legendary country singers.
Like Tennessee, music is at the heart and soul of Joelen's, and you can expect to see live gigs from local country and rock bands four nights a week.
As for the whisky, you'll find a very impressive collection of about 100 American whiskies—meaning Jolene's is a top-notch spot to get schooled on top-shelf American classics from Tennessee whisky to Speyside scotch. Jolene's also offers a neat collection of Scottish, Japanese, and Australian whiskies.
For less serious whisky drinkers, cocktails at Jolene's are also a bit of a highlight. Try the fresh and fun "Islands in the Stream", which is a fresh tropical juice number spiked with Tennesee whisky; the "Trash Panda" is inspired by the Tennesee state symbol (the raccoon), and is made with Drambuie, coconut, and pineapple; and the "Superbowl Sundae" is a spin on the Espresso Martini topped with whipped cream.
To eat, Jolene's offers an American diner-style snack menu.
Jolene's will open on Wednesday 6 April.
Image credit: Jolene's
---