La Palma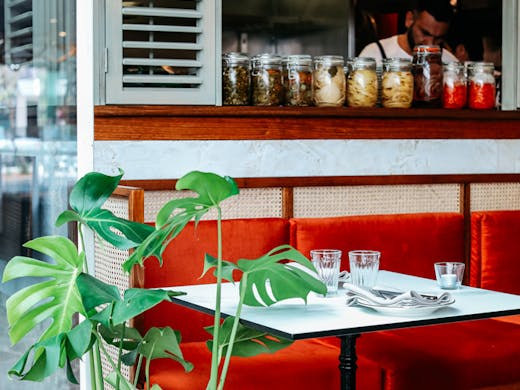 The Verdict
Brought to you by the team that blessed us with the likes of Sonora, Carbon and Taqiza, Sydney is now home to a buzzing, beachfront rum bar.
Inspired by a time when Americans would flock to Cuba to seek refuge from the constraints of prohibition, La Palma is a fantastical time-warp and an ode to 1920s and 1930s-era Havana. That means you can expect a whole heap of elaborate cocktails, rattan seating, wicker lights and even a timber-clad bar sealed with a marble bar top for a touch of elegance.
The food here is largely influenced by Caribbean flavours, so you'll be in for jerk chicken, meat skewers and seafood. For starters, you can't go past the coconut ceviche, which combines Kingfish, coconut milk and twice-fried plantain slices, or the fleshy crab croquettes pumped with saffron, bechamel and chipotle aioli.
If you're coming in with more of an appetite, the Cuban sambo should absolutely be your first port-of-call. It's stacked with juicy pork belly, sweet potato, salsa criolla and yellow chilli. You can also get around grilled jerk-banana chicken and charcoal skewers like octopus and salmon belly.
The cocktail line-up is a solid mix of classics and originals. You'll find staples like the "Old Cuban", mojito and piña coladas, however, if you're feeling adventurous, we suggest you work your way through the slightly edgy signature creations. There's a rice bubbles milk vodka concoction loaded with pandan, macadamia liqueur and citrus; the "Coffee & Cane" is a tropical take on the ol' espresso martini, and the "Beach House Punch" is an experimental rum-meets-matcha mix that's made to serve you and three of your thirstiest mates.
If it's brunch you're after (this is Bondi after all), La Palma also does a "Tropical Bottomless Brunch" every weekend from 12pm until 5pm (two-hour sessions). The brunch involves an enormous banquet stocked with jerk chicken wings, barramundi chicharrón with huancaina sauce and an unlimited supply of mojitos or piña coladas for $79 per person. Yes, you read that correctly, bottomless piña coladas.
Image credit: Kitti Gould
---