Lotus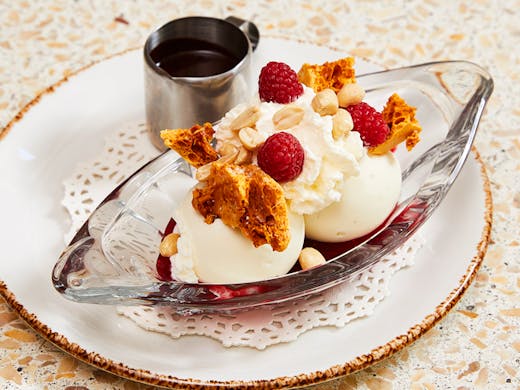 It seems reboot culture knows no bounds. While we're being hit with remakes of Disney fairy tales and recreations of seminal TV shows, Dan Hong, lover of sneakers and maker of some of Sydney's tastiest dishes, has brought back one of Sydney's most beloved bistros: Lotus.
It's a sentimental move for the now-iconic chef—Lotus is the spot where Dan Hong (Mr Wong, Ms G's) got his start, held his first tenure as head chef and unleashed his culinary creative skills upon Sydney.
The new Lotus will pay homage to the past, with the return of cult classics like Hong's famous hot fudge sundae and the Lotus Cheeseburger. This time around, the burger will up the ante with brisket, chuck steak and dry-aged beef fat thrown in the mix.
New dishes reflect the chef Hong is today: "A little more mature, but with the same approachability, fun and flavour," he says. There'll be hand-cut noodles with Scarlet prawn and XO, black truffle grilled cheese toasties and smoked anchovies with cultured cream and scallion bread. And Hong has doubled down on the nostalgic, throwback vibe with a Frosty Fruit granita that's plated up with coconut sorbet.
Lotus was also loved for its cocktails. This time around, the bar is headlined by Colin Tam and Sam Egerton, who'll be keeping up Lotus' reputation for game-changing drinks. The Lotus Martini is back (with Zubrowka, Peach Schnapps, apple juice and passionfruit), alongside a whole host of new concoctions created to match the new menu.
Design-wise, Amanda Talbot has worked her interior magic to revive the original 70s-inspired aesthetic of Lotus. Expect mirrored ceilings, chocolate carpets, velvet chairs and a floral sofa. Working alongside Justin and Bettina Hemmes, Talbot has also revived the venue's stunning black onyx bar.
Lotus is operating as an extended pop-up in its original home, as Merivale farewells the Challis Avenue building it sold in 2019.
Image credit: Lotus
---