Rawson's Restaurant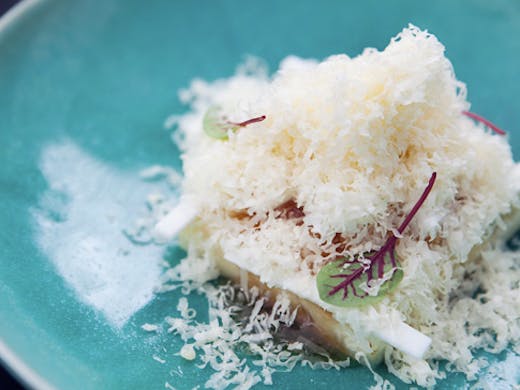 The verdict
Rawson's has turned suburban dining on its head, bringing their clever take on club dining to the North Western suburb of Epping.
At the helm is Executive Chef, Nick Whitehouse, who has cooked for the likes of the Red Hot Chilli Peppers, Slipknot and Kelly Clarkson, meaning you and your epic hunger levels can rest assured he knows his way around a kitchen.
Upon arrival, bypass the pokies and their flashing lights and behold the custom meat fridge, mmmmm meats, where your meal may well be chilling out atop sea salt flakes and all of the herbs, working itself into one tasty situation before it hits your tastebuds. Being a club, you can expect a spacious fit out, but with some cool eclectic vibes, and our favourite piece, the cellar wall used to enclose one of the two private dining rooms.
The dishes on offer aim to use a maximum of three to four key ingredients and Whitehouse prides himself on his rotating menu, based both on availability and seasonality, along with a list of verbal specials. Like we said, this is not what you'd expect to find at an RSL Club.
Now, we don't know how much Anthony Kiedis pays for his steak, but at Rawson's you're looking at roughly $30 and, take it from us, it's worth every cent. And did we mention the triple cooked chips? Get them, because your belly needs them now. You can also expect delicious house dry-aged meats and a raw seafood bar with local specialties like Hawkesbury River 30 second squid and barely seared prawns with garlic butter powder.
It's not all about dinner here, with two set lunch menus, $29.90 for two courses or $39.90 for three, including the likes of rump cap, beef brisket and vanilla bean panna cotta, you can seriously up your midweek lunch game (without breaking the bank).
We wouldn't be surprised Epping locals would like to keep this one hidden from the rest of us, but lucky for us, the secret's officially out.
Image credit: Rawsons
---
You May Also Like
Cafes
North Parramatta, NSW
Found in the heritage female factory site in the Parramatta North Precinct,…
Bars & Pubs
Barangaroo, NSW
From the Efendy group, Baharat is a cocktail bar and spice shop inspired by…