Woo Wol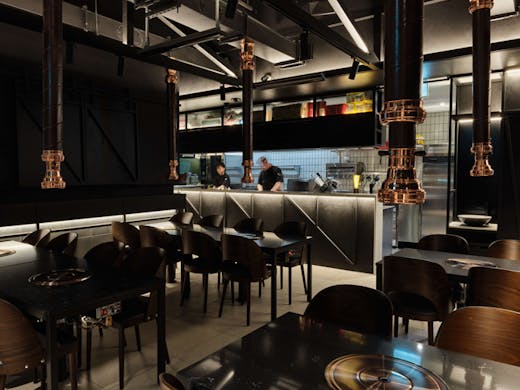 Korean BBQ, but make it fancy. That is the essential idea behind Woo Wol, a brand new restaurant from the team behind Sydney's high-end Korean dining experience, Jung Sung.
Also located within the Kensignton Street dining precinct, Woo Wol acts as both a sleek Korean BBQ joint and an all-out, Wagyu-filled omakase-inspired experience.
For lunch and dinner, Woo Wol's Korean BBQ is fired up over true charcoal grills. At lunchtime, it's a fusion vibe with BBQ sets packed with soy-marinated beef or pork rib or Wagyu beef, Japanese-inspired Bento boxes packed with sashimi or Chicken katsu, and Chinese-style snacks like sweet and spicy soy dumplings. There's also classic Korean bibimbap served two ways—with sashimi or stone pot Wagyu.
Grab your mates for dinner, with Korean BBQ meals available for groups of two or more. There's even an insane "Wagyu cake", made up of a chef's selection of meats.
The signature omakase experience, dubbed "Woo Wol Black", is due to open soon.
"It's really exciting to be bringing a premium, wagyu Korean BBQ [and] omakase concept to the people of Chippendale," says co-owner Jun Ok.
"After opening Jung Sung, we heard that people wanted a good quality, local Korean BBQ option in the area, and with omakase taking off in Australia over the past few years, when we saw the site—we thought, what better place to bring them both together."
Woo Wol will open on Friday 5 August. Woo Wol Black omakase is due to open bookings in the coming weeks.
Image credit: Steven Woodburn
---
You May Also Like
Restaurants
Sydney, NSW
If you love flavour and sharing a spontaneous meal amongst fifteen of your favourite…