There's no getting around it, 2020 has been one tough year for travel. From cancelled European getaways to cheeky Bali weekenders, many holidays were begrudgingly moved to the 'lets try next year' box. But, there has been a silver lining to the rollercoaster that is 2020, and that's the chance to explore our truly incredible backyard.
While there are many amazing places around Australia worthy of a visit, there's one spot that tops the list—and it's time you checked it out.
We're talking about the Red Centre of course. Australia's spiritual and cultural homeland is so magical you have to experience it once in your lifetime and with OS tourists unable to visit, the popular run from Alice Springs to Uluru is as calm and quiet as it will ever get.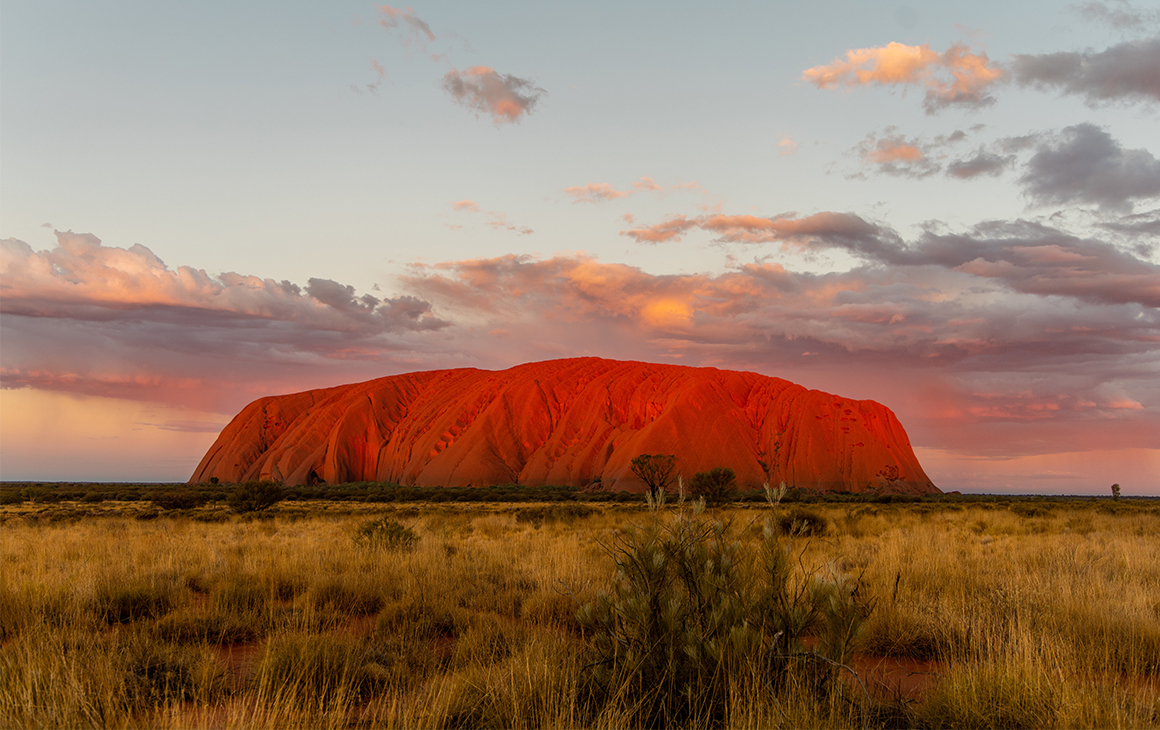 So pack your bags, book in a couple of days annual leave and follow our guide for the most incredible holiday ever.
Day One | Jet Into Alice Springs
9am: To kick off your holiday, make tracks to Alice Springs. While plenty of people fly into Alice Springs to start their Northern Territory adventure, a lot of them don't bother sticking around which is a crying shame if you ask us. Grab yourself a hire car (yes, you'll need it) and base yourself at the Crowne Plaza—trust us you'll be grateful for the comfy beds, air-conditioned rooms and large pool after a long day of exploring.
10am: While you might want to sprawl out on said comfy bed, try to resist, there's a lot to see and do in Alice Springs and we don't want you to miss out. Start your day with a delicious brunch at Page 27 in Todd Mall (the main shopping hub and centre of the town). While the whole menu is delish, we couldn't go past the classic avo toast and freshly squeezed OJ.
1pm: Next, jump in the car and drive around 20 minutes to Pyndan Camel Tracks for yep, you guessed it, a camel ride. If you've ever ridden a horse, this is about three times easier. And if you've never done it before, don't worry a camel is like a really cruisy, automatic car—it does all the work for you. At Pyndan all the camels are lovingly looked after by the family who runs it, so rest assured, they live a good life. The one-hour camel ride will see you and your crew go for a leisurely jaunt through the red dirt outback, taking in rocky mountains and the odd kangaroo.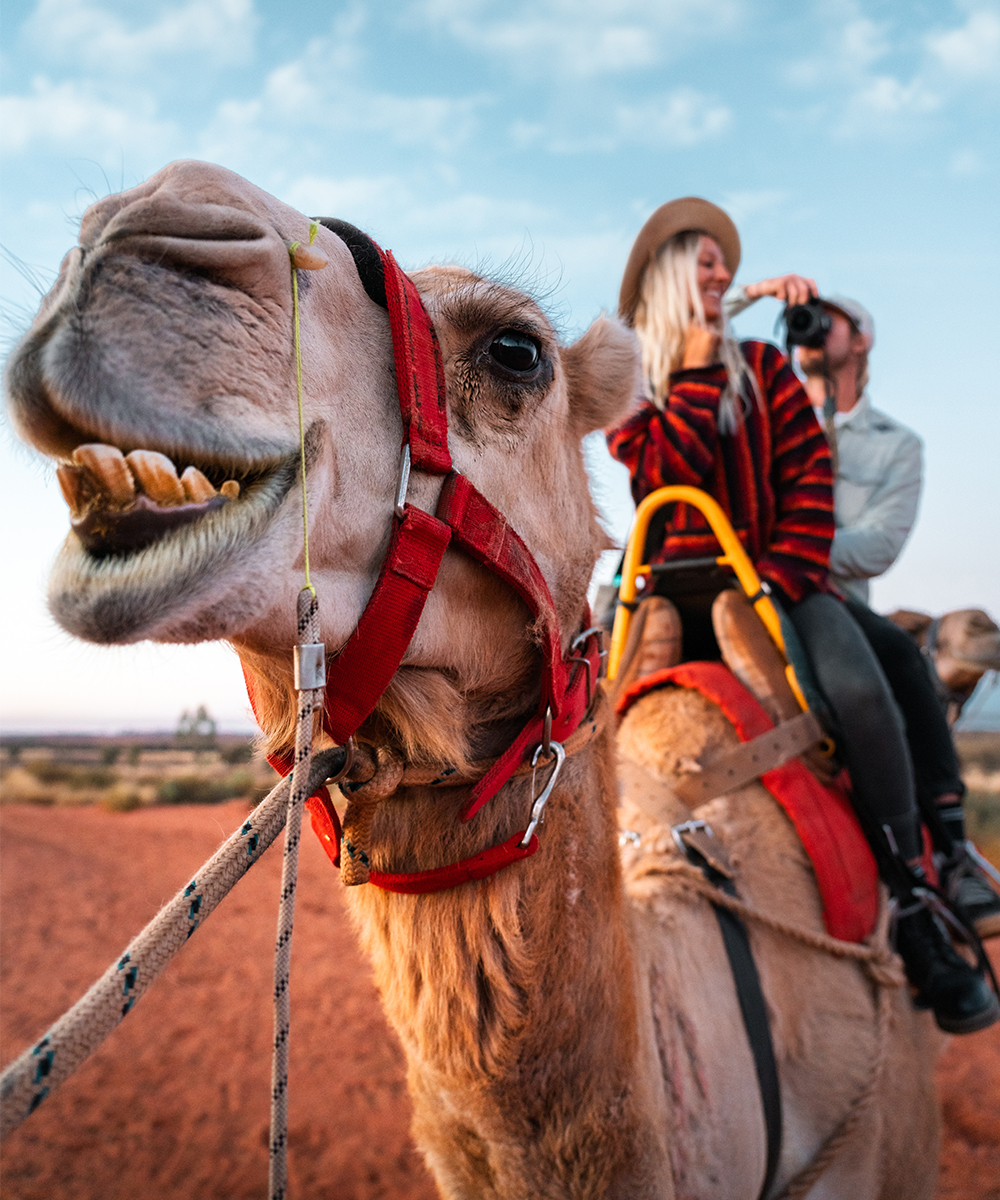 5pm: By now you're probably going to be pretty hot and thirsty. Cool down at Alice Springs' only rooftop bar, Epilogue Lounge in Todd Mall. Grab an Elderflower Spritz, a plate of finger-licking good wings and bliss out to the live music. Carve out a few hours here to just chill out because you're going to be up early tomorrow.
Day Two | Get Amongst Nature
5am: Trust us when we say the early call time is absolutely worth it because there is nothing quite like seeing the Red Centre from above. Outback Ballooning offers 30 and 60-minute sunrise rides that will see you float silently above the Outback as the morning light begins to illuminate the MacDonnell Ranges. Upon landing, you'll score a tasty brekky spread of banana bread, fruit, cheese and crackers, plus some bubbles—because that's how every hot air balloon experience should end.
10am: Now it's time to explore the rugged beauty this part of the world has to offer. Jump in your hire car and head to Simpsons Gap/Rungutjirpa—about a 20-minute drive from Todd Mall. Boasting the towering red rock cliffs of Simpsons Range, the "gap" is a permanent waterhole home to local wildlife. The Arrernte people believe Rungutjirpa was the mythological home of a group of giant goanna ancestors but today you might be lucky enough to spot a Black-footed Rock-wallaby.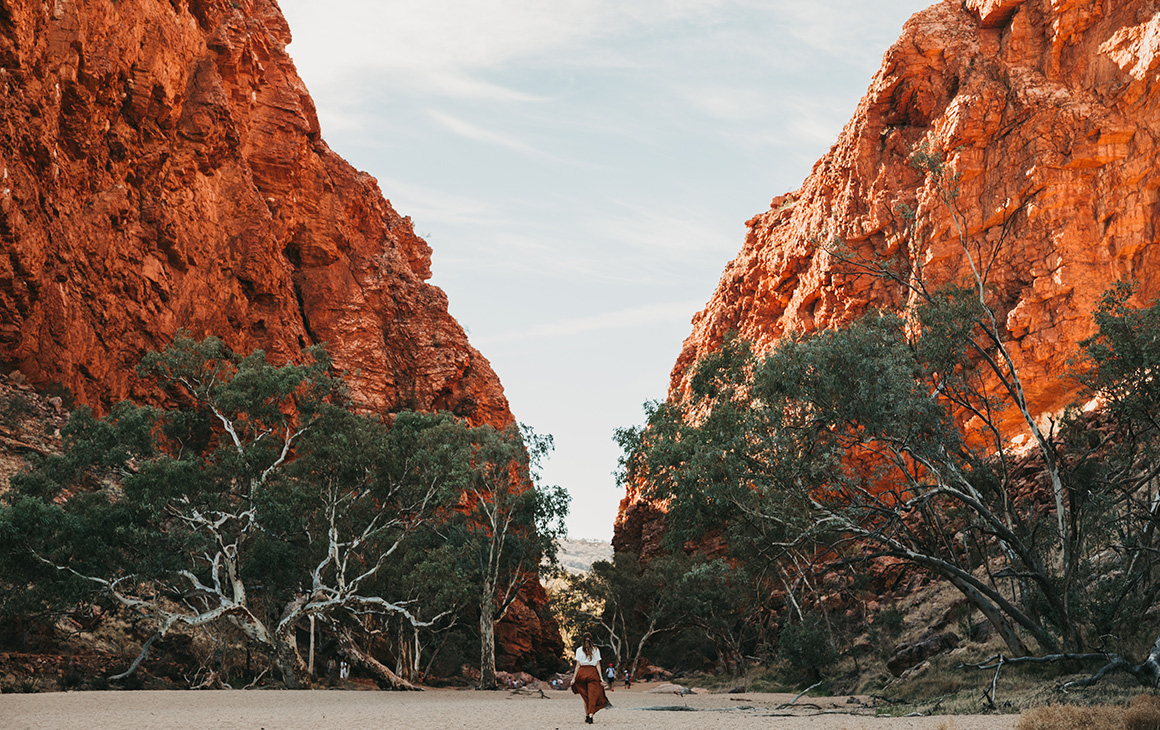 12pm: Hit the road and drive around an hour to Ormiston Gorge. Forget every beach you've ever been to because the natural pool which appears like a nirvana between rocky ranges will give your favourite watering hole a run for its money. Up to 14 metres deep at its southern end, the pool is the perfect place to cool down with a picnic. If you want to explore further (you do) check out the track that follows the rocky slopes and flat floor of the gorge—the round trip takes about three hours.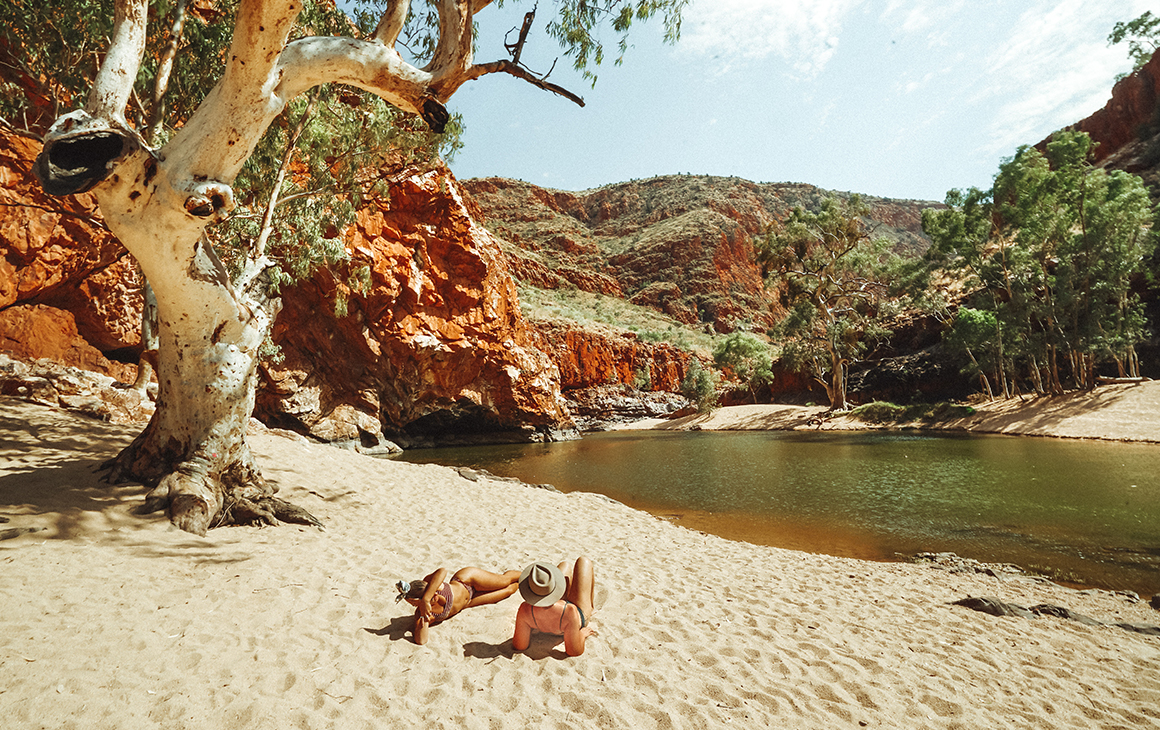 4pm: A further hours' drive away (make sure you download your playlists in advance) is Standley Chasm Angkerle Atwatye, a spectacular geological formation located in a private reserve owned by the Iwupataka Land Trust. Picture this: walking along a trail surrounded by 80m of pure red rock-face, leading to a natural creek bed. Depending on the time of day you'll witness a magical light show in the heart of the chasm.
6pm: It's been a big day. Put on a fluffy robe and order room service.
Day Three | The Road To Yulara
8am: Load up on eggs benny or freshly made banana bread at the adorable cafe at Olive Pink Botanic Garden. As well as being home to loads of native flora and fauna, the garden also includes Tharrarltneme (Annie Meyer Hill), a sacred site important to Arrernte people.
10am: It's time to hit the road and start the five-hour drive to Yulara, the home of Uluru.
12pm: Stop in at the iconic Erldunda Roadhouse for lunch. There's a pub next door so those who aren't driving can also have a cheeky beer—prepare for a serious time warp. And in between fueling your body and your car, check out the accompanying emu reserve. If you're feeling brave you can also feed them.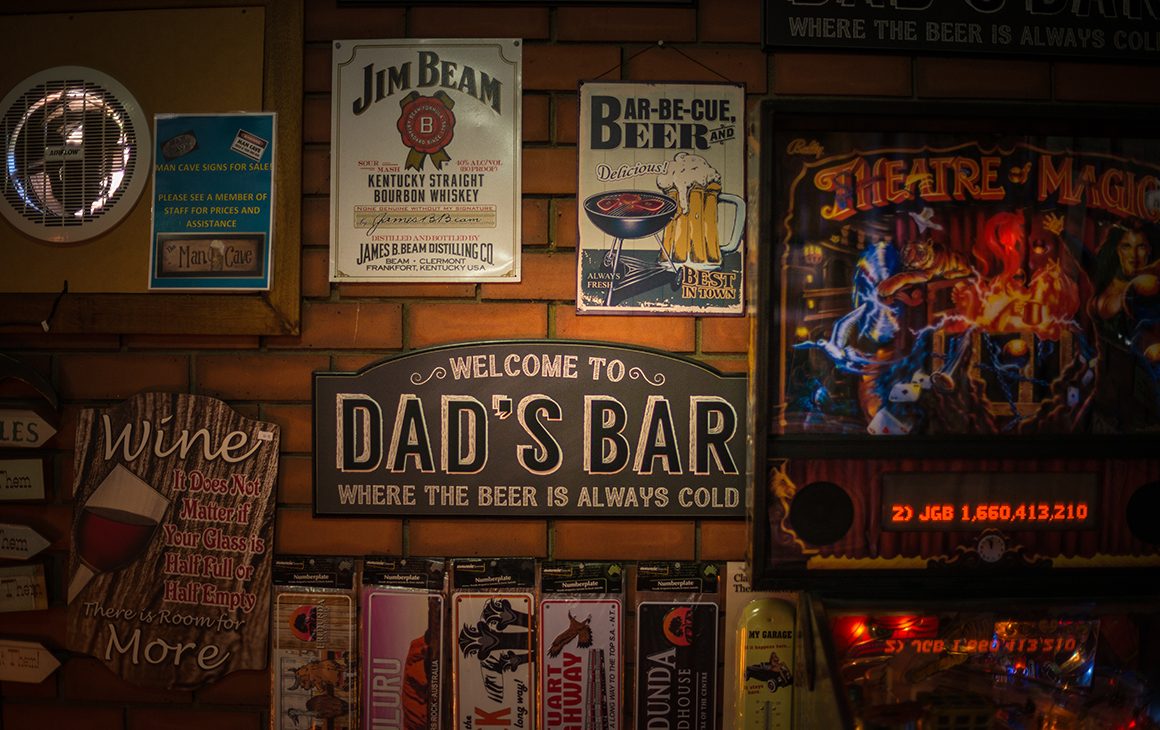 2pm: After all that driving you've earned a boujee hotel, so check into Sails In The Desert before heading to nearby Wintjiri Arts + Museum to check out incredible work from local First Nations artists. Just outside the museum, you can also up your knowledge about local bush tucker with a free workshop that also includes a fun cooking demo (and maybe a sweet treat to try).
5pm: Don your finest and head to one of the most memorable meals you'll ever experience at the Sounds Of Silence dinner. Start by sipping bottomless champagne while watching the sun set over Uluru. Follow that up with a drool-worthy three-course meal celebrating local ingredients (think: lemon myrtle barramundi, native dukkah crusted kangaroo, pepperberry roasted cauliflower and desert lime cheesecake), and finish the night with a talk from a resident astronomer who will help you locate everything from the signs of the zodiac to the Milky Way.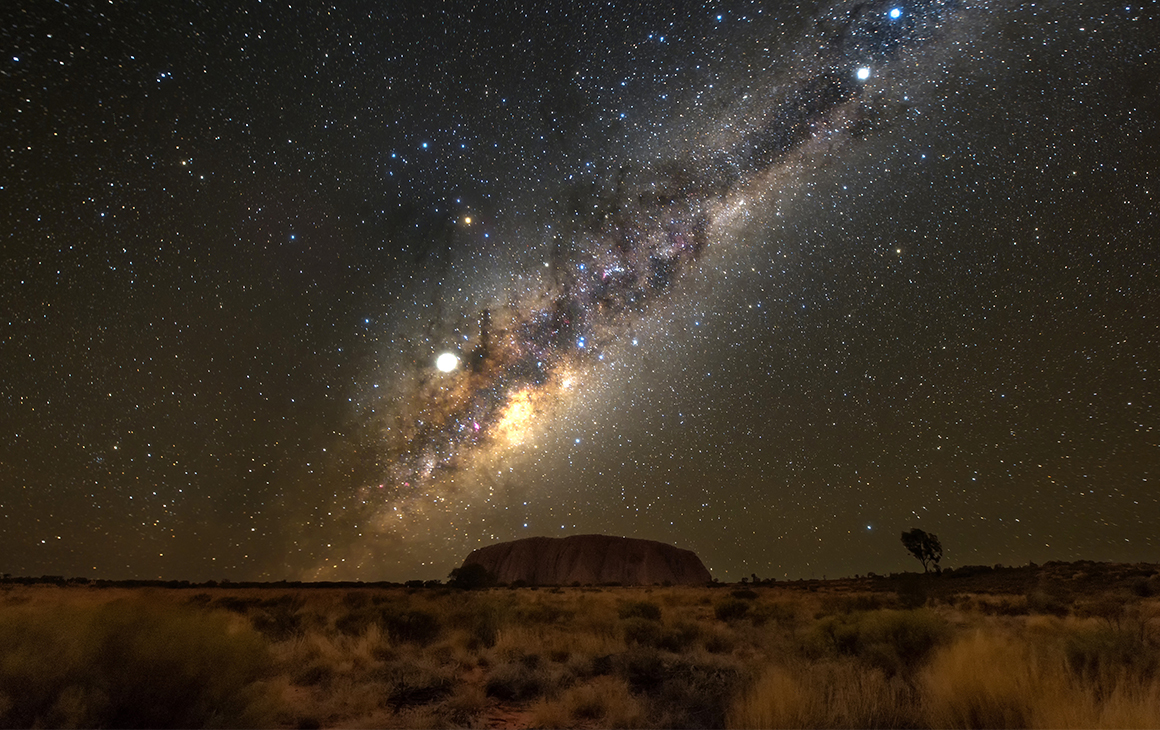 Day Four | Getting Up Close To Uluru
5am: It's finally time to get up close and personal with Uluru and to make covering the 12km base a little easier, why not do it on a segway? Uluru Segway Tours will feed you brekky before taking a small group on an interactive tour around Uluru's base and Mutitjulu Waterhole. Hot tip: there are loads of helpful signs explaining which parts of Uluru you can and can't take photos of, but if in doubt, just take a mental snapshot to ensure you're respecting the local Anangu people. You'll also need to get a permit to enter Uluru-Kata Tjuta National Park. They're currently free and you can get yours here.
11am: Stretch your legs with a walk through gorgeous Walpa Gorge. We might be biased but we reckon it's as breathtaking as Uluru with its towering walls and rocky terrain. This beautiful spot is incredibly special to the Anangu people so when taking pics for the 'Gram, they kindly request you keep both sides of the gorge in frame to avoid revealing any sacred spots.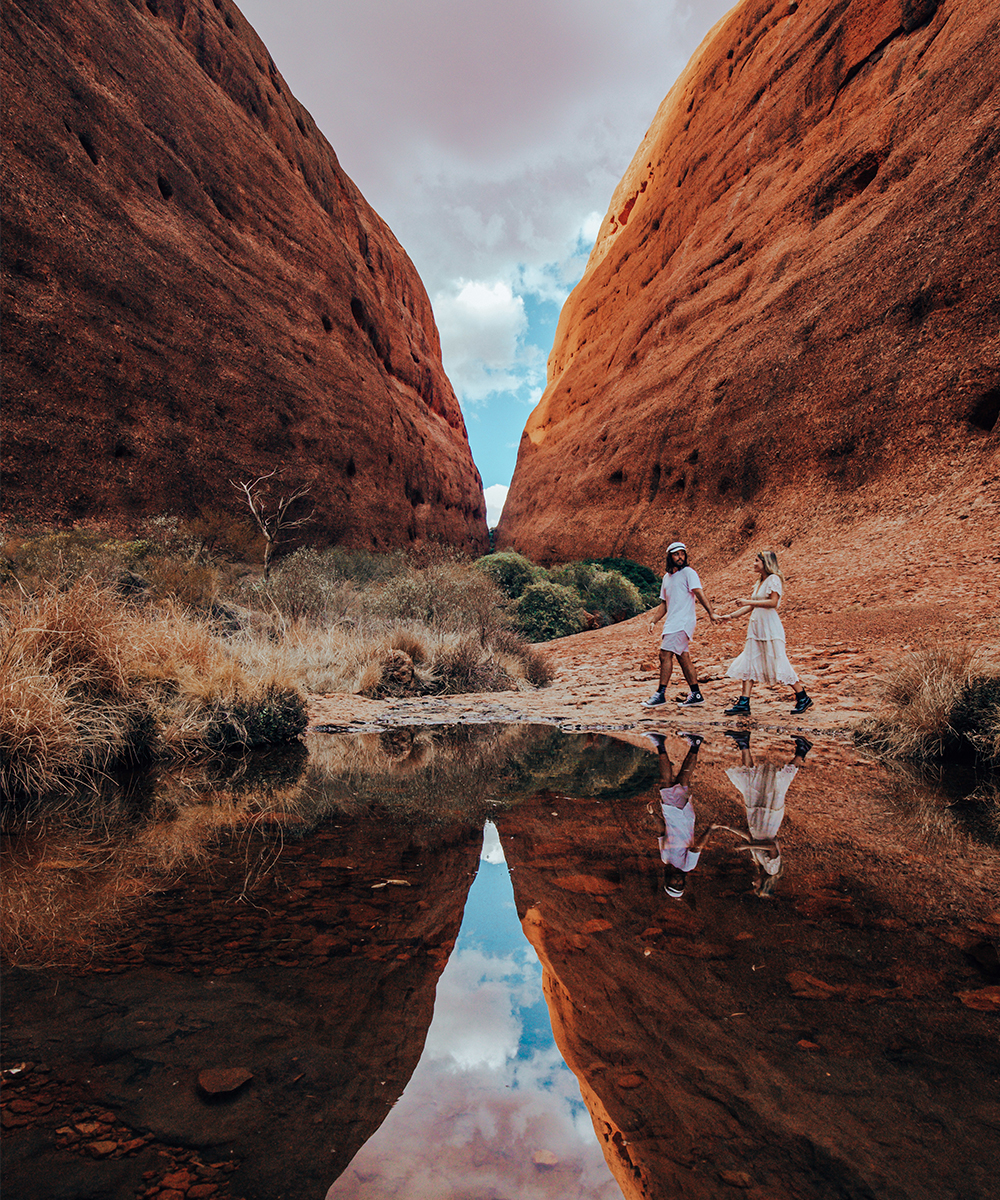 2pm: Order a late lunch from room service and soak up the NT rays by the pool at your hotel. You've got a few hours of downtime before your final event.
5:30pm: As darkness falls around Uluru it's time to check out artist Bruce Munro's truly stunning Field Of Light. Start your tour off with some champagne and canapes before making your way through seven football fields worth of lights. The exhibition, aptly named Tili Wiru Tjuta Nyakutjaku or 'looking at lots of beautiful lights' in local Pitjantjatjara is a fantasy garden of 50,000 spindles of light, glittering in a rainbow of colours. It's pure magic.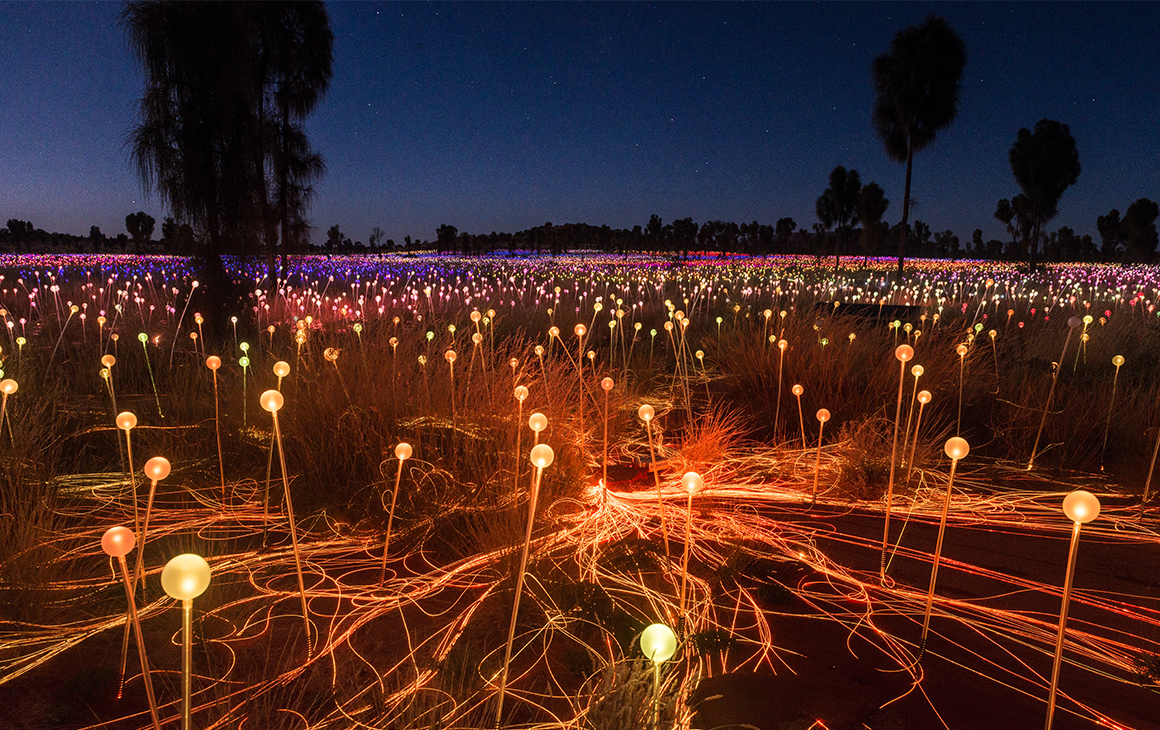 And that's a wrap on your bucket list trip. If you don't want it to end just yet, extend it and check out our list of the most 'Grammable spots in NT.
There are direct limited flights out of Yulara airport to major cities or you can take a roadie back to the main hub of Alice Springs. Happy travels.
Image Credit: Jackson Groves, Cameron Vaughne, Jarrad Seng, Matt Glastonbury, Bronte Stephens, Kyle Hunter/Tourism NT