The Northern Territory is unlike anywhere else in Australia and you'll feel it the minute you arrive, whether that be at one of the airports or as you cross the border in your 4WD. It's a land of outrageous natural beauty and even better people, so take it slow, get to know some locals and immerse yourself in the culture; this is no place to be in a rush.
Here are 12 of the best things to do in the Northern Territory, time to tick them off the bucket list.
Sleep Under The Stars
The absolute number one thing to do in the Northern Territory in our opinion is to sleep in a swag under the jaw-dropping Milky Way. Seeing this beauty from the outback is like nothing you can imagine and the sight will stay with you forever, trust us. You can camp in plenty of the spots we've listed below, otherwise check out a comprehensive list of NT campgrounds.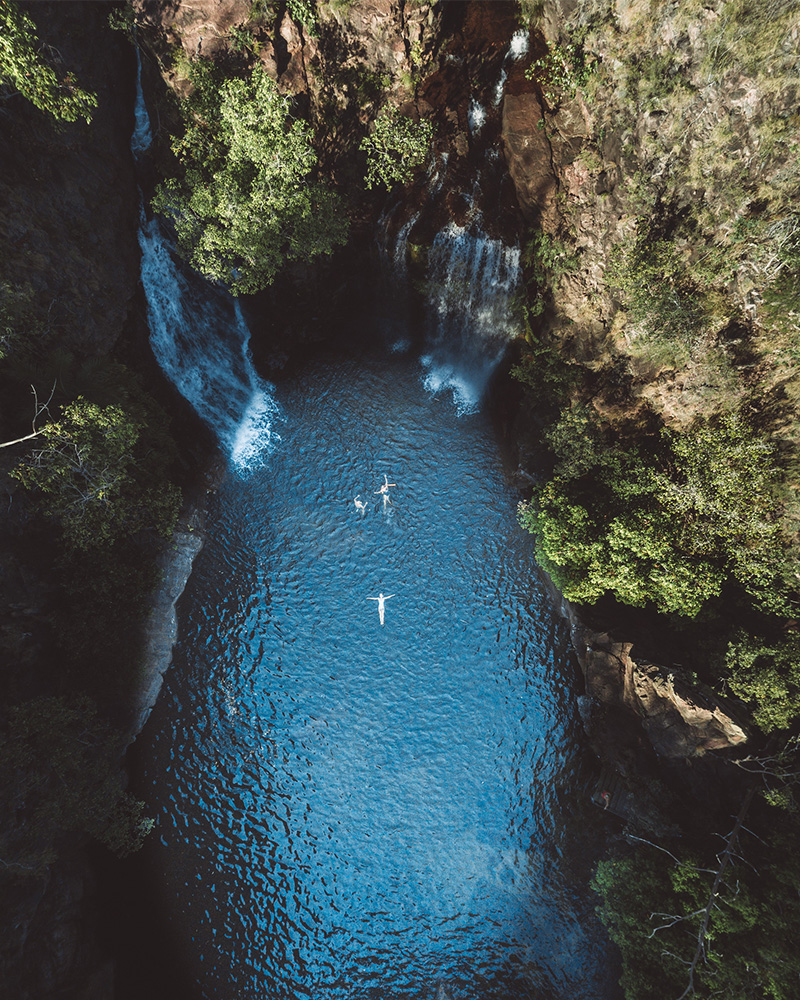 Litchfield National Park
Whether you head in for a day from Darwin or Katherine or you camp overnight, Litchfield National Park is a stunner. It's up to you whether you push yourself to the limit on the walking trails—the 39km Tabletop Track is a killer—or relax in a swimming hole under one of the waterfalls, but we reckon you might as well go ahead and do both; don't worry there are plenty of short walks if you're not quite up to the Tabletop Track. Don't miss Florence Falls and Buley Rockhole for swimming—there's a nice easy walk between the two that will take you about 1.5 hours.
Nitmiluk National Park
There's nothing quite like a helicopter ride over the gorges at Nitmiluk National Park so go ahead and pop that on your NT itinerary right now. It's not prohibitively expensive at around $100pp for a three gorge ride but if you can't swing it or you're not into helicopters, the next best thing is a sunrise or sunset cruise so you can sit back and relax while you marvel at the beauty of Nitmiluk Gorge. While you're there, you'll also want to check out Katherine Gorge and Edith Falls. You can visit as a day trip from Katherine or camp overnight, but you'll want to book ahead.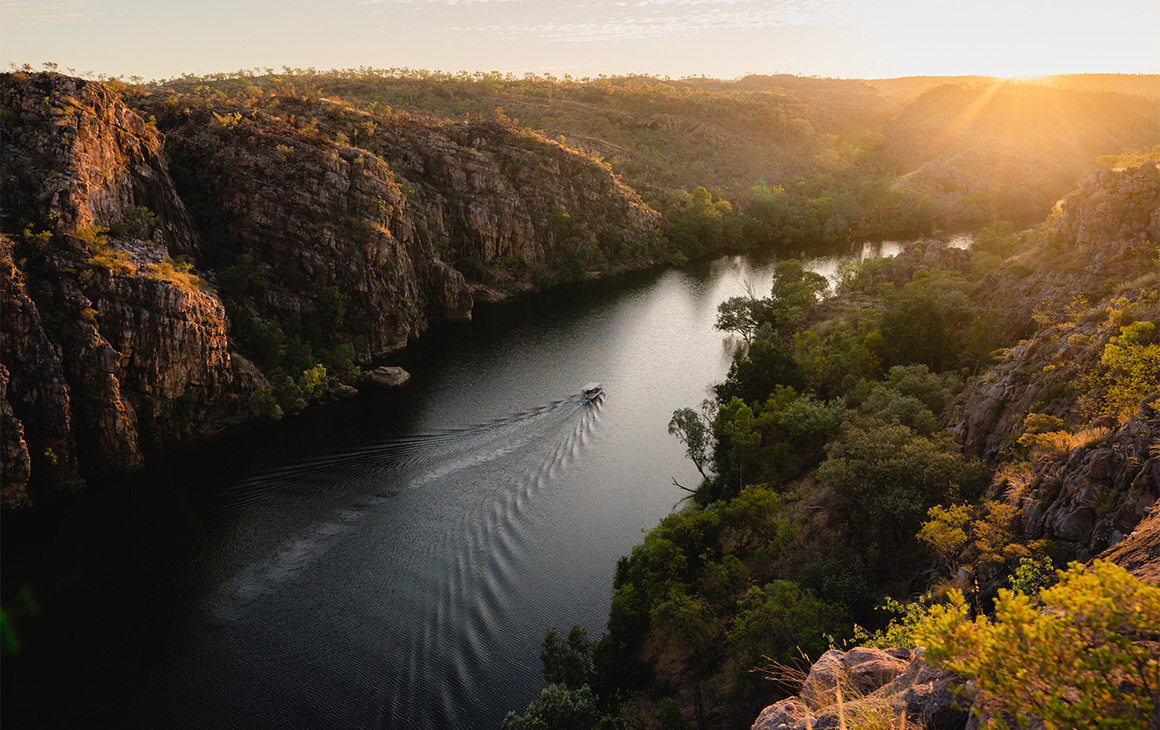 Mataranka
About an hours drive from Katherine, Mataranka's thermal pool is a sight for sore eyes and while that is reason enough for us to tell you to go, the town is also a great spot to learn a thing or two about the Mangarayi and Yangman people—the traditional Aboriginal custodians of the land—or pick up a handcrafted digeridoo. There's also plenty of WWII history to be found here if you're that way inclined. But back to the thermal pool. It sits at a beautiful 30 degrees and is fed by an underground spring which pushes out a casual 30.5 megalitres each day.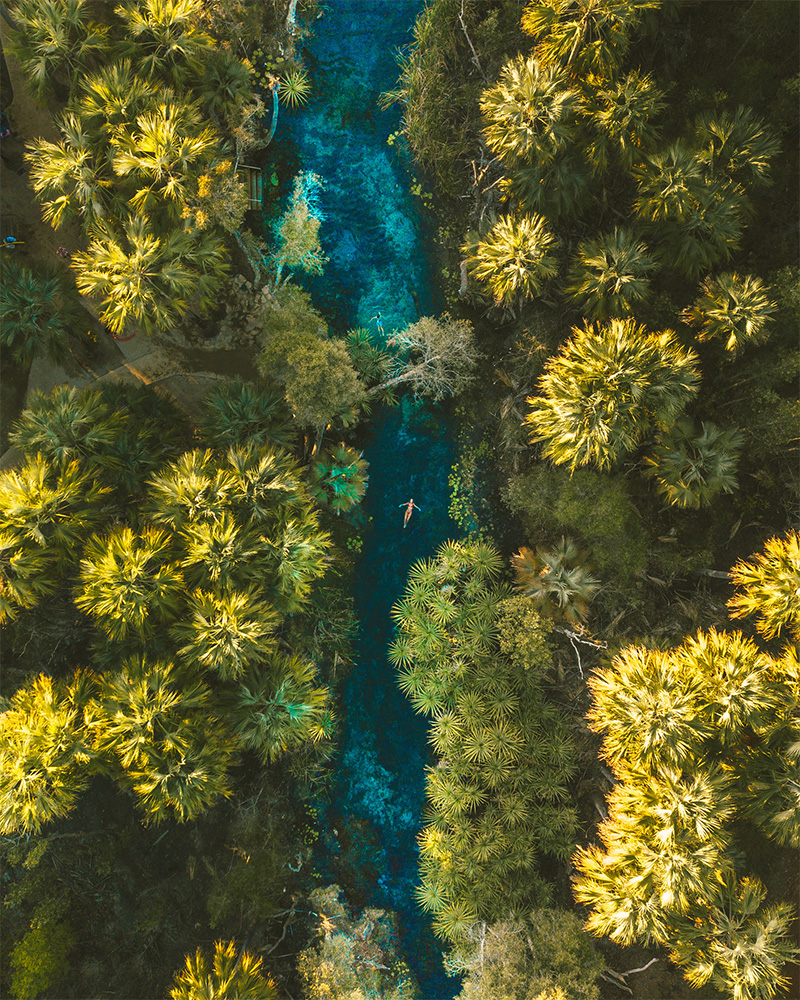 Berrt Springs
One of our favourite spots for swimming in the Northern Territory, Berry Springs is also home to some great bushwalks as well as some beautiful native plants which flower each year in March or April. It's about a 45-minute drive from Darwin and the perfect spot for a picnic or a BBQ so remember to stock up before you go.
Kakadu National Park
If you're yet to cross crocs off your NT bucket list, jump on the yellow water boat tour at Kakadu National Park and you won't be disappointed. There are plenty to spot—Kakadu is home to about 10,000—but keep in mind the best time to spot them is from August to November. The park is full of amazing walking trails and the sunsets here are top-notch so pitch your tent near Yellow Water and get comfortable. Let's not forget that Kakadu is on the UNESCO World Heritage list not just for nature but also for culture, so a visit to Ubirr to check out the rockart is a must. It doesn't hurt that there are also some pretty spectacular views here.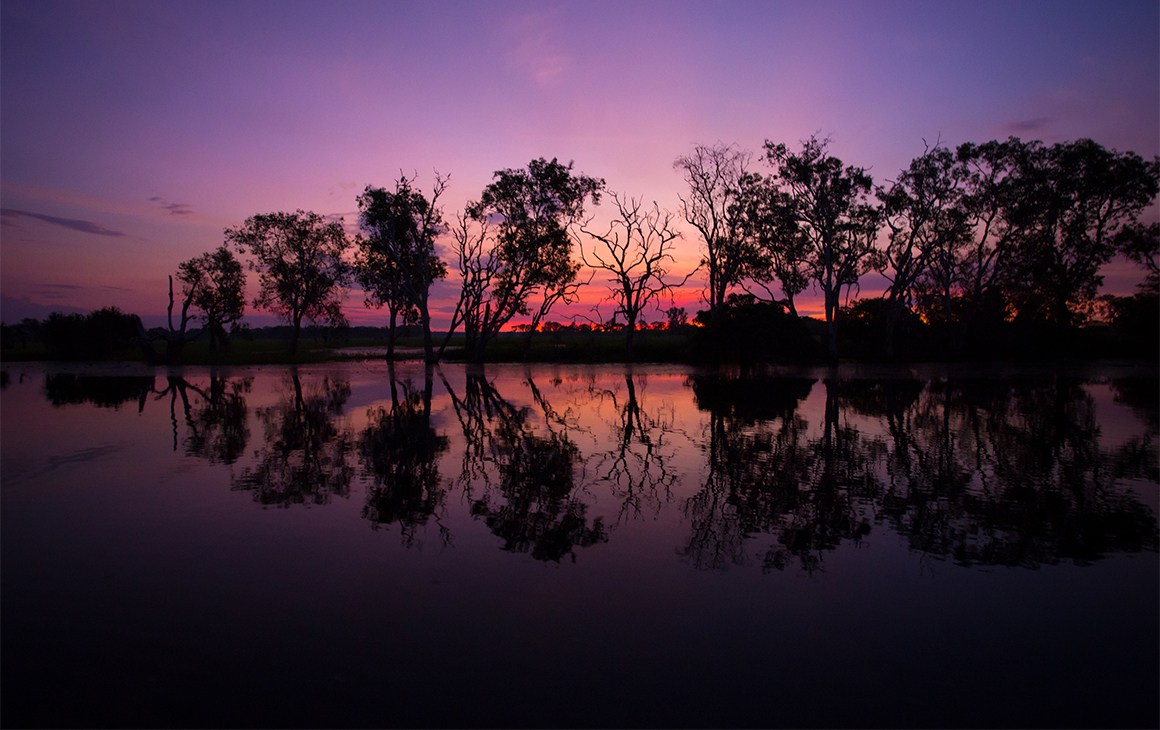 Kings Canyon And Watarrka National Park
If you're after epic views, Kings Canyon is where it's at. The six kilometre Rim Walk takes you through the stunning Garden of Eden before delivering you to 'the rim' where you can take in views for miles over the vivid red sand dunes. Stay overnight and take advantage of the resort's Under a Desert Moon dinner made with local ingredients and served right under that spectacular Milky Way we keep banging on about.
Uluru-Kata Tjuta National Park
Don't worry, we haven't forgotten about Uluru, we just wanted to keep you on your toes. Of course you're going to visit the big red rock if you're going to the Northern Territory, the question is how to tackle it. While you can do it as a day trip from Alice Springs, it's a long and tiring day. A better idea is to book yourself a luxury tent at Longitude 131 and take in the spectacle that is sunrise at Uluru. This will also give you plenty of time to explore the park and take in all its glory.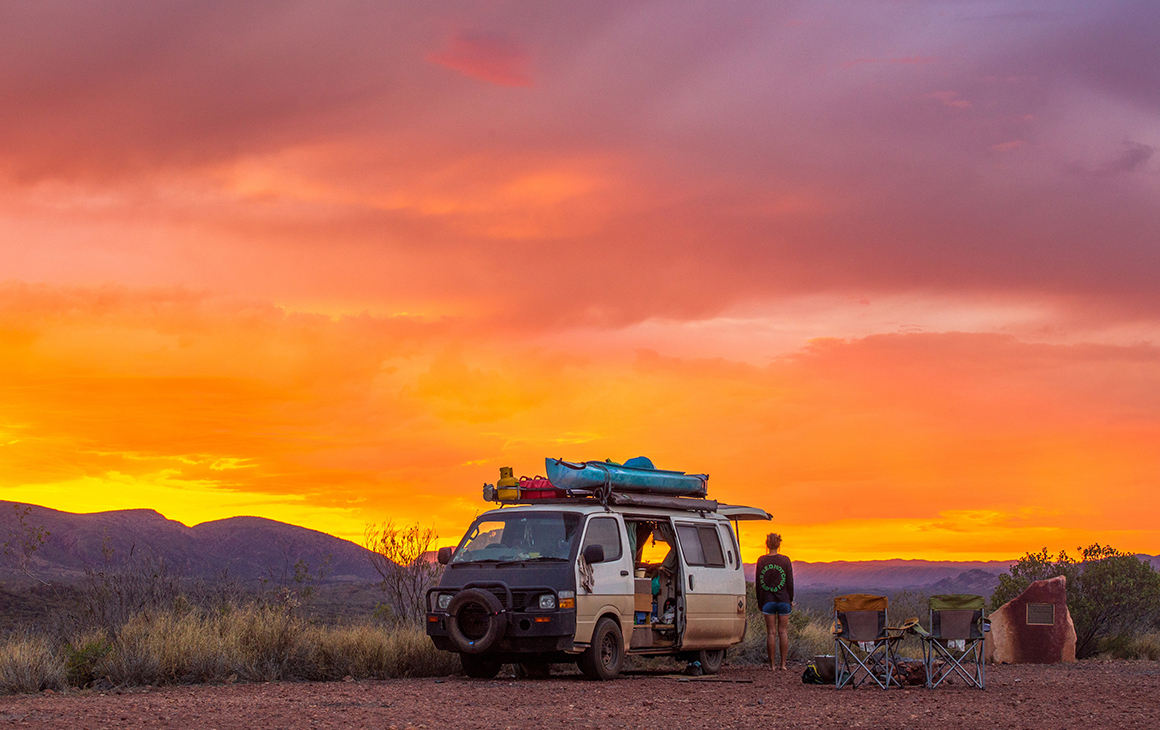 West And East MacDonnell Ranges
The West and East MacDonnell Ranges are well known for secluded swimming spots and good hiking, but be sure to stop by the Ochre Pits in the West MacDonnell Ranges too. They're not only impressive to look at but they're also full of Aboriginal history and culture—ochre was and still is used for painting, protection, medicine and even magic—so find yourself a guide or do some reading before you visit.
Rainbow Valley
With a name like Rainbow Valley, can you really blame us for loving this special little spot an hour's drive from Alice Springs. Rainbow Valley is a small (by Northern Territory standards) conservation reserve which is home to some famous rock formations which are gob-smacking at sunset. But it's also home to 20 kinds of mammal, 46 species of reptile, over 100 types of bird and more than 400 species of flora, not to mention some great walks and bundles of Aboriginal culture. The reserve is managed by both Aboriginal Traditional Owners and the NT Parks & Wildlife Service, making it the perfect place to get schooled on culture by people who actually live there.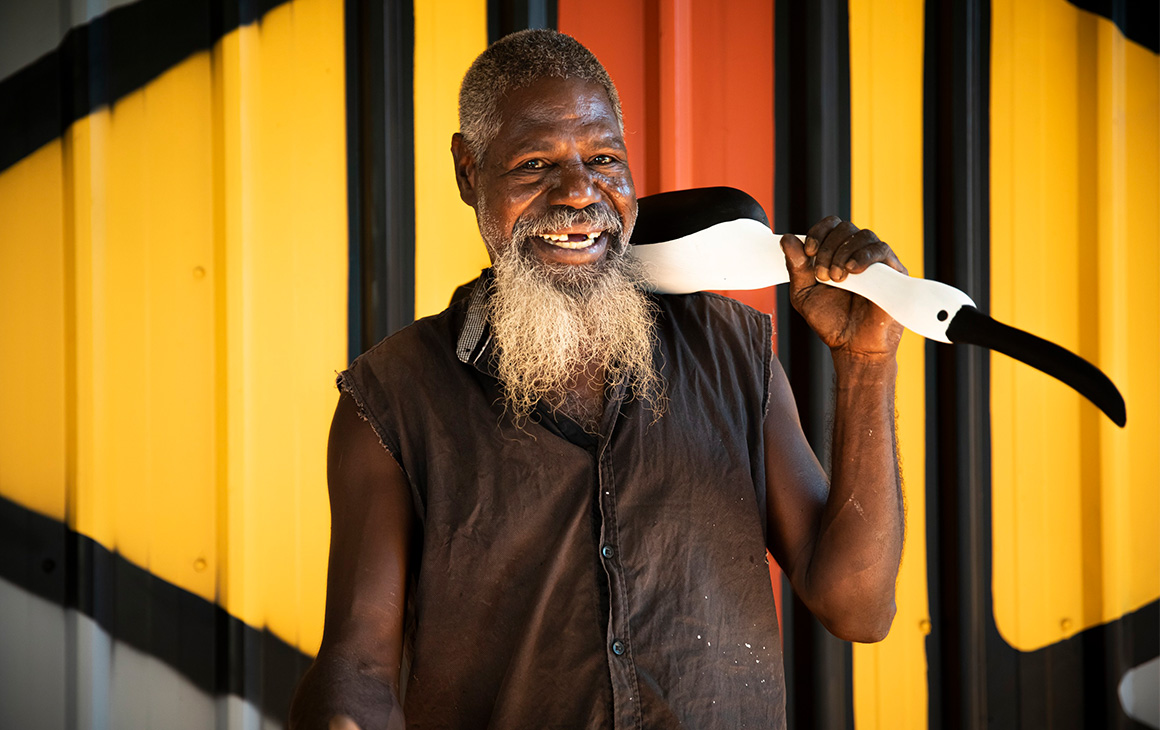 Tiwi Islands
80km north of Darwin, the Tiwi Islands are made up of two main islands—Bathurst and Melville. The landscape is beautiful—think rock pools, waterfalls, jungles and beaches—but the Tiwi people are the real drawcard. If you happen to be in NT in March, do not miss the annual art sale and AFL Northern Territory grand final day; it's a day you'll never forget..
Big Drives And Exploring
The best way to explore the Northern Territory is to get yourself a 4WD, a swag and a banging (not to mention, extensive) playlist. A couple of good routes that you might not hit if you're just hitting the spots we've already mentioned are the Tanami Track which starts near Alice Springs and heads west towards the Kimberley in WA and the Oodnadatta Track which again starts near Alice Springs but heads south towards Lake Eyre.
Be sure to check out the incredible light festival is popping up in the middle of the NT desert.
Image Credit: Gamma-Rapho/Getty Images, Carmen Huter, Jason Charles Hill, Mitch Cox, Graham Freeman, Jarrad Seng, James Fisher/NT Tourism