The biggest silver lining of the overseas travel ban, has to be the chance to explore more of Australia's stunning backyard. Forget your Euro trip, we've got bucket list destinations aplenty right here. One of the biggest jewels in Australia's burgeoning crown has to be the Tiwi Islands. Comprising two main islands—Bathurst and Melville—it's located around 80kms north of Darwin in the Northern Territory.
Nicknamed the 'Island Of Smiles' this unique slice of paradise is home to incredible Aboriginal culture, sugar white sand beaches, hidden escapes, breath-taking nature-scapes and wildlife (read: lots of crocs).
One trip here is simply not enough, but to get you started, here is a list of the best things to see and do in the Tiwi Islands.
How To Get To The Tiwi Islands
There are two ways to get to Tiwi and it all depends on your time and budget. From Darwin you can catch a charter plane and land in paradise in just 30 minutes. Flight prices vary, but you're looking at approximately $175 per person one-way—the gorgeous views of sparkling blue water from above make it all worth.
A more budget-friendly option is to jump aboard a ferry. Sealink ferries will get you from Darwin to Melville Island in around two and a half hours and will set you back around $60 per person, one-way. The ferry has comfy seats, air con (something you'll realise is worth its weight in gold in this part of the world) and a kiosk on board serving snacks. They also offer Tiwi tours too which you can check out here.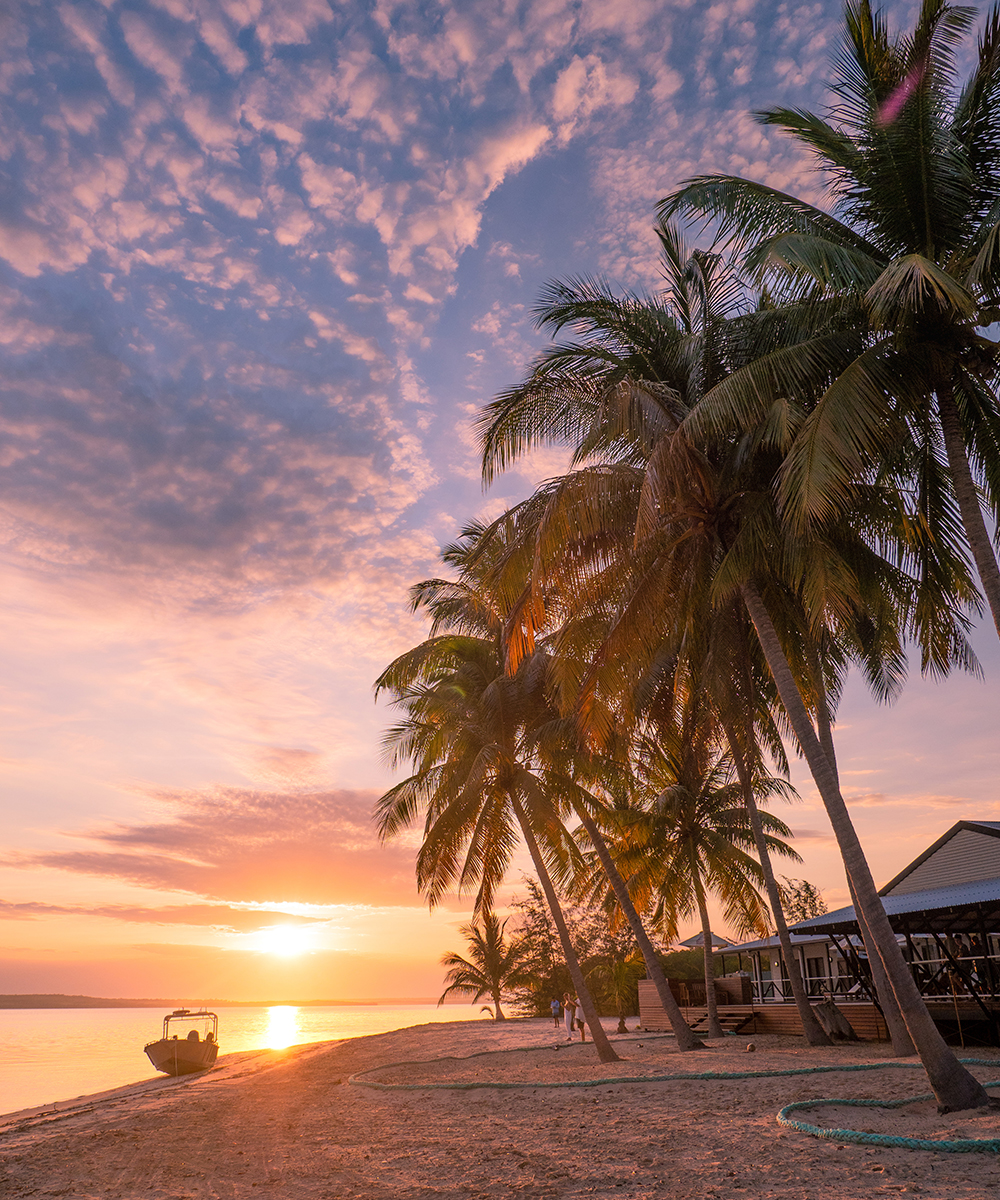 Things To Do In The Tiwi Islands
Cheer On The AFL Grand Final
Mark your diaries for this one, because the most important footy grand final (in our opinion) in the country has to be seen IRL to be believed. Taking place every March (the exact date varies), the Tiwi Island finals clash is one of the most vibing, emotionally charged events we've ever witnessed—it's also the only day of the year you don't need a permit to enter the islands. Held on Bathurst Island, you can cheer along with the locals and rush the field for mass celebrations when the final siren blasts.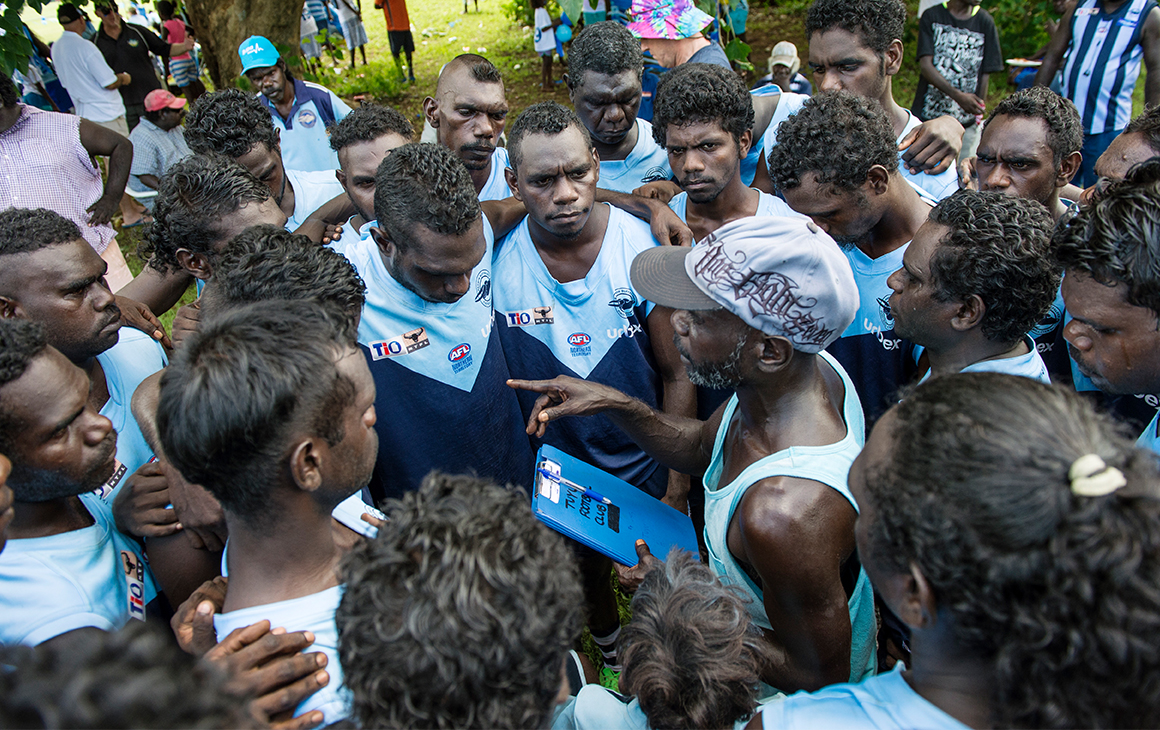 Check Out The Art Scene
Coinciding with the footy grand final, the Islands hold their famous, annual art sale, which gives you a chance to purchase a piece of beautiful Aboriginal art direct from First Nations artists. There's paintings on canvas, drawings on paper, silk scarves and wooden carvings all to be marvelled at and purchased. The hardest part here will be narrowing down your choice. When the art sale isn't on, there are still plenty of stunning art to check out. Be sure to visit Munupi Arts and Crafts on Melville Island for carvings, acrylic paintings, ceramics, etchings and screen prints, natural fibre weavings and traditional bark tungas. Another fave is Tiwi Design on Bathurst Island who specialise in ochre paintings on canvas and bark, ironwood carvings, screen printed fabrics, ceramics, bronze and glass sculptures as well as limited edition prints. Or if you'd rather a guided tour, you can learn about the arts from locals first hand, enjoy a welcome ceremony, morning tea and get the chance to join in a screen printing workshop.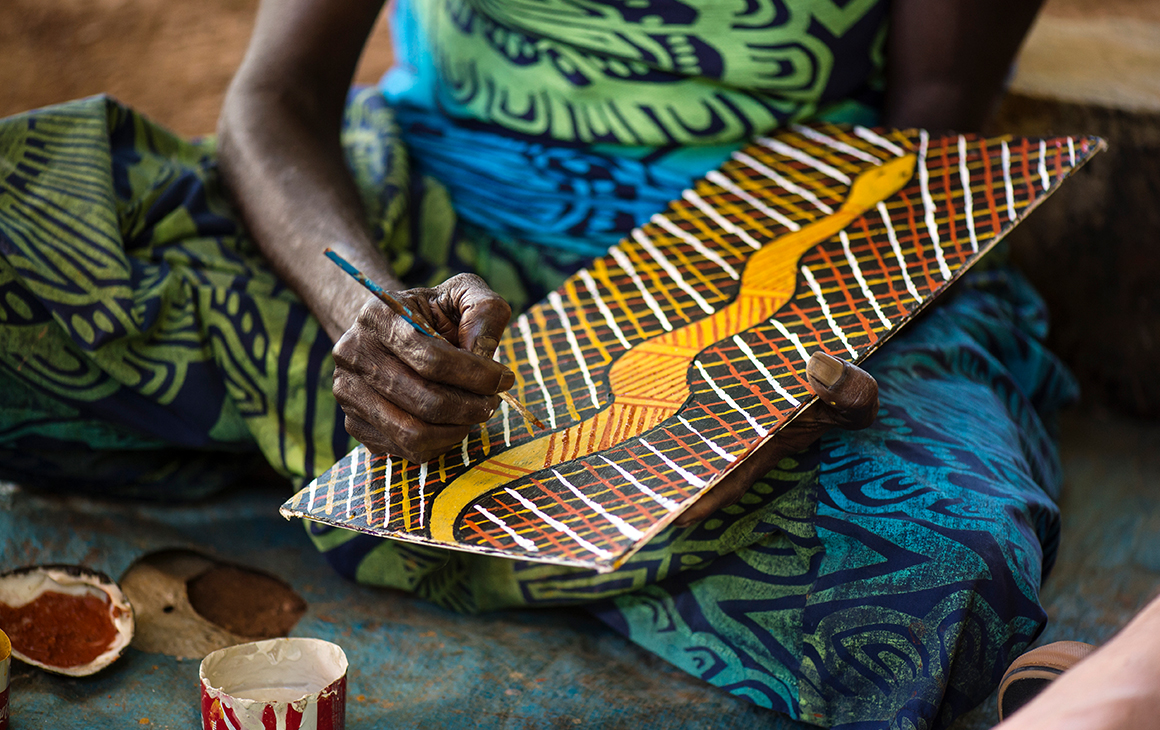 Go Fishing
Up here, the seafood on offer is some of the best you'll ever get the pleasure of devouring. And it always tastes that little bit better when you've caught it yourself. Common catches in this neck of the woods include mud crabs, cod, golden snapper, black jewfish and barramundi. There are a myriad of fishing tours you can check out including Tiwi Islands Adventures, who offer two to six day fishing trips including private charter flights, fishing permits and accomodation. Or if you'd rather go it alone with your crew you can hire boats and set off for fishing in the mangroves. Just remember to get yourself a permit first.
Zen Out
The naturescapes in Tiwi are some of the most incredible we've ever laid our eyes on. Feeling a world away from the hustle and bustle of city life, one of the best things to do during your time on the island is to simply zen out. Breathe in the fresh sea air, sip on a fresh coconut (there are palm trees aplenty here), and spot the various wildlife that call this paradise home. There's wallabies, dolphins and crocs on offer here, so keep your eyes peeled.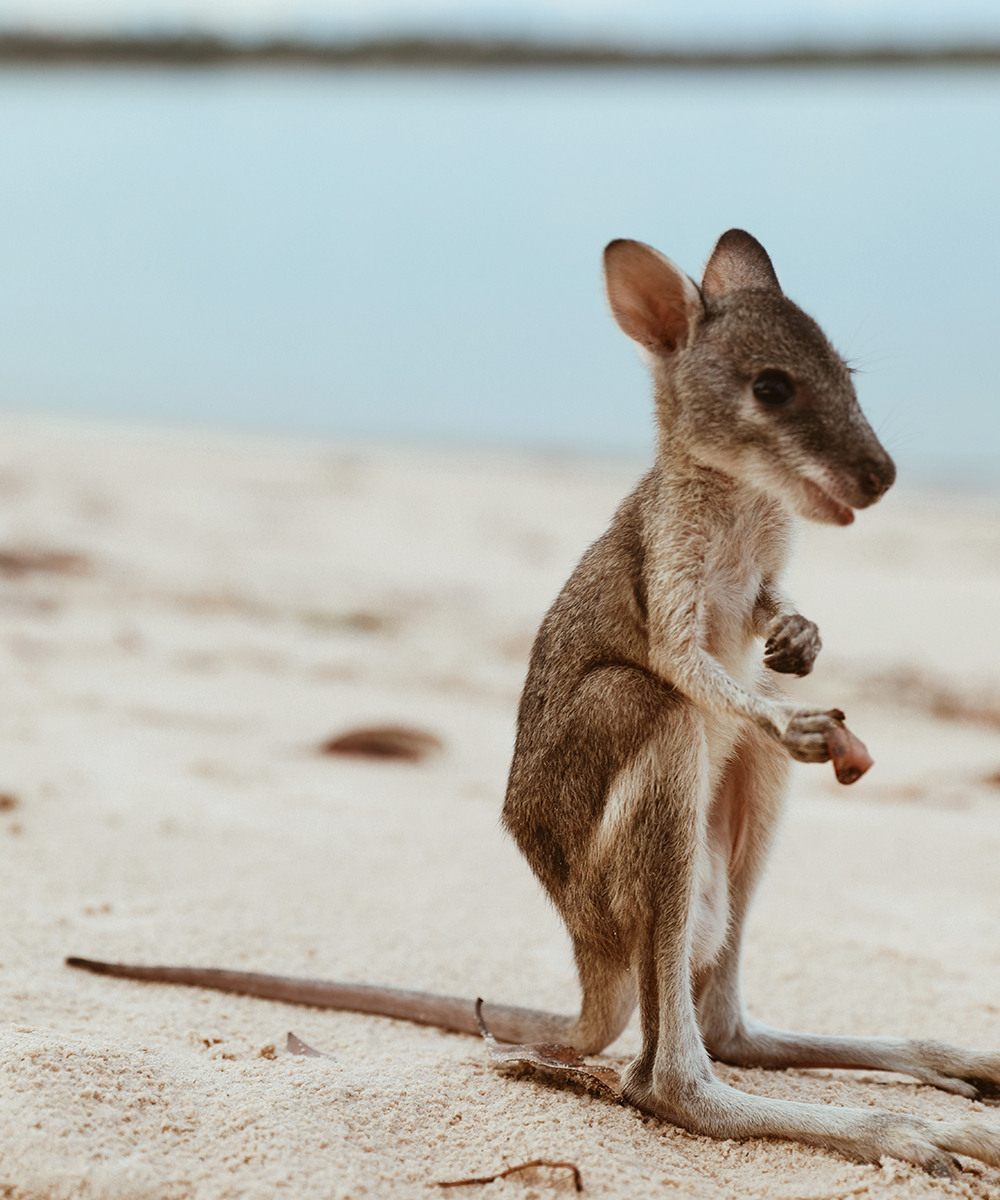 Where To Stay In The Tiwi Islands
Bathurst
Tiwi Island Retreat
If you're heading to Bathurst Island then the Tiwi Island Retreat is an absolute no-brainer. Located on the south west coast, the retreat is made up of 18 private rooms—the perfect place to escape the crowds and soak up those holiday vibes. Boasting a 12-metre pool fringed by palm trees, white sand and a sparkling ocean (that is home to resident croc Claudia), you'll feel like you've peaked in life while sipping on a mojito.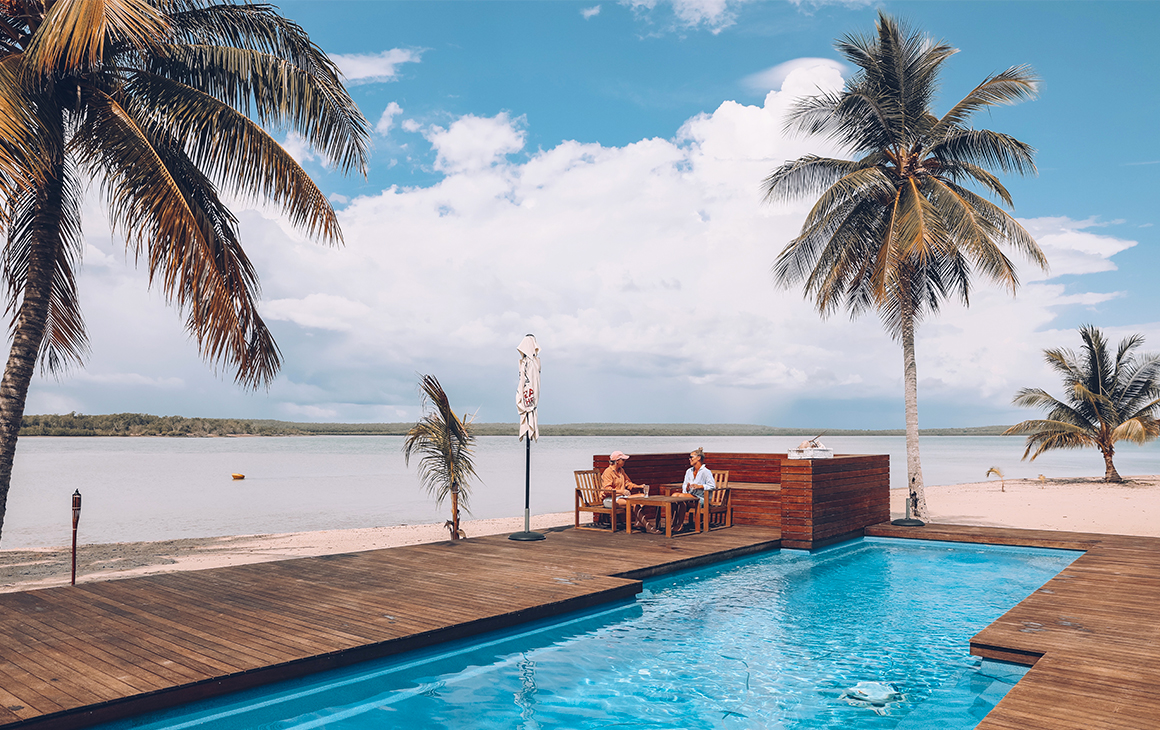 There's activities aplenty here too if you want to take a break from sunning yourself by the pool. We recommend heading out on a fishing tour with owner Matt Wright or one of his trusted crew. On a private boat you can throw out a line, sip a beer, turn the tunes up and bask in how bloody great your life is. If you're lucky enough, whatever you catch, the staff will cook it up for your tasty dinner that night. It doesn't get much fresher than that.
You'll also want to carve out an evening for the super special sunset buggy ride. You and your crew will be whisked away to your own private slice of island paradise to watch the sun go down, complete with bubbles, a cheese board, fire and the most brilliant sunset you'll ever lay your eyes on. There's also a chance to go on a helicopter tour which takes you to remote swimming holes for a dip, plus Indigenous art and cultural tours too. Head here for all the deets.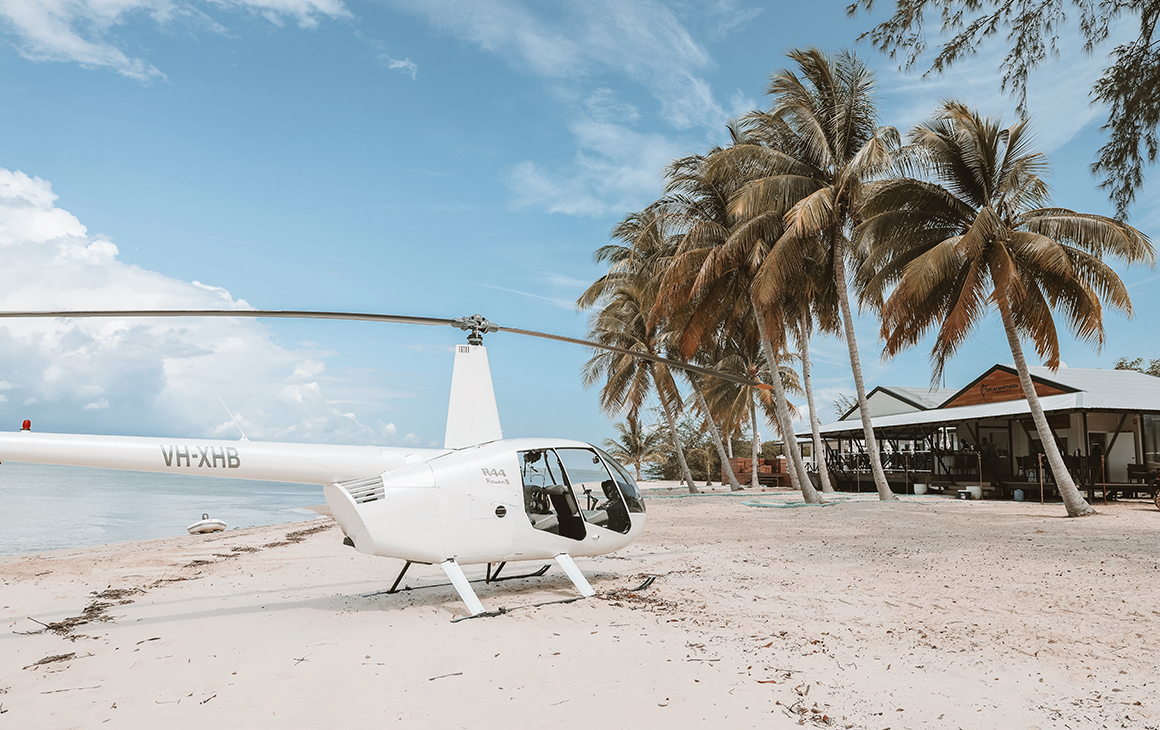 Camping
On the total opposite end of the spectrum is Shaggy's Campsite (Tinkanrow) which is on the east coast on the Apsley Strait. The campsite is located in a Permit Free Fishing Access Zone but you'll still need a permit to camp—which can take up to 30 days to process so make sure you allow plenty of time. Head here to apply for a permit. The offerings here are basic, with an iron shelter, BBQ area and water tank. But on the plus side, you've got the stunning backdrop of Tiwi all to yourself.
Melville Island
Clearwater Island Lodge
This famous fishing lodge can be found on the outskirts of Pirlangimpi, a small aboriginal community. The digs consist of twin-share, triple-share and double rooms and are all air-conditioned for your comfort. The best bit? The bar and dining area are nestled on a clifftop, overlooking the Apsley Strait waterway, which offers jaw-dropping sunrise and sunset moments that are sure to blow up your gram. Like the Tiwi Islands Retreat, the lodge offers a myriad of awesome tours, the most popular of which, being their fishing tours. If that's not your thing they also offer sightseeing, bush taker and art tours too.
Camping
If you'd rather be at one with nature, there are two campsites on Melville Island to choose from—Camp Point Campsite on the east coast, and Robertson Creek Campsite on the central south coast. Just like Shaggy's on Bathurst Island, the sites are equipped with an iron shelter, barbeque, and water tank and require a permit to stay at.
Important Things To Know About The Tiwi Islands
Tiwi is home to around 2,500 First Nations People so it's important that you pay respect to them and their land when you're visiting. Tiwi communities occupy Aboriginal-owned land, so you'll also need a permit (aside from the footy grand final day or Sealink tours) to enter the islands. Head here to apply for yours. Tiwi cultural ceremonies can and do take place regularly which also means some areas might be temporarily closed during your visit.
The second most important thing you need to know about? Despite the water looking oh so beautiful, it's absolutely off-limits for swimming. And yes, that includes even popping your feet in for a quick cool down. The area is home to deadly stingers, crocodiles and sharks, so stay on dry land.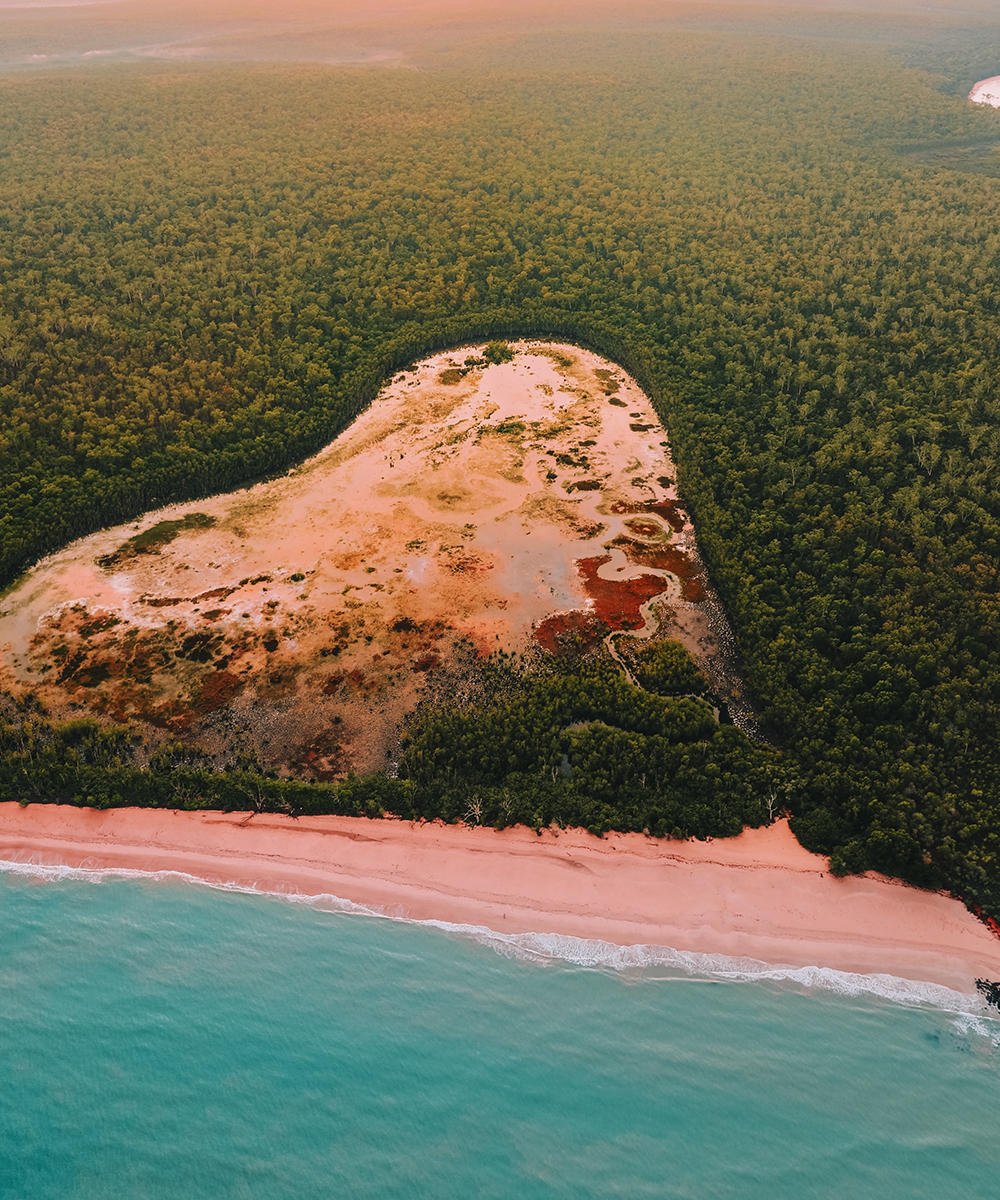 When To Travel To The Tiwi Islands
In the Top End, there are two distinct seasons—wet and dry. The latter typically runs from May to October with an average temp of 21°C to 30°C and an average humidity of around 20%. This season is perfect for bushwalking, hiking and camping.
The wet season covers the months of November to April and sees temps of around 25°C to 33°C with humidity levels of over 80%. Unsurprisingly the wet season can be incredibly wet, so expect tropical downpours. The upside? It leaves the islands incredibly lush and the sunsets are truly breathtaking. Locals often say that although the dry season is popular with tourists, the wet season is when the islands really come alive.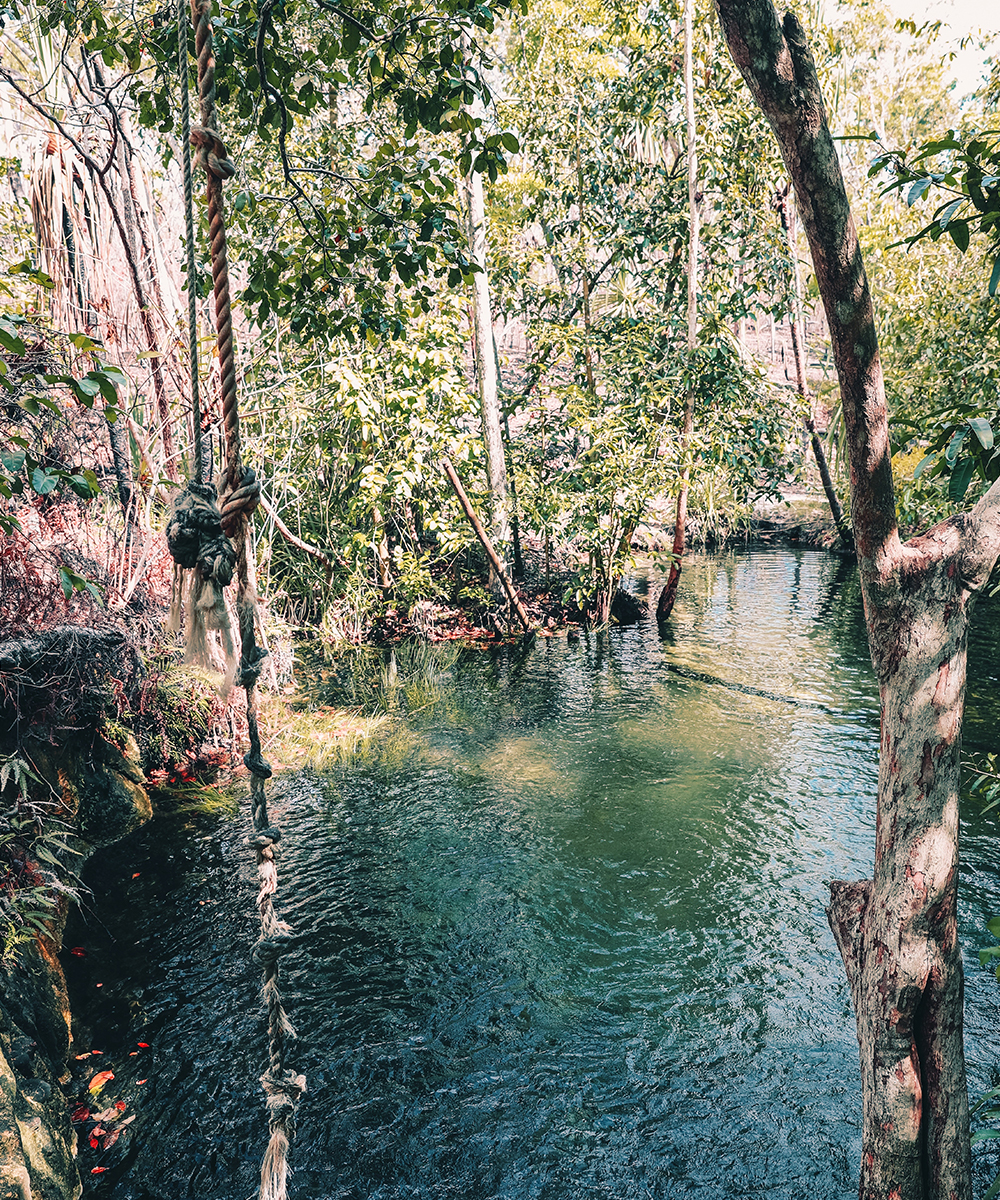 What To Pack For The Tiwi Islands
Newsflash: the Top End of Australia is seriously hot. If you're heading there in the wet season, pack an umbrella, raincoat and waterproof shoes. And all year round you'll need sunscreen, insect repellent, light, breathable clothing and an insulated water bottle. And that's all you need, now you're officially ready for your Tiwi Islands adventure.
Next up, here's how to have the ultimate Alice Springs to Uluru road trip.
Image Credit: Tourism NT/Shaana McNaught, Elise Cook, Mark Fritz,