Stunning beaches, glittering lakes, impressive mountains and cliffsides...Tassie abounds with both natural wonders and man-made spots that are more than worthy of a space on your bucket list. Boasting not one but several World Heritage sites, Tasmania is one big heaping pile of beauty and wonder that you need to visit ASAP.
To narrow things down a bit, we've compiled a list of the best Tassie towns to visit on your trip, so you don't get whiplash from wanting to do it all.
Here are 15 towns to visit in Tasmania.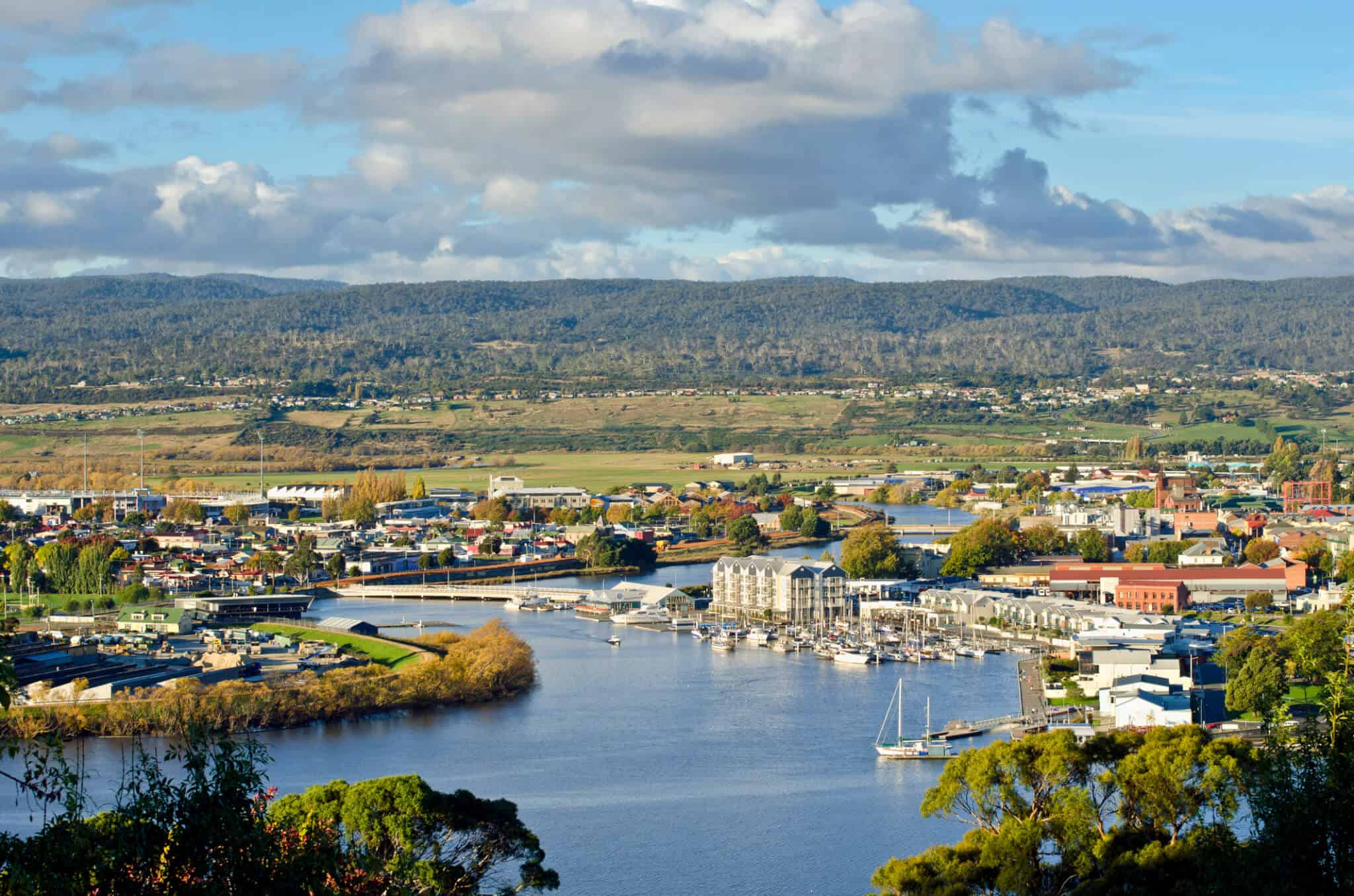 North
Launceston
Launceston is one of Australia's oldest cities and has one of the best-preserved early architecture and parks. There's plenty of stuff to do and see, including the Cataract Gorge, which is a river gorge 1.5 km from the city centre (spoiler alert: it is stunning.) There are also plenty of art galleries and museums to check out, as well as some pretty epic places to eat, so get ready to tuck in.
The Details
Stay: The Florance, Hotel Verge, Kurrajong House, Armalong Winery Chalets
See: Cataract Gorge, City Park, Queen Victoria Museum, Tamar Valley, James Boag Brewery Experience
Eat: Brisbane Street Studio, Novaro's, Oak Tree Cafe, Bryher, Great Scot
Devonport
Coastal Devonport is the perfect spot for eats, views and plenty of activities like fishing or kayaking. Hit up the Bass Strait Maritime Centre, check out the Mersey Bluff Lighthouse or soak in the rays at Coles Beach. Outside of Devonport, visit Narawntapu National Park and spot wallabies, kangaroos and wombats galore.
The Details
Stay: Stony Rise Cottage, Dannebrog Lodge, Compass Hut, Birchwood Accommodation
See: Bass Strait Maritime Centre, Mersey Bluff Lighthouse, Tasmanian Arboretum, Coles Beach, Narawntapu National Park
Eat: Pinctada Kitchen, Playfish, ZEN (temporarily closed), Pizzirani's cucina, Laneway, Four Ways Cafe, Verona
South
Hobart
Hobart is Tasmania's capital city and the second oldest capital in Australia after Sydney. It's also the city most people think about when they think about Tasmania, and with good reason: with its rich history and gorgeous architecture, stunning waterways and beautiful mountains, it's definitely worth a tick on the old bucket list. Hit up MONA, take a wander through the Salamanca market or make a quick stop to Mount Wellington. Oh and don't forget to sample all the stellar restaurants, of course.
The Details
Stay: Grande Vue Hotel, Hotel Galleria Salamanca, The Alabama Hotel, The Henry Jones Art Hotel
See: Mount Wellington, MONA, Salamanca Markets, Royal Tasmanian Botanical Gardens, Tasmanian Museum And Art Gallery
Eat: Templo, Fico, Peacock & Jones, Urban Greek, Cultura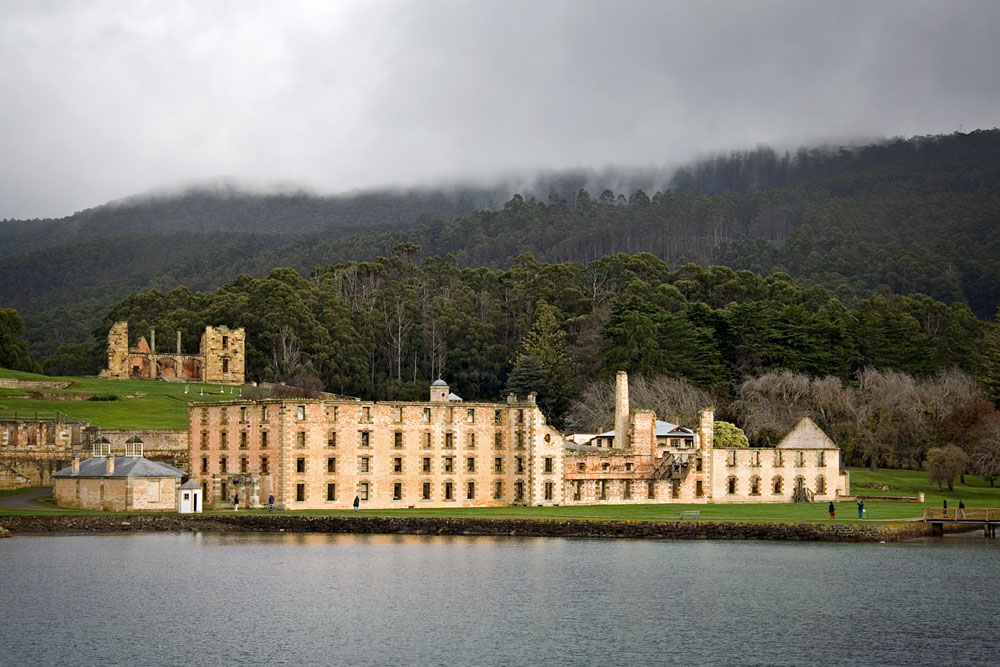 Port Arthur
Sitting on the Tasman Peninsula, Port Arthur was a 19th-century penal settlement and is now an open-air museum. Ruins include the massive penitentiary and the remaining shell of the Convict Church, which was built by inmates. Hop on an island cruise, visit the historic settlement, pop in to the nearby lavender fields or visit the Tasman National Park; whatever you choose, we promise it's going to be scenic AF.
The Details
Stay: Stewarts Bay Lodge, Port Arthur Villas, Eaglehawk Pavilions, nextdoor@portarthur
See: Tasman Island Cruises, Port Arthur Lavender, Port Arthur Historic Site, Port Arthur Ghost Tour, Remarkable Cave, Tasman National Park
Eat: Inspired Pizza & Pasta, The Peninsula Cafe, 1830 Restaurant And Bar, Rosedale Homestead
Bruny Island
Bruny Island has some of Tasmania's most beautifully preserved natural environments with abundant wildlife and stunning cliff top views. Besides the gorgeous scenery and wildlife, Bruny is also home to local producers specialising in oysters, cheese and chocolate, so here's permission to stuff your face while taking it all in.
THE DETAILS
Stay: Omaroo Cottage, Tree House Accommodation, 43 Degrees, Adventure Bay Retreat
See: South Bruny National Park, Mavista Falls, Cape Bruny Lighthouse, Bruny Island Cheese Company
Eat: Oysterbay Restaurant, Penguin And Pardalote Cafe, Bruny Island Cheese Company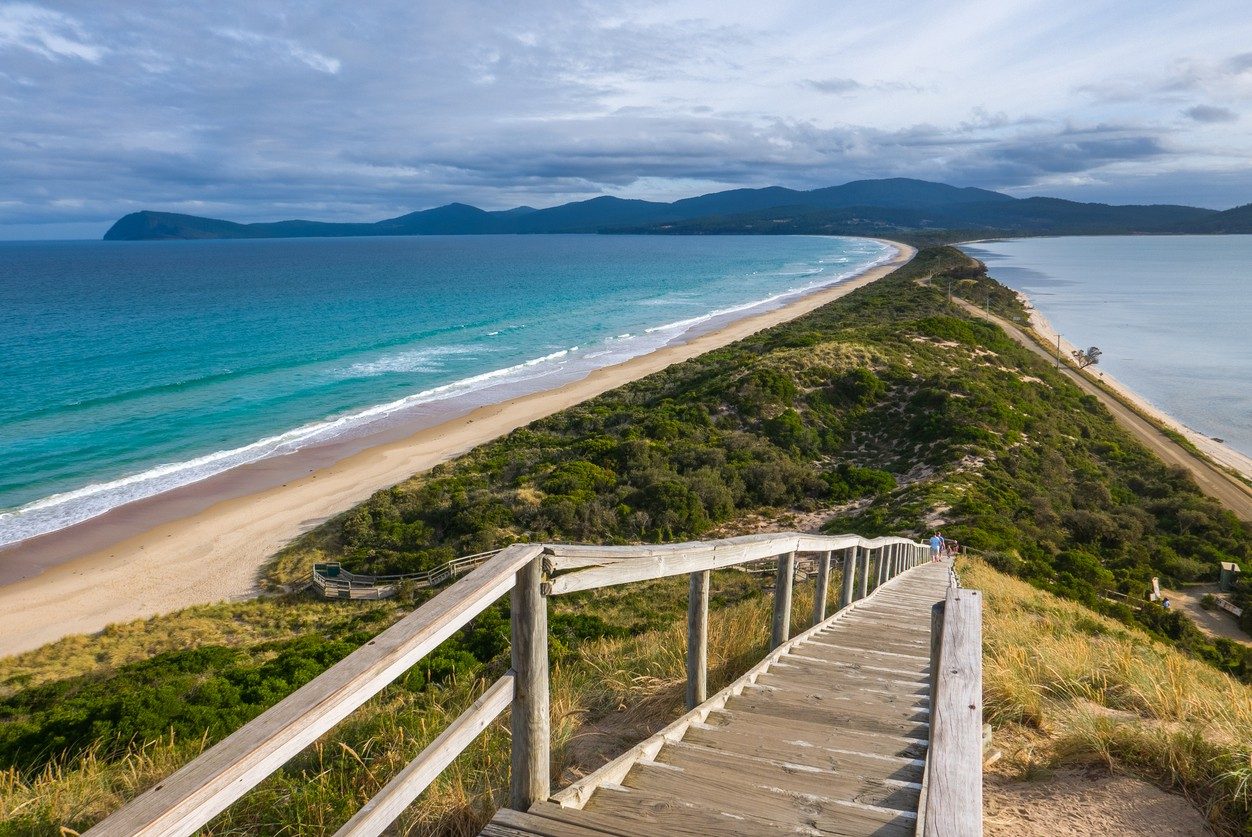 Richmond
Just a short, 20-minute drive from Hobart, Richmond was established as a military staging post and convict station linking Hobart with Port Arthur. The village is famous for its beautiful Georgian architecture; its heritage buildings date back as early as the 1820s. Nestled in the heart of the Coal River Valley, you can expect great food and wine, as well as plenty of galleries, tea shops, museums and boutiques.
The Details
Stay: The Henry Jones Art Hotel, Claremont House, Mulberry Cottage B&B, Charles Reuben Estate
See: Richmond Bridge, Bonorong Wildlife Sanctuary, Richmond Gaol, Old Hobart Town, Frogmore Creek Winery
Eat: Ashmore on Bridge Street, Czegs' Cafe, Wattlebanks
Cygnet
Cygnet is the centre of the Huon Valley, famed for stunning and delicious apple, cherry and berry orchards; 83% of Tasmanian apples originate in the Valley and Cygnet is a great spot to see where all the fruit growing magic happens. Also popular with the artistically inclined, Cygnet is teeming with art studios, galleries and craft shops and also boasts an award-winning winery: Hartzview Vineyard at Gardners Bay.
The Details
Stay: Cygnet Old Bank Bed & Breakfast, Walton House B&B, Woodbridge Hill Hideaway
See: Cygnet, Fat Pig Farm, Lovett Gallery, Hartzview Vineyard, Pagan Cider, Living History Museum Of Aboriginal Culture
Eat: Ilha Restaurant, Cygnet Japanese Diner, Roy's Bitz of Old Pizza, Cygnet Woodfired Bakehouse
West
Strahan
Sitting right on the edge of the Tasmanian Wilderness World Heritage Area, Strahan is a harbour-side village with a fascinating historic past. It also has long stretches of wild ocean beach, massive sand dunes and is also near the Macquarie Harbour Penal Station, Tasmania's earliest penal settlement.
The Details
Stay: Ormiston House, Harrison House, Aloft
See: West Coast Wilderness Railway, Gordon River Cruises, Franklin-Gordon Wild Rivers National Park, Henty Dunes
Eat: Bushman's, Tracks On Point, The Coffee Shack
Queenstown
Once the world's richest mining town, Queenstown is the largest town in Tasmania's west. Surrounded by lush hills and mountains, the mining and mass logging in the early 1900s created a surreal and rocky 'moonscape' around the town, giving it loads of that wild west appeal.
The Details
Stay: Penghana Bed And Breakfast, Mt. Lyell Anchorage
See: Montezuma Falls, Franklin-Gordon Wild Rivers National Park, West Coast Wilderness Railway, Iron Blow Lookout
Eat: Tracks Cafe, Smelters, Cafe Serenade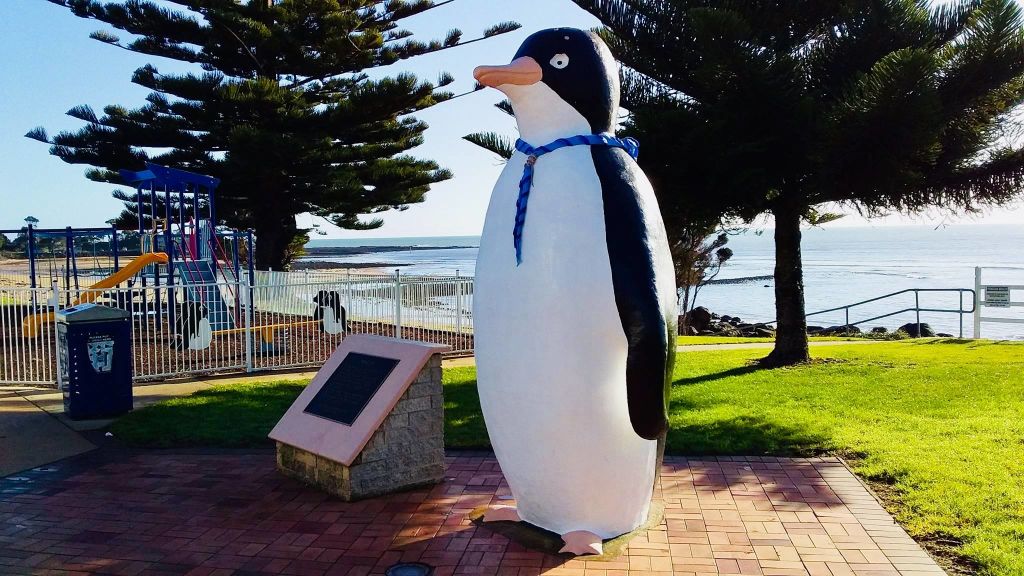 Penguin
We probably don't need to tell you that the city of Penguin is full of penguins (well, not like, live penguins) but it totally is. Sitting on the edge of the Bass Strait, Penguin takes its name from a nearby penguin rookery. You can snap some pics with the town's 10-foot penguin or hit up Penguin Point at night to see the real deal. Plus on Sundays, Penguin hosts Tasmania's largest undercover market with more than 200 stalls selling food and wine, woodcraft and second-hand goods, so get to it.
The Details
Stay: Seaside Farm, Madsen Boutique Hotel, Penguin Beachfront Apartments, Penguin Waterfront Escape
See: Big Penguin Statue, Little Penguins, Penguin Market, Dial Range, Penguin Miniature Railway
Eat: El Perro, Mash Room, Letterbox Cafe, Renaessance
East
Bicheno
A popular family seaside holiday town, there's plenty of stuff to keep you busy in Bicheno— fishing, boat tours and penguin watching are some of the few. If you're not activity inclined, you can also dig into some of the freshest seafood you'll ever taste (it is a fishing town, after all), from crayfish to Australian salmon.
The Details
Stay: Beachfront Bicheno, Apartments On Fraser, Sea Stacks, Bicheno By The Bay
See: Freycinet National Park, Bicheno Blowhole, Whalers Lookout Scenic Reserve
Eat: The Pondering Frog, Lobster Shack, Rainy Day Cafe & Laundromat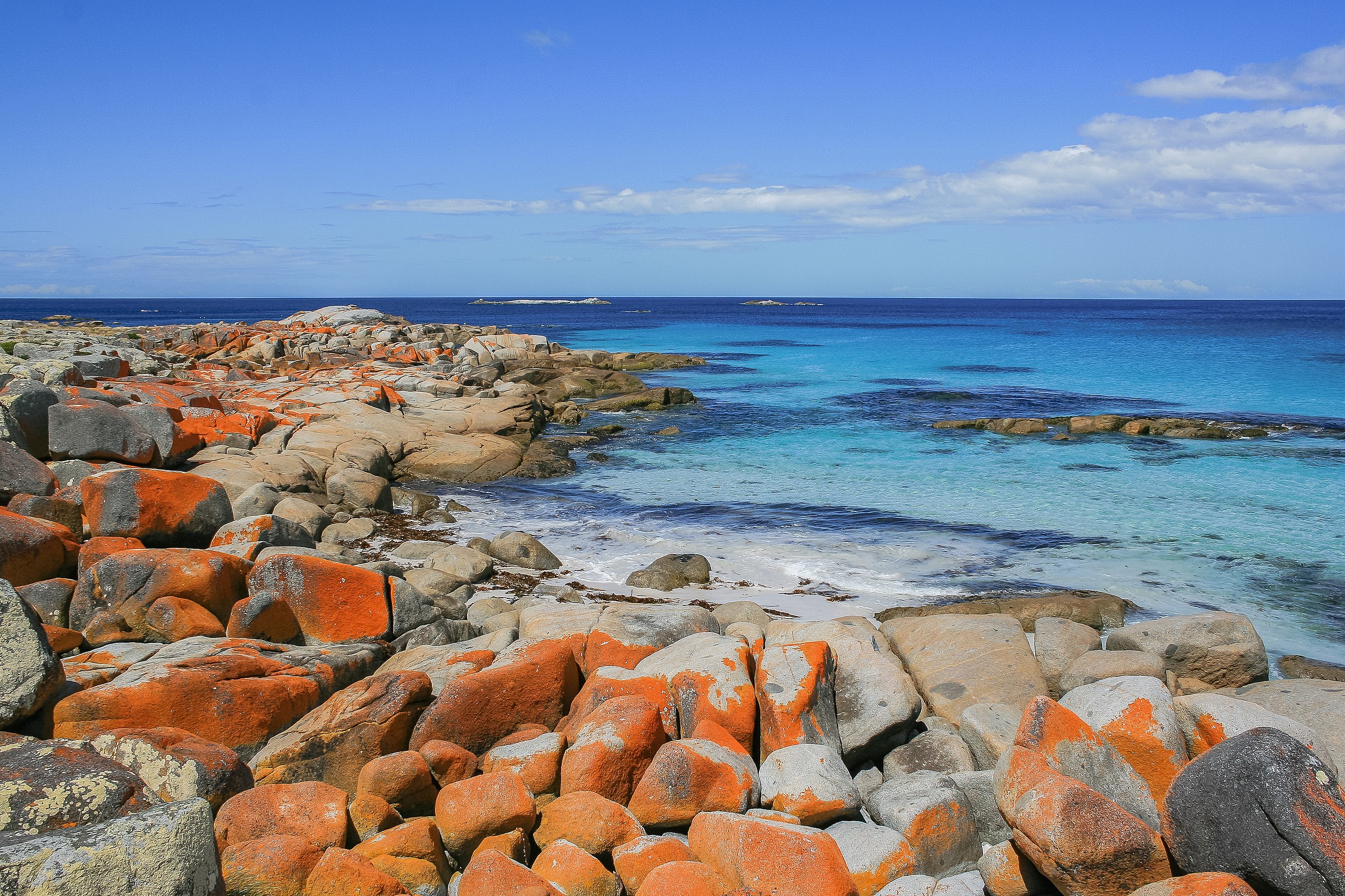 St Helens (Bay of Fires)
Just a few kilometres away from Binalong Bay and the southern end of the stunning beaches of the Bay of Fires, St Helens is the largest town on the north-east coast and Tasmania's second largest fishing port. Walk to St Helens Point and take in the spectacular Peron Dunes, dive into (literally and figuratively) fresh-as-hell seafood or just hang out around town and soak up the laid-back vibes.
The Details
Stay: Pelican Point Sanctuary, St Helens On The Bay, St Helens Waterfront Holiday Park
See: Bay of Fires, Bay of Fires Conservation Area, The Gardens, St Helens Mountain Bike Trails
Eat: Furneaux Restaurant & Comptoir, The Social, Nina Restaurant & Tapas Bar (temporarily closed)
Binalong Bay (Bay of Fires)
Situated at the southern end of the Bay of Fires, Binalong Bay is one of the most scenic and beautiful places in Tasmania. From the glittering blue sea to white sandy beaches to the epic coastal rock faces, it is truly a sight to behold. From scenic coastal walks, to local boat tours and some of the world's best game fishing, you're in for a great adventure.
The Details
Stay: Kingfisher Cottage, Hidden Haven, Bay Of Fires Eco Hut, St Helens On The Bay
See: Bay of Fires, Bay of Fires Conservation Area, Lone Tree, Humbug Point Nature Recreation Area, Jeanneret Beach
Eat: Meresta Eatery
Orford
Orford boasts some truly spectacular beaches, including stunning cliff top and forest walks you'll definitely want to get around to once you get there. A popular holiday destination, Orford offers both riverside and bayside scenery, amazing bush walks and the starting point for exploring beautiful Maria Island National Park.
The Details
Stay: Orford's Sanda House Colonial, Eastcoaster, Maria Views B&B
See: Darlington Vineyard, Raspins Beach, Spring Bay, Three Thumbs, Maria Island National Park
Eat: Eastcoaster Restaurant, The Colonial Food & Wine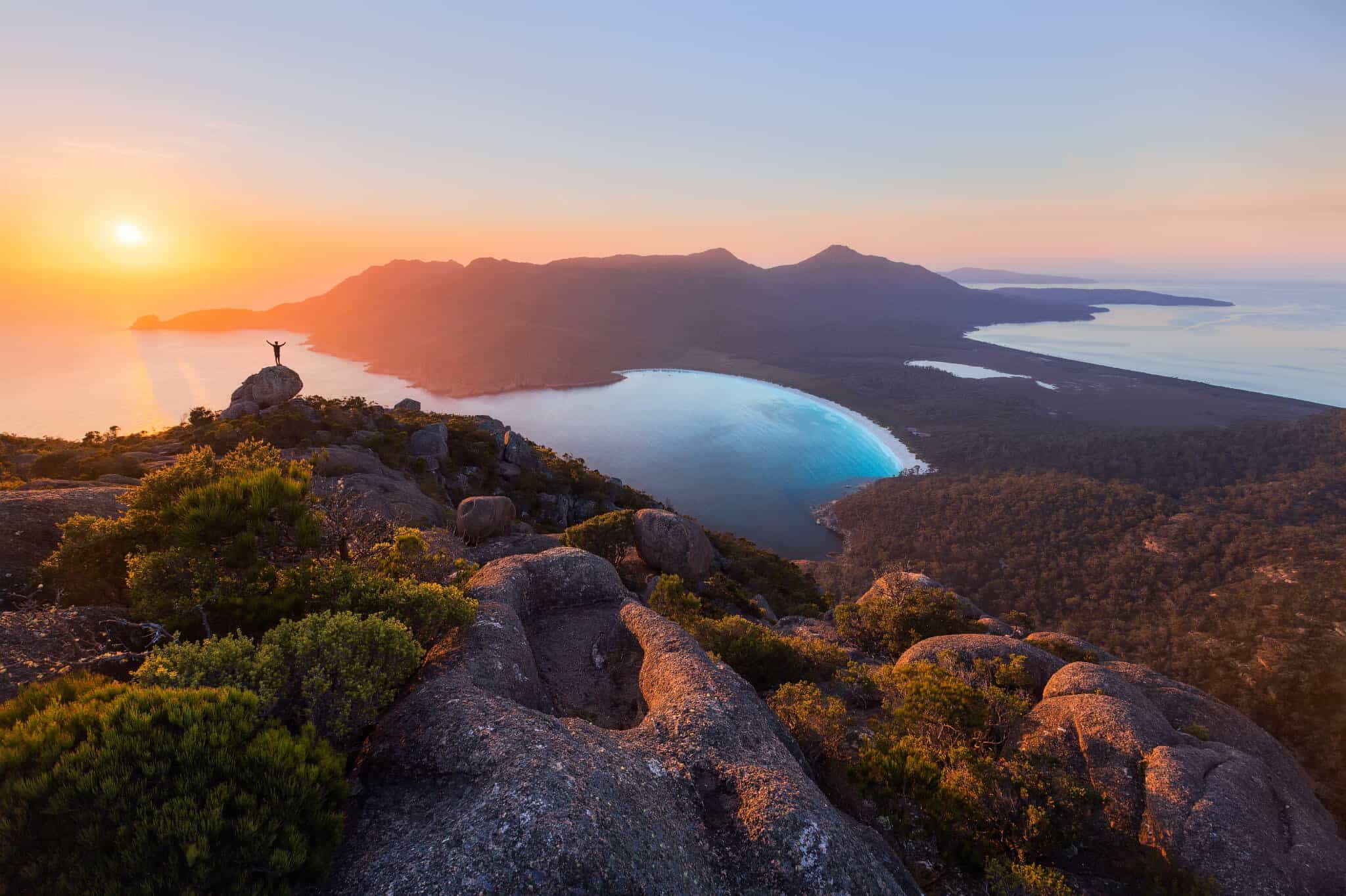 Coles Bay (Wineglass Bay)
Would you really want to skip over a place that includes a little something called Wineglass Bay? We think not. A seaside holiday village, Coles Bay sits beneath stunning, sheer pink granite mountains overlooking the crystal clear waters of Oyster Bay. From award-winning sea kayak tours, as well as air, sail or eco-cruises, there's a lot to see in this beautiful area. If you're more into the eating and not the doing (same), you can join a food and wine tour and indulge in some world-class wines and famous Tassie eats.
The Details
Stay: Hamptons On The Bay, Footprints, Freycinet Lodge, Piermont Retreat
See: Freycinet National Park, Wineglass Bay, Honeymoon Bay, Mount Amos Track
Eat: Big Pete's Eats, Geographe Restaurant And Bar, Melshell Oyster Shack (temporarily closed)
Need more help planning your Tassie itinerary? Buckle up for the best road trips to take in Tasmania.
Image credit: Paul Fleming, Tasmania.com, Martin Pot, Qantas, Diego Delso, Diane Reed