As if you needed another reason to explore Tasmania, we've got one that might just bump the Apple Isle to the top of your bucket list. The Northern Lights AKA the jewel in every intrepid traveller's crown puts on a stunning display in the Arctic Circle, but since we won't be making tracks up there anytime soon, we'll let you in on a pretty special secret.
The Southern Lights is the Northern Lights incredible southern sibling which dazzles Tasmania's skies throughout the winter months. This natural spectacle brings visitors flocking and sends photographers into a frenzy, but it remains a well-kept secret that Tasmania might just be the best vantage spot to view the Southern Lights.
In big news, scientists are predicting that the Southern Lights could get particularly vivid over the next two years, thanks to the fact that the sun is peaking in its cycle (and this generally means the auroras are more visible and frequent).
Here's everything you need to know about the Southern Lights.
What Are The Southern Lights?
Tasmania is one of the best spots to catch the hemisphere's ethereal light show, as the earth's magnetic field is closest to its surface at the North and South poles. Solar wind atoms collide with the magnetic field, producing the red, green and blue colours which create the stunning Southern Lights, also known as Aurora Australis. Science things, right? You don't need to understand the science to appreciate that it's damn beautiful.
So, you've arrived in the Apple Isle and you're ready to gaze on this natural phenomenon, but how do you catch the Aurora Australis in all its magnificence? If you're lucky enough, and the stars align, you may get a glimpse during your Tasmanian holiday. Just in case the stars don't align, we've got you covered with our ultimate guide to watching the stellar show at its best.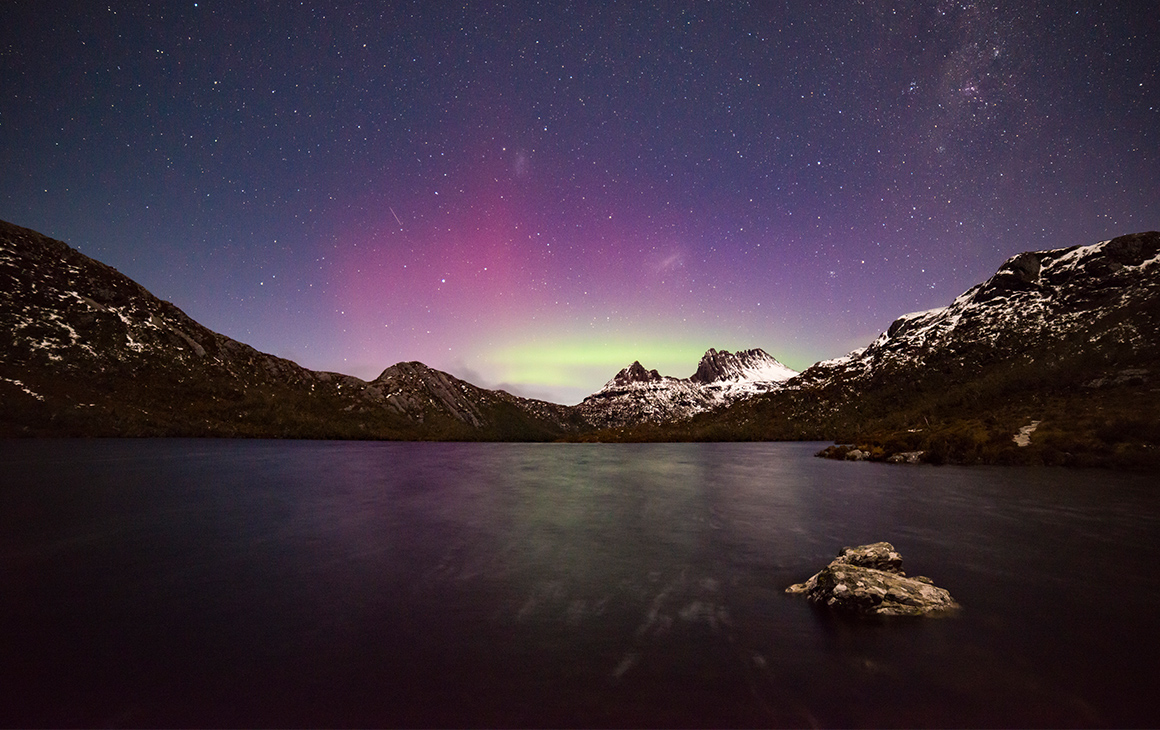 Best Places To See The Southern Lights In Tasmania
Good news: you can spy the Southern Lights basically anywhere in Tassie. Not-so-good news: you need an unobstructed, clear view and with the boundless mountains Tassie boasts, this can be a challenge. However, we've got the low-down on the best vantage points to gaze upon this cosmic extravaganza. South Arm Peninsula and Cockle Creek are the most raved-about viewing spots—Cockle Creek is on Tasmania's most southern tip so it's got a mighty fine view and the Peninsula is speckled with bays that you can see the aurora reflected in. It's even more beautiful than it sounds.
If you're staying near Hobart, you'll want to snag a high vantage point with a broad horizon, which makes Mount Nelson and Mount Wellington/Kunanyi both very popular among aurora-chasers. Soak up the spectacular sight and make sure you're looking south and are away from Hobart's light pollution and cityscape, so the ethereal dance will appear even more vivid.
Best Time To See The Southern Lights
The Aurora Australis can be somewhat elusive, and although you can technically see the lights all year round, September is the ultimate time to catch them, as they're most vivid during the equinox. Tasmania's winter season, from May to August, is also a good time as the nights are longer and clearer—otherwise known as perfect aurora-watching weather. If you're dedicated (or crazy?) enough to head out into the cold winter night, make sure to rug up warm 'cause the copper dips pretty low in Tassie. The awe-inspiring display shows up when it wants to, but for those committed to hunting it down, Star Walk and Aurora Forecast are interactive, real-time astrology maps that can predict when an aurora might just show up.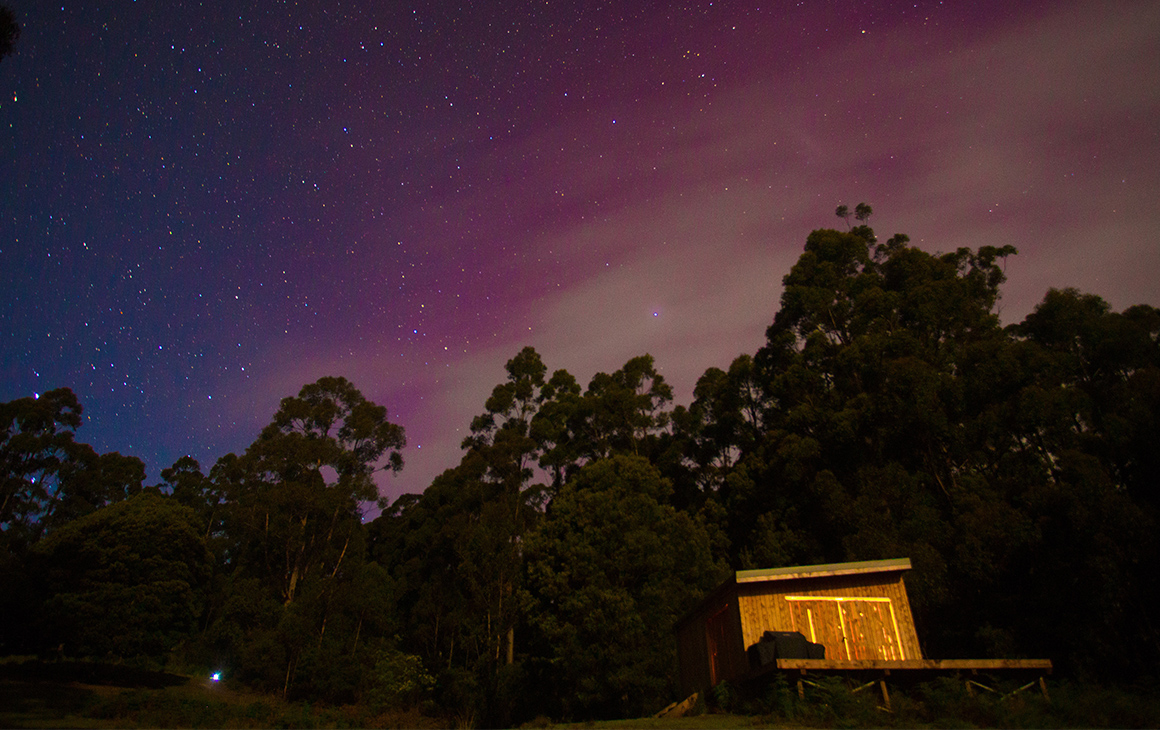 How To Capture The Southern Lights
This is going to be hard to hear but put your iPhone away. Yes, your fancy-pants, top-of-the-range model probably isn't going to cut it when it comes to capturing the magical dance of the aurora. If you want to capture this special moment, you'll need to be geared up with a DSLR camera equipped with a long exposure, so that it can bring the vivid colours to life. Secret tip: sometimes it's better not to try and capture these once-in-a-lifetime experiences—just soak up the glorious spectacle and marvel at nature's beauty. Or just snap as many jealousy-inducing Insta pics as you want. You do you.
Where To Stay
Tasmania is bursting with natural rugged beauty, which is contrasted by the breathtaking accommodation options dotted around this small but beautiful isle. You've packed your bags and made the trek to gaze upon the jaw-dropping Southern Lights, so you need somewhere cosy to rest your head. If you're basing yourself out of Hobart, you'll want to hit up Mount Nelson and Mount Wellington for the natural phenomenon and rest your head at The Henry Jones Art Hotel. The hotel has been a mainstay in the Hobart hotel scene—for good reason—this boutique accommodation boasts more than 500 works of local art adorning its 19th-century heritage walls.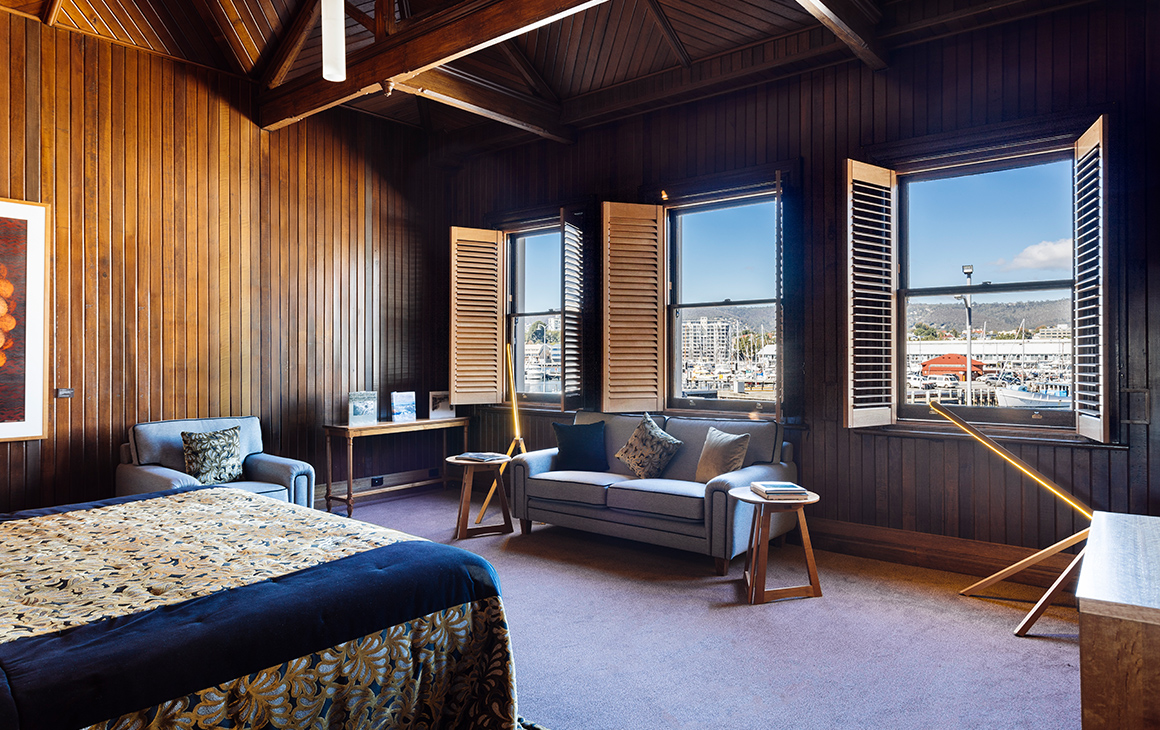 We don't like to play favourites, but we love Hobart's Moss Hotel too, which is awash with thousands of native plants and is a true reflection of Tasmania's spectacular wilderness. For our brave friends who ventured down to Cockle Creek, there's plenty of cute-as-a-button southern towns to stay at—prepare to fall in love with Tides Reach, a charming cottage overlooking Port Esperance Bay, which is a perfect base for watching the night's celestial display.
Start planning your next jaunt to the Apple Isle, 'cause it's time you saw Tasmania's Southern Lights in all their magnificence.
Keep your eyes on the sky, but in the meantime, check out ten of Tasmania's best hotels for the ultimate getaway.
Image Credit: Tourism Australia/Graham Freeman, Pierre Destribats, Dietmar Kahles, The Henry Jones/Adam Gibson