Oh Hobart. You with your colonial-era cottages, old sandstone warehouses and sweeping views of the harbour—you're onto a good thing.
We back ourselves hard when we say Hobart is one of the best places to drink in Australia. Why? Because Tasmania has some of the purest water around, making it the perfect place to distill whisky, vodka and gin so naturally, you'll be in good hands when it comes to sipping on some of the world's greatest spirits.
That said, we hear you. You want Hobart's best public houses, snazziest cocktail lounges and cosiest speakeasies. Well, you're in luck. Because we've taken it upon ourselves to find you the best of the best, so you can warm your soul with everything from Boags and Cascade beer to yuzu Margaritas.
Read on for the best bars in Hobart.
Mary Mary
Set inside an old hospital building, Mary Mary is all about sourcing local indigenous ingredients and artisanal spirits from Tassie. The space has been outfitted by Michael McCann of Dreamtime Australia Design, radiating classic cocktail bar vibes with leather detailing, marble table tops and lashings of brass and timber. Cocktails are created with local fruits and indigenous botanicals, while the hospital's old coal chute has been repurposed into the spirits library housing surprising and rare offerings from local producers. As well as the carefully curated list of drinks, there's a selection of small plates from nearby Peppina to enjoy while reimagined classic cocktails are sipped by the fire, at the main bar, or shared in one of the anterooms.
Void Bar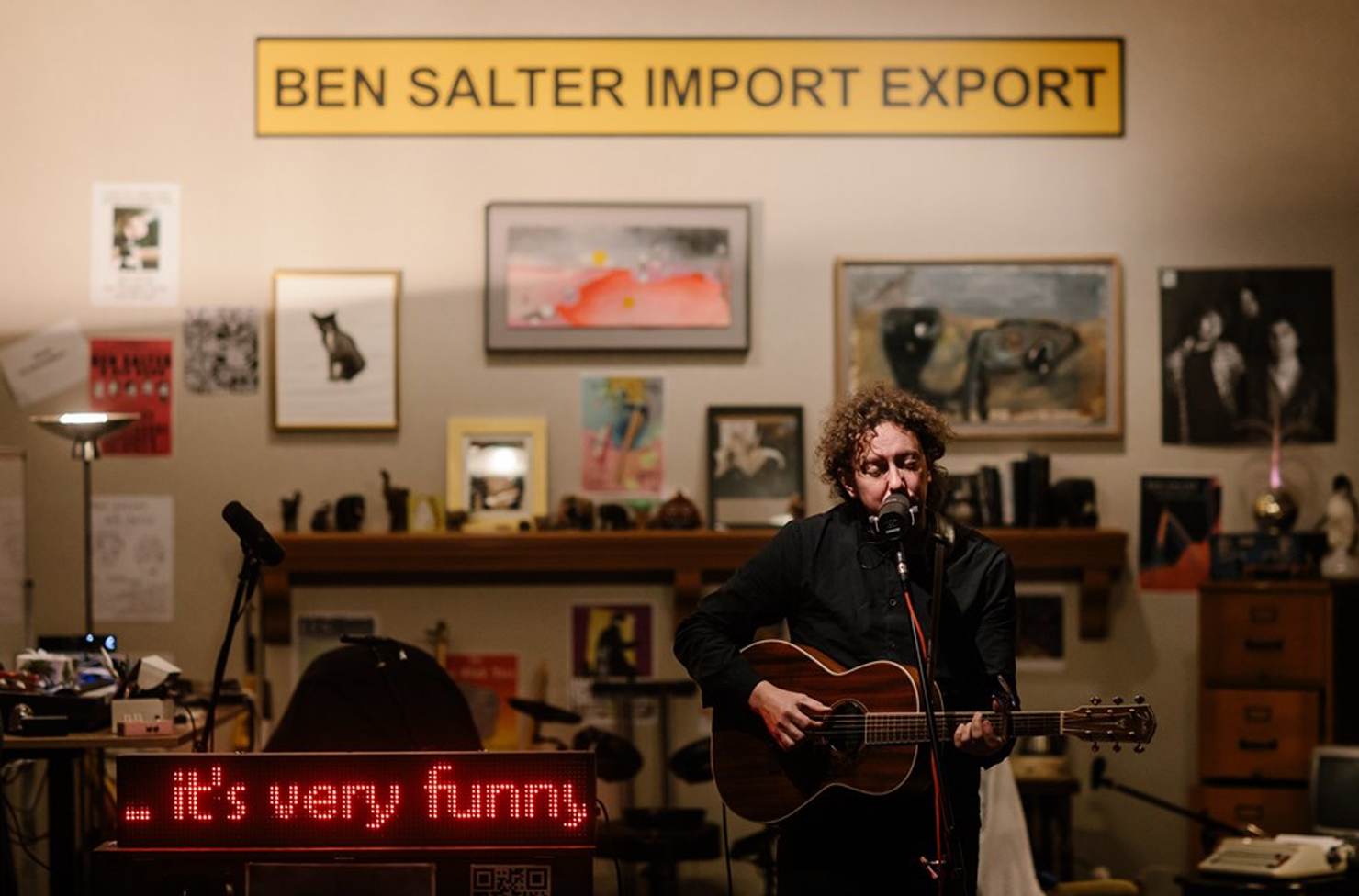 Everyone loves a secret bar, or at least one that's in the most peculiar of places. Void Bar is MONA's dedicated waterhold, a cocktail bar in Hobart buried 17-metres underground. It's the kind of place where you can easily nurse a martini at the bar, crack open a bottle of wine and pizza in the lounge area and soak up tunes from the musician-in-residence Ben Salter who works live in the museum studio. The cocktail menu here drips with funky concoctions, including a 'Holographic Walls' creation fitted with brandy, Italian bitters, carrot, lemon, sansho and eggwhites—you'll be hitting a few of these.
Gin(bar)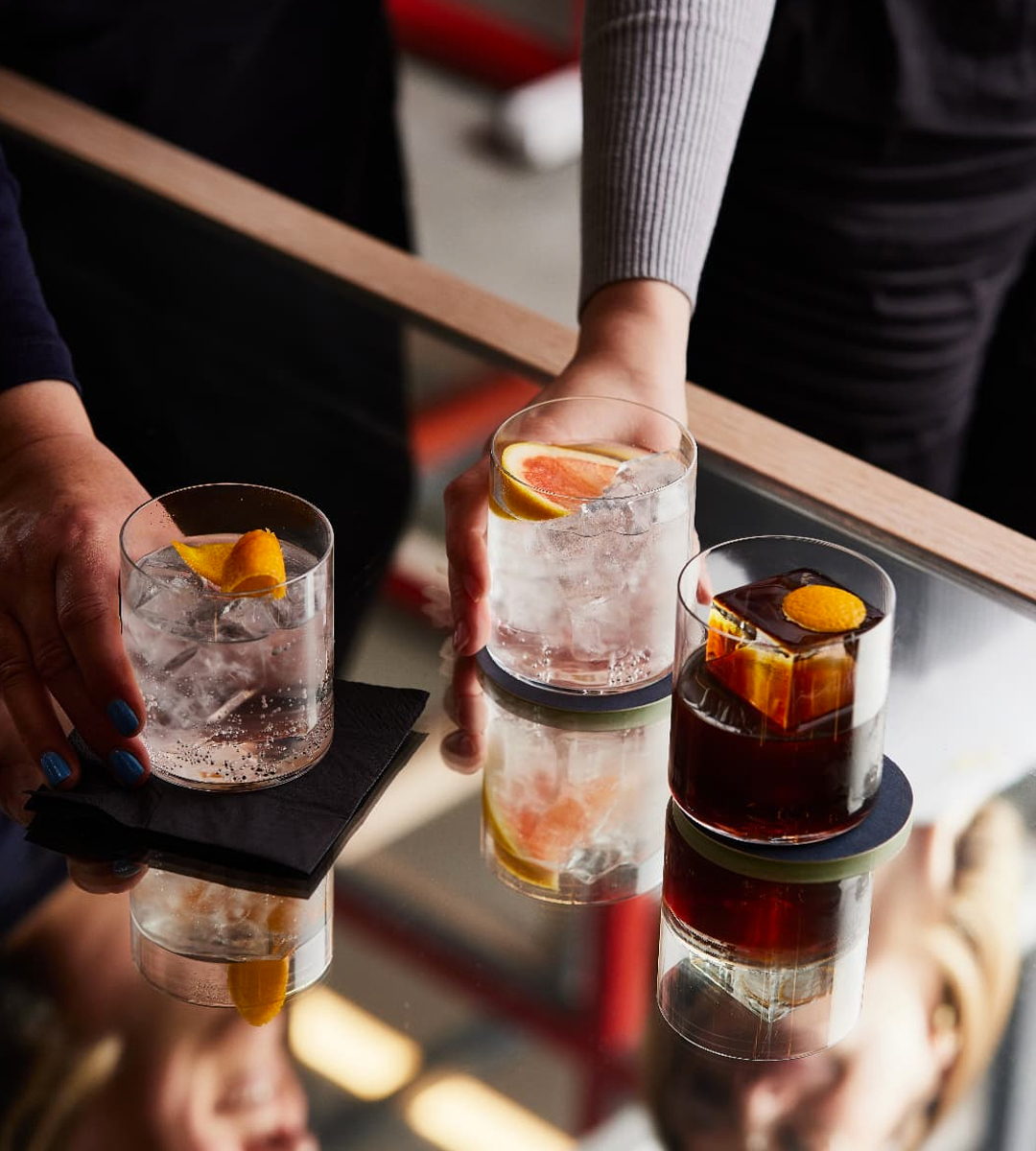 As one of the newer kids on the block, Gin(bar) By Forty Spotted, unsurprisingly, is an ode to Tasmanian gin. As well as sporting the full Forty Spotted Gin range, you'll also find a selection of rare and hard-to-find gins. The bar itself as a pretty abstract fitout, with wooden bar stools and blue and red exposed cubic frames. While you're around, it be pretty rude not to get amongst the gin workshops here which include everything from gin blending masterclasses to cocktail making classes where you'll get to step up your mixology repertoire.
IXL Long Bar
For a bar with more of a heritage vibe, you can't go past IXL Long Bar, The Henry Jones Hotel's in-house drinking haven. Stocked with prizewinning spirits and liqueurs, live jazz (naturally), craft beers, ciders and fine wine—this place is a winner if you want to pull-up and conquer a couple of tastings. We're also going to suggest you delve into the bar menu which is stripped out with wagyu bolognese, falafel pita and cheese platters.
The Story Bar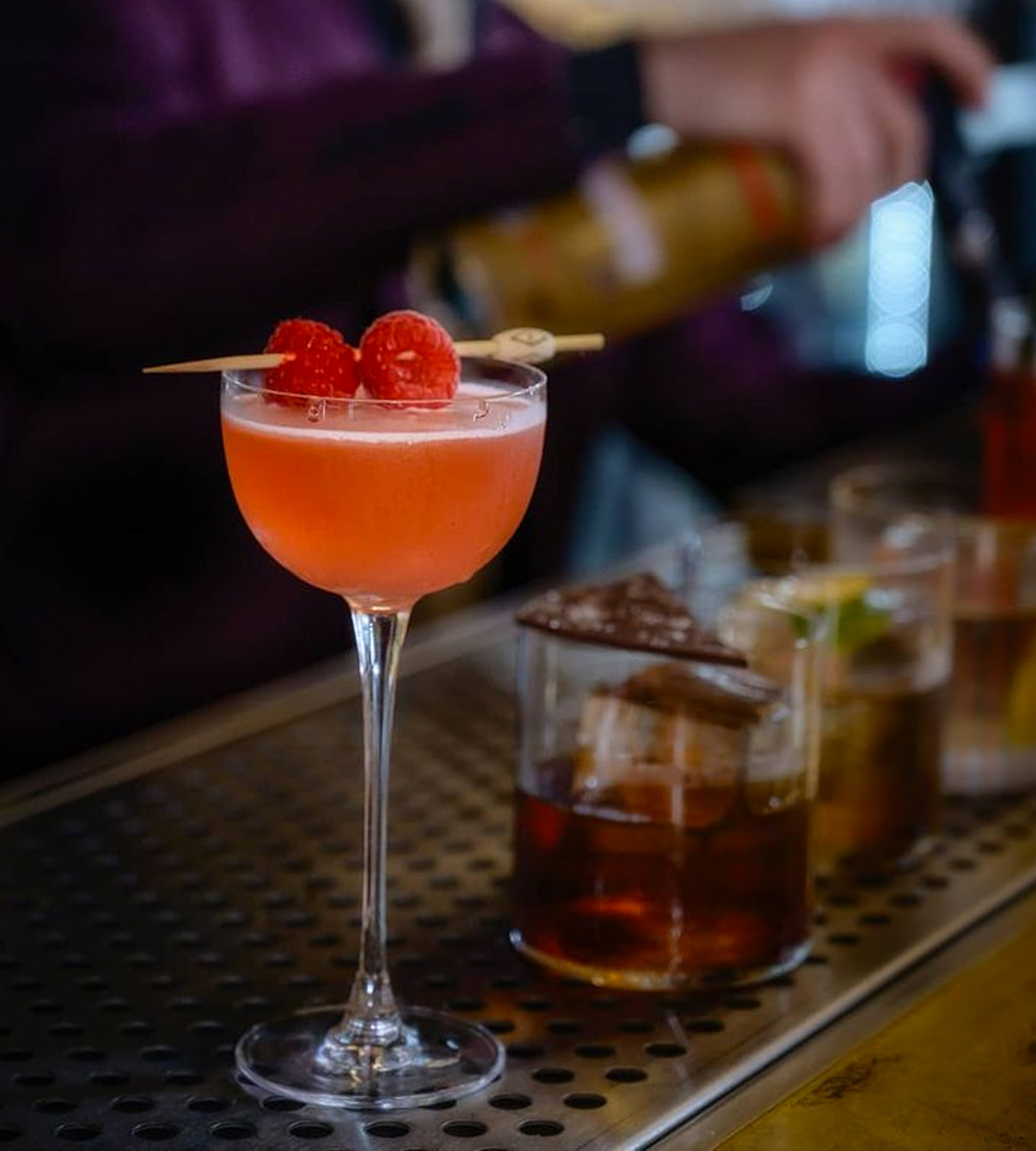 By now, we hope you've either stayed at Macq 01 or at least know a thing or two about it. Located inside this harbourside venue is The Story Bar, the kind of place you rock up to sip on draught beer with water views after a long day of sightseeing. Inspired by the "egalitarian nature of Tasmanian society" (take that how you will), this Hobart bar focuses on what Tassie does best—hops, apples and botanicals. As for what you need to order, the 'Forager's Clover Club' will set you back around $22 and will take you back to the 1880s, being the staple beverage of choice from around these times.
Gold Bar
Cosy vibes are always in the cards in Hobart and Gold Bar is just the kind of small bar for an intimate setting. This local speakeasy specialises in Australian spirits and lies tucked away in an old mill on Hobart's harbour. Malt whiskey reins supreme here so order up a glass of the good stuff and kick back next to the fire.
Evolve Spirits Bar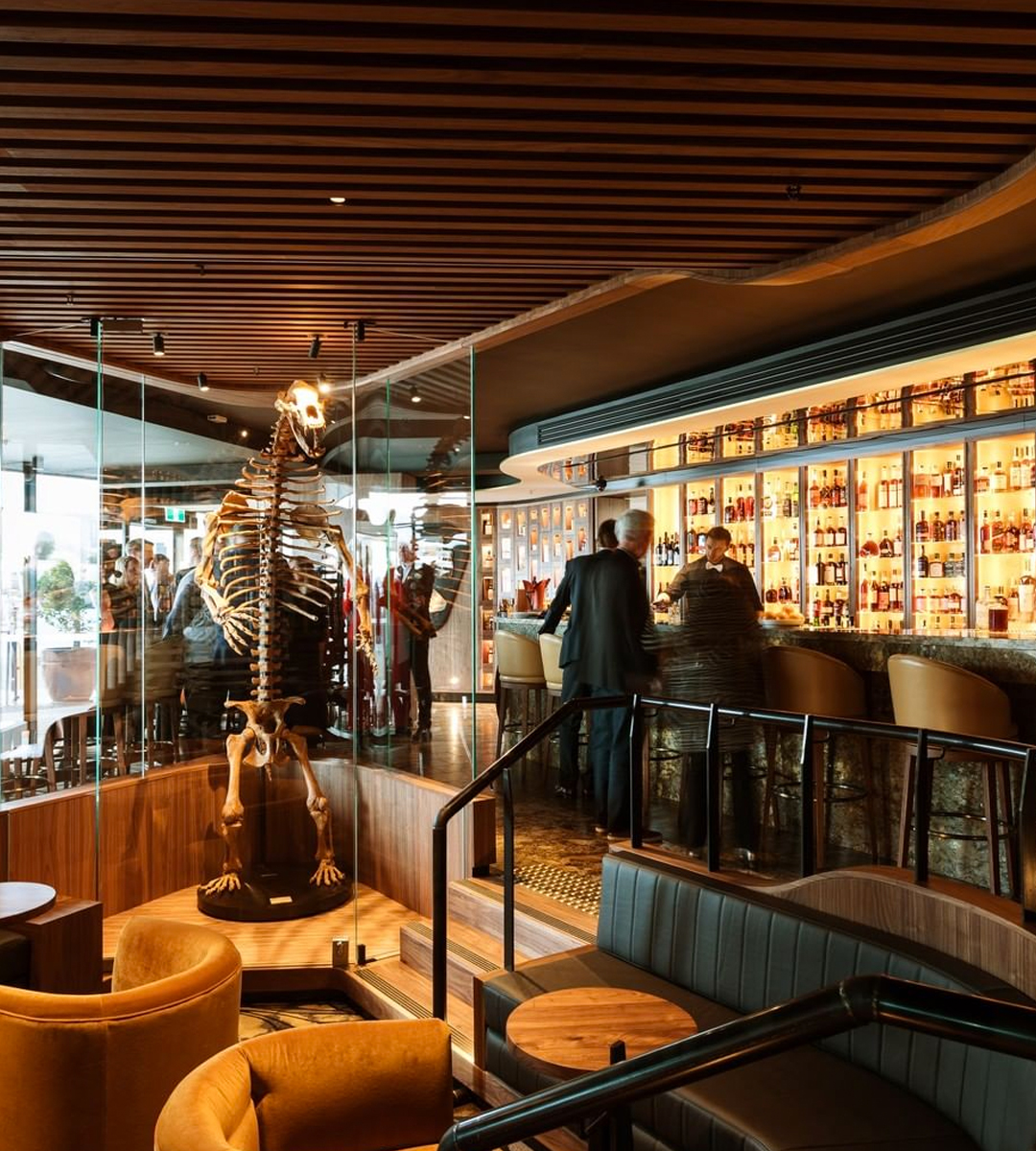 Evolve Spirits Bar is a luxury lounge bar and also Hobart's sweet holy grail wateringhole that's nabbed up a bunch of prestigious awards (also located inside Macq 01). The mixologists here celebrate premium distilling in Tasmania, where local spirits are shelved up against a broader list of international bottles too, some from centuries ago. Whisky Wednesdays are a big thing here too, a dedicated day of the week where the team pour a rare, unique or discount whisky. You can also make like Ross Geller here and explore the bar's epic collection of fossils and artifacts from around the world, dating back to the Vambrian period 550 million years ago (just let that sink in).
Rude Boy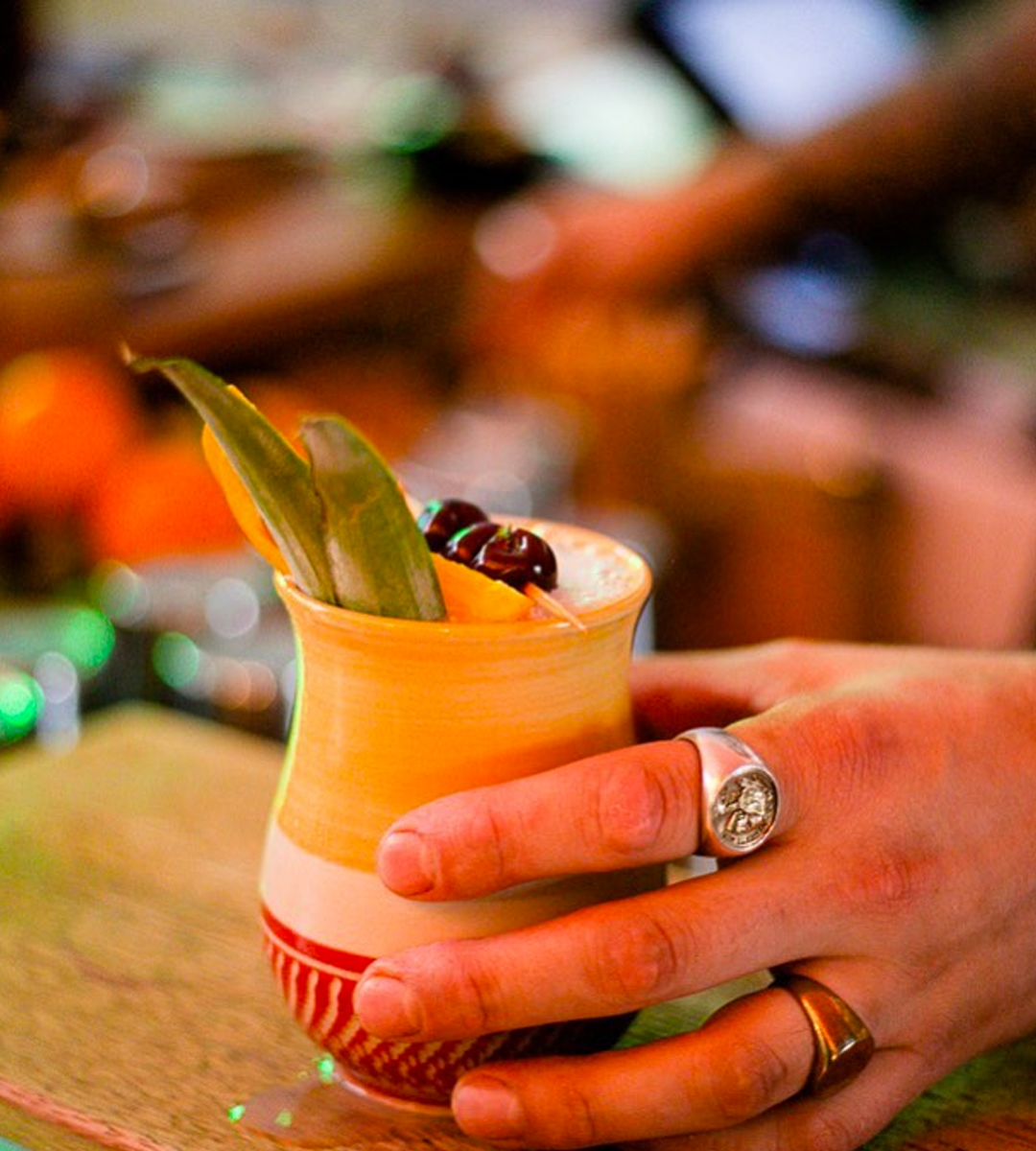 We mean, fried chicken and cocktails—you can't go wrong. This Carribean rum and food bar ticks all the boxes so you won't be leaving without a full belly. Order up southern mash, brisket burgers and five spice chicken scratchings against zesty cocktails that pack a punch. Not to mention, the interior is adorned with neon lights and suspended plants so taking a few snaps here and there is crucial.
Bar Wa Izakaya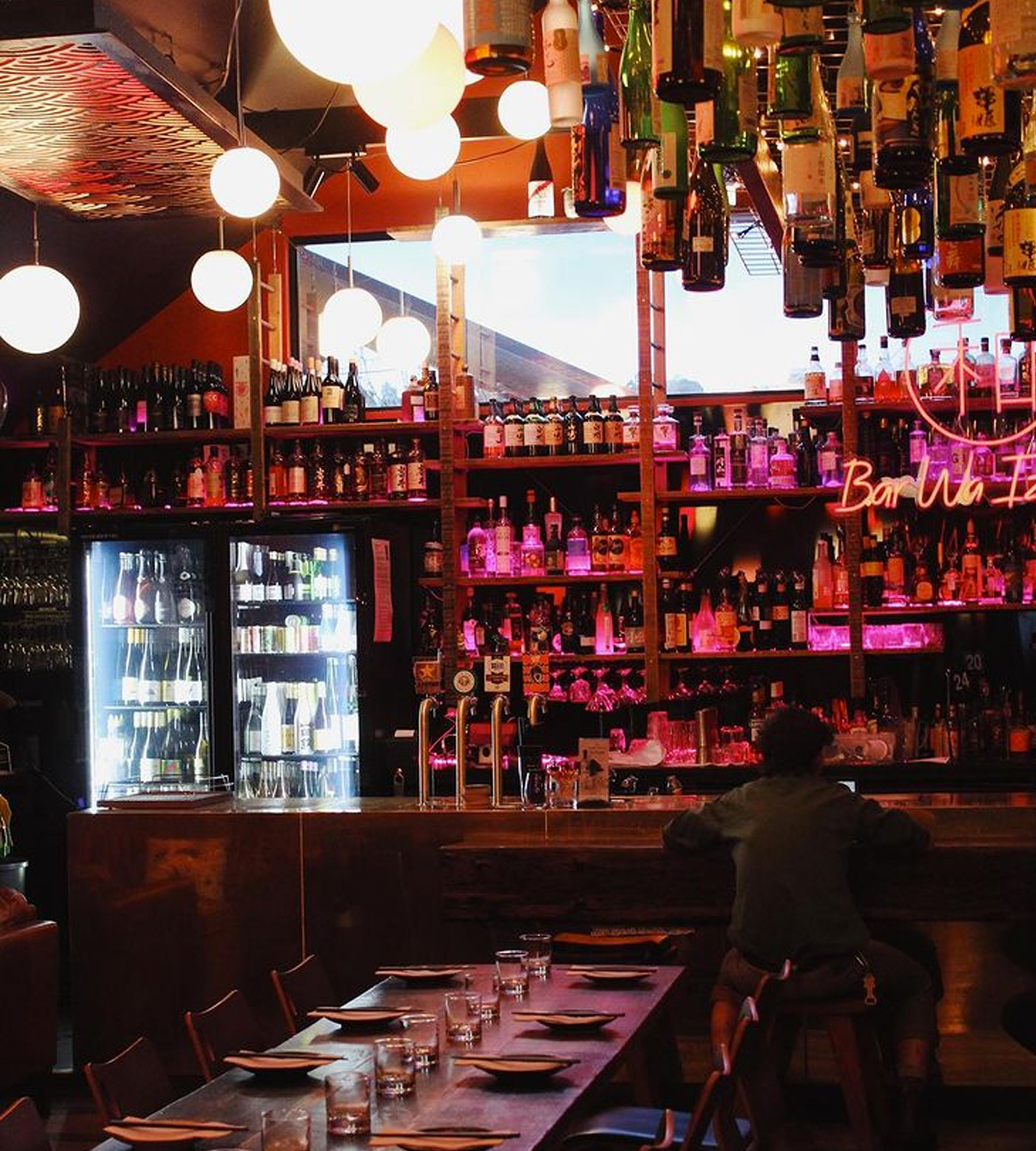 Bar Wa Izakaya is where Hobart meets Tokya in a no-frills atmosphere. From 12pm to 3pm, 'Bar Wamen' is served, in Bar Wa Izakaya's housemade stock (tonkatsu is obviously the go here but there's also vegetarian and vegan ramen options too). You also have our permission to treat yourself to the spicy yuzu Margarita and Japanese Whisky Sour—the best in Australia.
Preachers
If you're in need of a 'recovery' venue, Preachers is the perfect bar and beer garden whipping up $10 Bloody Mary's (with a whole of spice to get you going again). Soak up some of that glorious Tasmanian clean air in the al fresco yard fitout with your mates and hey, if you're the type of person who fails to acclimate to Tassie's chill, you'll be well catered for with numerous outdoor fire pits and gas heaters. There's also an in-house chessboard if you're feeling lucky.
Hungry? Check out the best restaurants in Hobart.
Image credit: Mary Mary, Void Bar, Gin(bar), The Story Bar, Evolve Spirits Bar, Rude Boy, Bar Wa Izakaya