While the most iconic castles of the world definitely reside in places like Wales, France and Spain, Australia isn't without its odd drawbridge and baroque towers here and there. In fact, as it turns out, Australia has a sweet little collection of rainforest chalets and fairytale palaces that you can actually visit and stay in.
Check out these beautiful castles in Australia.
Paronella Park
Queensland
What if we told you Australia was actually home to a Spanish-inspired castle? Paronella Park is a magical place which will give you Spanish castle vibes meets Spain's iconic Irati Forest (but really, it's in far north Queensland). As the brainchild of José Paronella who built a castle here back in 1930, it's located right on Mena Creek, next to Mena Creek Falls. The falls descend over seven million-year-old basalt rock and you can access the top of the cascades from a suspension bridge that spans the waterfall. And yes, you can absolutely visit this one.
Thorngrove Manor Castle Hotel
South Australia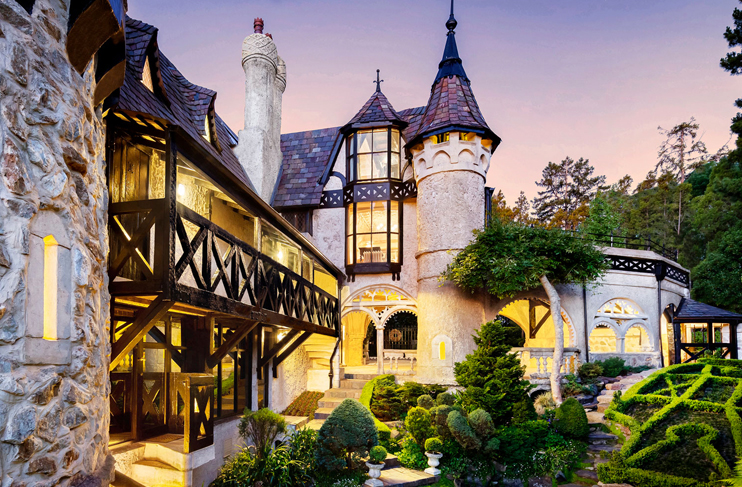 Nothing oozes romance like a staycay at a luxury castle and in South Australia, you can do just that. Thorngrove Manor Castle Hotel is like something out of a fairytale and echoes architecture from Central European castles of a bygone era. It's designed to host a limited number of guests at one time, sports iconic baroque towers and turrets and boasts some serious game on the antique furniture side of things. Unsurprisingly, you can do everything here from heading to a private luncheon packed with Waldorf sandwiches, have tea in the King's Chambers or opt for a posh picnic in the manor's private estate down by the lake.
The Sol Suite Chalet
Victoria
Located in Victoria's dreamy Dandenong Ranges, The Sol is a chalet-style getaway with all the castle trimmings. Think an actual drawbridge, castellated stone balconies, four-poster queen beds and a mammoth spa bath (which also boasts aromatic candles and natural bath salts) overlooking a gas log fire. It's the perfect place to score a break from the city as it's entirely surrounded by an acre of English gardens too which means a whole lot of exploring on your part. On top of this, the chalet has been decked out with all the Chesterfield furniture so you can sink back on the sofa with a damn good medieval story.
Bishops Palace
Victoria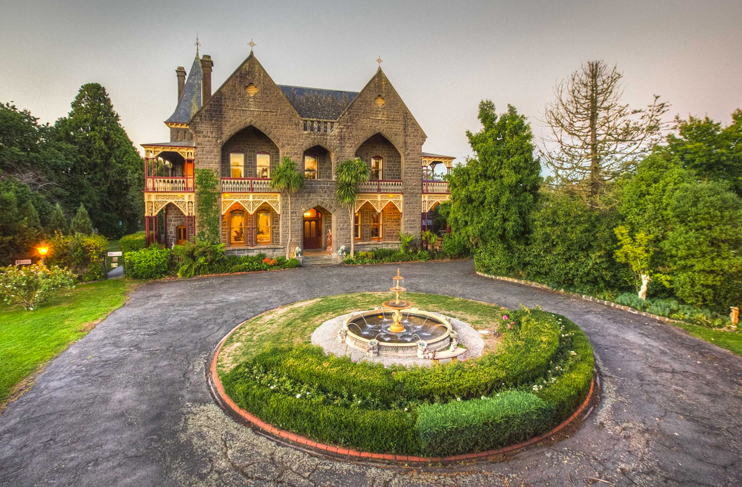 In the heart of Ballarat, you'll find Bishops Castle, a stunning 1877 palace offering up everything from private accommodation to private events. It's easily one of the most opulent castles in Australia and is surrounded by four epic acres of garden (which are heritage-listed). As for the actual building of Bishops Palace itself, lends its walls to two-storeys of 19th Century Gothic architecture. It's also retained a whole heap of its original features, including lead stencilled paintwork, cornices, ceiling roses, fixtures and fittings. If you're lucky enough to stay here, you'll also want to explore the library, large dining room area, parlour and a dedicated spa pavilion located in the rear gardens which feature an eight-person deluxe spa bath and sauna.
Now check out the most romantic getaways in Australia.
Image credit: Thorngrove Manor, Paronella Park, Thorngrove Manor, The Sol Suite Chalet, Bishops Palace