There are some 700+ craft breweries in Australia, so wherever you live, chances are there's one near you.
We've taken the liberty of pulling together our pick of the bunch from around the country—whether you're a classic pale ale fan, or more into the stouts or sours, there's something for you in this list of the best craft beer in Australia. Some bottoms up and cheers to the weekend.
Bodriggy Brewing Co | Draught
This one goes down super easy, and it's definitely some of the best craft beer Melbourne has brewing right now. You might taste some subtle citrus flavours coming from the Australian Ella hops, but there's no mistaking the classic German-style of this brew.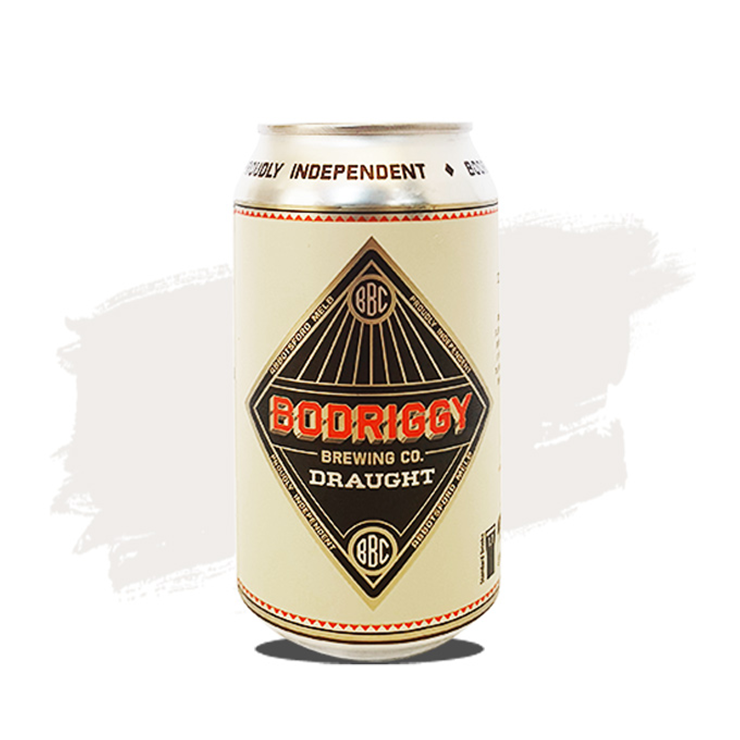 Little Creatures | Dog Days Session Ale
The dog days are certainly not over at Little Creatures. This Session Ale was never meant to be a year-round offering, but the people spoke and the Little Creatures team listened. This is the best craft beer Perth has on the map in our humble opinion, with peachy, fruity flavours complementing the wheat malt. Stock up for the ultimate Sunday sesh.
Sobah | Lemon Aspen Pilsner Alcohol Free
Sobah is a First Nations-owned brewery in Queensland providing a solution to those who love the taste of beer, but don't want the alcohol that comes with it. Their pilsner is a classic take on the Czech pale ale, with some tropical touches from the Kuku Yalanji Language Nations in Far North Queensland. It's the best craft beer you'll find in Australia without the boozy side.
Young Henrys | Newtowner Australian Pale Ale
Taking its name from the Sydney suburb it's brewed in, the Newtowner Australian Pale Ale is a crisp beer made from Australian pale and crystal malts. As some of the best craft beer Sydney has produced, this one is a delicious golden blend of Aussie hops with a slightly dry, but very satisfying finish.
Balter Brewing Co. | Hazy IPA
Voted in the top 10 new beers in the GABS hottest 100, this truly is some of the best craft beer 2021 has on tap folks. Brewed in sunny Queensland just south of the Gold Coast, this lazy hazy is brimming with candied orange, mango and passionfruit with just a touch of bitterness holding everything together.
Two Birds Brewing | Taco Cerveza
Take all your favourite Mexican flavours and then bottle them into a beer. That's exactly what the team at Two Birds Brewing did—the first female-owned brewery in Australia btw. It's the best craft beer to pair with your tacos and nachos on Mexican night. And yes, it actually tastes like tacos.
Colonial Brewing Co | Pale Ale
Hailing from one of WA's OG breweries down in Margaret River, this humble pale ale packs a punch. As far as best craft beers go, this one is up there for its sweet side featuring nougat, plum and nut malt accents, with a tangy mineral hop finish.
Pirate Life | Acai And Passionfruit Sour
Live your best pirate life with this signature sour from the Pirates in SA. One of the best craft beers Adelaide has produced, this sour is bursting with passionfruit, lemon, raspberry sherbet and stone fruits. Balancing sweet and sour like a pro walking the plank, Pirate Life won't be leaving a sour taste in your mouth.
Moo Brew | Stout
One of the most loved beers from the Moo Brew range, this stout is colloquially known as the velvet sledgehammer—it's black and silky, and will smack you in the gob with it's dark coffee notes. It's from the team at Tassie's largest craft brewery started by David Walsh (the guy behind Mona).
Kaiju Krush! | Tropical Pale Ale
Crack open a cold one of these and it'll feel like summer again. Kaiju Krush delivers every damn time with those zesty citrus touches and refreshing tropical flavours. Just remember to krush the can when you're done.
Sparkke | The Last Straw Pale Ale
The women behind Sparkke are making change in the Australian booze industry, one beer at a time. Each brew comes with a campaign, with this pale ale calling for an end to single-use plastics. It's a little bit fruity, a little bit hazy, a little bit creamy and a little bit juicy. Some of the best craft beer to buy for a guilt-free, good cause.
Capital Brewing Co. | XPA
Capital Brewing Co. has been reeling in the praise at GABS and placing Canberra firmly on the craft beer map of Australia since launching. Their XPA is a true American Pale Ale—it's light, zesty and tropical—thanks to their Californian brewer Wade Hurley.
Stone & Wood | The Gatherer
Watermelon, cucumber and mint—doesn't exactly sound like a beer right? But this wheat beer from Stone & Wood is here to challenge your preconceptions about the frothy beverage. Get creative and serve it up in a stemless glass, complete with a sprig of mint and a slice of cucumber to bring out those super fresh flavours.
Keep happy hour going with our pick of Australia's best gins.
Image credit: Bodriggy
Editor's note: Urban List editors independently select and write about stuff we love and think you'll like too. Urban List has affiliate partnerships, so we get revenue from your purchase.