No doubt about it, Australia is very, very good at gin.
Since 2017 we've been enjoying an Aussie "gin boom"—there are over 100 distilleries across the country producing over 1 million bottles of the good stuff each year. And these are world-class, multi-award-winning botanical spirits too—topping traditional London gins on the regular.
But which are the standout Aussie gins? Which should you pick for your home bar and what should you taste if you're ready to explore beyond just Four Pillars and Archie Rose?
Get ready to take your G&T to the next level and sip your way through some expertly crafted, home-grown expressions stacked with some seriously intriguing native botanicals.
Here are 9 of the best Aussie gins to buy now.
Poor Tom's Sydney Dry Gin
Tucked into the backwood of Sydney's sprawling "beer triangle" is Poor Tom's Gin Hall. The only gin distillery among a map full of craft breweries, it's a welcome pitstop when you need a break from beer on your brewery crawl and—it's also home to some of the country's finest craft gin. Steeped with 10 botanicals in Australian wheat spirit, you'll notice classic juniper as well as fresh green apple, native strawberry gum leaf and chamomile. It's floral, a great beginner gin and perfect for G&Ts or a dry martini. Shop it here.
The Melbourne Gin Company Dry Gin
This twist on the classic London dry gin features 11 native and exotic botanicals. On top of juniper berry, you've got coriander seed, grapefruit peel and rosemary from the Yarra Valley, as well as macadamia, sandalwood, honey lemon myrtle and organic navel orange to round out a real distinct Melbourne flavour. This one will sing in a Negroni. Shop it here.
Four Pillars Navy Strength Gin
What is "navy strength," you ask? It doesn't really have anything to do with sailors, rather it's a marketing slogan coined in the 90s to help sell boozier spirits. So yep, this one is strong and intense—but finger limes and fresh ginger punch through for a fresh, clean taste. Smack your night into gear with a G&T or a very potent, fix-anything-that-ails-you martini. Shop it here.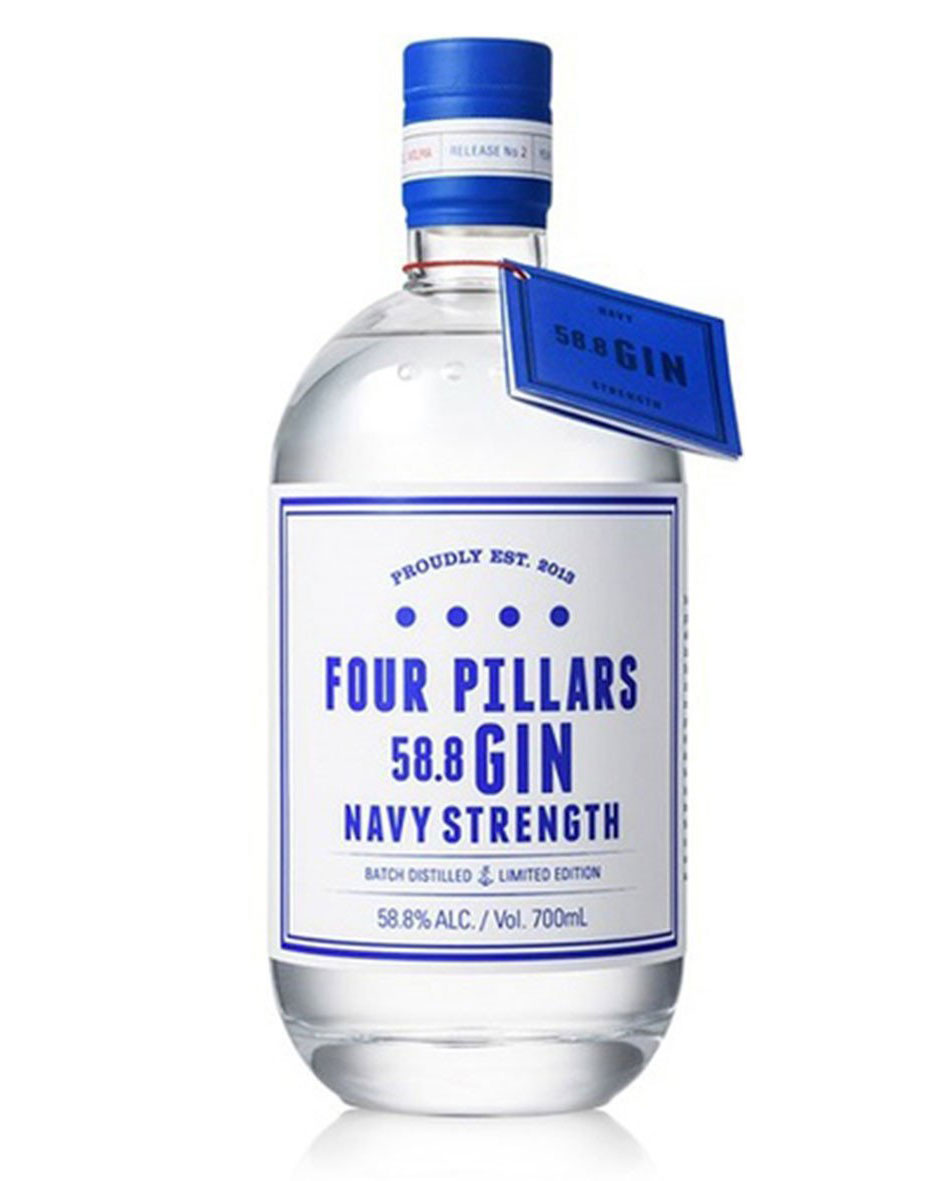 Four Pillars Bloody Shiraz Gin
Gins aren't usually a product of vintage—being infused with Shiraz grapes makes this one hell of a unique spirit. To make this ruby-red gin, grapes are destemmed and steeped in Four Pillars Rare Dry Gin in cool tanks that are stirred daily. Eight weeks later, the fruit is pressed and blended with more gin to bring up the alcohol content. I like to pour it over ice and savour the dense raspberry, but the Four Pillars crew advise it also works in a Tom Collins. The 2020 release has just arrived—shop it here.
Applewood Coral
Inspired by the Great Barrier Reef, the latest release from Adelaide's Applewood Distillery is as delicious as it is pretty. Sustainably sourced native botanicals strawberry gum, riberry and karkalla give it the soft pink hue. Big bonus: a portion of proceeds from each bottle sold go to reef conservation—which is definitely the sort of spirit I can get behind. Try it in a gin fizz. Shop it here.
Adelaide Hills Distillery X Something Wild Green Ant Gin
This collab between Adelaide Hills Distillery and Something Wild Beverage Company is truly special. It's infused with green ants harvested in the Northern Territory by the Motlop family of the Larrakia people. Green ant brings a lime and coriander flavour, and you'll find a couple of ants in the bottom of the bottle for extra zest (yes, you can eat them!). There's also pepper berry, lemon myrtle and boobialla (native juniper). Let the flavours soar in a simple G&T or a martini. Shop it here.
The West Winds Gin The Cutlass
This multi-award winning Margaret River gin fuses traditional juniper with cinnamon myrtle, lemon myrtle and, interestingly, Australian bush tomato. The West Winds suggest garnishing with capsicum or cherry tomato to bring out the savoury notes, but if you're cocktail-making—I think it would rock in a gin Blood Mary. Shop it here.
Archie Rose Distilling Co. Signature Dry Gin
Blood lime, Dorrigo pepperleaf, lemon myrtle and river mint are the heroes of this now-iconic Australian gin. It's perfectly balanced and an absolute must-own for any home bar. Made in Rosebery in Sydney, gin aficionados will like it on the rocks, cocktail fiends will love it in a gin sour, an Aviation or a Casino. Shop it here.
Brookie's Byron Dry Gin
There's a massive 25 botanicals in Brookie's, 17 of which are native to beautiful Byron Bay. You'll taste Byron sunrise finger limes, aniseed myrtle, cinnamon myrtle, macadamia, native river mint and native raspberry—among other things. Sip it on its own and see if you can sniff out the rest. Shop here.
Manly Spirits Lilly Pilly Pink Gin
Don't let the lolly pink hue fool you, this gin has a lot more sense, soul and depth than a cup of frosé. Inspired by native Lilly Pilly and the edible pink dune daisies of Sydney's sparkly Northern Beaches, this pink gin's zero sugar recipe isn't overly sweet. Twelve botanicals shine through (Lilly Pilly, native limes, blood orange, sea fig and coriander, among them), giving it a refreshing fruity finish that's backed with Manly Spirits' signature salt-spray taste. This is a perfect cocktail gin—sipped by the ocean with fish and chips. Shop it here.
Now you've wrapped your head around Aussie gin—here's our guide to sustainable wine, and our ultimate mezcal explainer.
Editor's note: Urban List editors independently select and write about stuff we love and think you'll like too. Urban List has affiliate partnerships, so we get revenue from your purchases.
Image credit: Applewood