When the news dropped that the Australia and New Zealand travel bubble had finally opened, there were squeals of excitement, happy tears and of course, frantic searching for the cheapest—and soonest—flights. There's no time to waste people—it's time to satisfy your wanderlust, but of course, you need a bucket list first.
New Zealand, you beauty, it seems like the list of stunning experiences is never going to stop, and boy, do we not want it to. We've taken it upon ourselves to round up 15 bucket list experiences you just have to do in the land of the long white cloud and while your bank account might hate us, imagine what your Insta feed is going to look like after an epic NZ adventure. Don't worry, you can thank us later.
Check out our 15 bucket list New Zealand experiences that will have you booking a plane ticket faster than you can say "goals!"
CRUISE THROUGH THE JAW-DROPPING MILFORD SOUND
Did you even go to New Zealand if you didn't go to Milford Sound? Nestled deep within Fiordland National Park lies Milford Sound. Think—towering craggy mountains and mysterious inky-blue waters contrasted by rugged forests and raging waterfalls. It's reminiscent of a land before time and is New Zealand's wild side at its most beautiful. Depending on your travel style, there are a plethora of ways to explore this 'eighth wonder of the world' but the most popular ways are by cruise, kayaking or scenic flights. If you're feeling more adventurous, pop on your walking boots and tackle one of the most stunning hikes you will ever embark on.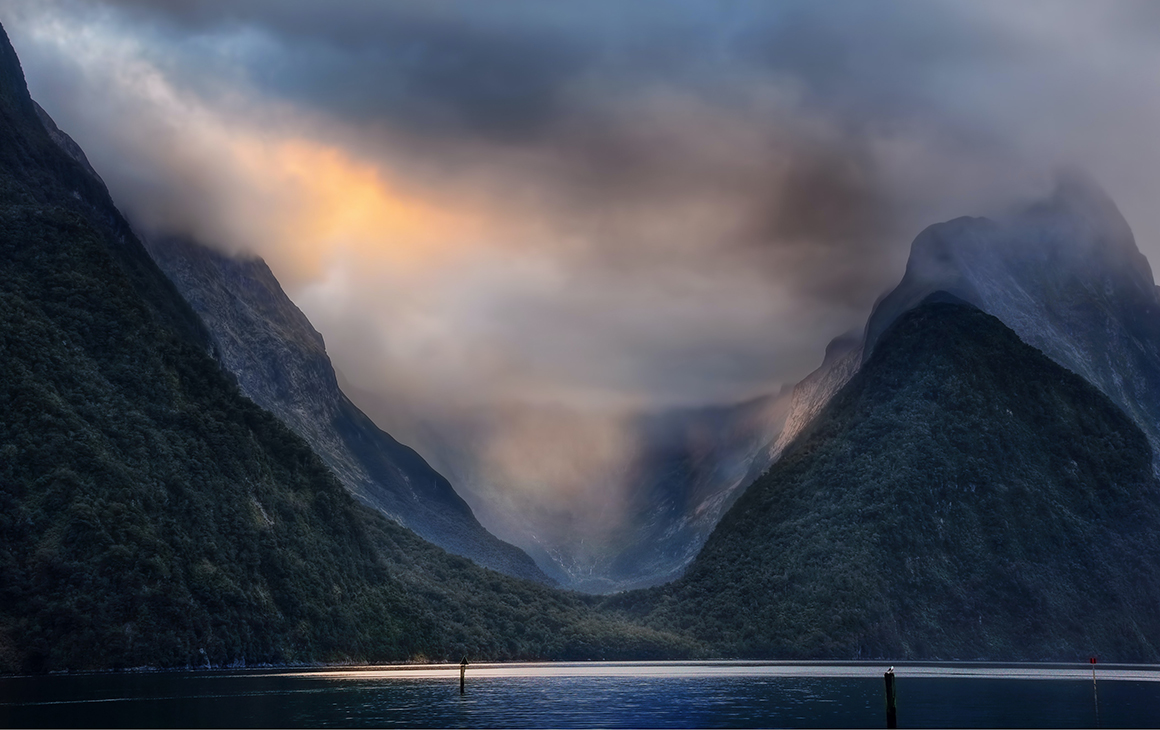 LACE UP YOUR HIKING BOOTS AND CONQUER TONGARIRO ALPINE CROSSING
The Tongariro Alpine Crossing is not only considered the best one day hike in New Zealand but one of the top ten in the world. For all Lord of the Rings fans out there, you'll know this as the rugged landscape of Mordor, and if you thought it was impressive in the movie, wait till you see it up close and personal. The volcanic, martian-like landscape is dotted with emerald pools, lava flows, panoramic views and steam vents. Although not considered a difficult hike (for the fitspo among us), the 19.4km hike traverses short sections of very steep ascents and descents and takes six to eight hours to conquer.
DIG YOURSELF A PERSONAL HOT TUB AT HOT WATER BEACH
From the sound of crashing waves to the fierce bite of hot sand underneath your bare feet at low tide, Hot Water Beach is a phenomenon like no other and has rightfully achieved cult-like status as a worldwide wonder. At low tide, naturally heated mineral water bubbles from deep within the earth, creating your own natural beachfront spa pool. Every day, you will find groups of dedicated tourists, equipped with spades and buckets, industriously digging small pools or for the lucky ones, soaking in the rewarding results of someone else's earlier efforts. Soak in the hot water, which can reach up to pleasant 64 degrees, and bask in the truly unique experience of a hot spa just metres from the ocean.
TAKE AN EPIC LEAP OF FAITH AND BUNGY JUMP INTO A RIVER
Hold onto your hats! We're talking serious adrenaline here. If you're a YOLO-er, who grabs heart-pumping adventures by balls, this one's for you. If you're going to bungy, do it right and there's no better place than at Kawarau Bungy Centre, the World Home of Bungy. The site of the world's first and most famous bungy jump, many people have taken an epic leap of faith here and it's time you joined the elite force of brave adventurers. Dive off the suspension bridge, conquer the 43-metre drop—touch the icy river water, if that's your thing—and prepare for the addictive rush that will keep you coming back for more.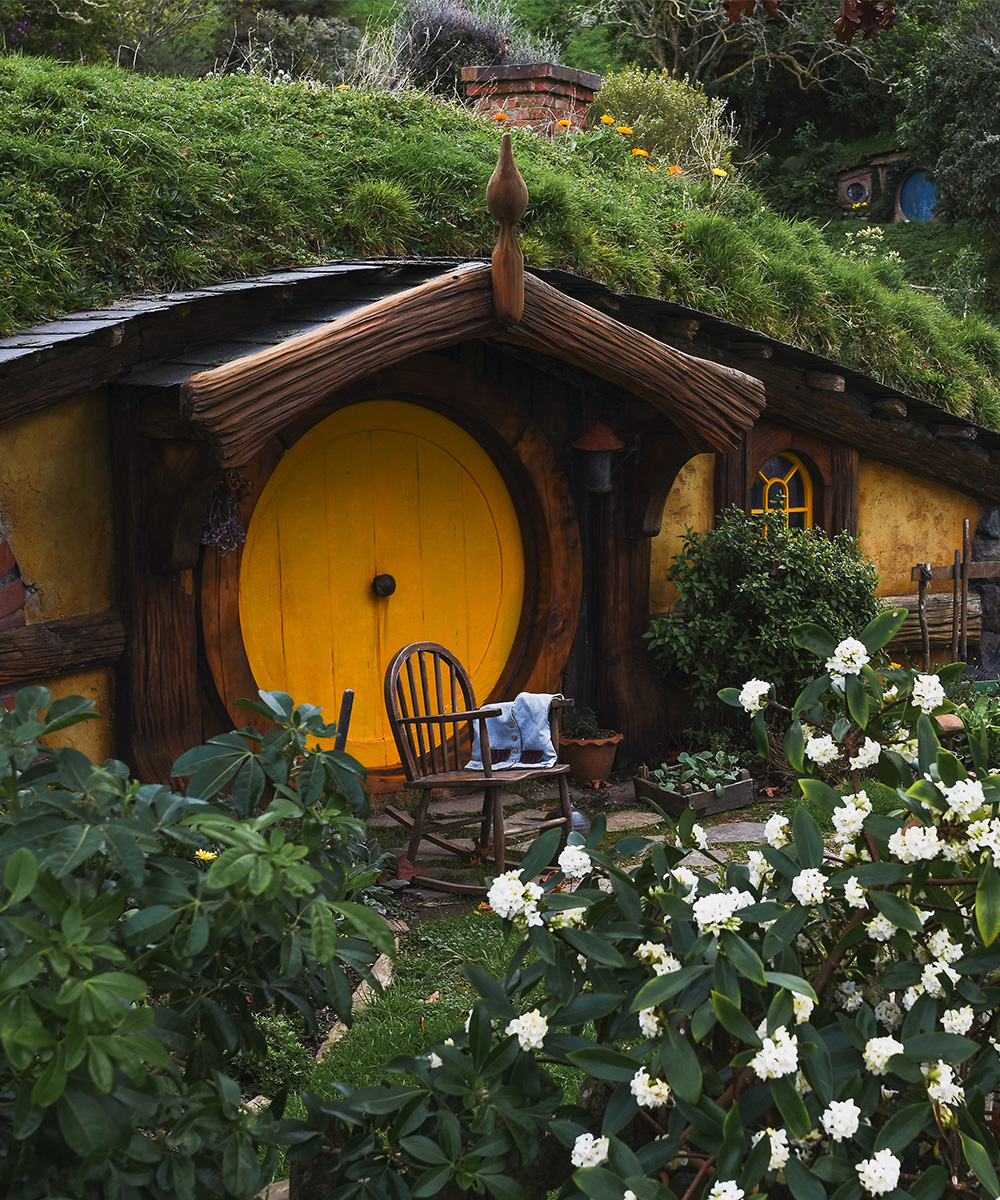 IMMERSE YOURSELF IN MIDDLE EARTH AT HOBBITON
Calling all movie geeks (yes, we admit that's us too). Fulfil your childhood dreams and experience the magic of Middle Earth at Hobbiton, the famous film set of the Lord of the Rings movies. Explore the lush pastures of the Shire, get lost among the hobbit holes, visit the Green Dragon Inn and listen to spell-binding tales of how Hobbiton came to be. Trivia points up for grabs here, geeks. The Hobbiton Movie Set Tour is the most popular way to experience Hobbiton, or discover a different side of the attraction and indulge in the Evening Banquet Tour or Second Breakfast Tour.
KAYAK AROUND THE STUNNING CATHEDRAL COVE
Ever seen those postcard-perfect photos of an iconic arched cove, set against the stunning backdrop of azure waters. Yep, that's Cathedral Cove. This famous bay is nestled in Hahei, just ten minutes drive from the famous Hot Water Beach—now you don't have any excuses not to explore both—and boasts stunning views of the Coromandel coasts. The dramatic rock archway of Cathedral Cove can only be accessed via a short walk, boat or kayak, so it's usually a secluded pocket of peace. Grab your bucket list and put this on the top, stat.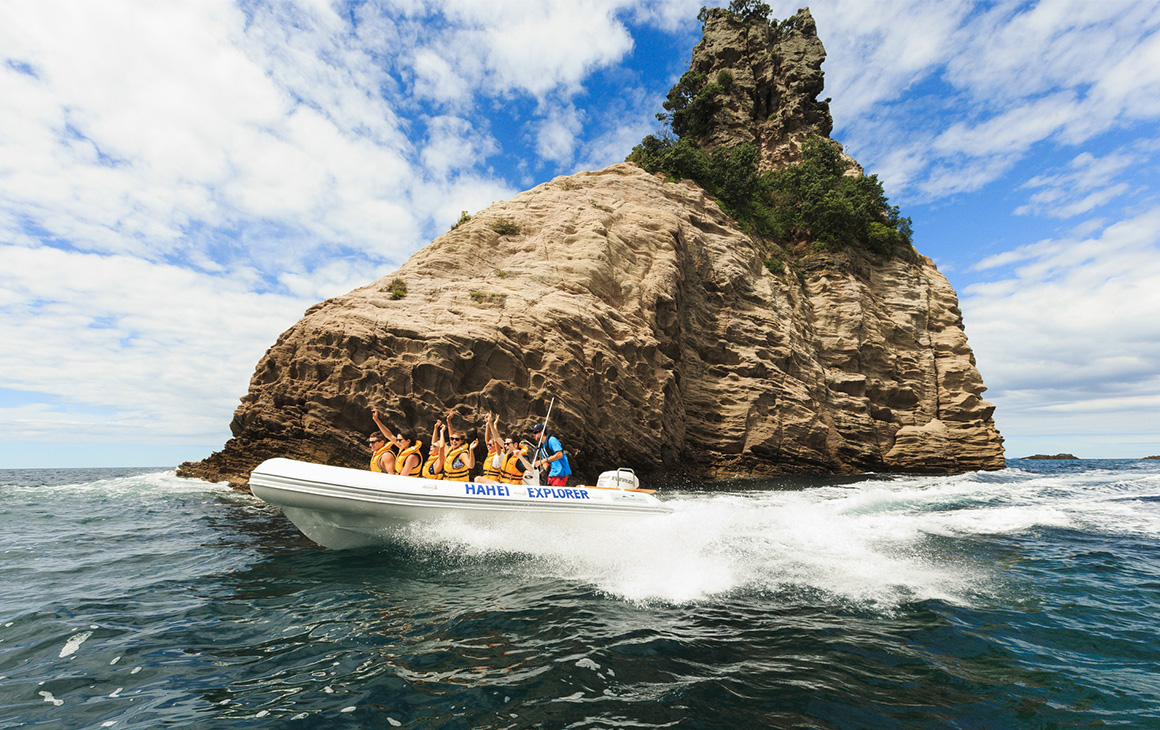 STAND ON TOP OF THE WORLD ON A MASSIVE GLACIER
We're pretty darn spoilt when it comes to glaciers in the land of the long white cloud, with over 3000 of them gracing our presence. Choosing which to explore is the hard part—we recommend exploring the wild West Coast, which boasts the impressive 12km-long Franz Josef Glacier, a UNESCO World Heritage Area (which says something in itself) or Fox Glacier, arguably New Zealand's most famous glacier. Either way, you're in for an adrenaline-filled adventure like no other, taking a chopper to the heights of the glacier before strapping on your crampons and getting your glacial hike on. Walk (or squeeze) through glassy blue ice caves and witness deep crevasses as you breathe in the crisp glacial air. If that all sounds like too much and you're more into keeping your feet firmly on the ground there are easy walking tracks leading to viewpoints at both glaciers, so you can still marvel at the towering glacial cliffs.
SIP YOUR WAY ALONG THE CLASSIC NEW ZEALAND WINE TRAIL
Five days of tasting your way through the best wine regions in New Zealand? We're listening. Add jaw-dropping scenery, indulgent food experiences and luxe wineries into the mix and we're sold. Embark on the Classic New Zealand Wine Trail, where you will journey from Hawke's Bay in the North to Marlborough in the South—all while sipping on the best vino around, of course. Perfect for those seeking a slower pace, you can cycle through vineyards, explore boutique Art Deco wineries and marvel at the stunning terrain. Martinborough Pinot and Malborough Sauvignon Blanc are the stars of the tour, so if they're your tipple of choice, this is an absolute must-do.
EMBRACE YOUR WILD SIDE IN QUEENSTOWN
There's a reason Queenstown is known as the adventure capital of the world and it may not be until you're staring over the precipice of a bungy jump that you realise why. Bursting with activities to satisfy the thrill-seeker in all of us, there's jumping out of planes, flinging yourself off bridges, rafting, jet boating and skiing. Get your adrenaline pumping on the famous Queenstown jet boat ride on the Shotover River, take things high and zipline above the trees or experience big mountain terrain at The Remarkables. Whatever thrill-seeking activity is going to get your heart racing, we recommend soaking away your possible bruises at the stunning Onsen Pools, the perfect antidote to a weekend of Queenstown adventures.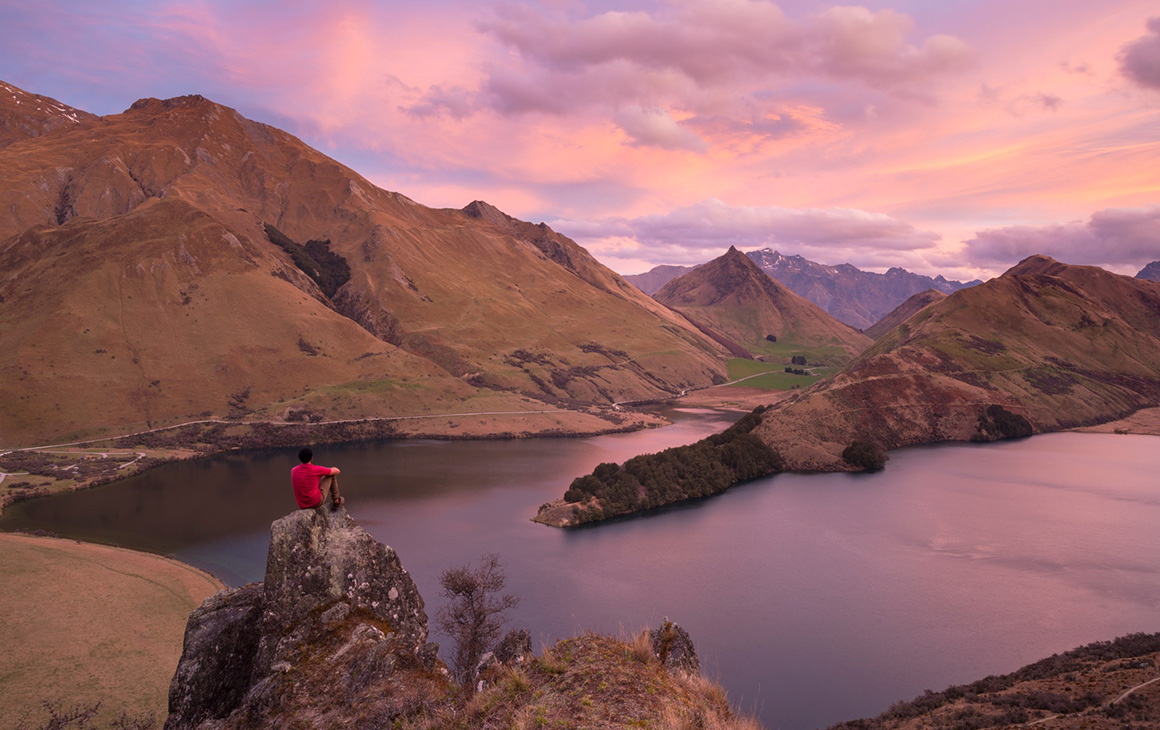 SOAK UP MĀORI CULTURE AT A TRADITIONAL MĀORI VILLAGE
Māori culture is an integral part of life in New Zealand and their history, language and culture are central to New Zealand's identity. Experience this unique culture and transport yourself on a journey of discovery at Tamaki Māori Village. This recreated traditional village shelters under a 200-year-old native Tawa forest and is the most award-winning cultural attraction in New Zealand (so you know it's pretty epic). Offering visitors an immersive step back in time to experience what life was like pre-European contact, you'll be wowed by stories, performing arts, ancient traditions and Māori feasts.
EXPLORE ACTIVE GEOTHERMAL CRATERS AT ROTORUA
You may recognise Rotorua for its *ahem* unique sulphur smell, but this lakeside city offers a raft of natural wonders that will have you falling in love with this special place. We're talking huge explosive volcanic craters, bubbling pools and natural hot springs perfect for zenning out in. Marvel at the geothermal phenomena, explore the distinctive landscape and then let all your stresses float away in a natural hot spring or indulge in a wellness treatment at one of the luxurious spas. For something you won't find anywhere else in the world, exploring the melting pot (literally) of Rotorua is an absolute bucket-list experience.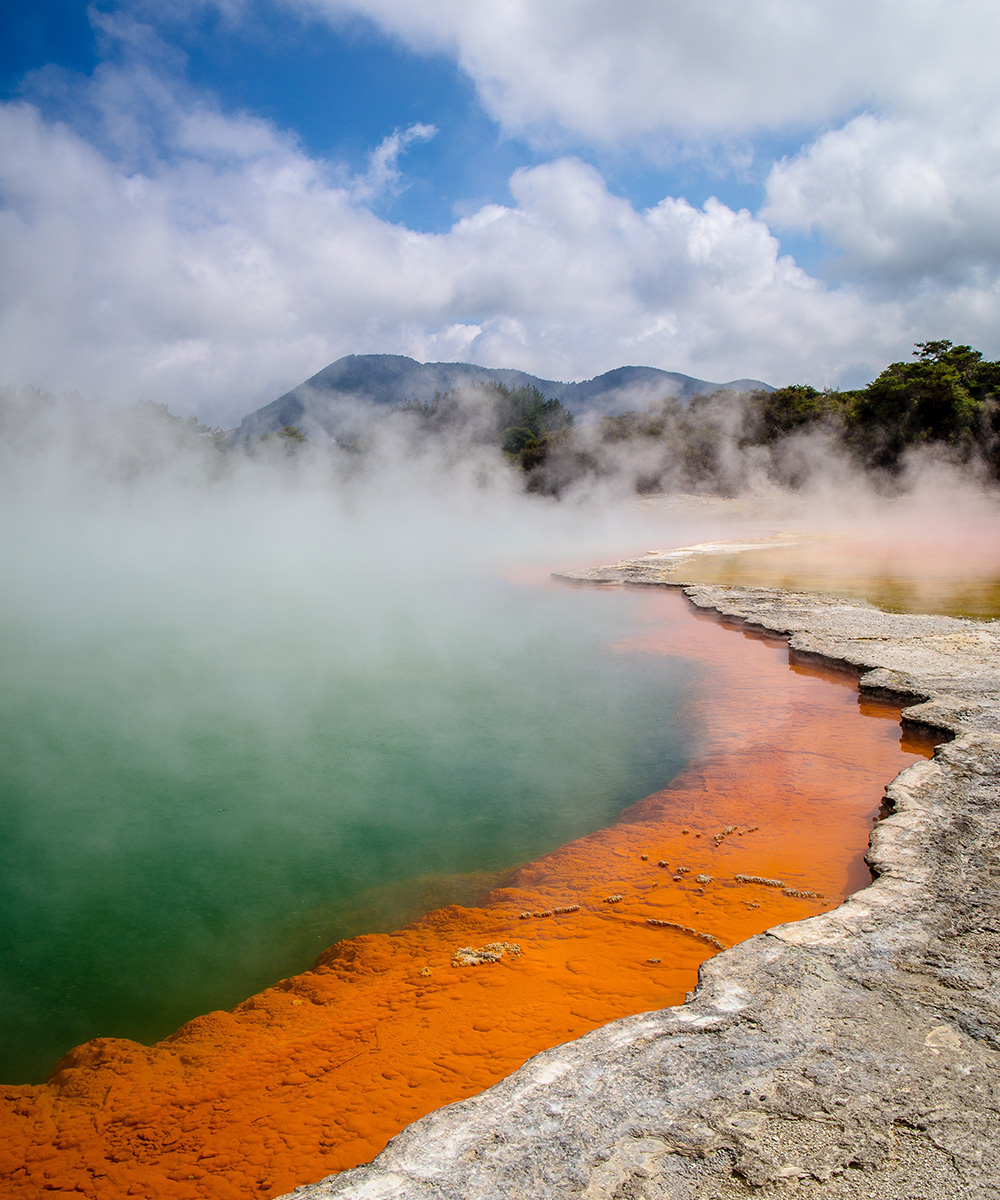 SWIM WITH RARE DOLPHINS IN AKAROA
Dive into nature and experience a unique wildlife encounter with the world's smallest and rarest dolphins, native to New Zealand's South Island. Ahhh, New Zealand, how we love you. A marine reserve created at the mouth of the Akaroa Harbour has created a haven for Hector's Dolphins, and consequently, it's the best place to see—and swim with—these unique dolphins in the wild. Pods of dolphins gather here all year round, and chances are, if you don't spot them, the friendly creatures will find you first. Voted by Lonely Planet as one of the 'Top 10 Marine Mammal Experiences in The World', this is truly bucket list worthy.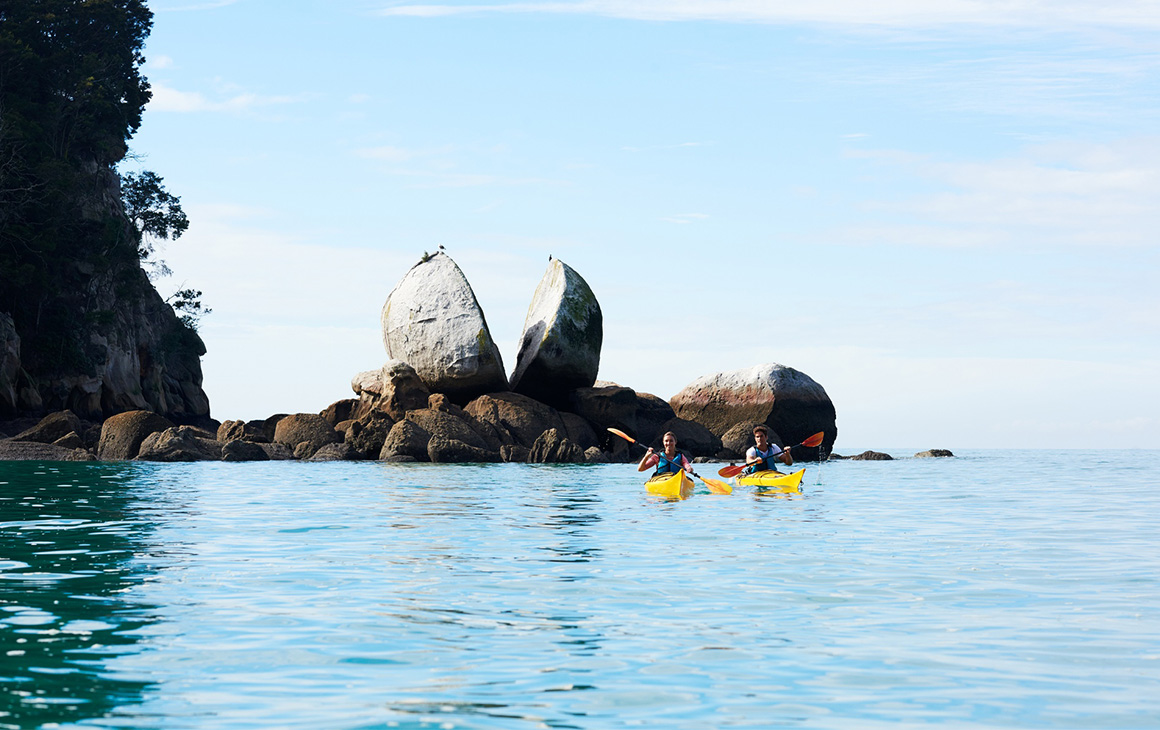 RECONNECT TO NATURE IN ABEL TASMAN NATIONAL PARK
It's no secret that the Abel Tasman National Park is a piece of paradise. You can't get much better than untouched golden beaches with crystal-clear water, surrounded by lush native bush teeming with birdlife. Wish you were there? Us too. Plan a multi-day hike through the park and stay in huts, or book yourself a day trip full of kayaking along sculpture granite coastlines, exploring pristine beaches and seeing penguins and seals frolic in their natural environment. If kayaking and hiking sound like too much work, book yourself a sailing trip and see all the best parts of the park without breaking a sweat.
LOOK UP AND STAR GAZE AT NEW ZEALAND'S MOST FAMOUS OBSERVATORY
There's no doubt about it, New Zealand is the prime stargazing destination. It's blessed with clear night skies and next to no light pollution, which means the stargazing options are next-level. Lake Tekapo is famously known as one of the best places to stargaze in New Zealand (and the world) and a trip to the top of Mt. John Observatory will truly enhance your magical experience. Use the country's most powerful telescope to spot up to 50 million stars and take in the incredible night sky. The two-hour tour takes you on a journey deep into the cosmos, and trust us, you'll never look at the unbelievable Southern sky the same way.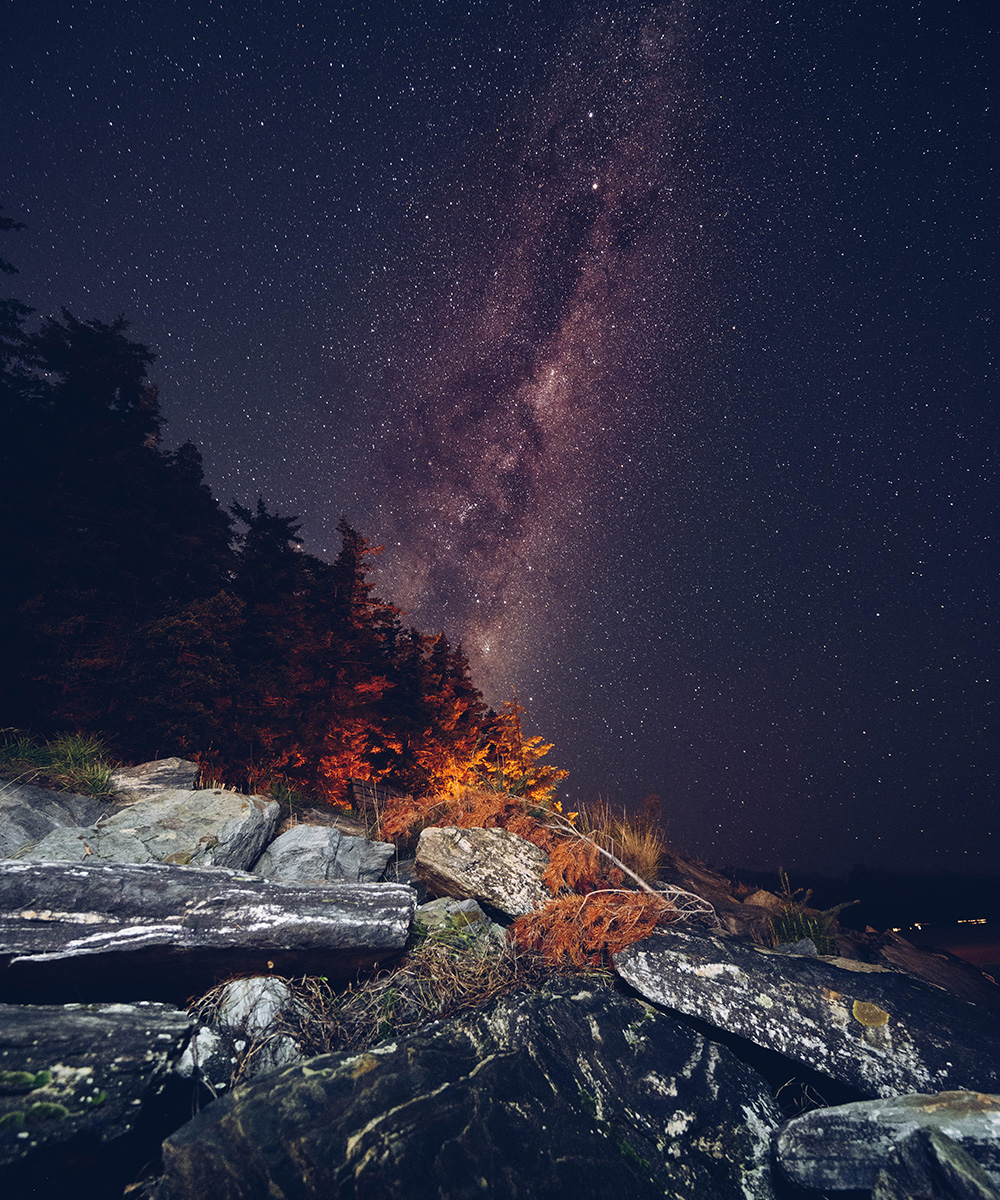 INDULGE IN WORLD CLASS CUISINE IN A SECLUDED BAY
New Zealand boasts bountiful seafood, top-notch wines and sumptuous fresh produce, rightfully earning its reputation as a foodie's paradise. Blending jaw-dropping scenery with a sumptuous spread, dining in the Bay of Many Coves is the ultimate way for you to get a taste of New Zealand. Nestled in a lush corner of Marlborough Sounds (yes, home to the famous Marlborough wine), the Bay of Many Coves plays host to a luxury resort and is renowned for some of the best fine dining around. The secluded sanctuary showcases many local delights, such as the world-class wines and seafood, all paired with views to die for and tranquil natural surroundings. Bliss.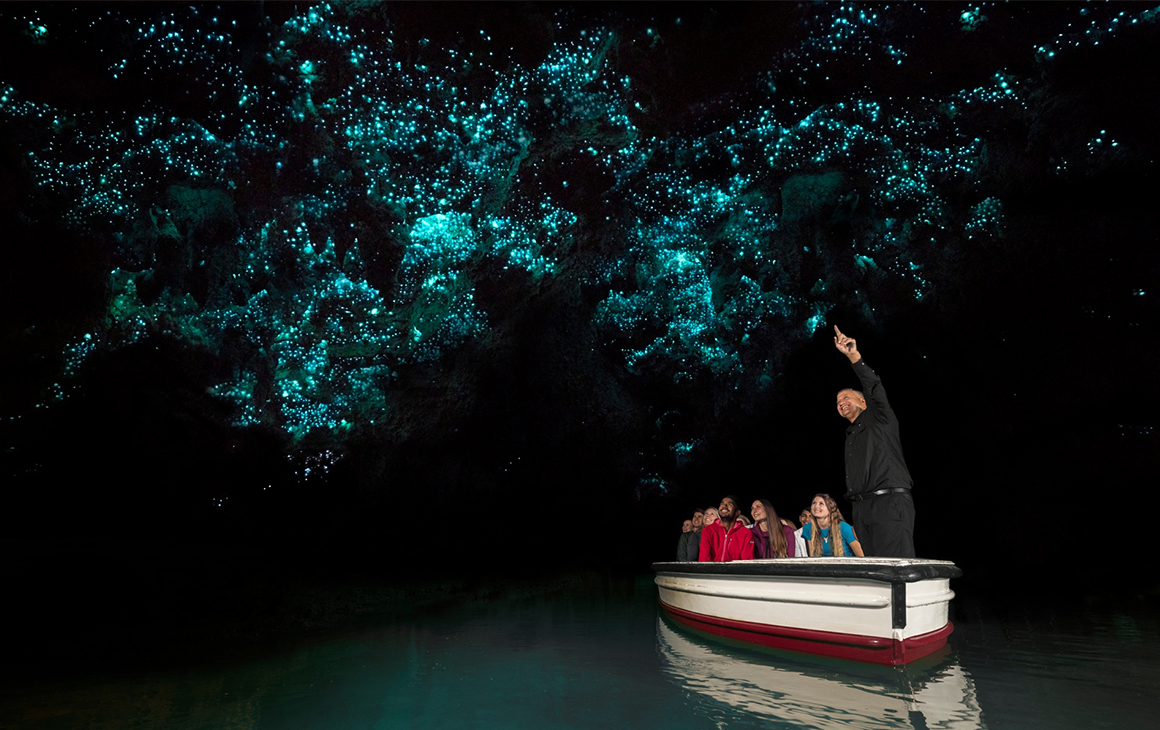 EXPLORE THE MAGICAL WAITOMO GLOWWORM CAVES
Nature doesn't get more impressive than this. It's a treat for the senses as you venture underground to the world-renowned Waitomo Caves. The subterranean maze of limestone caverns is home to an extensive underground river system, stunning stalactite and stalagmite formations, and—the best part—countless twinkling glowworms. Discover the magic as you glide silently by boat through the starry wonderland or on a guided walking tour of the caves.
Looking to add more unique once-in-a-lifetime experiences to your travel bucket list? Discover the stunning Tiwi Islands with our ultimate guide to exploring this jewel of the Top End.
Image Credit: Tourism New Zealand/Adam Bryce, Fraser Clements, Will Patino, Alexandra Karnasopoulos, Peter Hammer, Nikhil Prasad