Oh Canggu, you sure do have our hearts. This once sleepy surfing town has now become a trendy hot spot for those in search of world-class eateries, luxe bars and untouched rice fields and magical sunsets over the ocean. Whatever holiday vibe you're looking for, whether relaxed or adventurous, there's a tonne of sights and sounds to experience, so we've thrown together just some of our favourite places to see, eat, drink and stay around this luscious little town.
Here is your ultimate guide to Canggu.
The Best Things To Do In Canggu
Learn About Ancient Balinese Cooking Techniques
Hotel Tugu Bali offers a delicious unique hands-on Balinese cooking class that celebrates the rich heritage and beauty of the history of the culture as well as emphasising the incredibly fresh local produce on offer. This five-hour experience takes you from irresistible traditional Nasi Goreng Jawa, to Sambal, Tempes, Soto Ayams and all sorts of stellar dishes you'll be able to impress your future dinner party guests with when you get back home. Big yum.
Treat Yourself To An Epic Spa Experience
It doesn't get more glorious than a trip to Merapu Svaasthya at Desi Sani. This spa tucked into traditional Balinese thatched cottages transports you into a Bali before the chaos, and allows your mind to wander into a state of complete tranquility. Alongside their divine therapeutic offerings, there's a massive menu of teas and health tonics to ensure you a complex detox from the inside out before you head back to your villa.
Try Your Luck At Surfing On Echo Beach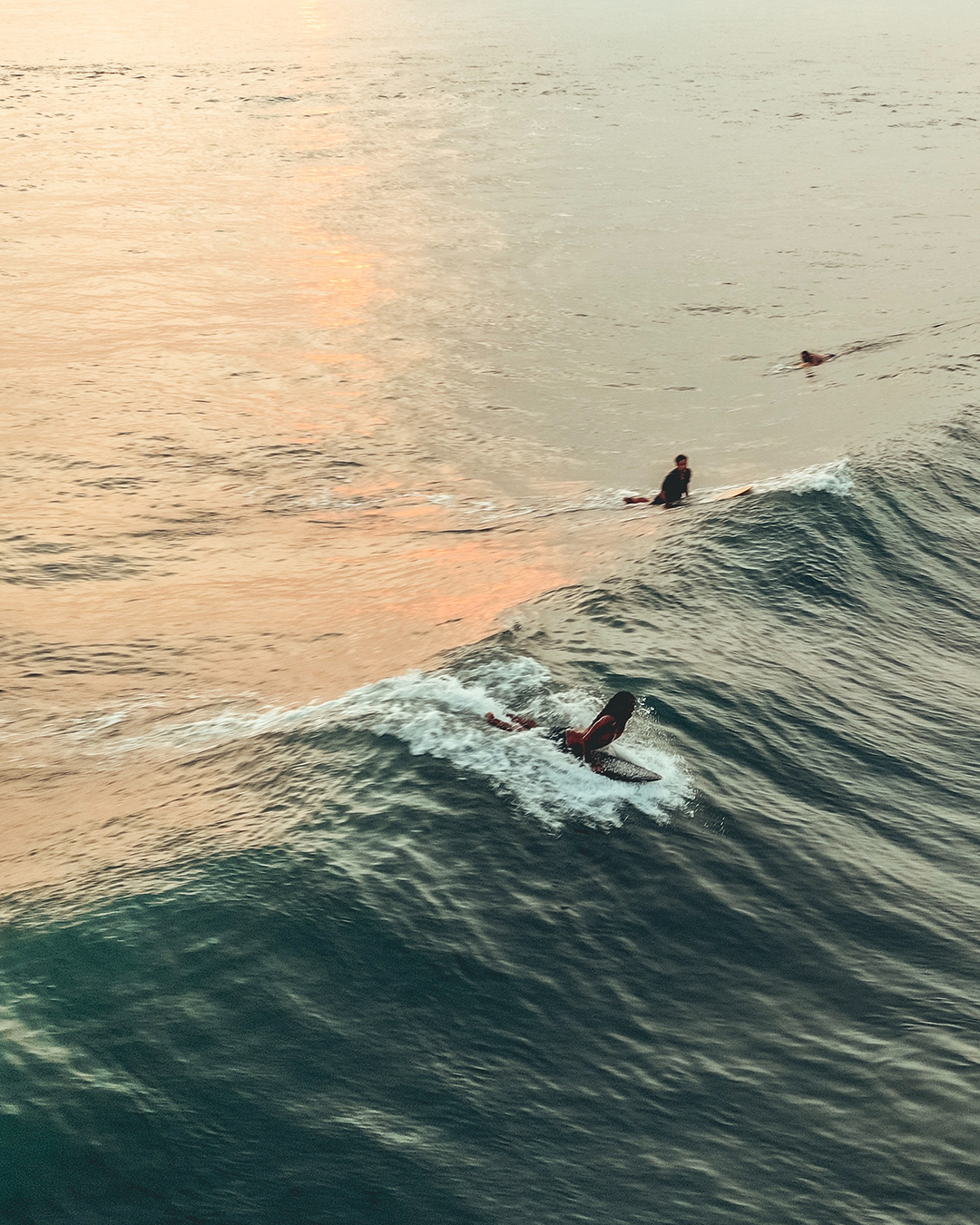 Right in the heart of this relaxed cosmopolitan town sits the surfer's paradise Echo Beach. Once a quiet secluded surfy spot, this beach has gained enormous popularity over the past few years with the rise of fabulous beach clubs and hip acai bars and new restaurants along the main strip. Perch yourself on a beach chair, hire yourself a board, have a go joining in a beach volleyball sesh or just simply sit back and soak in all the atmosphere of this bustling beach.
Become A Yogi At One Of The Endless Studios On The Strip
It would be borderline impossible to make your way through Canggu without smelling the incense wafting from at least three or four sweet little yoga and meditation studios, so what better way to kick off another day on island life with a little stretch. We can't go past a beautiful Hatha session at The Practice on the Batu Bolong strip, a Pranayama sesh in the eco huts of Serenity Yoga or try your luck at some anti-gravity yoga at Pranava Yoga. Namaste.
Go Island Hopping
Seeing you're so close, you may as well hop on a boat and spend a day or two visiting some of the local palm tree lined islands still vastly untouched by civilisation. Whether it's snorkeling in Nusa Lembongan, partying in Gili Trawangan or sunbathing in Nusa Penida, each of these little gems are within a few hour's ride of the mainland, and are absolutely worth a few waves on the journey.
The Best Places To Eat In Canggu
Santanera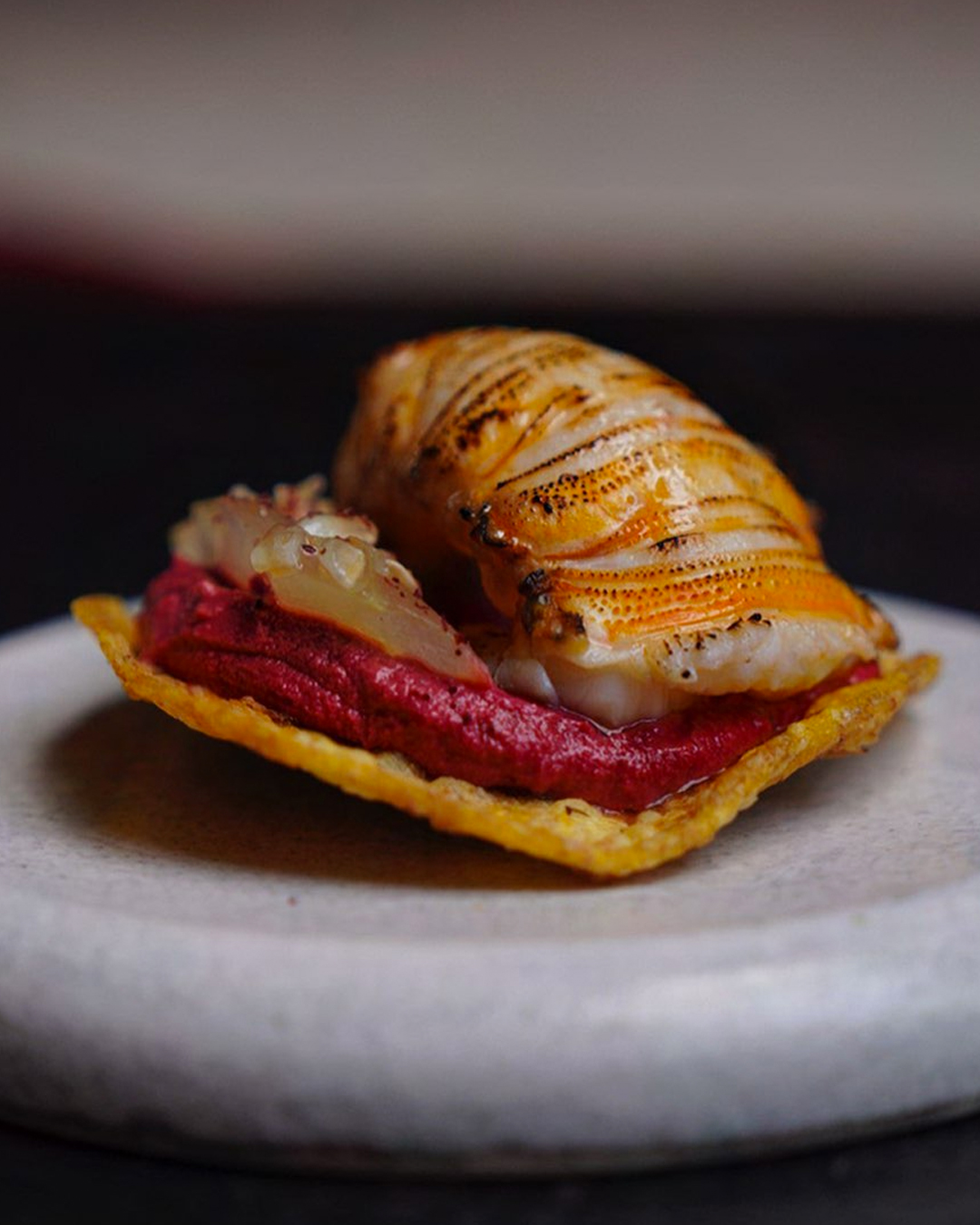 This chic three-level culinary haven is an absolute must visit, so pop it at the top of your list. Surrounded by rice paddies, this architectural marvel not only serves up an array of stunning dishes and cocktails, but boasts unparalleled service and an extensive knowledge of fabulous imported vinos and spirits for everyone to enjoy. Upstairs there's even an open-air rooftop so you can sip a drink or two as the sun goes down, then head down stairs for a gorg dinner in their stellar whimsical dining rooms.
Shady Shack
In our humble opinion, there's no more beautiful way to start the day than with an acai or green bowl and fresh papaya juice in the luscious gardens of Shady Shack. This gorgeous all day dining spot is the ultimate place to set yourself down any time of the day and soak in the chilled vibes of this surfy town watching the motorcycles travel across the paddies. With a huge menu and plenty of zingy drinks to satisfy, no trip to Canggu is complete without a stop off here.
The Shady Pig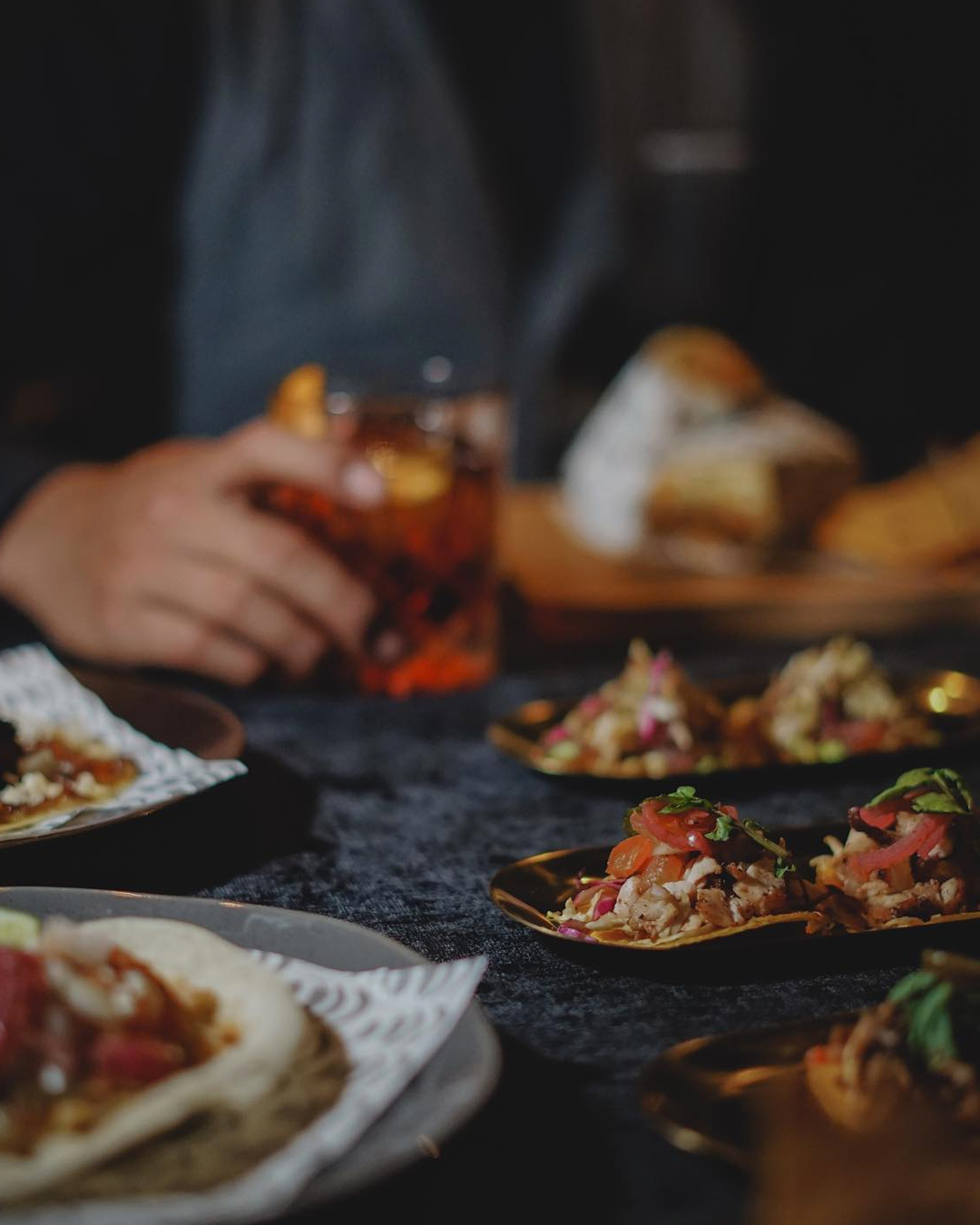 You'll need to follow The Shady Pig's socials just to get the daily password to enter this prohibition style bar nestled in the heart of Canggu. This sophisticated sexy space pays homage to all things decadent from the roaring '20s with an experimental cocktail list that you'll be desperate to work your way through. Cheers darlings.
La Brisa
For those of you after a cruisy boozy beach club, then there's no comparison to La Brisa. This place is a relaxed wonderland or something out of Alice in Wonderland with hidden corners, hanging coloured lanterns and magic everywhere around you. With some of the best sunset views in Canggu, we suggest you settle in early and take advantage of their delicious all day menu with a big fruity cocktail in hand.
Skool Kitchen
If Canggu wasn't already bursting with new life post-pandemic, this modern dining experience set amongst the palm trees just cements the fact that this once-sleepy surfing town is quickly becoming the culinary hotspot of Bali. With a big focus on local meat and fish, the menu is gutsy with a valiant cocktail list of classics and tropical twists.
Luma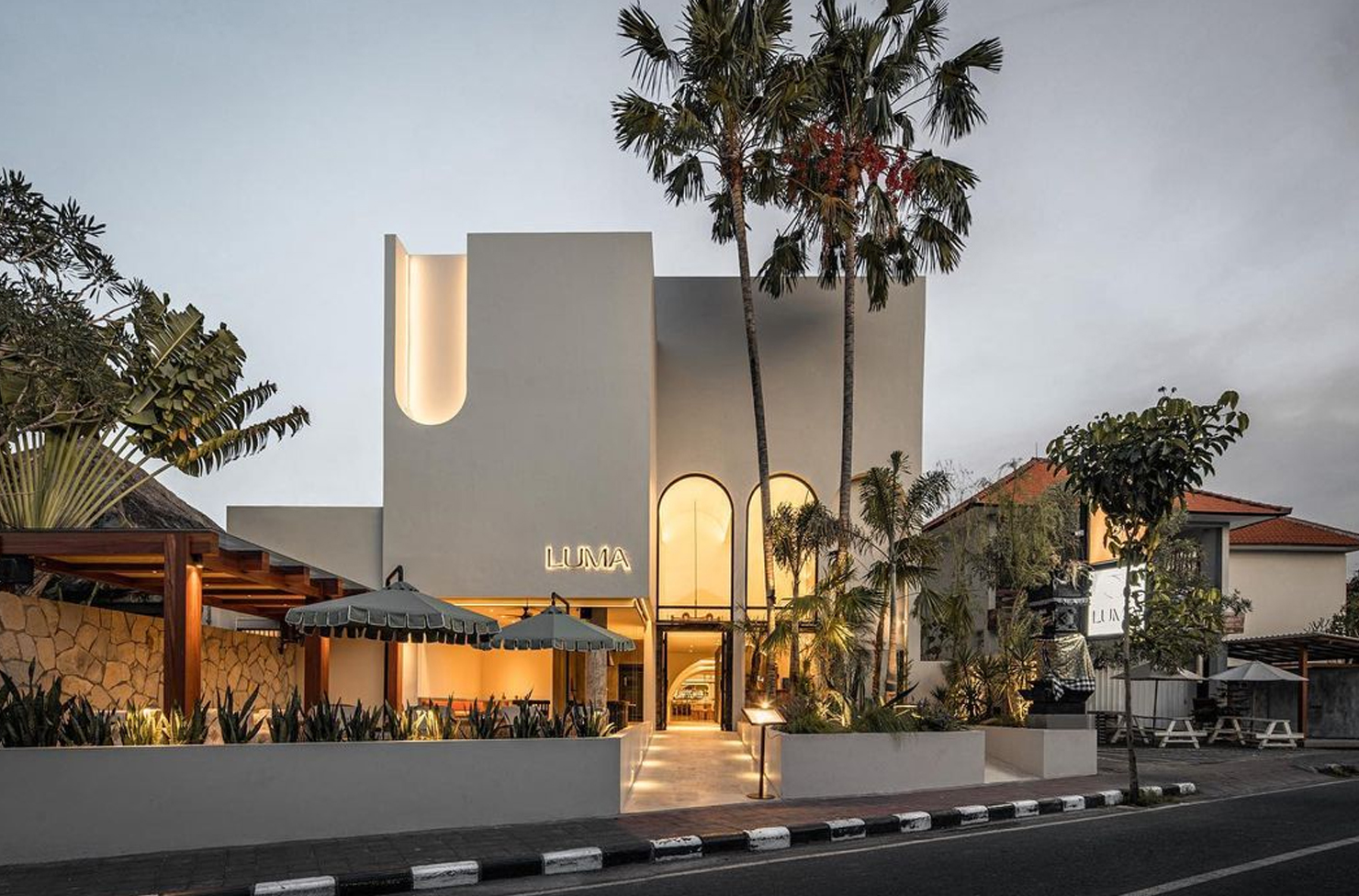 A relatively new player to the Canggu restaurant scene, Luma first drew us in with their $10 happy hour spritzes and tasting plates every afternoon, and kept us there with their minimalist super intimate interiors and outdoor dining room set right in the middle of an old below surface pool fitting (don't worry, the water is long gone). Expect delish Mediterranean fine dining plates that highlight local Indigenous Balinese produce without all the pretentiousness and ridiculous price tags.
Milk & Madu
This is the home of #foodporn right here. Run by a couple of local legends who will welcome you with a big smile and a damn good feed, Milk & Madu has all of your home favourites with an Indonesian twist. Head there for a refreshing acai bowl in the morning, a big super smoothie (go for the green monster), or one of their legendary salads. The Byron earth bowl will have you glowing from the inside out in no time.
The Lawn
There's nothing like a balmy arvo in prime position at The Lawn looking over the azure blues of Echo Beach watching the surfers catch some waves. We love that there's something for everyone at this little piece of paradise, from a swim-up bar and dive pool to keep you cool, to their ridiculous cocktail list and their lawn space for families to picnic and chill out while the kids play on.
Yuki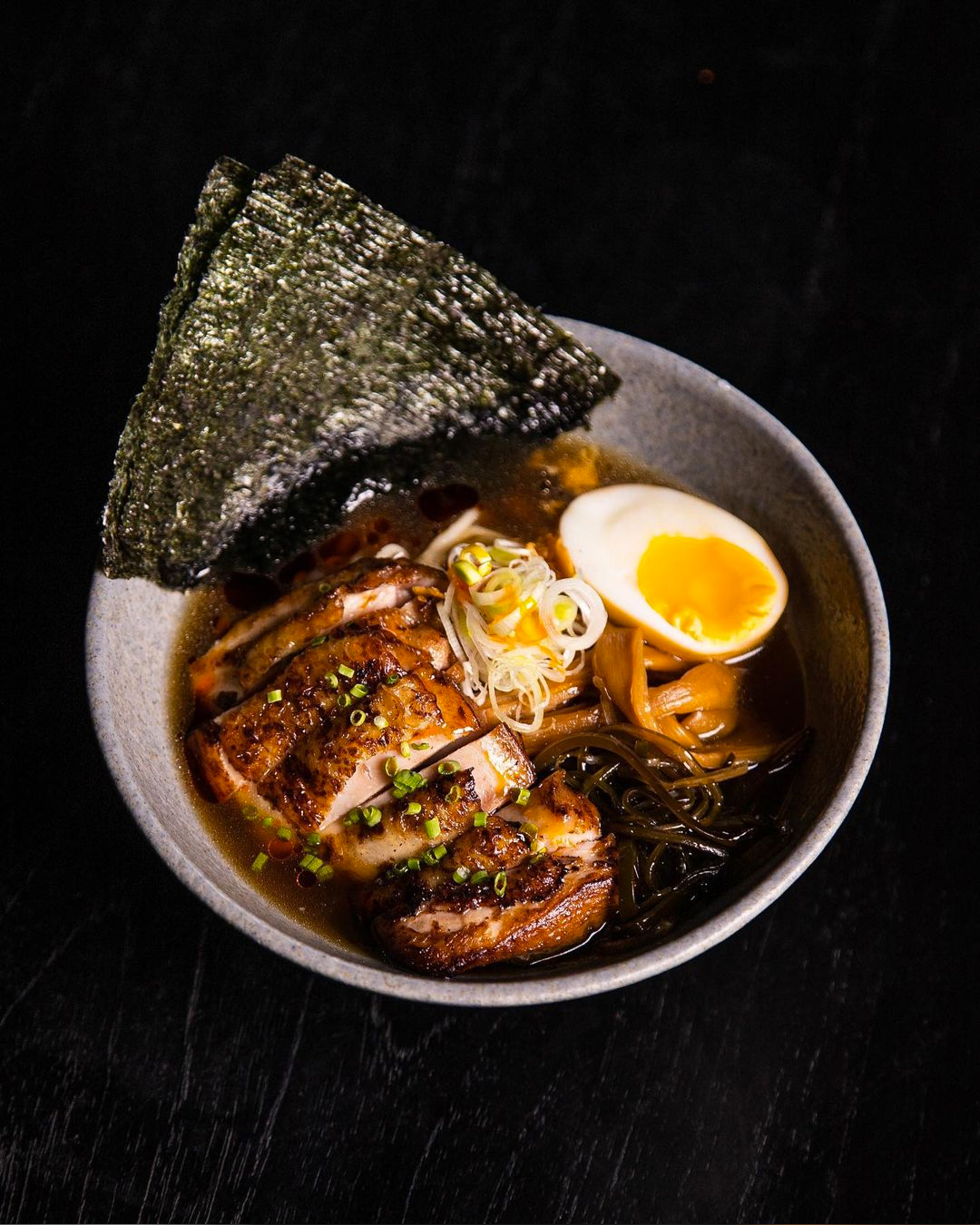 Another brand spankin' new beachside spot boasting incredible contemporary Japanese izakaya that pushes the limits right on the Batu Bolong beachfront. With some big hospitality names around town responsible, you just know you're in for a night of fine dining and spectacularly-presented dishes—make sure you try our favourite tuna truffle sushi.
Penny Lane
Penny Lane is a laid back all day spot where you can come from anything to a morning juice, to a late night feast after a big day of sun and sand. Easily one of the most 'gramworthy spots in the town, think big pastel washed walls, festoon lights a plenty, old school art work and even a grand water feature right in the center. They offer up stacks of classic dishes and Western faves, plus some super zingy cocktails that'll make you never want to leave island life.
The Best Canggu Accommodation
Hotel Sages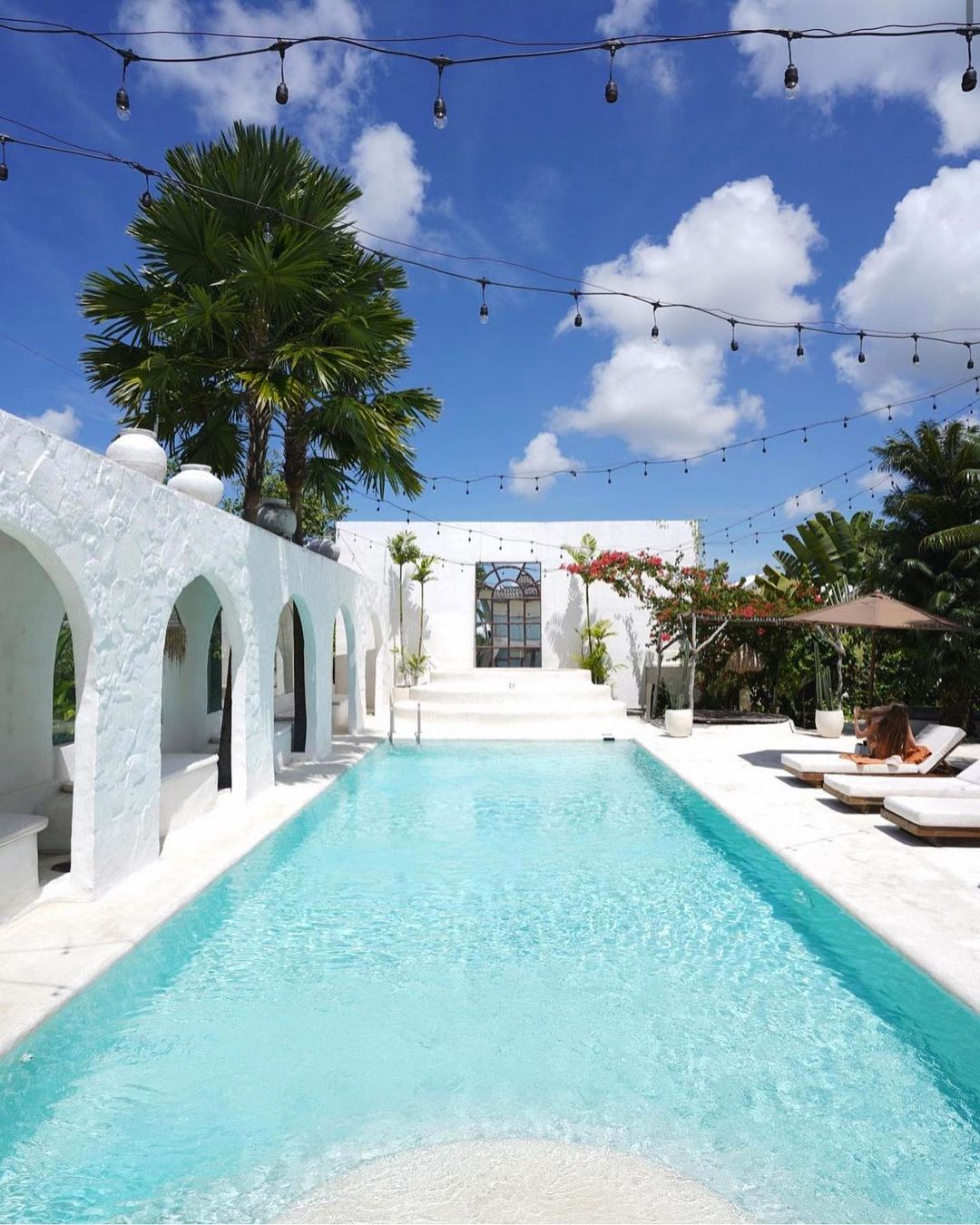 This adults-only retreat is all about privacy, luxury and Earth-shatteringly beautiful interiors that will have you in awe from the moment you arrive. This collection of Moroccan inspired villas is filled to the brim with house-made ceramics, cosy intimate nooks for lounging, tropical greenery aplenty and of course a heavenly communal pool area for all to enjoy on another magical Bali day. Trust us when we say, this place is a must stay for those obsessed with architecture and minimalist design.
The Cali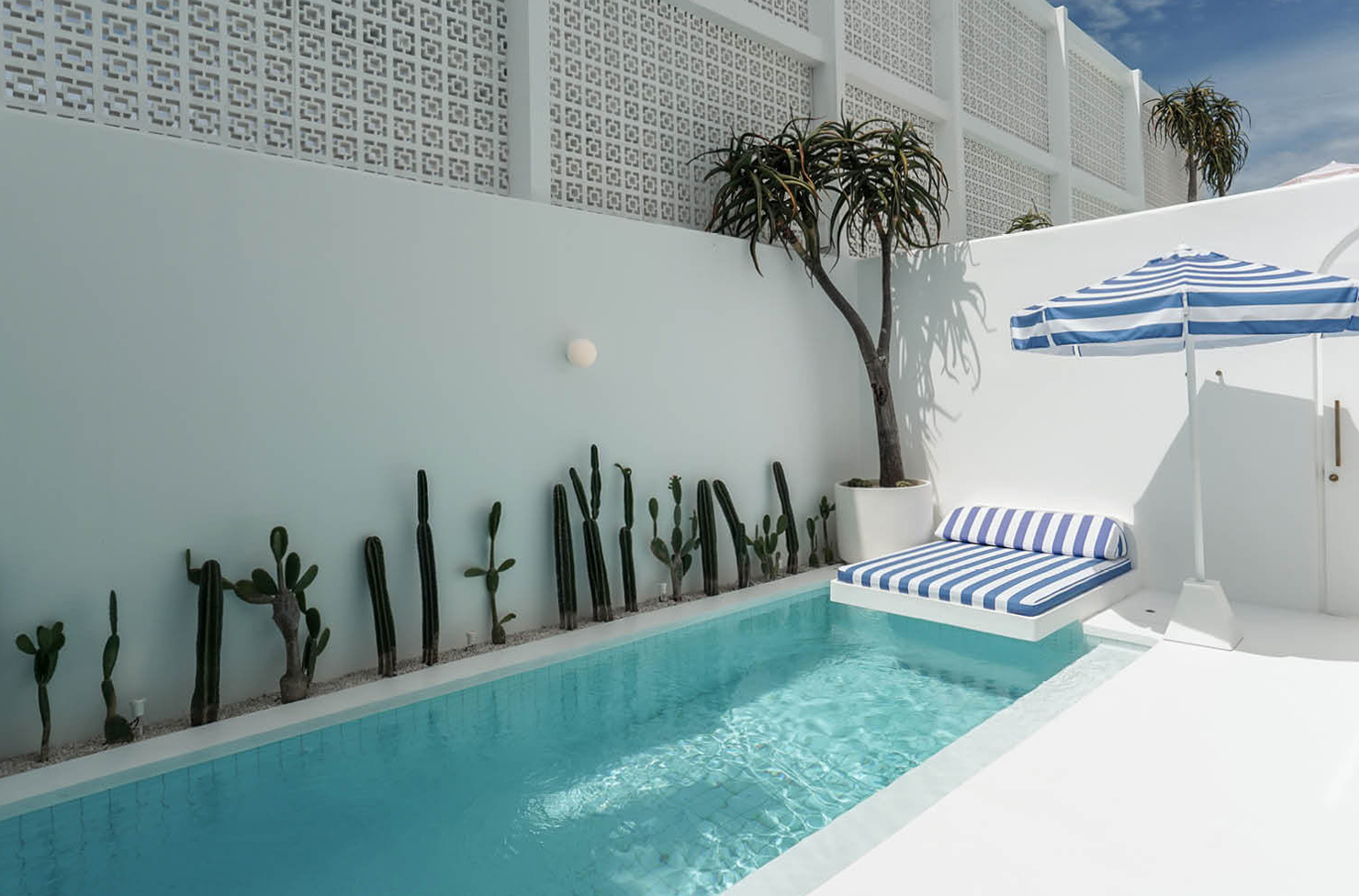 Easily one of the most instagrammable villas in Bali, The Cali Villas channels 1970s Pasadena vibes meets a cover straight out of Architectural Digest Magazine. We are obsessed with the white wash walls, cacti, pastel hues and funky works of art all set to the floor to ceiling windows out to your own private plunge pool (with plenty of kitschy pool toys included of course).
White Goose Boutique Hotel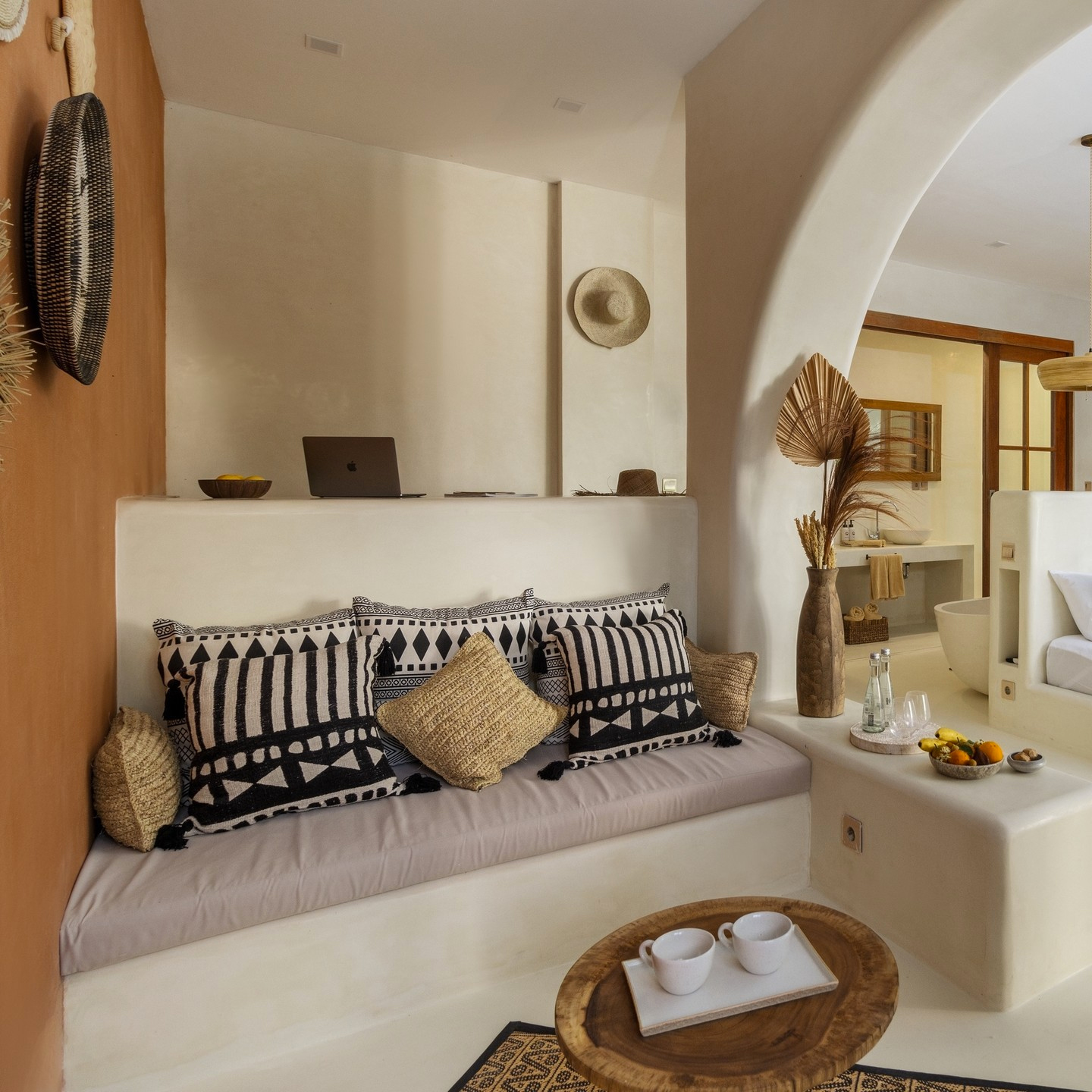 Modern contemporary interiors, clean lines and Mediterranean-inspired decor is the name of the game at White Goose. Think lots of arches, airy bright white walled spaces and plenty of thoughtful touches all designed to make your stay an unforgettable one. With only 19 rooms and three expansive pools, you'll feel a sense of personalisation and tranquility whilst still being set in the heart of a bustling strip with endless eateries, bars and stores right on your doorstep.
Zin Canggu Resort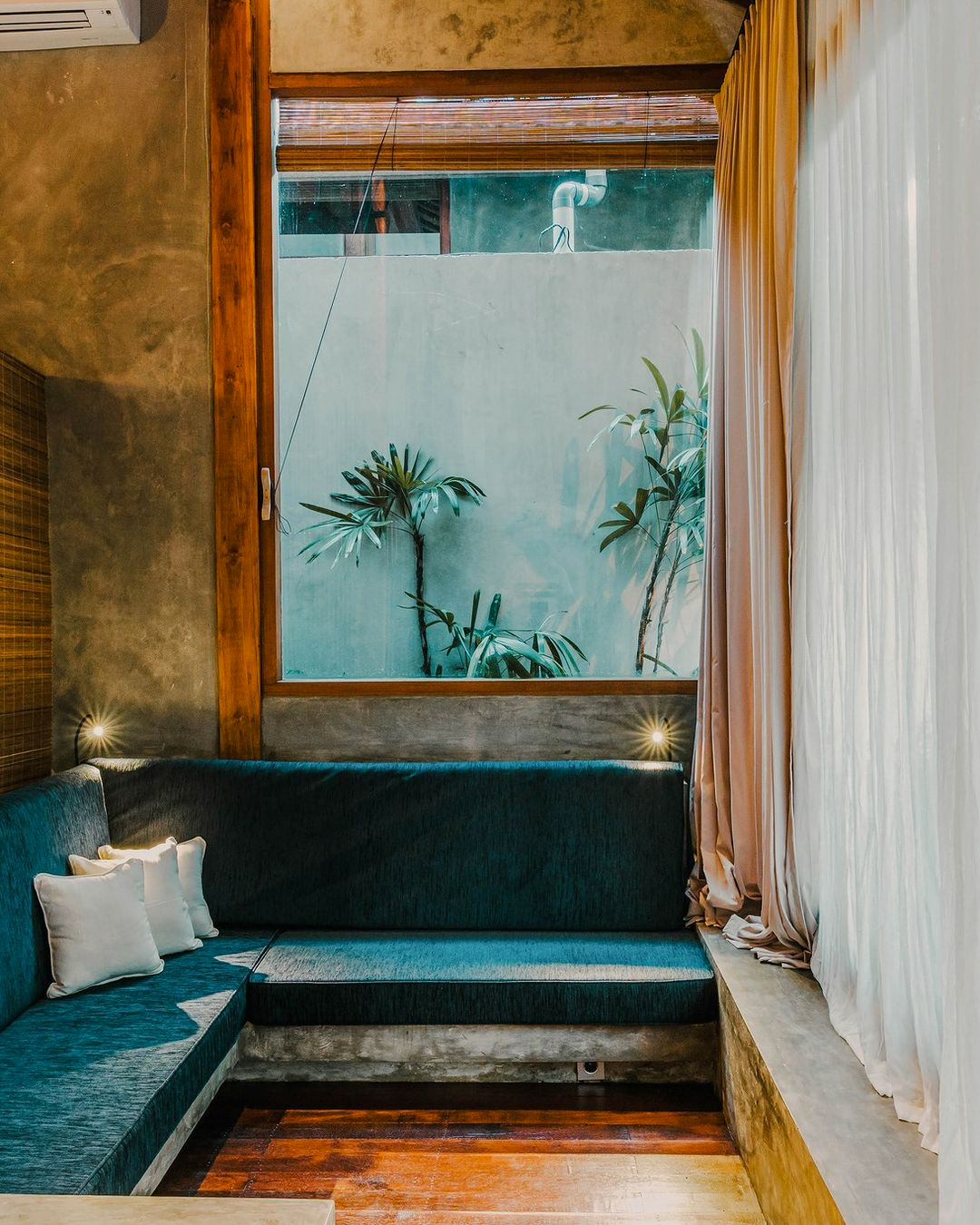 Teak and bamboo furnishings, high airy ceilings and sparkling views of your own private pool from bed—sign us up. We love the eclectic mix of industrial and boho chic that the gang at Zin Resorts have become famous for, with incredibly thoughtful touches and cutting edge design to wow any traveller.
Ready to fly? Book flights with Virgin Australia here.
Image credit: Marvin Meyers, Kaspars Upmanis
Editor's note: Urban List editors independently select and write about stuff we love and think you'll like too. Urban List has affiliate partnerships, so we get revenue from your purchase.