Just a short ferry-ride out of Auckland, is a magnificent island called Waiheke. Technically, it's part of Auckland, but… it also isn't. Although you're only a half hour's trip away from the Auckland CBD, you might as well be on a different planet because Waiheke has none of that busy city-life business going on. Perfect for a relaxing getaway, the island is full of remarkable beaches, award-winning wineries, dazzling art and fun filled adventures.
Here is our pick of the best things to eat, see and do in Waiheke.
Waiheke Accommodation
Let's face it, Waiheke is much too fabulous and full of attractions for a single daytrip sort of deal. If you love yourself and want to do your visit justice, you'll need to be checking in to some sort of accommodation for at least a night. Te Whau Lodge offers luxury, stylish rooms clad in wood and a stunning panoramic view of a yacht-filled bay. Looking for top service with a chilled-out vibe? Oyster Inn will make you comfortable in the most casual-yet-polished sort of way. For those of you after something a little quirky and easy on the wallet, check out Wild Days. Offering a range of cabin and trailer-style accommodation, Wild Days are the definition of cute, cosy, and a little peculiar. Hell, one of their cabins is kitted out as a pirate ship. Surrounded by native bush, the grounds are also home to a rum distillery. Need we say more?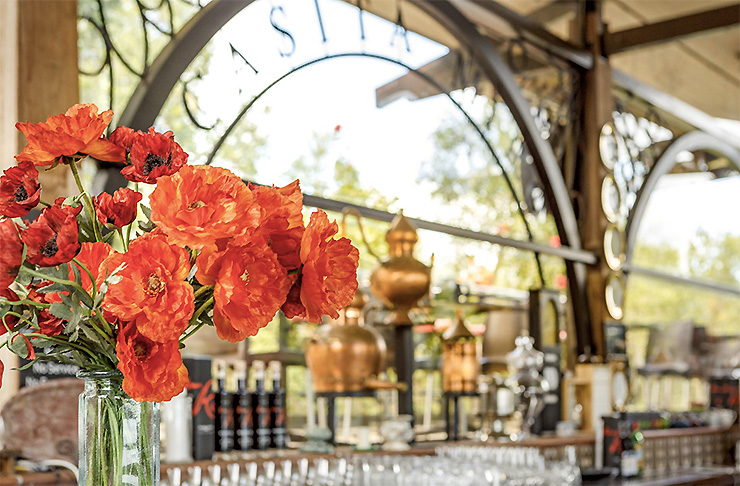 Waiheke Wineries
First thing's first. Waiheke is known for its abundance of award-winning wineries and if you don't plan on visiting at least one, then you're not doing Waiheke right. Better yet, go winery-hopping. Spend the day tasting varieties in stunning locations looking out to stretches of grapevines and spectacular views of the island itself. And if you get a little hungry, dine at the glorious in-house restaurants. Located on opposing sides of the island, Mudbrick and Man'O'War are two iconic New Zealand wineries and absolute must-visits. Between the two lay Tantalus—famous for producing Bordeaux and Rhone-style reds, Spanish-themed Casita Miro, and Italian-style Poderi Crisci. You can find the details of Waiheke's best wineries here.
Waiheke Art
Waiheke is home to many an artistic soul so, inject a healthy dose of culture into your visit and check out the local galleries. The absolute must-see is Alison Park—an outdoor sculpture trail in an Oneroa garden park featuring several large sculptures dotted around its grounds. Check out Waiheke Community Art Gallery, which displays over 100 local artists a year, with three new exhibitions every four weeks. Another two galleries housing the works of locals are Toi and Space. There are also several crafts-oriented galleries with ceramic pieces at Factory Ceramics and wood-carving at Kauri Art Studio. And if you're after a little bit of bling, check out Christine, an artist and goldsmith specialising in handmade jewellery, famous for her signature double rings.
Waiheke Produce
Grapevines aren't the only thing that flourish on the island. Waiheke is also famous for its oysters, so why not get your fill while you're here? Grown in the perfect, unpolluted environment of Te Matuku Marine Reserve are the most scrumptious, nutrient-rich Pacific Oysters. Get them fresh from the Te Matuku shop. Another thing abundant on the island? Olive groves. Rangihoua Estate offers a tour of its groves which concludes with an olive oil tasting. Pick your favourites and take away a couple of bottles.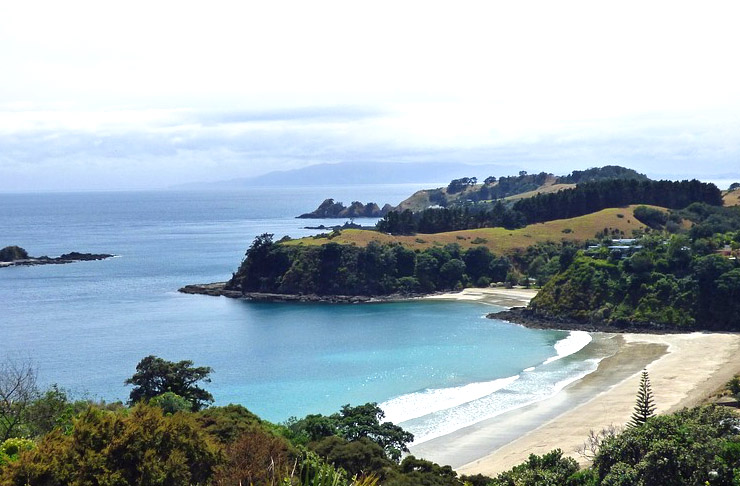 Waiheke Beaches
Yes, Waiheke is full of activities but, don't forget—you're on an island and beach time is compulsory. Lounge in the sun, read a book and get a tan before cooling off in the ocean. With clear waters and white sands, Oneroa is one of Waiheke's most popular beaches. Here, you can get a good swim at all tides and make use of barbeque facilities to cook up a glorious kiwi feast. To the east, Little Oneroa is another favourite with a picturesque sheltered bay and more barbies. For great snorkelling, venture out to Enclosure Bay which gets its name from surrounding rock formations. If you're lucky you might see some sea horses. For sprawling sands stretching out to either side, visit Onetangi Beach, Waiheke's largest at 2.5 km.
Onetangi Reserve
If there's one walk you have to do at Waiheke, it's Onetangi Reserve. The looping track takes around two hours to complete. During this time, you'll be able to acquaint yourself with all the local flora and fauna. We're talking dozens of local bush and forest species including Kauri and Rimu trees. Inhabiting these, you'll find ravishing native birds including fantails, kingfishers and tuis. And in the reserve river, you'll see crayfish, eels and fresh-water shrimp.
Waiheke Horse Tours
For a super fun afternoon, go sight-seeing on horseback with Waiheke Horse Tours. Embrace your inner cowboy and swing to the rhythm of your horse's trot, taking in surrounding views. Choose from a range of treks and tour durations. Take an hour-long tour through farmland and beach or invest in a longer trip and ride up to the Te Matuku Ridge Pa and further up to the summit from which you will see 360-degree views of Auckland and Hauraki Gulf.
EcoZip Adventures
Take to the skies as you zip over Waiheke on EcoZip's state-of-the-art flying-fox. With two ziplines running alongside each other, EcoZip can send two people flying down simultaneously, allowing you to share the experience with a friend. Soak in the stunning views from above as your adrenaline levels spike. And don't worry, the experience isn't over once you reach the landing deck. Carry on sight seeing with an eco-immersive forest walk that follows.
Wild On Waiheke
Wild On Waiheke is a restaurant, winery, brewery and adventure central all in one. Perfect for a relaxing afternoon with the crew, here, you can spend the day playing various games, getting increasingly competitive with every brew. Onsite entertainment includes archery, clay-bird shooting and a range of other activities such as petanque and giant chess. Play games, cool down with house beer, cider or wine and, once you've worked up an appetite, satisfy your cravings at the onsite restaurant.
No need to stop the adventuring there. Discover 15 epic things to do on Waiheke that aren't drinking wine.
Image credit: Te Whau Lodge, Casita Miro