The secret of Tasmania being one of Australia's best holiday destinations has been out for a long time. The Bass Strait-separated island state may be small, but it boasts big character and a unique winter identity to match its climate.
Although referred to as the "off season", Tasmania shines brightest in the winter months. From cosy pubs and whisky distilleries to world-renowned festivals and outdoor bath-equipped Airbnbs–our southernmost state puts on one hell of a show when temperatures drop.
Of course, this list barely scratches the surface of what a Tassie winter getaway can offer. But these are some absolute must-adds to your itinerary and should lead to some exciting travel research.
Here is your guide to the ultimate winter holiday in Tasmania.
A Winter Guide To The East Coast Of Tasmania
Tasmania is an absolutely stunning state with glacial lakes, sprawling wineries and national parks unrivalled anywhere else in Australia. The thing is, when winter starts brewing, most champs are keen to head north, some even right over the Indian Ocean and into the heart of the Mediterranean Sea for an endless summer filled with burrata and Aperol Spritz. Big mistake. The 'off season' is one of the best times of the year to head into Tassie because the crowds are...well, nonexistent.
If you're keen for the ultimate winter getaway but overwhelmed by all the things Tasmania has to offer, we suggest you hit Tassie's East Coast—a rich and beautiful haven of stunning hikes, breathtaking sunrises, vineyards, oyster shacks, fish and chip haunts, winding coastal roads and epic restaurants hidden next to unassuming bottle shops.
Picnic Island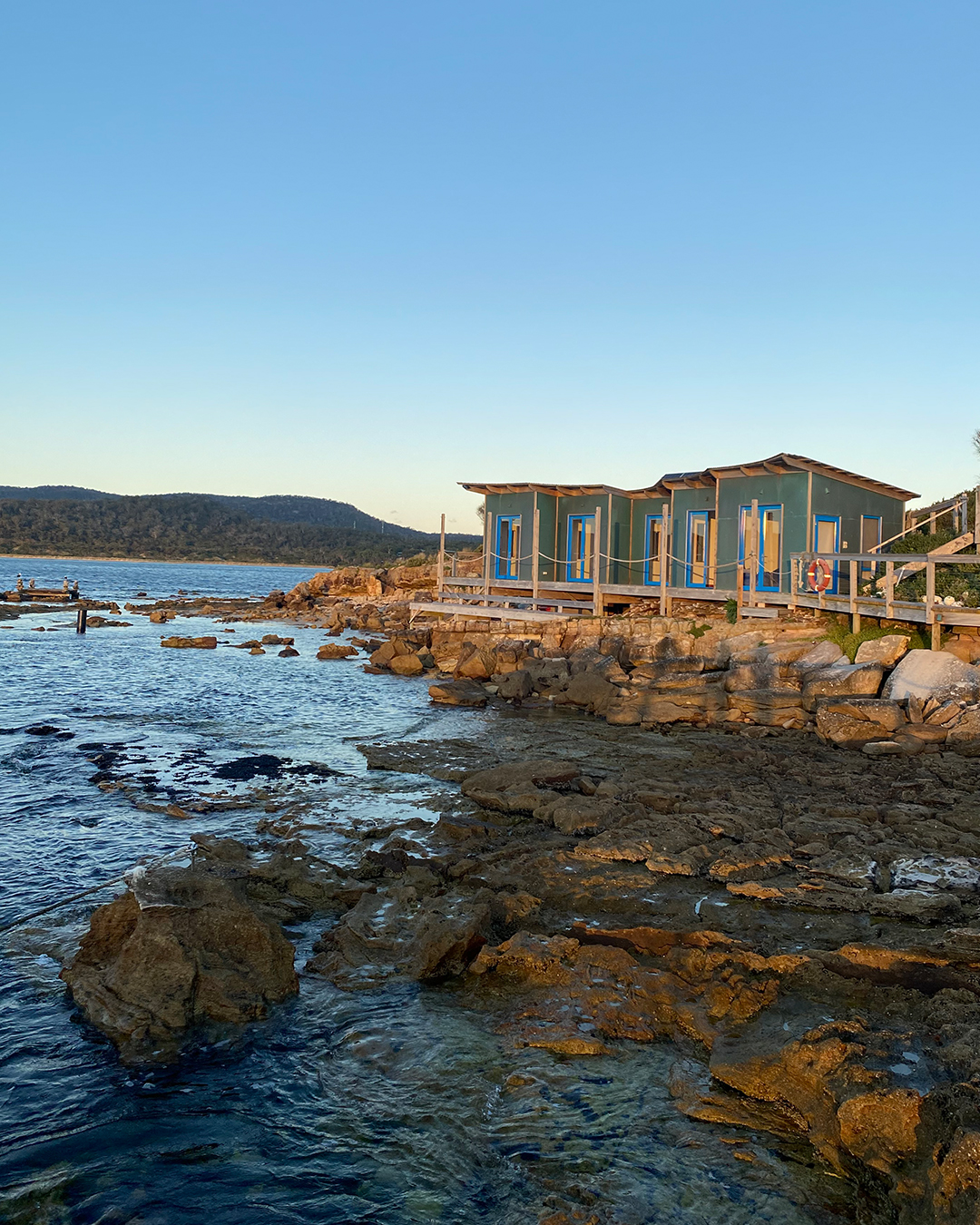 Everybody needs to stay to stay on a private island at least once in their lives. Enter, Picnic Island. This tiny island in the middle of Coles Bay is available for exclusive hire for you and up to nine other of your best mates. There are five copper-clad lodges as well as a communal 'birdhouse' with a floating cocoon fireplace that overlooks the water. As well as taking day trips to and from the island, you can also kayak, fish for flathead and squid on the jetty, dive for abalone and crayfish, stargaze and even spot fairy penguins on the island too. Depending on the time of year, a night's stay at Picnic Island will set you back around $2800 but between yourself and nine others, that works out to be $280 per person. Not too shabby, if you ask us. Book your stay here.
Spring Vale Vineyard And Mel's Kitchen
This fifth generation and family-owned vineyard has being going hard since 1875. Located in Cranbrook on Tasmania's Freycinet coastline, the legends here are basically the blueprint producers of high quality cool climate wines including pinot noir, pinot gris, chardonnay, gewurtzraminer and sparkling. Here you'll find a pretty intimate cellar door, an old stable turned wine tasting nook which is now heritage listed.
Should you work up an appetite after your wine tasting, Mel's Kitchen is the adjacent marque kitchen plating up some seriousl belly-fillers. Surrounded by Spring Vale vines, you'll be able to knock back chicken wings, baked camembert, fried chicken tacos (a favourite) and some of the best corn fritters you'll ever have.
Cape Tourville Lighthouse Walk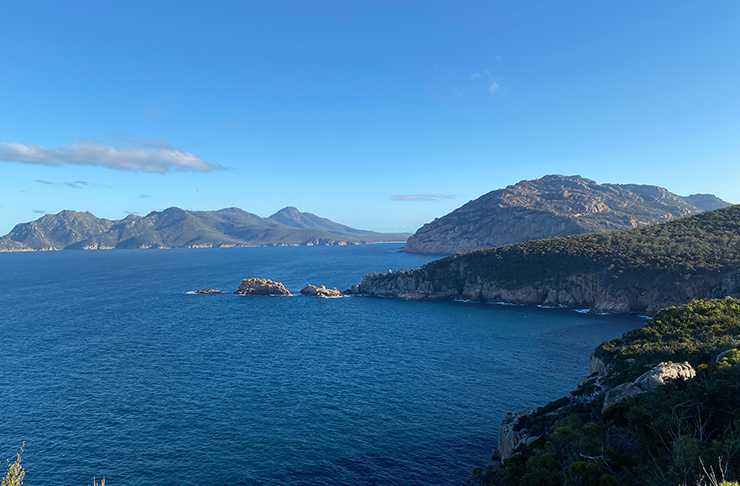 If you're keen for a lite walk of sorts, Cape Tourville Lighthouse Walk is the 20-minute track for you. The pathway is located inside Freycinet National Park and wraps around the ridge of mammoth cliffs which enclose Carp Bay. The elevated track will take you all the way up to an automated lighthouse and offers up incredible views of the Hazards, Wineglass Bay and The Nuggets—an offshore collection of rocks home to fur seals which you can scope out through a pair of standing binoculars.
The Freycinet Walk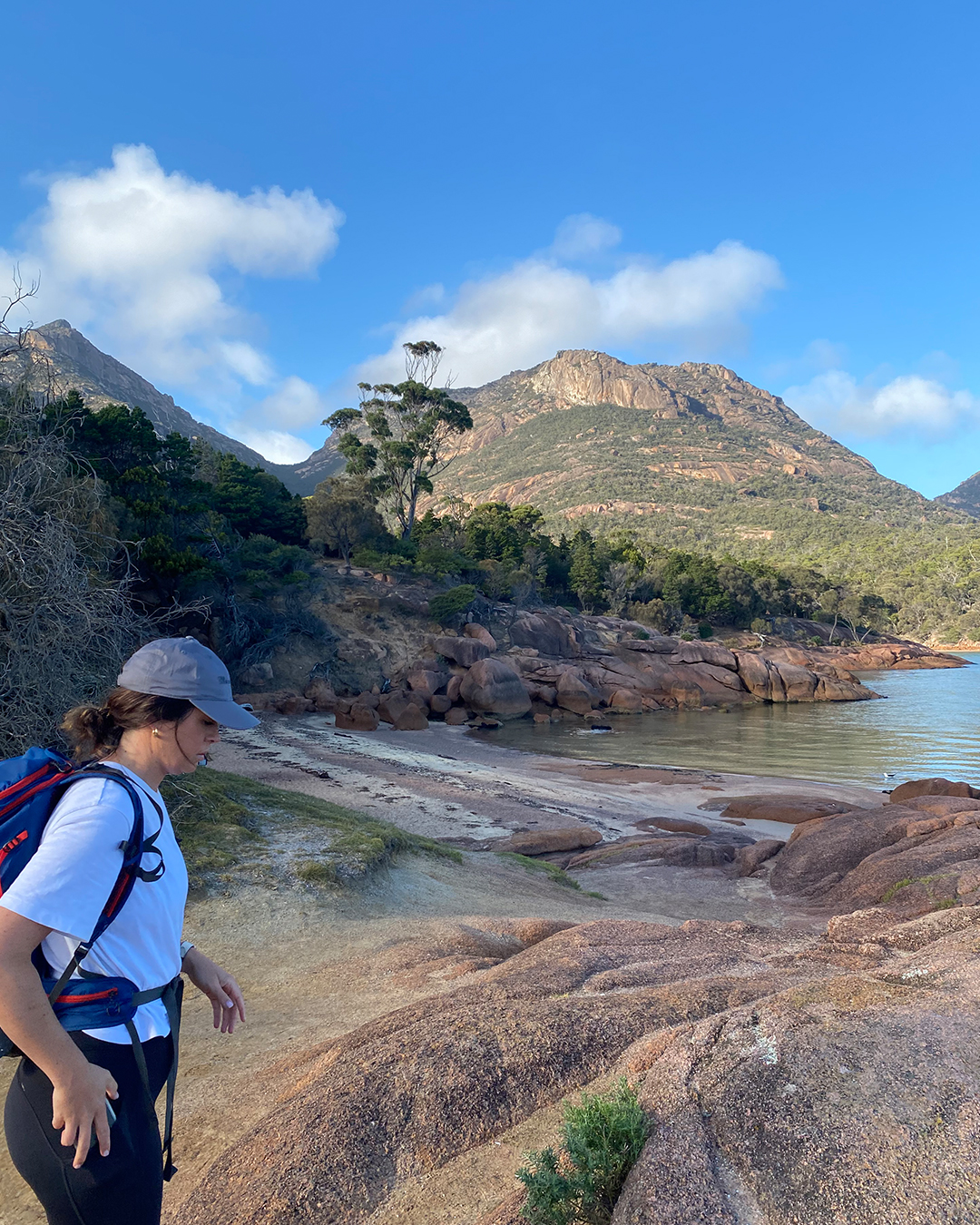 If there's one adventure you have to have on Tasmania's East Coast, it has to be the 10km Freycinet Walk. Kick off your hike from Freycinet Lodge and breeze through the spectacular Hazards mountain range all the way to Wineglass Bay lookout. You'll then get to take a cruisy descent towards the bay where we highly recommend you stop for a picnic. At this point, you can either head back to Freycinet Lodge (warning: the ascent is a gnarly one) or continue along the west pensinula to Hazards Beach, one of Tasmania's most secluded. We suggest you pre-organise a Freycinet Aqua Taxi to pick you up from here and take you back to Freycinet Lodge.
While you can definitely do this one yourself, it's well-worth teeing up with Freycinet Walking Tour. Your guide will give you a half-day guided tour of the entire track and will pack a lot of local knowledge you won't be able to pick up on your own. You'll also get morning tea, coffee, hot chocolate, museli bars, antipasto spreads, freshly baked bread and more snacks along the way.
Tasmania Coastal Seafoods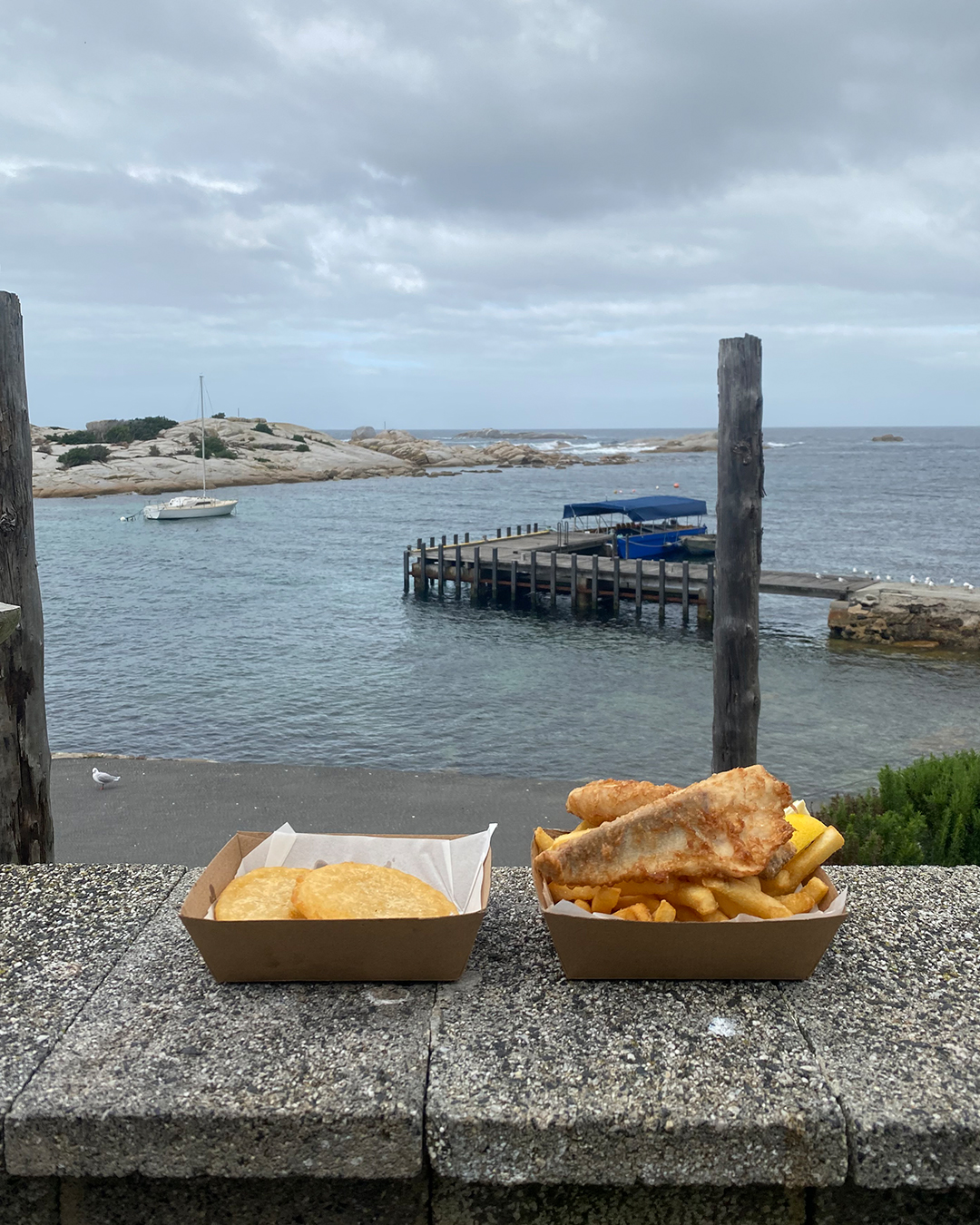 When we heard that Tasmania Coastal Seafoods' owner was dubbed 'Ken the Mad Dog', we honestly couldn't refuse the pit stop. Tucked away inside The Gulch at Bicheno, this glorified fish 'n' chip shop is all about serving up crispy, local batter in cardboard trays and golden potato cakes with a crunch we can only describe as deliciously euphoric.
Devil's Corner Cellar Door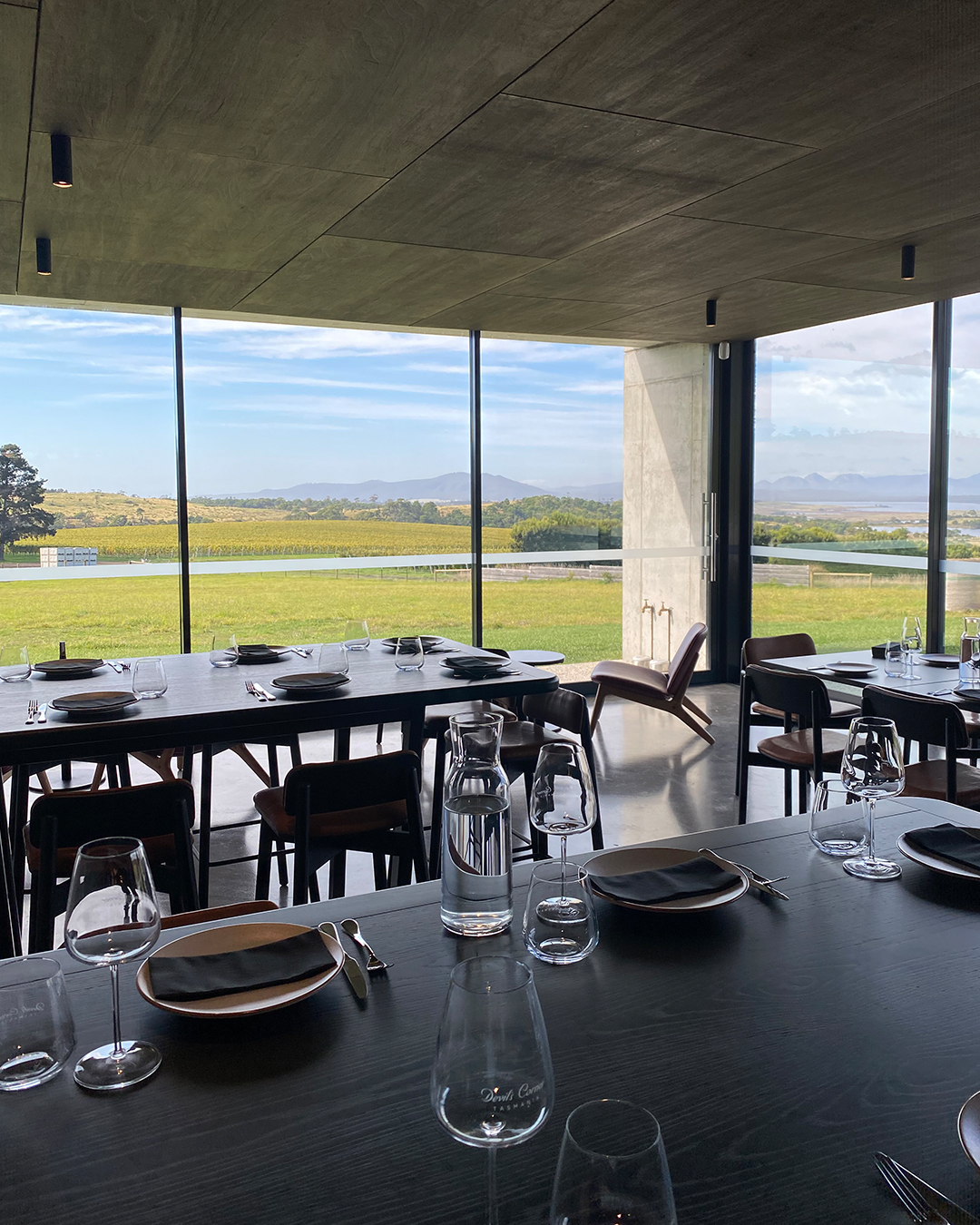 Whether you've been to Tassie or not, you've undoubtedly heard a thing or two about Devil's Corner Cellar Door. The crew here are wine connoisseurs through and through, embracing Tasmania's wild elements at all times of the year which steers them to go bolder with the fruit, sometimes fresher with the fizz or even brighter with the acidity. While the wine tastings here are the main affair (you'll definitely walk out with a few bottles), we have to give a gentle nod to Cumulus Studio, the brains behind many other stunning institutions across Tasmania including Pumphouse Point and Willi Smith's Apple Shed. The crew has gone above and beyond—there's open-air courtyards, transparent roofs and walls, a blur between indoor and outdoor spaces and even a dedicated lookout which gives you a skyhigh view of The Hazards.
Melshell Oyster Shack
Melshell Oyster Shack is honestly a rite of passage when you visit Dolphin Sands (a pretty low-key sand peninsular split with the Swan River on its north side and Great Oyster Bay on its south). While Melshell's is a small family farm, it harvests around 100,000 oysters a year and supplies a bunch of Tasmanian restaurants and Melbourne seafood markets. You can book a tour or swing by to slurp on the good stuff alongside cheese platters, seafood kebabs and other local produce. You'll also find oyster pate for the more adventurous and a bunch of neighborhood wines and beers too.
Swansea Waterloo Inn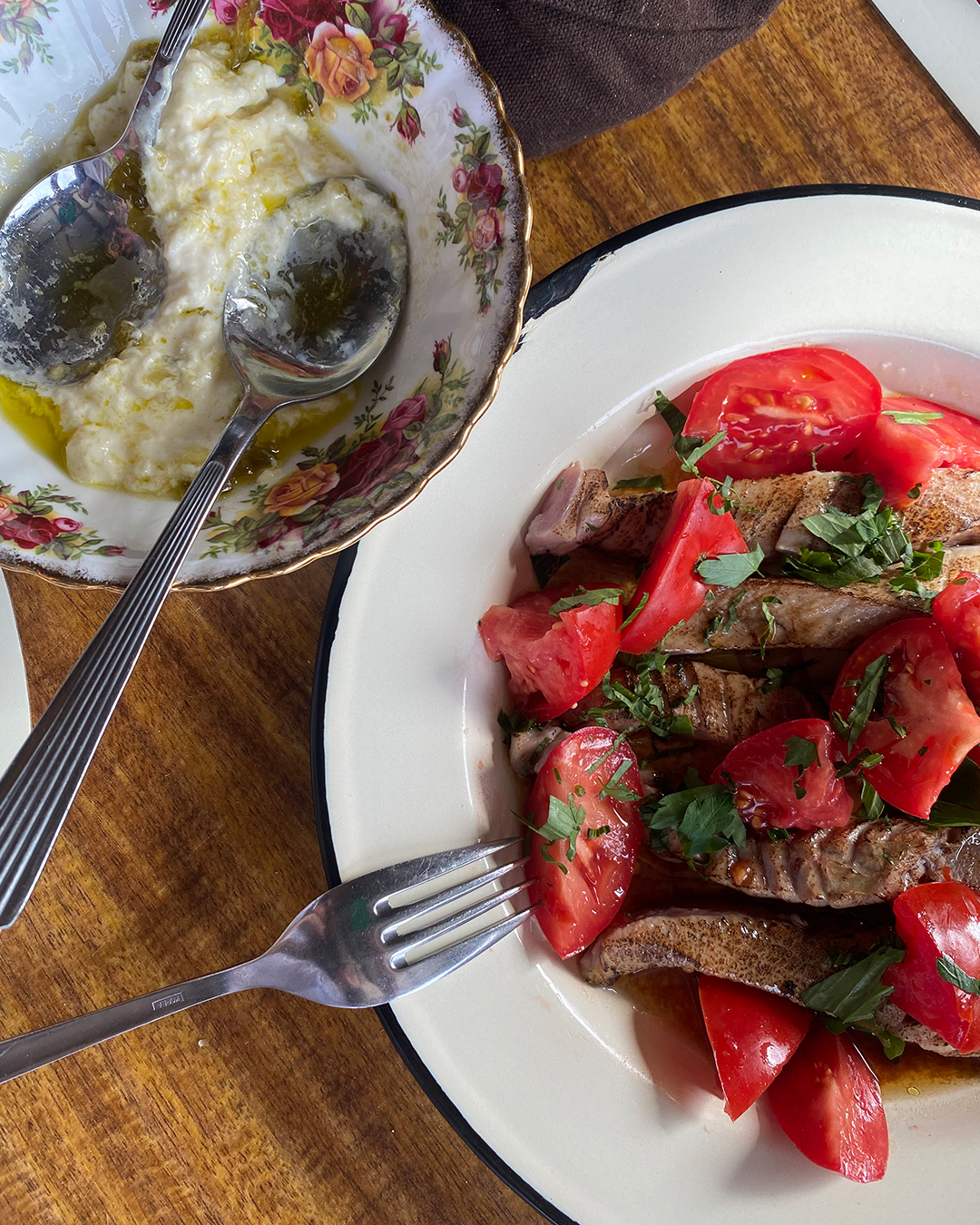 Listen to us when we say, stopping by Swansea Waterloo Inn is a non-negotiable—you absolutely have to pull up here. Located on Waterloo Point, the inn is many things rolled into one, it's a hotel, laundromat, bar, bottle shop and most importantly, an unassuming restaurant featuring a killer menu and relaxed al fresco dining. The food here is simple and seasonal (headed by chef Zac Green, ex-Movida) and served within the realm of a classic pub hotel dining room pumped with chesterfield leather couches and art glass wall lamps. The foodie line-up looks like chicken schnitzel sandwiches, housemade focaccia and ricotta and the likes of Cape Grim beef short rib served with fresh horseradish.
The Best Breweries, Pubs And Bars In Tasmania
Moo Brew Brewery
Like winery and distillery cellar doors, Tasmania's brewery scene is absolutely outstanding, and it's not easy choosing just one. But Moo Brew Brewery near Hobart, the state's largest craft brewery, is a definite standout. Around since 2005, the brewery is a prime winter destination considering Moo is perhaps best known for its silky, roasted malt and hop-driven 8% stout ideally suited to a cold weather drinking session. But if you can't make it, you'll find plenty of Moo drops at Tasmania's famed MONA–the original site of the brewery.
Hope & Anchor Tavern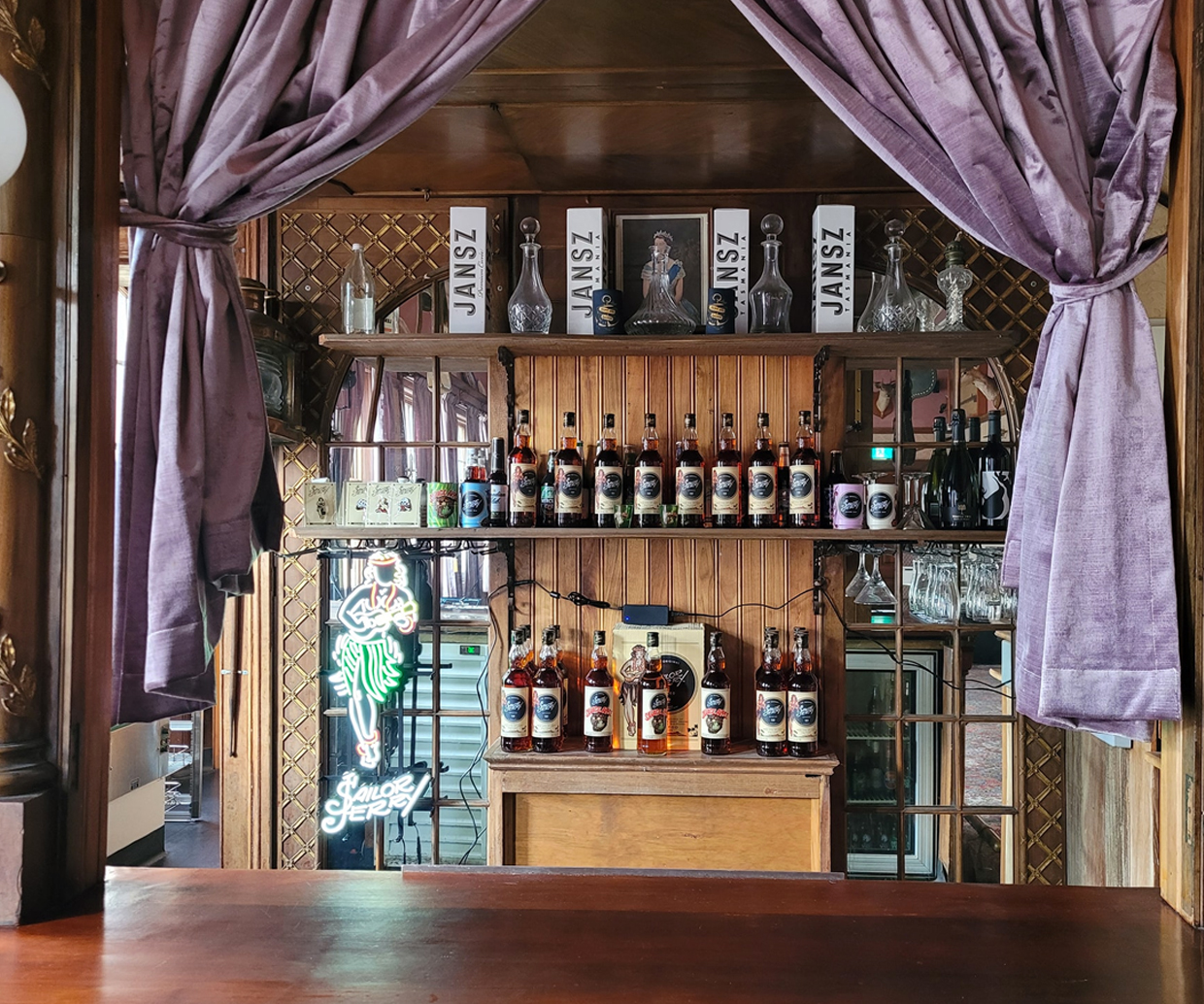 If you're after a cosy, old school pub experience–look no further than Hobart's Hope & Anchor Tavern. The historic drinking hole was established on the Hobart foreshore in 1807, claiming to be the country's oldest continuously licensed pub. The heritage-listed hotel's inside is kitted out with warmth and home comforts, from its old wooden bars and antique furniture to cosy carpets and throwback beer taps. Come through for a roast and a drop of local Tassie beers and wines.
Willing Bros. Wine Merchants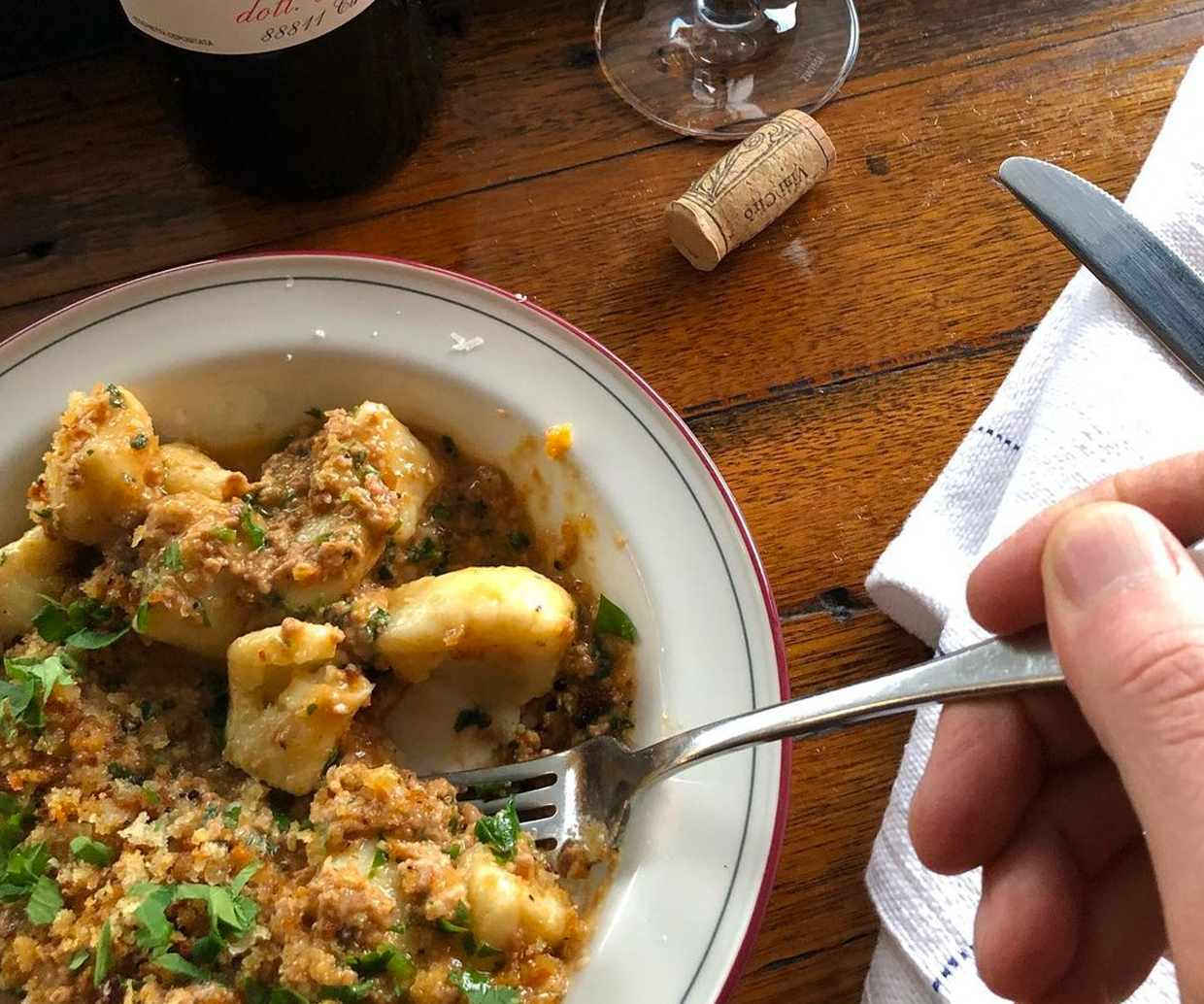 This pint-sized neighbour bar is the perfect spot in North Hobart to drop in for a warming glass of red and a little bite to eat. Willing Bros. houses over 300 bottles of vino, celebrating both local and international regions with around 15 – 20 rotating wines available by the glass. You'll match those with comfort options like pizzas, pasta and mains like steak or lamb shoulder, alongside Italian and French snacks like chicken liver parfait or prosciutto. The small space only fits 25 people to create a buzz and vibing atmosphere. But that also means you should get in early and get cosy.
Any Whisky Distillery
Nothing warms the body and soul on a cold winter's day quite like a nip of whisky direct from the distillery. And as it turns out, some of the world's very best is made on the little island of Tasmania. You should be able to find one nearby almost anywhere around the state, but we have a couple of options if you need a tip. Head to Hobart and the award-winning Sullivans Cove Distillery for small-batch single malt whisky of the highest quality. Here, the whisky is made from Tassie malted barley and water before being aged 9 – 18 years in American oak ex-bourbon barrels or French oak ex-tawny barrels.
Next, head down to McHenry Distillery on the side of Mount Arthur, the southernmost distillery in Australia. Come by the family-owned spirit maker for the day to try single malt whiskies, as well as gins and vodka. Or stay in one of the luxury cabins on site for the full experience.
Tasmania's Best Restaurants To Hit In Winter
Dier Makr
Get ready for major Scandinavian and minimalist vibes at this Hobart fine-dining bistro attached to its adjacent wine bar Lucinda. Hobart's compact size Dier Makr only offers set tasting menus that come piling out of its surprisingly simplistic open 'kitchen'. Whatever is on the menu the night you book in, you can expect a creative showcase of hyper-local ingredients for an unforgettable culinary journey. Pair your degustation with matching wines for a guaranteed holiday highlight.
Stillwater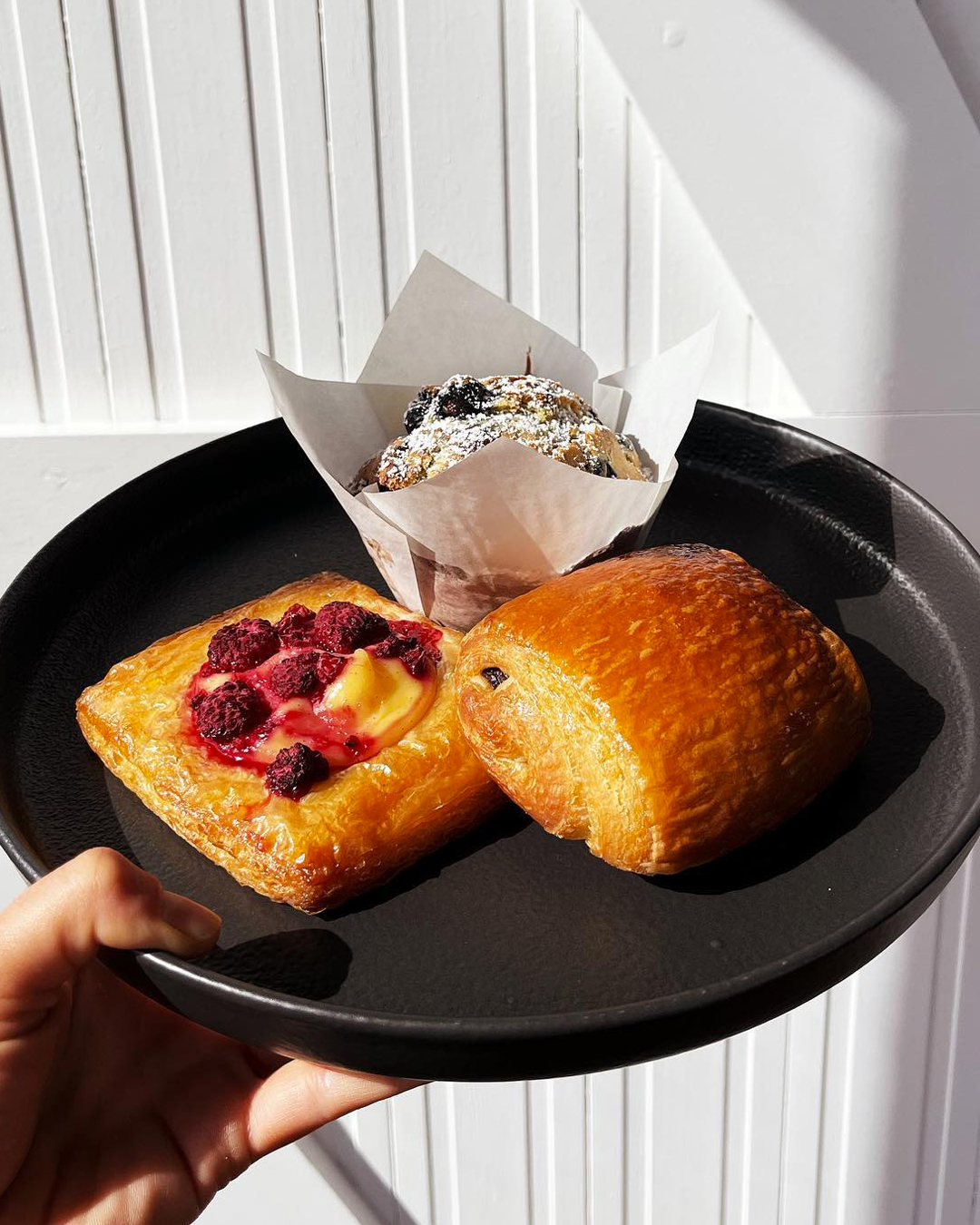 Opened in 2000, Launceston's Stillwater is housed within a renovated 1930s flour mill. Full of Tassie history, this upscale and waterside restaurant offers breakfast, lunch, dinner and even luxe accommodation above the Tamar River. A range of cuisines showcase local ingredients, with dishes like Tasmanian wallaby served with macadamia puree, quinoa, summer greens, garlic oil and saltbush dukkah, or Koji aged Cape Grim eye fillet, with garlic custard, fermented black pepper sauce, brassicas and black sesame oil. It's also worth keeping an eye on the restaurant's winter calendar, with events and degustation dinners showcasing flavours like Tassie truffles popping up and booking out fast.
Fat Pig Farm
What feels more like winter than a home cooked-style meal on a farm? You'll find the upscale Tassie version of that at Fat Pig Farm. Operated by Matthew Evans (of SBS's Gourmet Farmer television series), the Huon Valley property offers an all-out feast ($190pp) Thursdays, Fridays and some Saturdays which we highly recommend booking in advance. Running from 12.30 – 4pm, the long lunch with matching drinks features a rotation of dishes made almost entirely with ingredients and produce from the farm itself. You'll see it all cooked in an open kitchen and in a gigantic wood fire oven before taking a tour of the farm and a chance to walk off those courses.
What To Do In Tasmania In Winter
MONA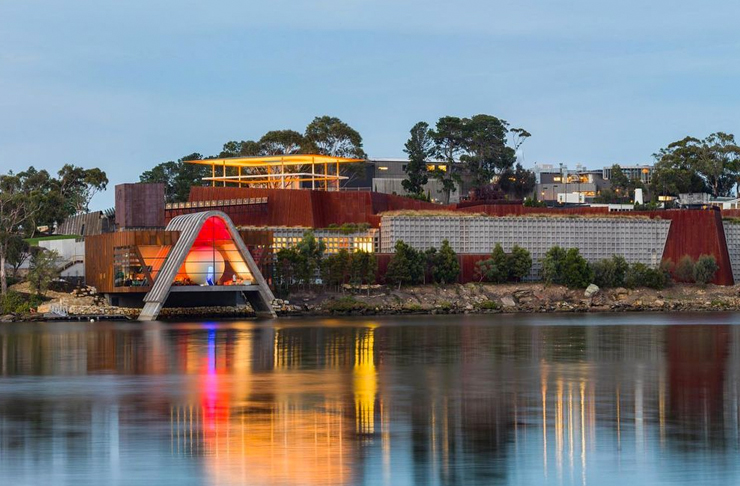 There may not be a more essential itinerary item on your Tasmania travels than visiting MONA–the Museum of Old and New Art. Big bonus because we all know visiting museums are the best cold weather day activities. Australia's largest private museum is a feat of architecture built into the side of the Berriedale peninsula's sandstone cliffs and housing three subterranean levels of art collection, including the building itself. It certainly pays to be a Tassie local with MONA, who get free entry all year round. But it's only $30 for out of towners, which we consider a bloody bargain. Note: you must book your visit.
Dark Mofo
Nothing says winter in Tassie more than Dark Mofo. The arts, music and food festival may be the very reason you're jaunting down to the island state for a winter getaway in the first place. Created in 2013 by none other than the MONA team, the visually spectacular Dark Mofo invites hundreds of thousands of visitors to celebrate everything darkness. A guide and theme are announced every autumn for the mid-June festival, but you can expect cultural precincts, incredible feasts, mesmerizing and challenging installations, live music, and involvement in one or two rituals along the way. If you're up for it, take part in the winter solstice nude swim and join thousands of others jumping into Hobart's River Derwent.
Visit Bruny Island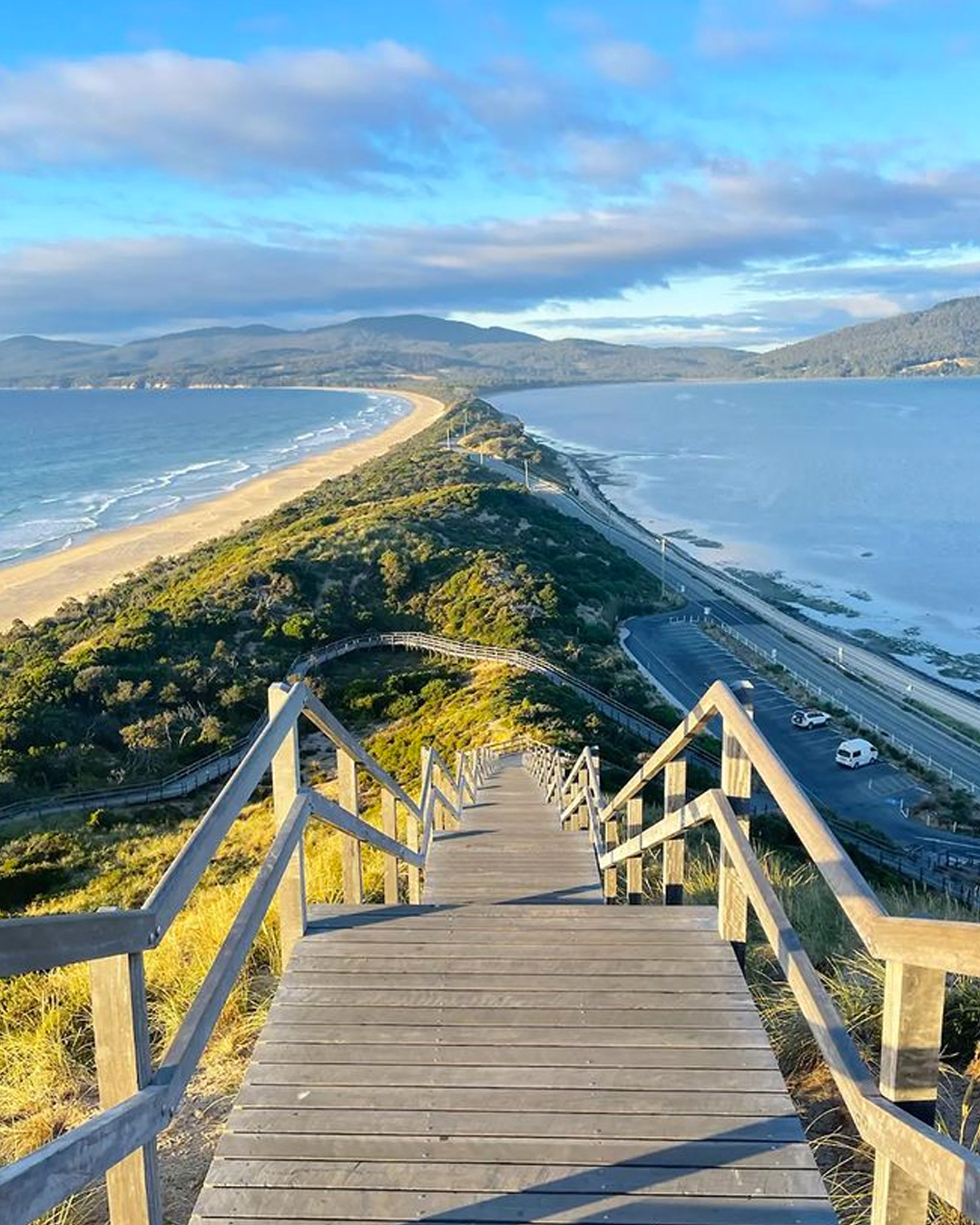 We know we're filling your itinerary with things you absolutely must do, but a visit to Tasmania's Bruny Island is, well, an absolute must-do! Located off the state's south-east coast, the island is accessible by car ferry just under a couple of hours from Hobart. Exploring options are endless, like hikes, historical sites, cruise boating, kayaking, and cosy and luxe overnight stays. You'll see plenty of wildlife like seals, wedge-tailed eagles and fairy penguins. And best of all, you'll eat and drink to your heart's content, devouring cheese, oysters, chocolate and wine.
Go Truffle Hunting
Black truffles are synonymous with winter dining, and Tasmania is home to some of the best in the country. You can learn about and hunt for the rich and earthy seasonal delicacy yourself at dedicated farms around the state over the prime winter months. Join the truffle hunt with specially trained dogs, explore the trufferie and enjoy a unique culinary tasting of your spoils. You can book in experiences at farms like Lower Barrington's The Truffledore or at Deloraine's The Truffle Farm Tasmania–both an easy drive from Launceston.
Where To Stay In Tasmania In Winter
Thalia Haven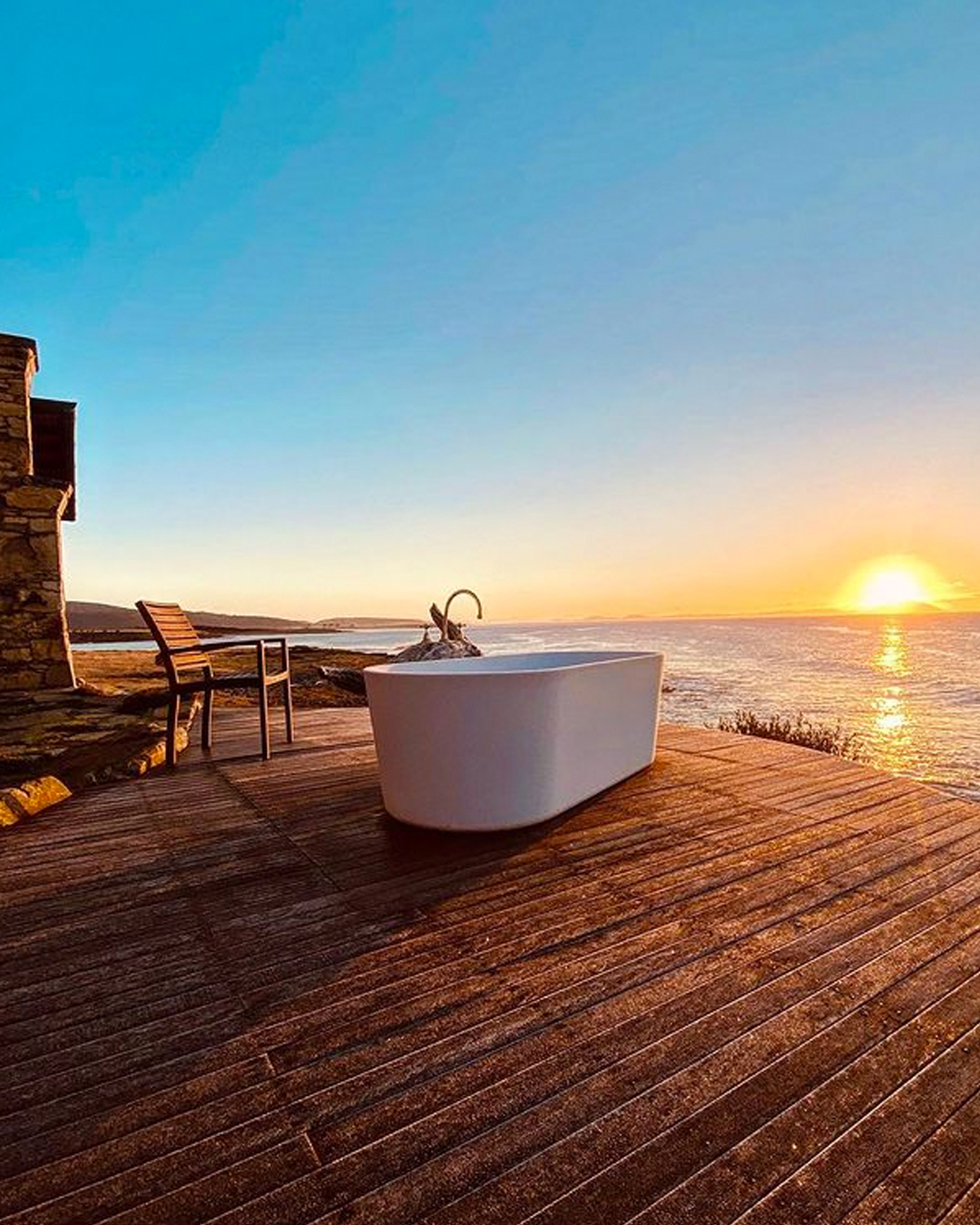 You may not choose to swim in the waters of Great Oyster Bay, but you will most certainly take full advantage of its incredible views from your outdoor bathtub vantage point. You'll be keeping warm at this remote Little Swanport residence just 90-minutes north of Hobart, with 5km of private coastline and beach just for you. Expect to be completely off the grid in this property, using its two giant fireplaces and that outdoor tub that screams winter warmer. Book your stay here.
Naivasha Tiny House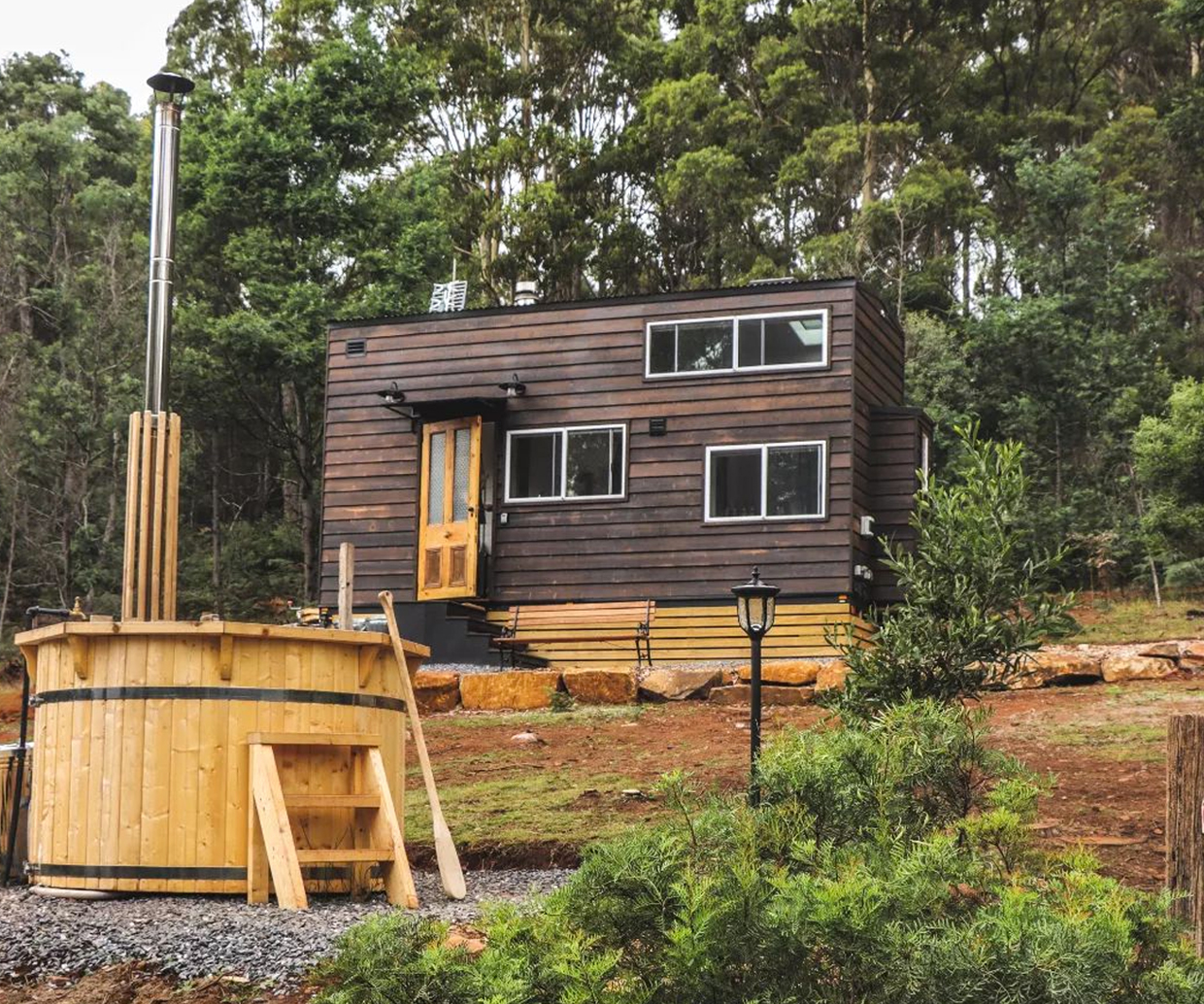 Nothing says romantic getaway like one of Tassie's beautiful tiny houses. And nothing says winter holiday quite like an outdoor, woodfired hot tub. A quick 45-minute drive east of Launceston in Reedy Marsh is the Naivasha Tiny House, a quaint and serene little accommodation ideal for watching stars by the fire, lazy mornings, and sunsets in the hot tub amongst the bush and its native wildlife. Book your stay here.
The Pod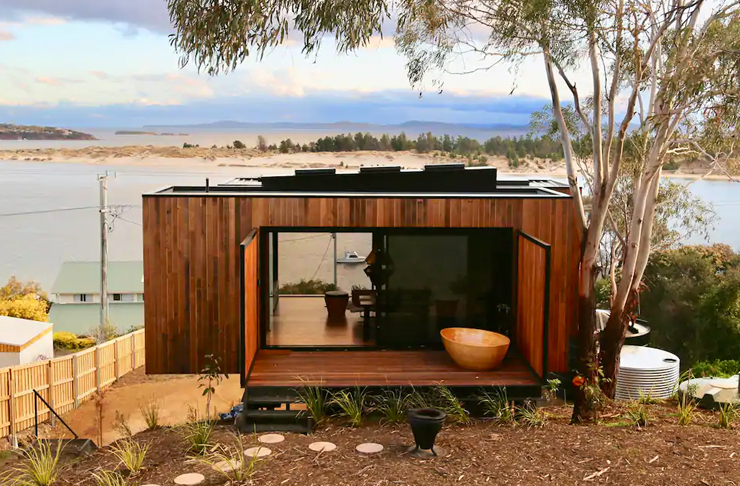 As we said, Tassie loves a tiny house. And if you think about it, small houses are better for heat retention and keeping you warm on those cold winter nights. This sleek and modern home is in Lewisham, just a 45-minute drive east of Hobart. The Pod actually featured on Grand Designs Australia, which is always a big tick for architecture and design lovers. This elevated home is all about views with floor-to-ceiling glass walls. As for winter warmers, enjoy the artisan blacksmith handcrafted fireplace or the bespoke Huon pine outdoor tub. Book your stay here.
For more adventures, head here for all the best things to do in Tasmania.
The writer travelled courtesy of Tourism Tasmania.
Image credit: Urban List, Hope & Anchor Tavern, Stillwater, MONA, @outoftheblue.au, Airbnb, @chelsearogers1, Airbnb
Editor's note: Urban List editors independently select and write about stuff we love and think you'll like too. Urban List has affiliate partnerships, so we get revenue from your purchases.