There ain't no time to waste. Dark Mofo organisers have just announced the official 'resurrection' of the two week festival, Tasmania's bonafide realm of the dark arts, so pack your bags, start booking some of Hobart's best hotels and brace yourself for the ride.
For the newbies, Dark Mofo is Tasmania's midwinter festival celebrating the dark through large-scale public art, food, music, fire, light, and noise, in Hobart. Each year, Dark Mofo delves into centuries-old rituals to explore the links between ancient and contemporary mythology, humans and nature, religious and secular traditions, darkness and light, and birth, death and renewal. It's god damn brilliant.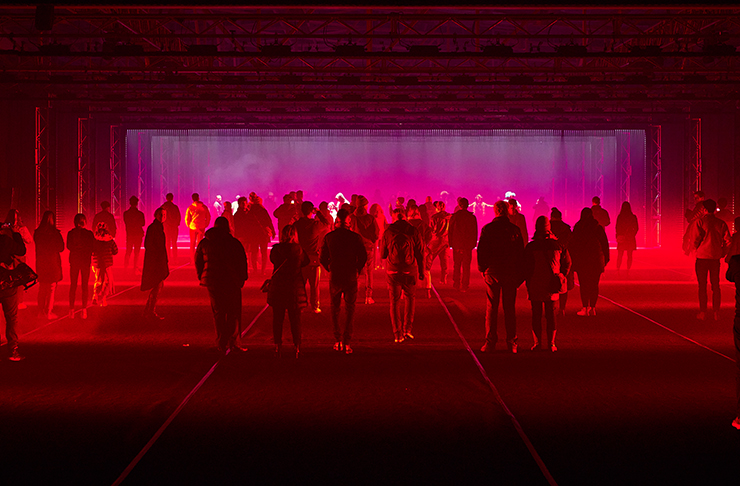 This year, the festival will kick off from June 8 and close out on June 22, 2022. Week one will focus on art openings and performance, and week two will hone in on the classic Dark Mofo signature events, art and music.
"We're beginning a new era of Dark Mofo, exploring the ideas of rebirth, reincarnation, and new life," Dark Mofo Creative Director Leigh Carmichael said in a statement.
"We're privileged to have some internationally renowned artists confirmed for this year, alongside exciting locals. It feels like the cultural world is re-emerging post-covid, and so will the festival."
The full Dark Mofo line-up will be announced in April but for now, we've got a sneak peak of what you can expect during both weeks of the festival.
Dark Mofo Week One | 8–12 June
Music
Grammy-nominated Kamilaroi artist The Kid LAROI will bring his chart-topping blend of pop and rap to the festival. Cult favourites from Japan, Boris, will perform their signature noise stoner rock, marking 30 years of the band's existence.
American artist Robert Aiki Aubrey Lowe (formerly of the band OM) will perform his original score for Nia DaCosta's adaptation of the horror classic Candyman. English indie muso Baxter Dury will underscore nocturnal London snapshots and comedown disco with his signature sardonic bleakness.
Art
Mona presents three new major exhibitions by artists Jeremy Shaw, Fiona Hall with AJ King, and Robert Andrew. The exhibition opening weekend will include a great big winter celebration at the museum—'Mona Up Late'—featuring music, fire and fun.
Dark Mofo will also present works by influential video and new media artist Bill Viola, as well as sculpturist and multi-channel video artist Doug Aitken (USA). Jónsi (Sigur Rós) will present a multi-channel immersive experience inspired by the recent eruption of the Fagradalsfjall volcano in Iceland.
There will also be an enchanting interactive installation—Rainbow Dream: Moon Rainbow by Japanese/Australian artist Hiromi Tango.
One of Australia's most significant modern artists, Sir Sidney Nolan, features in the exhibition For The Term of His Natural Life at Detached Hobart, with works on crayon and paper addressing exile and oppression.
Opening in week one and continuing throughout the festival, there will also be exciting exhibitions opening at partner venues including Contemporary Art Tasmania, Good Grief Studios, Black Temple Gallery, Plimsoll Gallery and at a variety of locations around the city.
Dark Mofo Week Two | 15–22 June
Music
German electronic artist Nils Frahm will grace us with his array of pianos, synths, and drum machines in Music For Hobart, as will American artist Perfume Genius. Purveyor of sound and legendary founding member of Sonic Youth Kim Gordon will also make an appearance as will British space rockers Spiritualized and Moses Sumney.
Dark Mofo's cherished unholy nights of deafening metal include Sanctae Noctis (with Katatonia, Deafheaven, Lingua Ignota, Conjurer, King Yosef, Black Sheep Wall, Diploid, YLVA), as well as festival favourite Hymns to the Dead (Triumph of Death, Chthe'ilist, Krypts, Darkestrah) returns. Plus an exclusive Australian performance by Swiss metal band Triptykon, driven by Tom Gabriel Fischer (Hellhammer, Celtic Frost).
Four micro-festival evenings of experimental and electronic music comprise the program of Borderlands at the Theatre Royal Studio and MAC2, curated by Lawrence English (Room40).
The festival also heralds the return of its two-evening nightclub extravaganza, this year titled Night Mass: Transcendence, taking over central Hobart's In The Hanging Garden precinct.
The Tasmanian Symphony Orchestra will perform Angel's Lament, centred around Arvo Pärt's Symphony No. 4, with string, percussion, and harp, extending a hand in solidarity to those currently affected by Russia's war actions.
Art
A special industrial facility will be the venue for a live performance of the haunting score of TV series Chernobyl, performed by composer Hildur Guðnadóttir with Chris Watson and Sam Slater. All proceeds will be donated to Voices of Children, supporting assistance to Ukrainian children and families.
ANGER is an exclusive performance celebrating Kenneth Anger's life work in occult cinema, with Brian Butler (USA) presenting the Australian premiere of Kenneth Anger and Brian Butler's Technicolor Skull (2011), Australians Marcus Whale and Bree Van Reyk with the score to Anger's Fireworks (1947), plus there'll be a bonus screening of Anger's master work Lucifer Rising (1974).
Signature Events
Dark Mofo's debaucherous costume party makes a welcome return, this year titled the Blue Rose Ball. As always, it will be a ballot-ticketed event invite.
The banquet known as the Winter Feast will rise again on the Hobart waterfront with stallholders to be announced in May. The Ogoh-ogoh returns with the festival's Balinese-inspired community ritual and finally, the Nude Solstice Swim is also back.
For more info on Tasmania's Dark Mofo festival, head over here.
While you're here, you may as well scope out Tasmania's best lake houses.
Image credit: Dark Mofo