Let's face it, with quarantine restrictions lifting (for some states) and the chance to go on a roadtrip now on the table, we're already dreaming of our next adventure. While we don't know when a hotel stay will be back on the cards, we've got something even better in mind—beachfront camping.
There's nothing more serene than dozing off to the sound of crashing waves as you lie beneath a canopy of stars. When you trade your bathroom for a bush and your oven for fire, there'll be many liberating feels up for grabs as you rough it on nature's land. We're talking beachfront camping, and we're sure Australia remains unbeaten when it comes to coastal wonderlands.
To get your holiday planning started, we've compiled our list of Australia's best beachfront camping spots that'll have you driving towards your local Kathmandu store quicker than you can say 'kumbaya'.
The Best Beach Camping In Queensland
Cylinder Beach Camping Ground
Point Lookout, Stradbroke Island
Cylinder Beach, home to the Quandamooka people, is the oceanic host with the most! For starters, it's easterly point makes it one helluva vantage point for migrating humpbacks and then there's the manta rays on standby for your ocean swim. Throw in North Gorge Walk, plus an iconic surf beach, and hello locational gold. Set up camp beneath the trees, ditch your shoes and smother yourself in the laidback vibes created on the world's second largest sand island.
Noah Beach Camping Area
Cape Tribulation
A heavenly slice of Tropical North Queensland, Noah Beach nails the beachy-rainforest combo. Say farewell to city-life and welcome days of notification-free living based at one of 15 campsites on offer. The camping area can be reached by vehicles but due to overhanging trees and tight turns, it is not accessible for caravans—so BYO tent. Flowing from the outskirts of the Daintree, swoon-worthy stretches of sand and turquoise waters lie 50m from the doormat of your tent, and the best part—Cape Trib is so secluded, you'd imagine it to be the location for next season's Survivor.
The Best Beach Camping In New South Wales
Stockton Sand Dunes
Worimi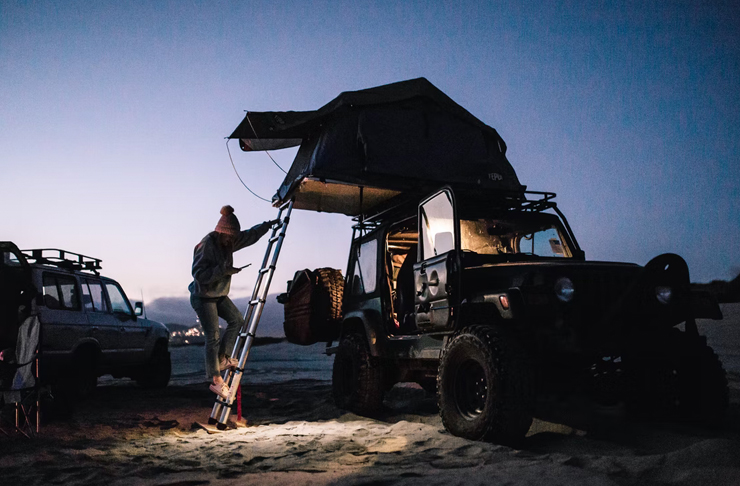 That's not a dune, this is a dune. Stockton Sand Dunes hold the accolade for the largest coastal dunes in the southern hemisphere, which sounds big, but their size isn't truly recognised until you're there in the flesh, standing at the base of these moving monoliths that reach up to 30m high and as far as beachside camping in NSW goes, this clocks in as one of the best. You'll want to keep your eyes peeled for the Ganyamalbaa Camping Trail, 'ganyamalbaa' meaning 'place to camp' in Worimi Gathang language.
Suffolk Park Beachfront Holiday Park
Suffolk Park
Nestled between Cape Byron and Broken Head lies the tiny gem of Suffolk Park with a dreamy coastline of which you're only ever a few minutes' wander. The beachfront holiday park offers safari tents, cabins, campsites and all the amenities, including Wi-Fi. With stunning surrounds plan plenty of nature walks to Broken Head, day trips to Byron and coffee runs to local hangouts. Oh, did we mention daily siestas beneath the trees are a thing here?
Seal Rocks Holiday Park
Seal Rocks
Now, we really didn't want to tell you about this place because it's one of the coolest holiday towns we've stumbled upon. Three hours north of Sydney, Seal Rocks campground is based smack-bang upon the shores of the Pacific, providing countless sea life watching platforms amongst its smorgasbord of unspoilt beaches. Myall Lakes National Park will serve your daily dose of nature and our favourite thing about Seal Rocks Campground? It's walking distance to Sugarloaf Point Lighthouse. Go on, break the internet with your outta-control lighthouse pics, we dare you.
The Best Beach Camping In Victoria
Tidal River Camp Area
Wilson's Promontory National Park
With 500 sites over 50,000 hectares of natural real estate, Wilson's Prom really knows how to make a camper blush. Flushing toilets, showers, washing machines, BBQs and picnic areas seal the deal in placing this campground on ourradar. Wedged between Norman Beach and Tidal River, snorkelling and kayaking are front-runners on the daily agenda unless you visit in summer when the open-air cinema comes to life. Spoilt much?
Johanna Beach Camping Area
Great Otway National Park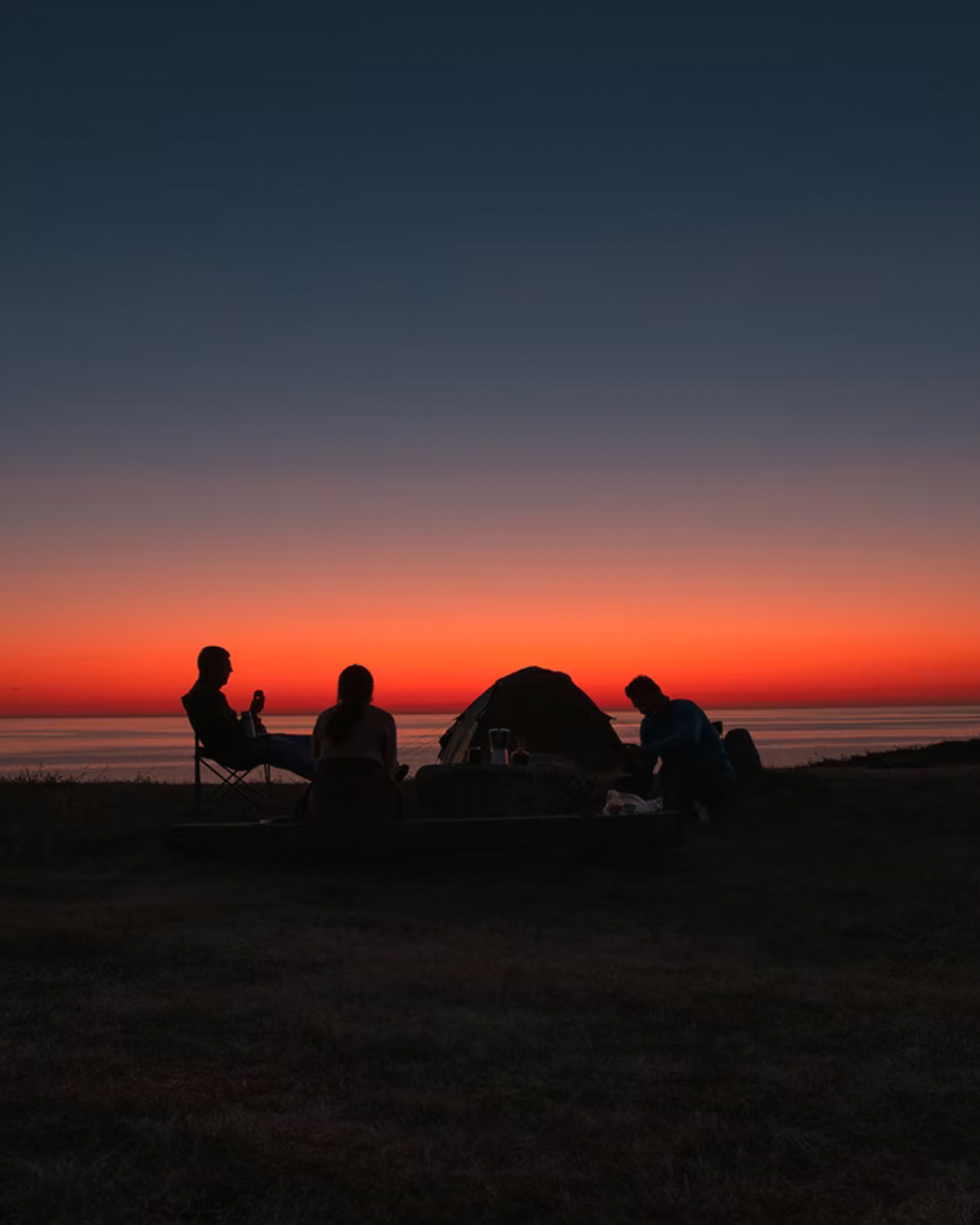 Press pause on Netflix and replace Spotify with the soundtrack of crashing waves upon Johanna Beach—this is about as beachfront as you can get. A popular surf beach, often the back-up for comps held at Bells, you'd be a fool to leave your boards at home. Once you've copped enough sun, explore your heart out along the Great Ocean Road. The Twelve Apostles, Great Otway National Park, Apollo Bay; oh 'Straya, what did we ever do to deserve you!?
The Best Beach Camping In South Australia
Ocean Beach Campground
Coorong National Park
A series of ancient sand dunes formed 120,000 years ago, you may remember The Coorong from childhood flick, Storm Boy (anyone?). For those who skipped that milestone, this actual paradise (home to the Ngarrindjeri people), 90km south of Adelaide, boasts some of the most magnificent birdlife and fauna in all of Oz. Next-level serenity will be achieved at one of 34 campsites within the national park or 16 beachfront sites if you've brought your 4WD.
Talia Caves Campground
Eyre Peninsula
Release your inner MacGyver, there's no avoiding the lack of facilities at this joint. To be clear, that's a no to toilets and running water, but a hell-yes to freedom and nature. The 20-site strong Talia Caves Campground features kilometres of coastline for you to explore by foot, including 'The Woolshed', a sandstone cliff that's transformed into a grotto-like cave due to the relentless force of the ocean. Start and end each day with a bevvie in hand as you admire the sun's movements upon The Great Australian Bight.
The Best Beach Camping In West Australia
Sal Salis
Ningaloo Reef
The word glamping gets thrown around a lot these days but Sal Salis is some serious A-grade camping bliss! About 70km from Exmouth, 16 wilderness tents lie in the dunes where the desert meets the reef, gifting you with endless opportunities to observe land and sea life. Swim with whale sharks by day and return to a soiree of chef-prepared meals in the communal lodge by night. The daily rate is a bummer in comparison to conventional campgrounds, but middle-of-nowhere luxe ain't free, right?
Lucky Bay Campground
Cape Le Grand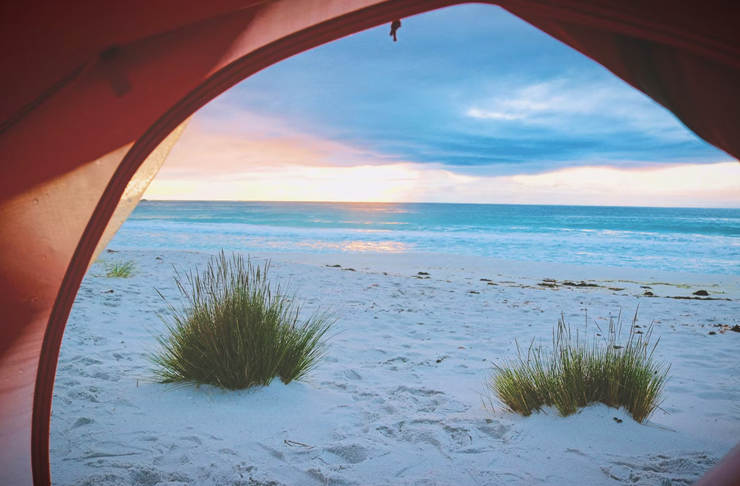 Scrolling through the 'gram on the daily, one thing's clear; we need to do more of what makes our soul happy. If that's our collective life goal then camping at Cape Le Grand should be headlining our to-do lists. The campground, Lucky Bay, complete with solar hot showers, sits on the edge of Australia's whitest sand beach back your swimmers and join the roos for a sunbake, take a dip in the ocean, or reverse last night's BBQ snags with a bushwalk through Frenchman Peak.
The Best Beach Camping In Tasmania
Swimcart Beach
Bay of Fires
Located along the Gardens Road stretch of Tassie's Bay of Fires, Swimcart Beach delivers with its unspoilt ocean-views; the type only ever witnessed on a postcard. Beachfront camping at this coastline paradise is free of charge, provided your stay is four weeks or less. The facilities are limited so BYO essentials or prepare to visit nearby Bingalong Bay. One thing you won't want to forget is good company as there'll be many starry-skied late night chats about life, existence and everybody's favourite topic, the universe.
The Best Beach Camping In The Northern Territory
Cobourg Coastal Camp
Arnhem Land
How does beachfront camping with a no-swim policy sound? Disappointing? We thought so too until we stumbled upon Cobourg Coastal Camp, a natural goldmine on the peninsula of Garig Gunak Barlu National Park (home to the Iwaidja people.). This is the original croc country, so if you want to make it out alive, you'll remain at least two metres from the shoreline and avoid swimming at all costs. Journey through Kakadu and Cahill's Crossing into a glampsite of eight safari tents fitted with beds, lights, fans and ocean-view decks. Remember your Akubra, mozzie repellent and common sense as you spend time exploring the region's history, fishing or simply pretending you're the star of the latest Attenborough film (no judgement).
Want to travel a little further? Check out our guide to virtual holidays around the world.
Image credit: Destination NSW, Luke Bender, Kristaps Ungurs, Roxanne Desgagnés,