While it's a bit of a bummer that international travel is off the cards for a while, it's also a blessing in disguise as we've all been handed the perfect opportunity to get to know what's on offer in our own backyard. And let us preface by saying that backyard is bloody huge.
From the adorable to the strange to the downright incredible, here are some under the radar Aussie towns to visit next time you're due for a holiday.
Queensland
Cape Tribulation/Kurangee
Don't be fooled by its name, visits to Cape Tribulation are anything but an ordeal these days. The closest thing Australia's got to Jurassic Park (dinosaurs not included), the easiest way to get to Cape Tribulation is via Cairns, a two and a half hour drive away. Here you can disconnect from the world and its problems among Earth's oldest rainforest and its inhabitants, such as the cassowary. While they're harder to find nowadays, these dinosaur-like birds can be spotted from a safe distance in their natural environment at the Rainforest Hideaway. Once you're cleansed by the rainforest, you'll want to make a beeline for the white sandy beaches and clear blue waters of the Daintree Coast for an Ocean Safari among the Great Barrier Reef. At night, rest your head at Cape Trib Farm nestled within the rainforest.
Maleny/Baroon
You'd be forgiven for thinking you'd accidentally travelled to Hobbiton upon arriving in Maleny, with its rolling green hills and distant mountains. Just under an hour's drive away from the Sunshine Coast, this lush town boasts heapings of nature, a smattering of wineries, loads of ways to relax and some killer eats to boot. Stay at Spicers Tamarind Retreat and you'll be in for a holiday that soothes the soul, complete with massages and spa treatments, luxe rooms nestled among the rainforest and delicious eats at Chef Hatted The Tamarind. Once you're suitably relaxed you can sign yourself up for a multi day hike along the scenic rim, or maybe just hit up some nearby wineries.
New South Wales
Yamba
Next time you're craving a beach getaway with some quality surf, set your sights on Yamba in northern NSW. While this town isn't completely unknown, it's often overlooked for the hyped up (for good reason) shores of Byron Bay. Home to the National Surfing Reserve of Angourie Point, a playground for anyone who loves a right-hand break, when the waves aren't rolling in there's plenty of fishing and coastal hikes to take advantage of in Yamba. Depending on the time of year you might even spot breaching humpback whales, otherwise you can get up close to dolphins on a kayak tour along the Clarence River. Swing past the striking Yamba Lighthouse at sunrise, and if you're up for it, consider following in the footsteps of the ancient emus along part of the 65km Yuraygir Coastal Walk. Be sure to stock up on delicacies at the weekly Wednesday Yamba Farmers & Produce Market and keep hunger at bay thanks to cute spots like Cafe Angourie and Drift Pizza Bar. For stunning sunset views, book into The Cove Yamba apartments.
Tilba
While everyone else is heading up north we strongly advise you to steer south instead, towards the stunning town of Tilba. A five hour drive south of Sydney (or you can fly directly to nearby Moruya Airport), a bountiful blend of coast, culture and countryside awaits. Your first stop has to be the extinct volcano turned forest of Mount Gulaga where you can take the Gulaga Creation Tour with an indigenous guide before setting out on the 14km Gulaga Mountain Walk to the summit and back. Then head to 1080 Beach in Mystery Bay to cool off in the turquoise waters bounded by the green countryside (where you might be able to spot kangaroos and wallabies). Visit the local artisans in Central Tilba, nosh on the moorish stuff at ABC Cheese Factory, opt for some good old country-style tea and scones at Rose & Sparrow and relax with a beer or gin at adorable country pub, The Dromedary Hotel. Stay the night at Foxglove Gardens. Set on five acres these dreamy French provincial style cottages will make you feel like you're in Europe.
Victoria
Nagambie
Perched beside a beautiful lake, Nagambie is a lovely country town dishing up a bounty of wineries, gourmet delights and local wildlife. Just over an hour and a half's drive from Melbourne, the town's claim to fame is being the birthplace of the fastest horse in the world, Black Caviar. They even erected a statue in the mare's honour next to Lake Nagambie, which is worth a viewing as the sun goes down. But it's the wineries that we care most about, and the five-star Mitchelton Estate is an absolute must-visit. Set on a stunning expanse of countryside the property boasts a cellar door, an opulent hotel and day spa, top-notch restaurant The Muse, an underground cellar and Aboriginal art gallery.
Once you're done exploring Mitchelton Estate, hop on a bike and cycle around the Goulburn River High Country Rail Trail keeping a keen eye out for koalas and kookaburras. If you've got more time you can picnic at Mount Wombat Lookout and then head back down for some burgers and brews at Nagambie Brewery and Distillery. Amp up those sweet country vibes by checking into The Stonehouse Nagambie. Nestled amongst 14 acres on top of a hill overlooking The Goulburn Valley it's packed full of charm.
Tasmania
Greens Beach
Get off the grid at Greens Beach, 60km north-west of Tassie's Launceston. This rural town is the perfect base for exploring the beautiful bush walks on offer at Narawntapu National Park. Home to wallabies, kangaroos, pademelons, green rosellas and black cockatoos, the national park is bounded on one side by the Bass Straight so you'll get to take in some stunning beach views as you traverse the walking trails. Grab some classic fish and chips from the general store to refuel before shucking for oysters or digging for pippies and mussels at low tide. Don't be surprised if you see a lot of locals driving around town in their golf buggies!
When it comes to accomodation, we're just a little bit in love with Tamar Solar Home. With a gram-worthy design, the house is located on a private, bush-covered acre overlooking a nature reserve and is only a five minutes' walk to the beach.
South Australia
Coober Pedy/Kupa-Piti
It can be easy to forget we live on a planet hurtling through space when we're wrapped up in our busy city lives, but if you're keen to be reminded of how insignificant your existence is to the universe, take a trip to South Australia's Coober Pedy. With a striking resemblance to Mars, this outback town is known as the opal capital of the world and it might have flown under the radar to many Aussie travellers because more than half of the town is buried underground.
Sleep in a dugout at the Lookout Cave Underground Motel, scope out a few of the underground churches, tour the Umoona Opal Mine and Museum and then emerge back into the open air once the sun has gone down for a flick under the Milky Way at the drive-in. Once you're suitably wowed by this underground town, hop in the car and drive 25km to the breathtaking Kanku-Breakaways Conservation Park or take a scenic flight to Anna Creek Painted Hills, which is where you'll feel like you're on another planet. Always remember to leave no trace.
Western Australia
York/Balladong
If you're looking for a quintessential country town getaway in WA, look no further than York. Take the Great Eastern Highway out of Perth and you'll hit this cute as a button town in just over five hours, meandering through the Wheatbelt as you go. The oldest inland town in the state, York serves up plenty of bed and breakfasts, history, walking trails and even wildflowers (if you pick the right months). Book the Mount Brown room at Faversham House and soak up life as it was in the 1840s while sleeping in luxury linens in this old colonial mansion. Be sure to check out York Town Hall, Mt Brown lookout and the museums as you enjoy the quieter, slower pace of this lovely country town.
Derby
While everyone is filling up the beaches and breweries in Broome, keep heading northeast to Derby, the gateway to the Kimberley's famed (but not for the faint-hearted) Gibb River Road. While you won't find any ritzy restaurants or lodgings, this outback country town boasts a rich Indigenous culture, striking boab trees and loads of nearby outback experiences to get amongst. Visit the Mowanjum Aboriginal Art and Cultural Centre and the Prison Boab Tree for a dose of much-needed history and culture, before setting out on the Joon Joo Botanical Trail. The 3km walking trail is fairly easy going and you'll get plenty of opportunities to stop and read plaques along the way explaining how the plants and animals found in the area were used by the Nyikina people. And since you've made it all the way to Derby you might as well tack on a trip to the nearby Horizontal Falls, Windjana Gorge or Tunnel Creek.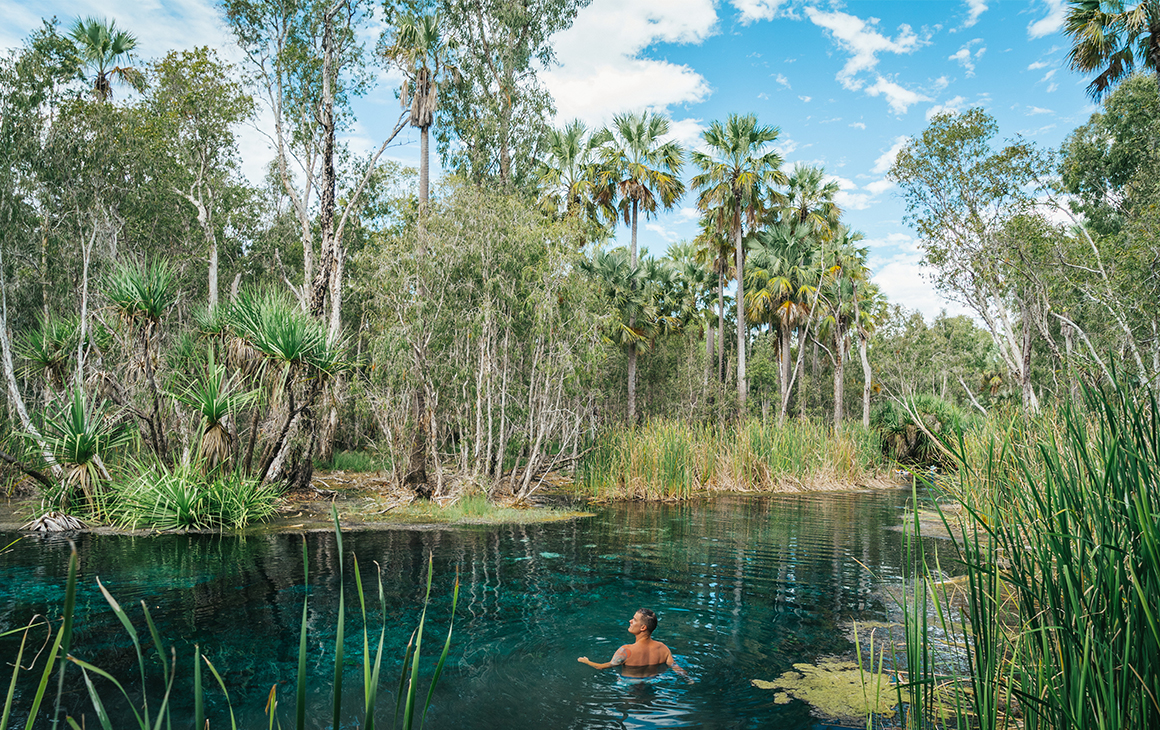 Northern Territory
Katherine/Nitmiluk
Prepare your eyeballs for the majesty of a world where the tropics meets the outback. Katherine promises everything from wonderful waterfalls and hot springs to gorgeous gorges and caves. Whether you're staying at a luxury lodge or camping at a homestead, this Northern Territory diamond in the rough promises to suit any hollidaygoer, blending adventure, nature, relaxation and culture. Exploring the stunning Nitmiluk Gorge is a must, along with visits to the Cutta Cutta Caves and dips in the toasty warm Mataranka Thermal Pool at Elsey National Park. Sign yourself up for the Top Didj Aboriginal cultural experience led by Aboriginal artist Manuel Pamkal and you'll learn how to paint Rarrk style, light a fire with sticks and throw a spear. Did we mention there's a high chance you'll get to see baby wallabies too? To round out your Top End experience, book into Marksie's Traditional Stockman's Camp Tucker Night under the stars, complete with billy tea and damper.
Next up, check out Australia's most stunning island getaways.
Image Credit: Mitchelton Estate, Tourism and Events Queensland, Getty, Heath Holden, Where Shadows Shrink, @saltandcharcoalau, NT Tourism
Editor's note: Urban List editors independently select and write about stuff we love and think you'll like too. Urban List has affiliate partnerships, so we get revenue from your purchase.