Start packing the nylon and get ready to cast a line, we've stumbled across the best beach camping spots in Queensland, complete with uninterrupted views of good old fashioned Mother Nature.
Now don't expect wifi, room service or cute chocolates left on your pillows, but do expect early morning swims, no crowds, the sunrise from your tent and all the wildlife. Here are the best beach camping spots to be found in the Sunshine State.
Smalleys Beach
Cape Hillsborough
Located right on the central Queensland coast is Cape Hillsborough, a national park where you can camp right on the beach (just watch out for crocs). The highlight of the park has to be the local kangaroos and wallabies, who gather along the beach at sunset and sunrise, and tend to be pretty open to photographs. There's flushing toilets and campfires are allowed, but with only 11 sites available, you'll need to book in advance.
Noah Beach Camping Area
Cape Tribulation
A heavenly slice of Tropical North Queensland, Noah Beach nails the beachy-rainforest combo. Say farewell to city-life and welcome days of notification-free living based at one of 15 campsites on offer. The camping area can be reached by vehicles but due to overhanging trees and tight turns, it is not accessible for caravans—so BYO tent. Flowing from the outskirts of the Daintree, swoon-worthy stretches of sand and turquoise waters lie 50m from the doormat of your tent, and the best part—Cape Trib is so secluded, you'd imagine it to be the location for next season's Survivor.
Whitehaven Beach
Whitsundays
Yep, you read that right, not only is Whitehaven Beach the poster child of Australian beaches everywhere, but you can actually spend the night on this mind-bogglingly beautiful beach. Whitehaven Island is a national park and there are no other residents except for you and your fellow campers—meaning you'll pretty much have this island paradise to yourself for a night. A permit to camp in the Whitehaven Beach camping area will set you back about $6.35 a night but you'll have to get in quick because, understandably, numbers are strictly limited and sell like hot cakes.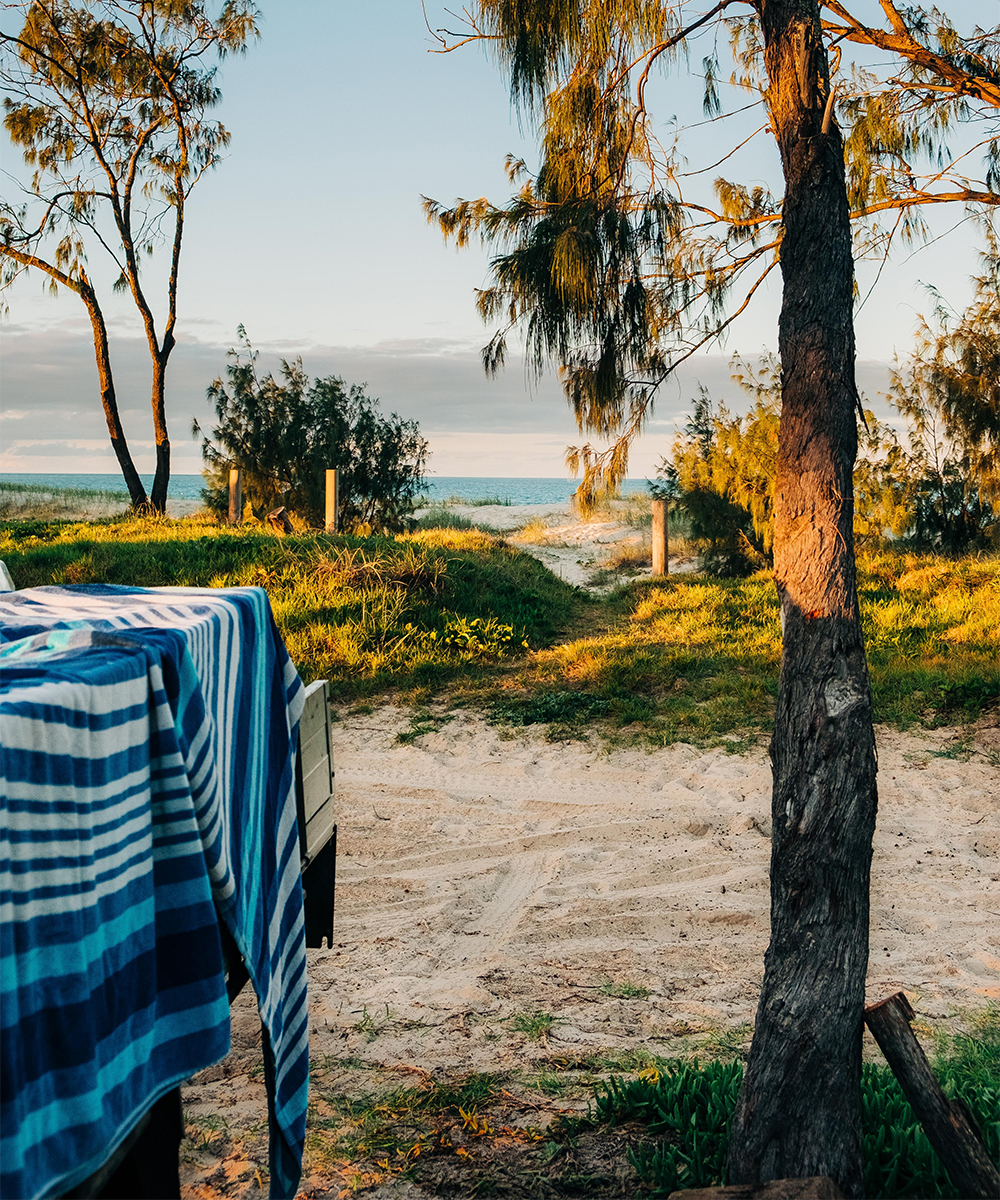 Rainbow Beach Ultimate Camping
Sunshine Coast
To truly experience the natural splendour that the Sunshine Coast has to offer, beach camping is the way to go. Rainbow Beach Ultimate Camping will set you up with a fully prepared camping site right on the beach so that you can skip all the boring stuff, show up and enjoy the serenity. We're talking everything you need already sorted, from your own private toilet and shower to cooking facilities and even meals and seafood platters delivered directly to your already pitched tent. Why camp when you can ultimate camp?
Eddie's Elim Beach Camp
Hope Vale
This remote campsite, framed by gently swaying paperbark trees and located directly on gorgeous Elim Beach, is run by Eddie Deemal, a Thiithaarr Warra elder. It's located about an hour's drive from Cooktown or 30 minutes east of Hope Vale, which basically means that this camping experience is all about getting back in touch with nature. The facilities at Eddie's Elim Beach Camp consist of toilets and cold showers only and you'll need a 4WD to get there, but we're convinced you'll find the journey more than worth it. Think campfires under the stars perfect for mastering the art of s'mores, an active starfish community to get to know and, only a short jaunt from the site, the opportunity to see the famous Coloured Sand cliffs.
Sandy Bay
South Molle Island
Friends, we'd like to introduce you to camping at Sandy Bay. Located west of Whitsunday Island, South Molle Island is a chilled natural refuge that has somehow managed to escape the rampant commercialisation the rest of the area has experienced. Sandy Bay is the island's most popular campsite, home to toilets, picnic tables and not much else in terms of facilities, but its location—positioned directly on the water, and with gorgeous views over the surrounding area—more than makes up for it. Active campers, Sandy Bay was made for you, with plenty of hiking trails, mountain biking tracks and snorkelling spots on offer. Wish you were there? You'll have to catch a ferry from Airlie Beach or Shute Harbour.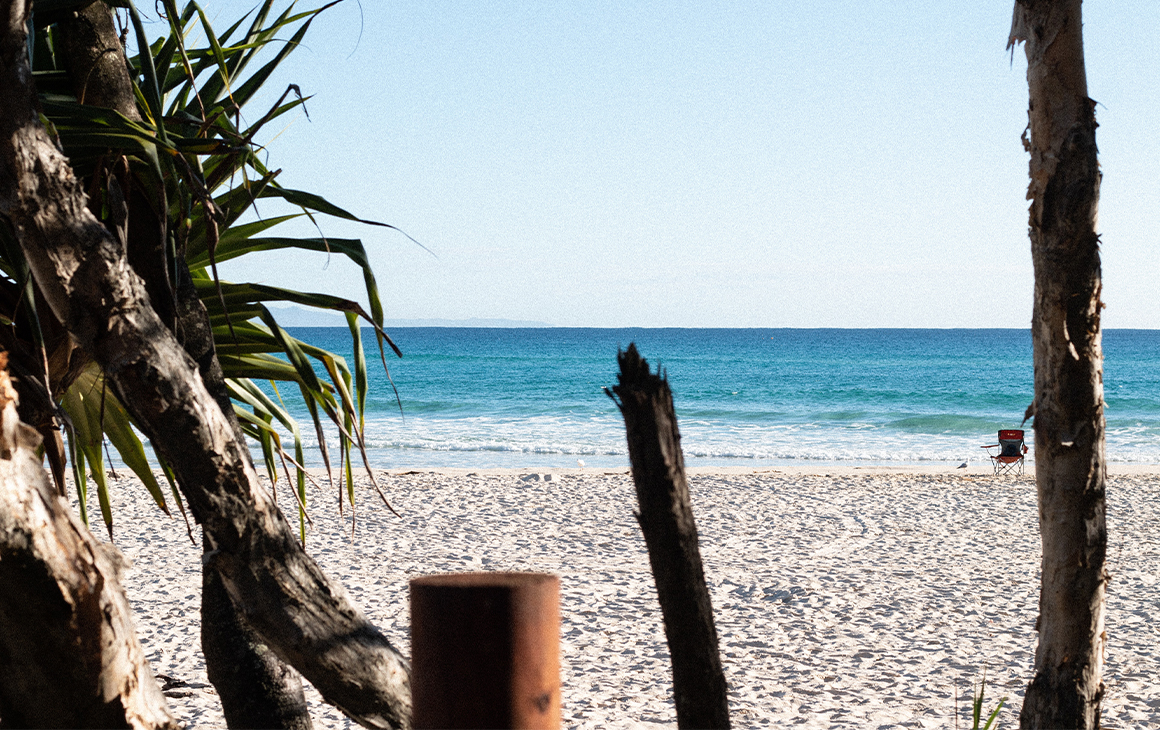 Cylinder Beach Camping Ground
Stradbroke Island
Cylinder Beach, home to the Quandamooka people, is the oceanic host with the most! For starters, it's easterly point makes it one helluva vantage point for migrating humpbacks and then there's the manta rays on standby for your ocean swim. Throw in North Gorge Walk, plus an iconic surf beach, and hello locational gold. Set up camp beneath the trees, ditch your shoes and smother yourself in the laidback vibes created on the world's second largest sand island.
Fraser Island Campgrounds
Fraser Island
If camping on an island is your idea of the ultimate outdoor holiday, then hop a barge to Fraser Island and take your pick from a smorgasbord of incredible campgrounds—we're talking 28, if you need specifics. Depending on how you want to spend your downtime, there are sites more suited to boaties (Garry's Anchorage, Ungowa, and Waddy Point beachfront camping area), those looking for a remote experience (Coongal Creek or Moon Point) and those who are with child and need to spend nights at a dingo-fenced site (Dundubara and Central Station). Make sure to book and secure your permit before heading off.
Wrecks Campground
Moreton Island
Want to camp on a remote beach that feels a world away from the city, but got no 4WD to get there? Wrecks Campground on Moreton Island is for you. Not only is it a stunning location right in front of the iconic Moreton Island shipwrecks, but it's just a quick ferry ride and a stroll up the beach from Brisbane city. We'd suggest packing light, as you will have to walk a little ways up the beach to get there, but for a sandy campsite this close to the beautiful waters of Moreton Bay, not to mention the nearby resort in case you run out of snacks, it's worth the hike.
Mission Beach Camping And Caravan Park
Mission Beach
For all the vibes of a tropical island, without ever leaving the mainland, Mission Beach's palm-fringed shores give off all the paradise vibes. Despite this Queensland camping and caravan park's beachfront location, you can get a powered site here, as well as laundry and shower amenities—there's even free wifi. Not that you'll need it—who needs the internet with ocean views to gaze at?
Prefer to camp in luxury when travelling Queensland? Try these glamping sites near Brisbane.
Image credit: Tourism & Events Queensland, Daniel Christie, Melissa Walker