We are not short of beaches here in the Sunshine State. From surfer bolt holes to secluded cloves, fringed by rainforests or accessible only by boat, there's patches of sand on every stretch of coastline, island and even a few lakes.
For the ones to put on your bucket list though, keep reading to scope out ten of Queensland's most epic beaches.
Nudey Beach
Fitzroy Island
You'll need to make a day trip from Cairns to get to this secluded gem on Fitzroy Island, but boy oh boy is it worth the trip. Picture crystal clear azure seas, bordered by granite boulders and fringed with lush green rainforest—you may spend so long 'gramming you run out of time to actually take a dip. Pack a picnic for the day, but on your way back you can stop at Foxy's Bar & Grill for an ice cold beer.
Tallebudgera Creek
Gold Coast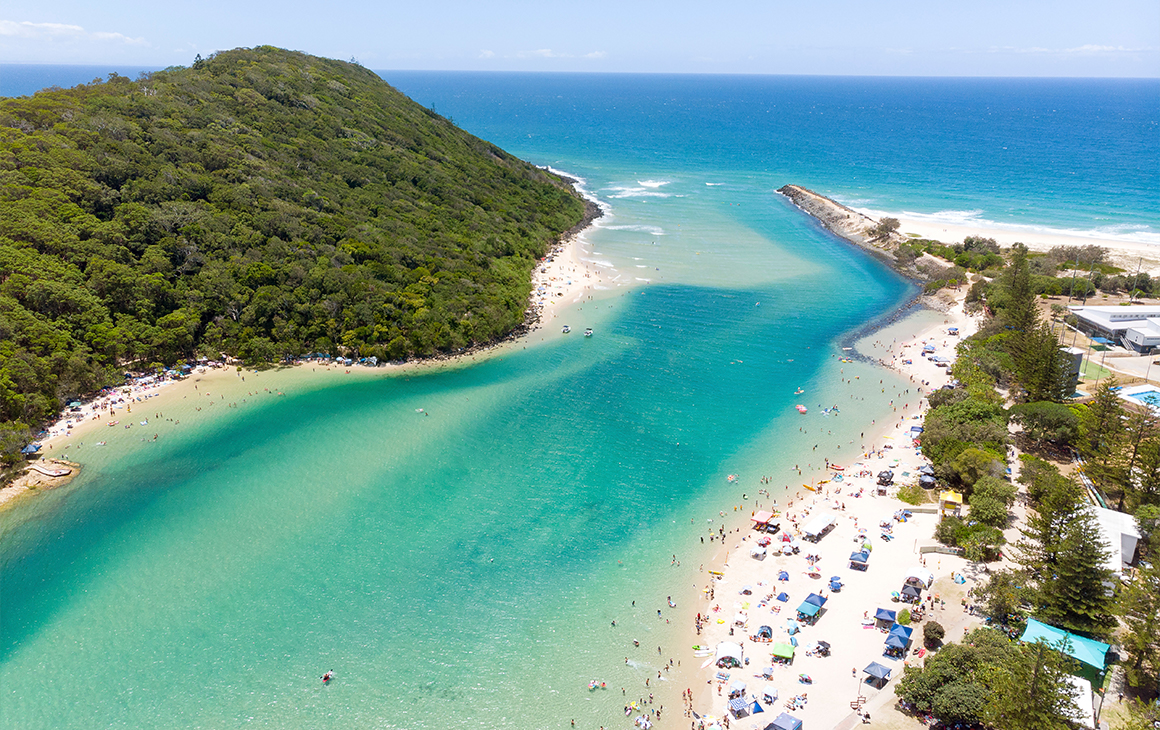 If idyllic aqua waters are more your jam than being tumble-rolled in the breakers (after all, that hot new two-piece is barely holding on as it is), seek out Tallebudgera Creek. First things first, trust us when we say this "creek" is way prettier than it sounds. Find a park north or south of the bridge and enter the leafy nature walk at the southern end of the Burleigh National Park headland. Follow the path for about 300 metres and pop out at a magical hidden beach protected inside the breakwater.
Whitehaven Beach
The Whitsundays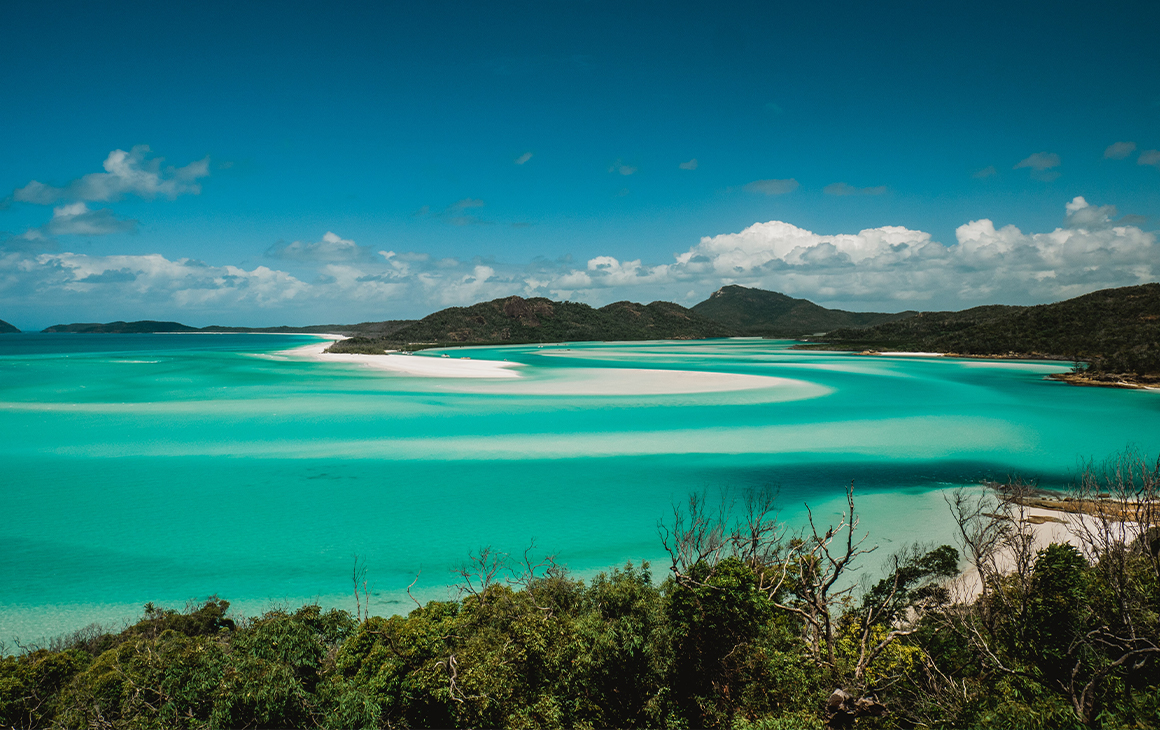 It consistently tops the lists of Australia's, not to mention the world's, most beautiful beaches, and for good reason. Miles of soft white sand (you know, the kind that squeaks when you walk on it), endless clear water and barely another person to be seen—the only catch is you'll need a boat to get there. Make sure you hike up to Tongue Point for epic views of the swirling tides.
Main Beach
Stradbroke Island
Up the northern end of Strandbroke, with easy access to the Point Lookout Surf Lifesaving Club for post-swim brews, this part of Main beach offers up opportunities for snorkeling and cliff jumping in crystal clear waters. Or you can laze around on the sand, hit the breakers further down the beach or even do the short walk up to North Gorge—the choice is yours.
Radical Bay
Magnetic Island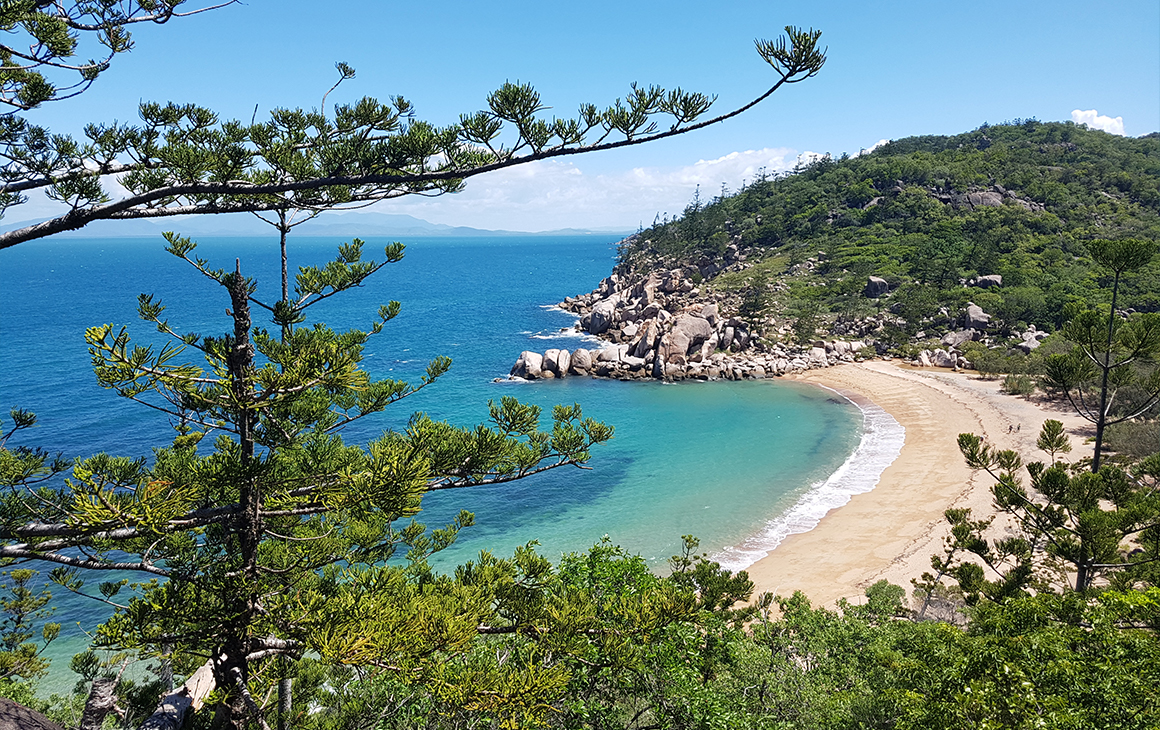 Located only a 20-minute ferry ride from Townsville, this little pearler sits in a nook on the North-East corner of Magnetic Island and offers sun, sand and… an abandoned piano. Seriously. The beautifully dilapidated wooden piano sits on a stage overlooking the beach and without a doubt will give you the coolest holiday snap going round! After a quick dip in the 27-degree water in the bay (yep, that's the temp in summer), take a wander around because the island's amazing landscape will have you seeing massive boulders and pine trees lining the beach.
Noosa Main Beach
Sunshine Coast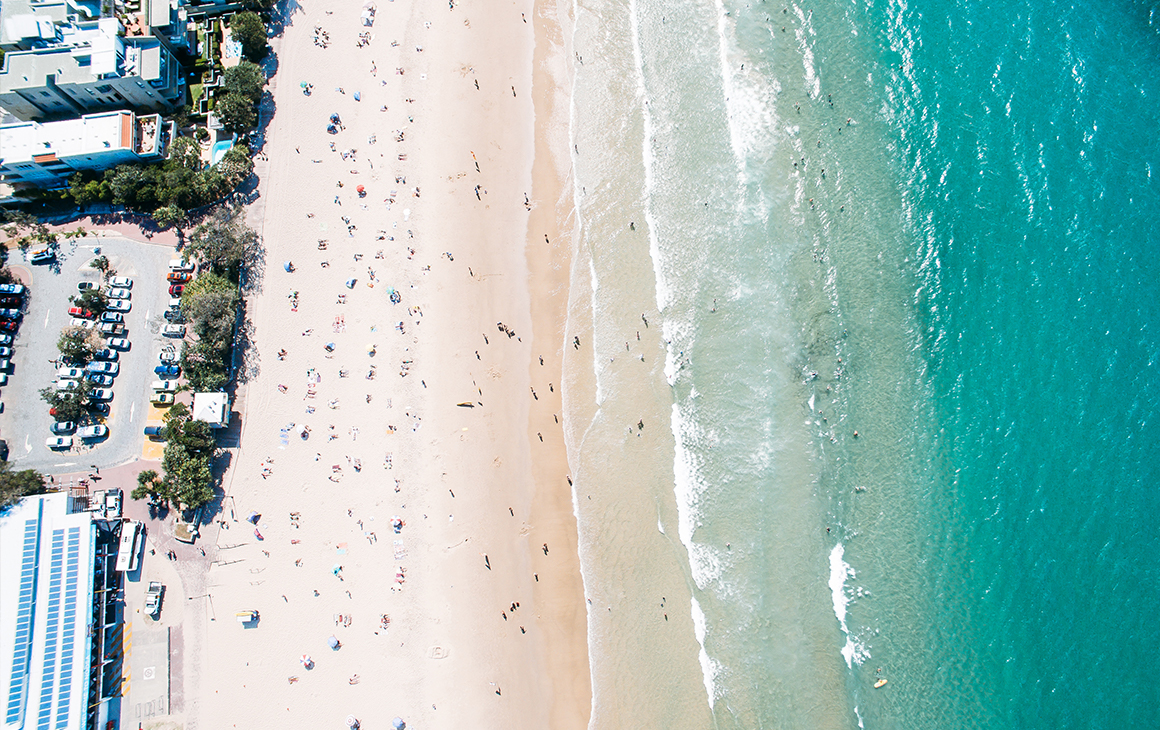 So it's covered with more tourists than you can poke your beach umbrella at, but if you get past the melting pot of conversations happening around you, then Noosa Main Beach is hands down one of the best beaches on the Sunshine Coast. Facing north, it's the sheltered place to run to when most of the coast's beaches are blown out. While you're here, take the time to walk through the national park, taking a dip in the coves along the way.
Tangalooma Beach
Moreton Island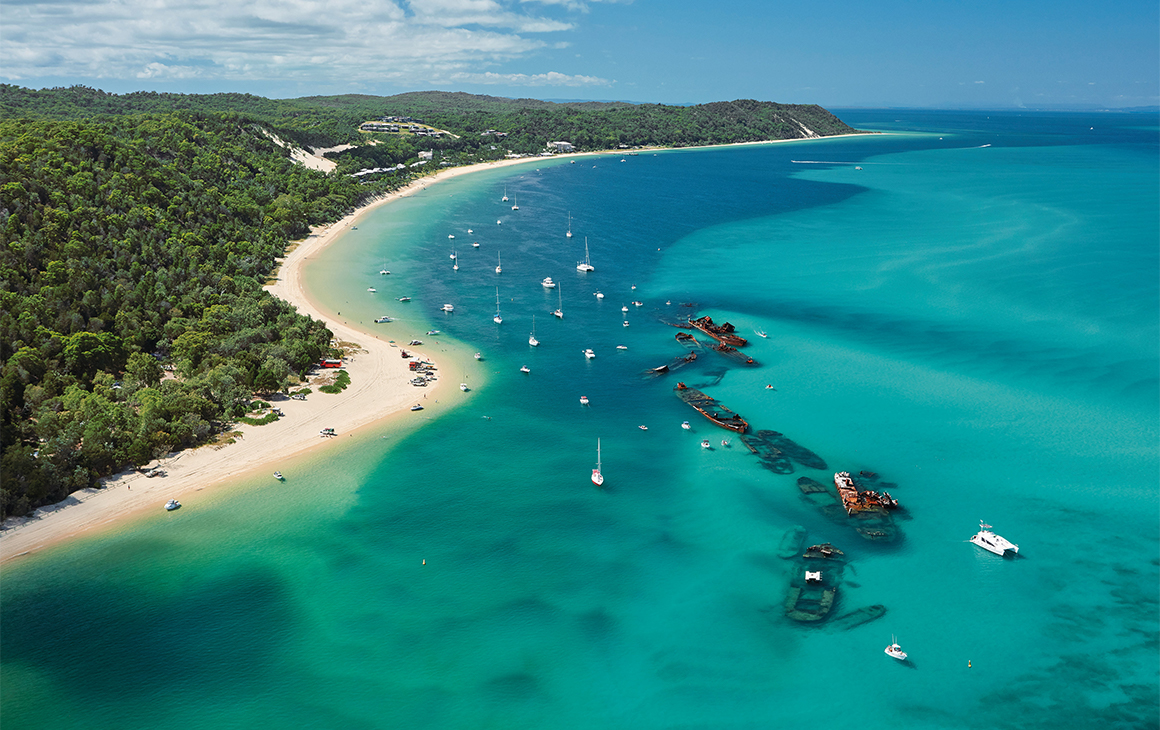 This beach is Insta-famous thanks to those sunken wrecks, but even without the jaw-dropping snorkeling opportunities, this spot would be worth a visit thanks to its totally flat and calm waters, which makes seeing the ocean life below a breeze. Spot turtles, dolphins and stingrays from the beach, or just float on top and catch some rays—the water here is so still you can even go stand up paddleboarding.
Lake Mackenzie
Fraser Island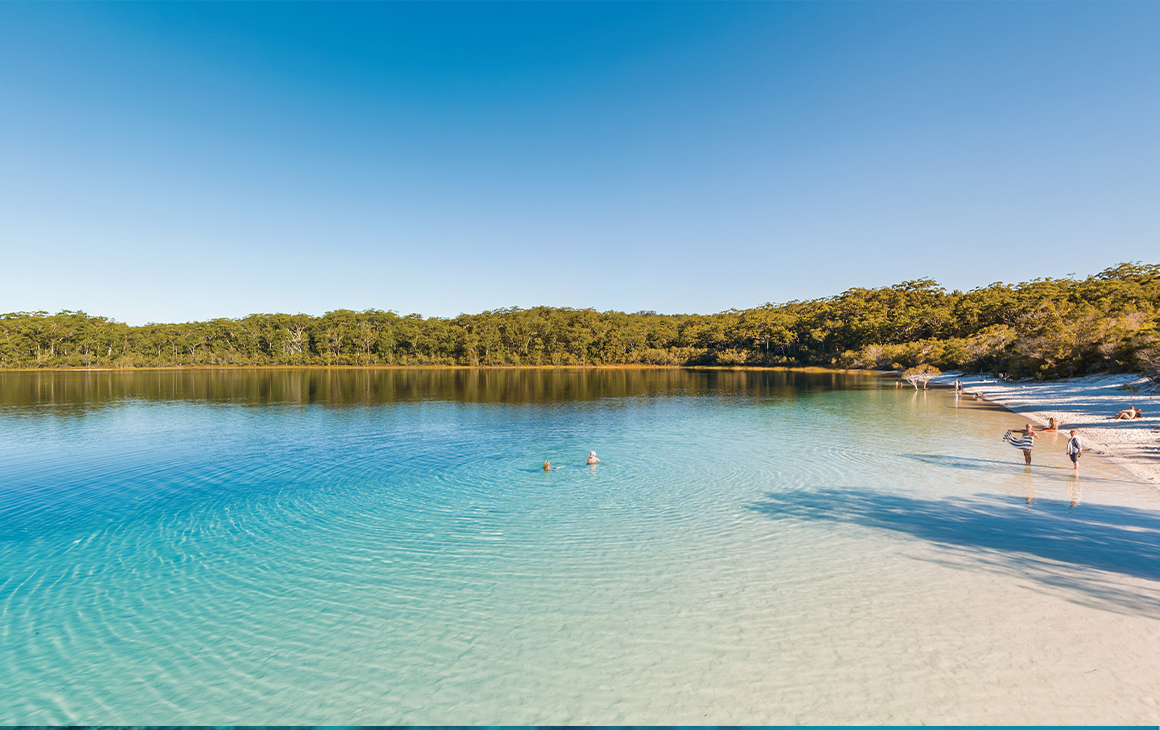 Sure it's technically a lake, not the ocean, but that shouldn't stop Lake Mackenzie from being on this list. You've probably seen the pictures but experiencing it first hand is something else entirely. Turquoise water and white sands surrounded by lush bushland is about as close to paradise as you're going to get. And you won't be able to get over the fact that the water is fresh, not salty. Take a million pictures but make sure you also just sit back and enjoy the view for yourself.
Horseshoe Bay
Bowen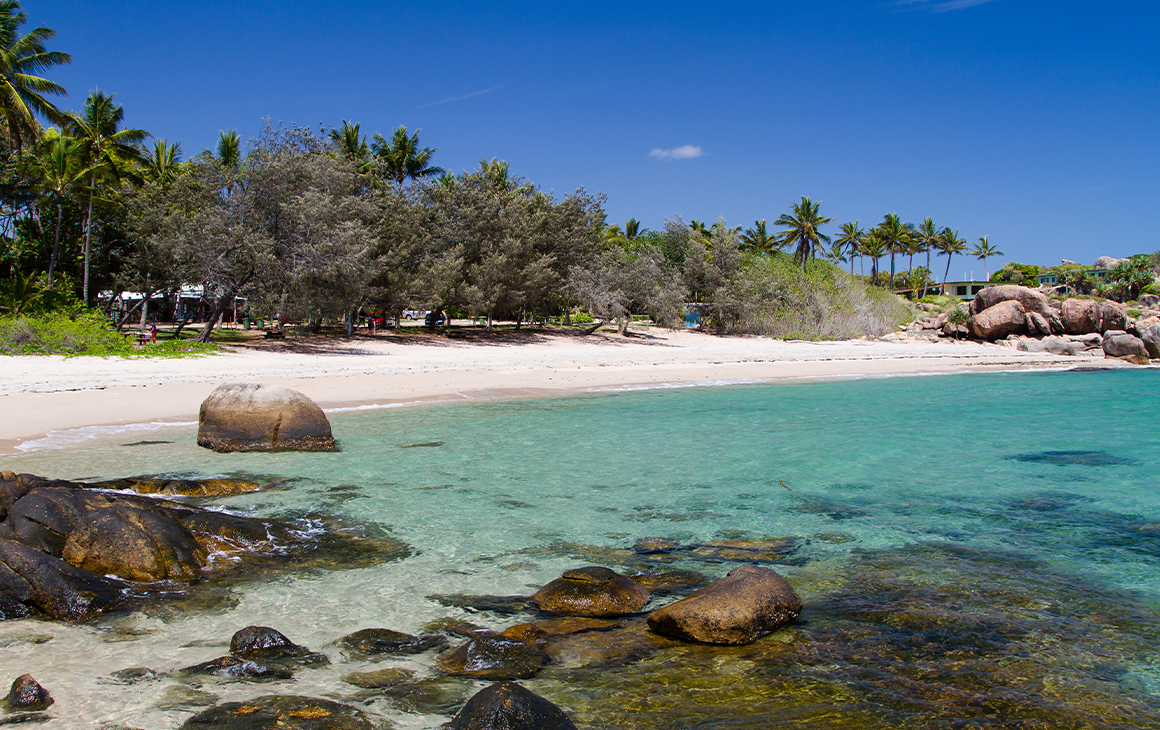 Where even is Bowen, we hear you ask? Well you need to find out and get there pronto, because this gorgeous cove is calling your name. With unbelievably blue waters edged by tumbling boulders, it's a well-kept secret by TNQ locals, but they'll willingly share if you make the trek.
Your Own Private Beach
Lizard Island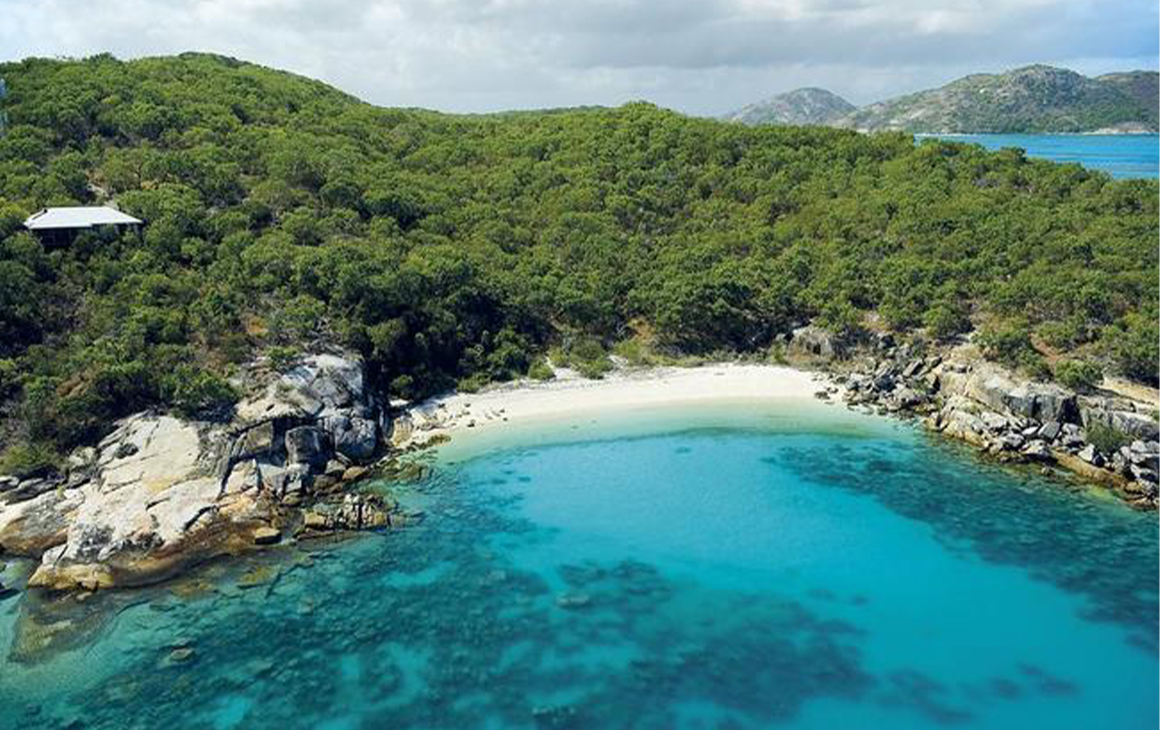 One to put on the 'splurge list,' Lizard Island's secluded coves and empty beaches are the stuff daydreams are made of. Why splurge? Well, because you need to take a charter plane to get there, and the one and only resort on the island is not cheap. But hey, what's a bucket list for if not to tick off, right?
Want some beaches a little closer to home? Check out our favourites on the Sunshine Coast and the Gold Coast.
Image credit: John Crux, Visual Collective, Tourism and Events Queensland, Nicolas Welding, Worldupclose, Matt Elliott, David Copithorne and Milosz Maslanka