If you're anything like us, the winter months are best spent alternating between bouts of hibernation, eating and creating blanket nests in any heated living space. But aside from the fact that we're no longer welcome at our local furniture and homewares store, the chilly season isn't without its charm. And by charm, we mean chocolate.
Rich, sugary, and oh-so-addictive, the classic hot chocolate is a tried-and-true winter staple. Rug up Brisbane, we've found the best mugshots in town.
St Coco Cafe
Daisy Hill
After not making a winter appearance last year (understandable), St Coco Cafe's Hot Baes are back at last, and we are oh so grateful. These weekly hot chocolate specials are more like a dessert than a drink, with this season's renditions so far including Oreo, Caramello and Neapolitan white chocolate strawberry. Keep an eye on their socials to see what's next.
Noosa Chocolate Factory
Brisbane CBD
Freshly made with their very own chocolate, Noosa Chocolate Factory in the CBD has one of the best selection of hot chocolates in town. Top of the list has to be the to-die-for rocky road hot chocolate with handmade marshmallows, strawberry jelly pieces and 77% cacao dark hot chocolate.
Cowch
South Bank AND Chermside
As a bona fide dessert oasis, Cowch has your chocolate fix covered (and then some). After you've mulled over the choices–milk, white, dark, or caramel–it's time to park yourself by the fire pit and watch the magic happen. Served with mile-high lashings of whipped cream and toasted marshmallows, you'll be relishing this one until the cows come home.
Piggy Back Cafe
Jindalee
Ever the creative types when it comes to hot drinks (haven't you heard about their rainbow lattes?), Piggy Back Cafe have gone all out with their hot chocolates, with a decadent, multi-coloured unicorn number that looks as good (maybe even better) than it tastes. This winter though, they've added a Biscoff hot chocolate to their seasonal line up, and you'll want to get in quick to try it.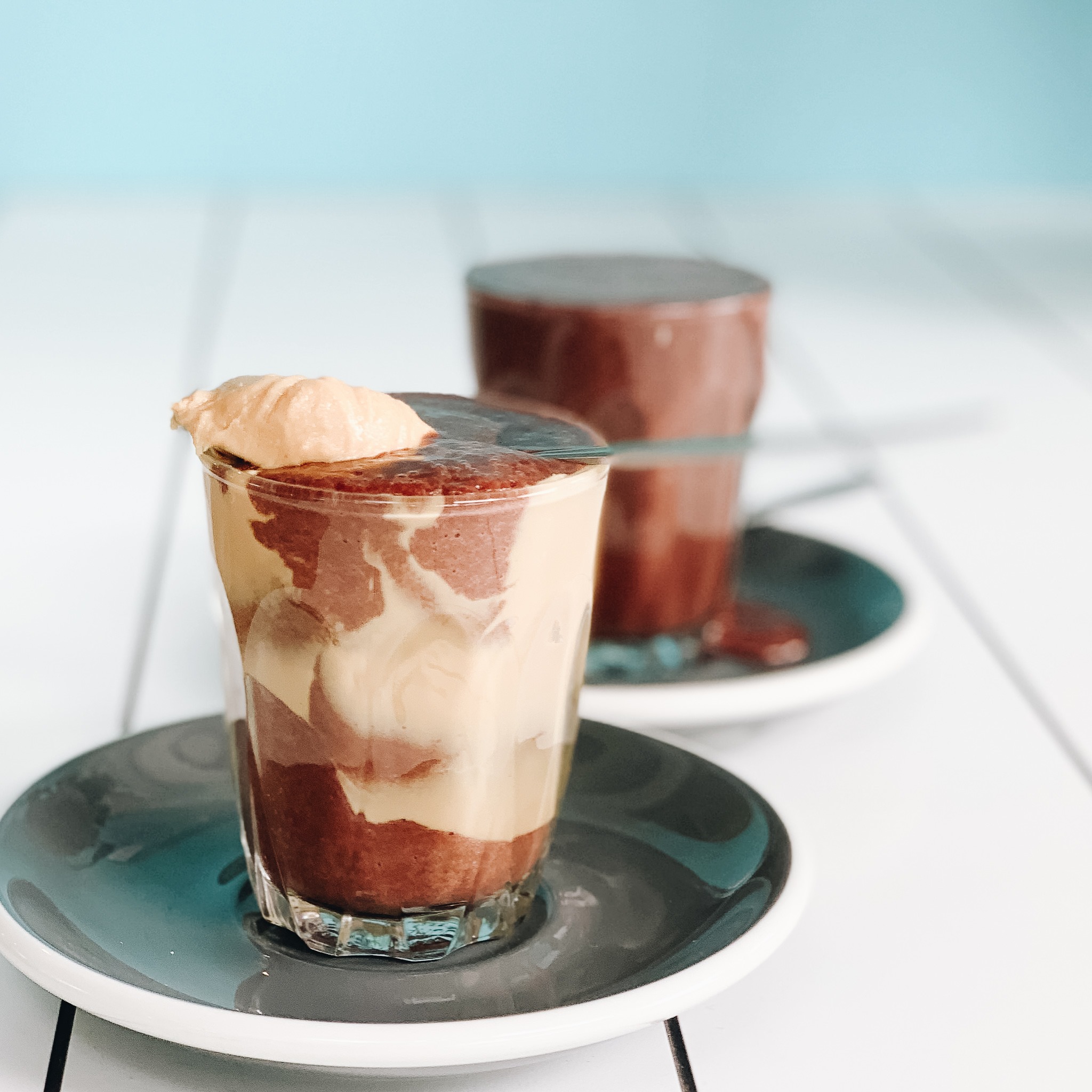 Denim & Co
SOUTH BANK
Alright, pre-warning: the name's a little deceiving here. For those playing at home, chilly mornings at Denim & Co usually call for something a little more forgiving than the namesake fabric. Go stretchy and opt for the Italian hot chocolate layered with dense peanut butter but make sure you grab a spoon–you'll need it.
Bunker Coffee
Milton
Before the birth of Bunker, Marcus Allison was Kelvin Grove's undisputed hot chocolate guru and oof, it doesn't take a genius to see why. With a 'chocolate passport' as your guide, you'll tour mugs of peanut butter, chilli, lavender and peppermint. Each mugful is crafted with Allison's very own melted Heirloom chocolate. If you need us, we'll be here for the winter.
The Colour Nine
Stafford Heights
Decisions, decisions, decisions. This north side stomping ground isn't just a killer brunch spot, it also reps a range of specialty hot chocolates guaranteed to send the Easter Bunny into a head spin. Indulge in flavours like Turkish delight or a cheeky rocky road-inspired number.
Pourboy Espresso
South Brisbane
The Belgian Hot Chocolate at Pourboy Espresso is a serious force to be reckoned with. Their Callebaut Chocolate comes accompanied by single origin Venezuelan Criollo couverture just to make sure your impending chocolate apocalypse leaves you weak at the knees.
Want more winter warmers? Swap hot chocolate for whisky and mulled wine at Brisbane's snuggest winter bars.
Image credit: St Coco Cafe, Denim Co