Nothing screams 'good old fashioned road trip' like a night away in a retro old-school motel. They're the perfect place to stay when your wallet's feeling lighter than you'd like, and don't come with the hassles of a major hotel chain—you know, like waiting 10 minutes for a lift only for it to be full when it finally arrives.
But the best part of motels has to be that highway heritage we all know and love; the kind you associate with classic Aussie rock songs blasting through your radio as you speed your way down a dusty dirt road.
Of course, if you're yet to experience the wonders of staying in a motel filled with '50s memorabilia, there really is no time like the present. With the weather cooling down, it's the perfect time to roll down your windows and belt out some Acca Dacca on your way to destinations unknown. Here's our top picks for the best retro motels in Queensland.
La Costa Motel
Bilinga
Located on the southern end of the Gold Coast, La Costa Motel offers that laid back, beach shack atmosphere, without having to fork out for a beachfront Airbnb. The motel even offers guests the free use of their vintage bicycles, so you can swing by the local surf club in style. Oh, and did we mention the complimentary breakfast basket? Free food is always a win in our book.
Mysa Motel
Palm Beach
For a modern take on that old-school motel style, book yourself a stay at the Mysa Motel. This luxury boutique getaway is ideally located along the Gold Coast Highway, making it the perfect place to spend the night if you're heading way down south. The motel has been lovingly restored from its former digs using recycled materials, and comes complete with retro neon signs, bright pink pool wares and inspired vintage décor. Park your Cadillac out front and settle in for an afternoon sundowner.
Loea Boutique Motel
Maroochydore
If you're looking to stay a little further north, the Loea Boutique Motel is our go-to coastal escape. The rattan décor and pastel hues will whisk you away to your very own private beach house—and the tasseled umbrellas by the pool certainly don't hurt, either. Guests tend to rave about the comfy bedding, so head to Loea if you're looking for a great night's sleep.
Port Douglas Motel
Port Douglas
Take a trip back to the 1970s with a stay at the homely Port Douglas Motel. Having recently undergone extensive renovations, you can rest assured that the motel is only retro in feel, not in actuality. Boasting an outdoor saltwater pool, as well as quick and easy access to Four Mile Beach, this funky old-school getaway is the perfect place for a wallet-friendly tropical vacay. Besides, their marine-themed mural is the perfect backdrop for your next selfie on Insta.
Motel Nomad
Cairns
A chilled-out palm-filled compound just a short walk away from Cairns' centre, Motel Nomad offers a brand-new take on the classic roadside motel. Their modern furnishings combine elegantly with minimalist design so you can take in the best of the tropics without sacrificing those creature comforts. The Queenslander-inspired building comes with wrap around verandahs in every room, perfect for soaking up some sun before heading out to explore the nearby beachfront.
10 Hastings Street Boutique Motel
Noosa
A night in the heart of Noosa has never been more affordable. Book a night away at the 10 Hastings Street Boutique Motel and find yourself in the midst of Noosa's premier shopping precinct. This vibrant stretch of sidewalk features everything from high-end boutiques to airy cafés, and is just three minutes' walk from the waterfront. All suites include an en suite bathroom, air-conditioning, a small refrigerator, and a flat screen TV, so you can indulge on Ben and Jerry's while catching up on Friends re-runs.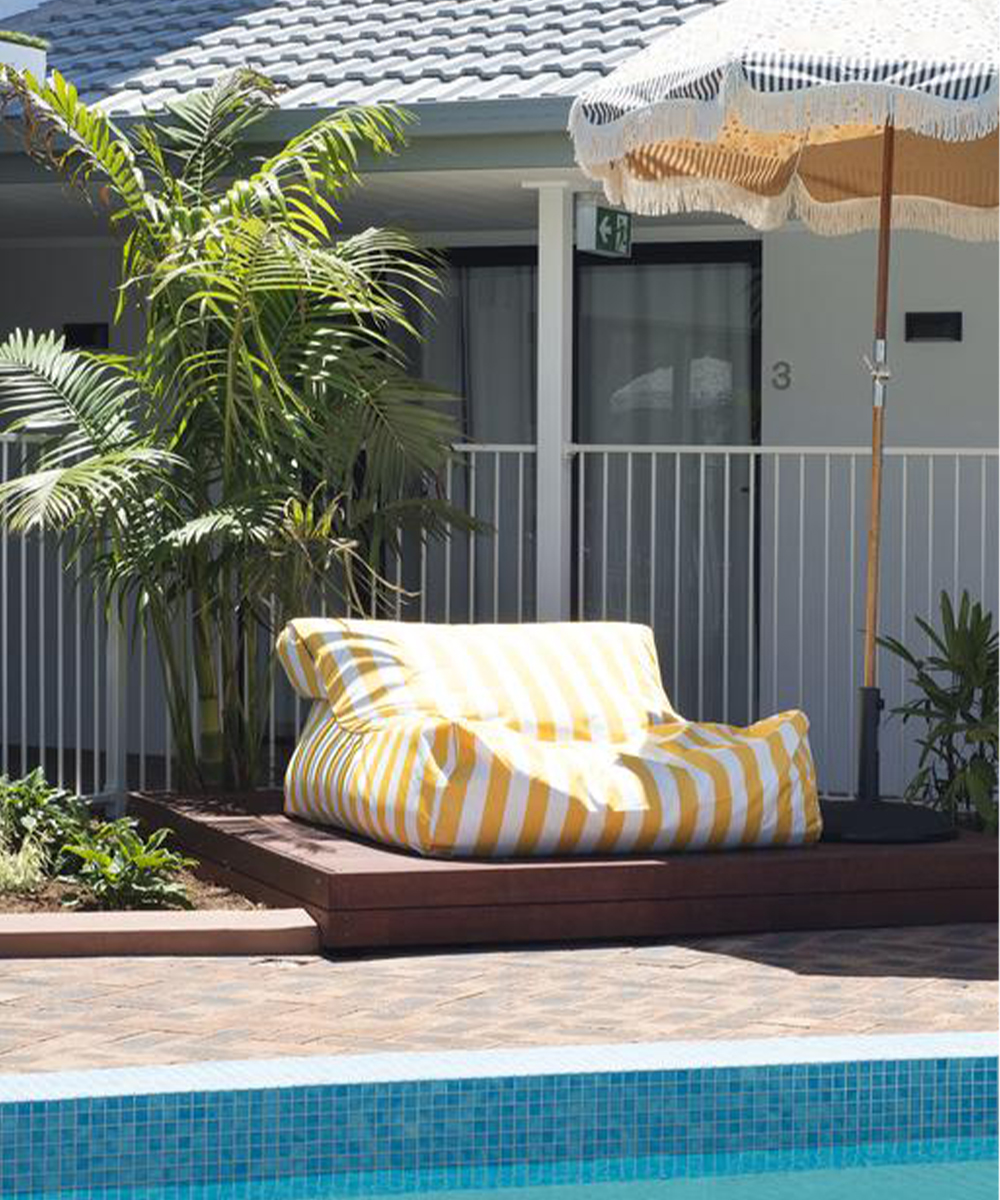 Blue Heron Motel
Mermaid Beach
Set just a few blocks away from the beautiful Gold Coast beachfront, Blue Heron Motel offers a clean and modern coastal getaway. Its spacious rooms are all uniquely designed, and go heavy on the fresh, surf shack vibes. The motel comes complete with beach side picnic hampers and an optional bike hire, so you can soak up that salty sea air with a gentle ride along the shorefront. Sounds to us like a little taste of paradise.
The Pink Hotel
Coolangatta
One night at The Pink Hotel and you've well and truly earned yourself a spot as an honorary member of the Pink Ladies. The newly renovated 1950s-style boutique hotel is an art-lover's dream, with every room featuring a unique combination of mid-century and Scandanavian themes. Prepare to snap plenty of pics of their retro neon signage and laid-back rooftop bar—not to mention the oh-so-smooth velvet furniture. We're big fans.
Looking for more Queensland escapes? Treat yourself to those feel-good vacay vibes with the best hotels in Cairns.
Image credit: Hayley Williamson, Villa Styling, Mysa Motel, Amy Higg, Motel Nomad, The Pink Hotel, 10 Hastings Street, Blue Heron Motel