With yet another lockdown over, let's be real—interstate travel is just a little too up in the air right now (sorry, we had to). Splurging on a flight down south only to be hit with a travel ban at the very last minute? That's a big no from us.
Thankfully, Queenslanders don't have to travel far to get those feel-good vacay vibes. Just a few hours' north, and you're suddenly faced with some of the world's best beaches, rainforests, and coral reefs—all just a stone's throw away from the sunshine state's tropical north, Cairns.
The only question left is: where to stay?
Don't worry, we've done the hard work for you. It's time to make a dent in your holiday savings (aka rent fund) and splurge on some of the best hotels Cairns has to offer. Go on, we dare you.
Crystalbrook Flynn
For something a little more modern, set your sights on Crystalbrook Flynn. The hotel features a laid back, minimalist style that lets the stunning seaside views take centre stage. Pay a visit to the indoor pool, and soak in the sights of palm trees swaying in the breeze as you sip on a cocktail (or two). Downstairs, you can satisfy your carb-cravings with a gastro-pub feast at Boardwalk Social. Count. Us. In.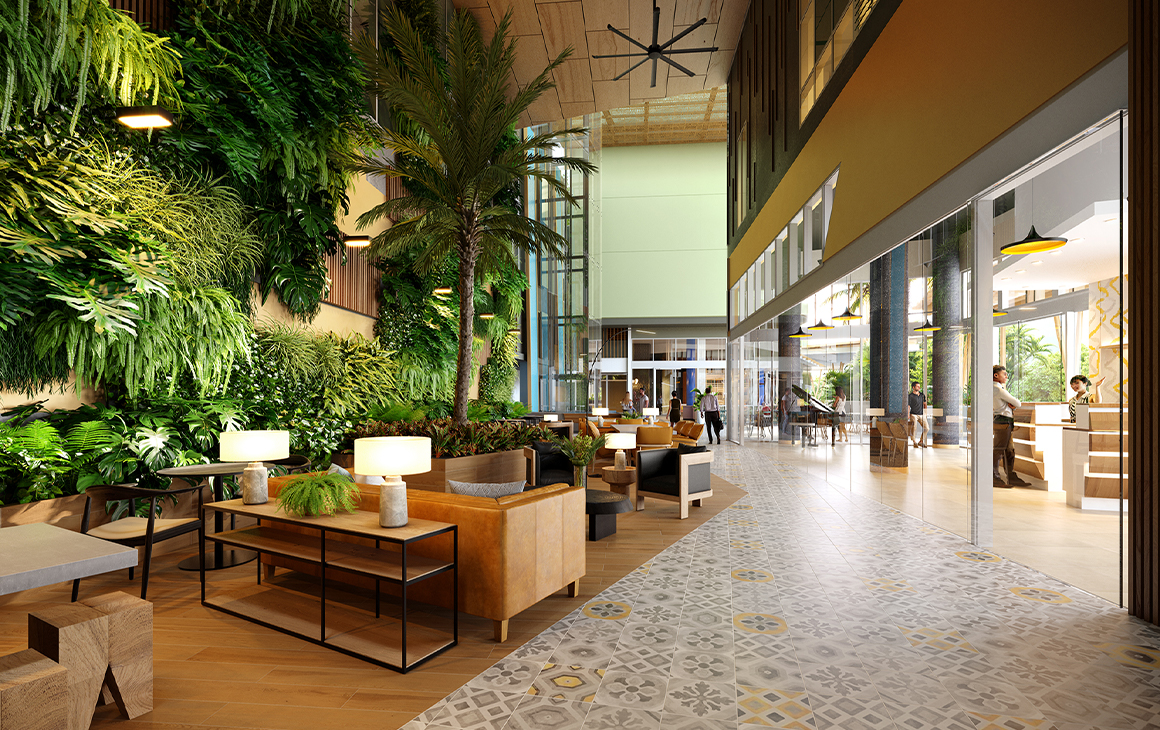 Crystalbrook Bailey
With sweeping views of the city alongside the latest innovations in sustainable living, Crystalbrook Bailey is the perfect place to spend your time away. This luxury 5-star hotel is full of thoughtful design details guaranteed to appeal to your inner artist. Better still, the hotel is just minutes away from the Cairns Aquarium, home to over 15,000 aquatic animals—so you can help find Nemo without ever getting wet. That's a win in our book.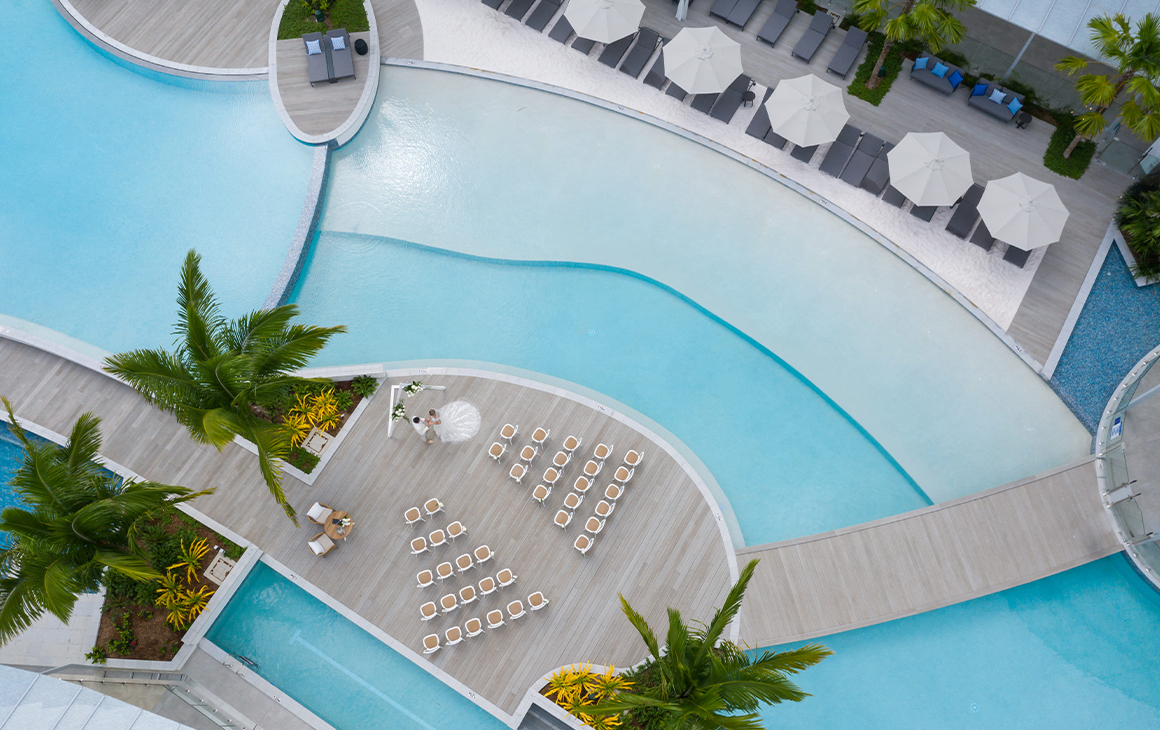 Crystalbrook Riley
Okay, okay—so we're a little obsessed with Crystalbrook. Can you blame us? If you thought Bailey and Flynn were worth a visit, you won't want to miss a trip to Riley. This hotel takes luxe to the next level—think a complimentary pillow menu, extra towels and coffee pods all ordered through a tablet kept by the bed. Their man-made beach is guaranteed to become the star of your Insta feed; that is, if you can pull yourself away from the rooftop bar (we couldn't).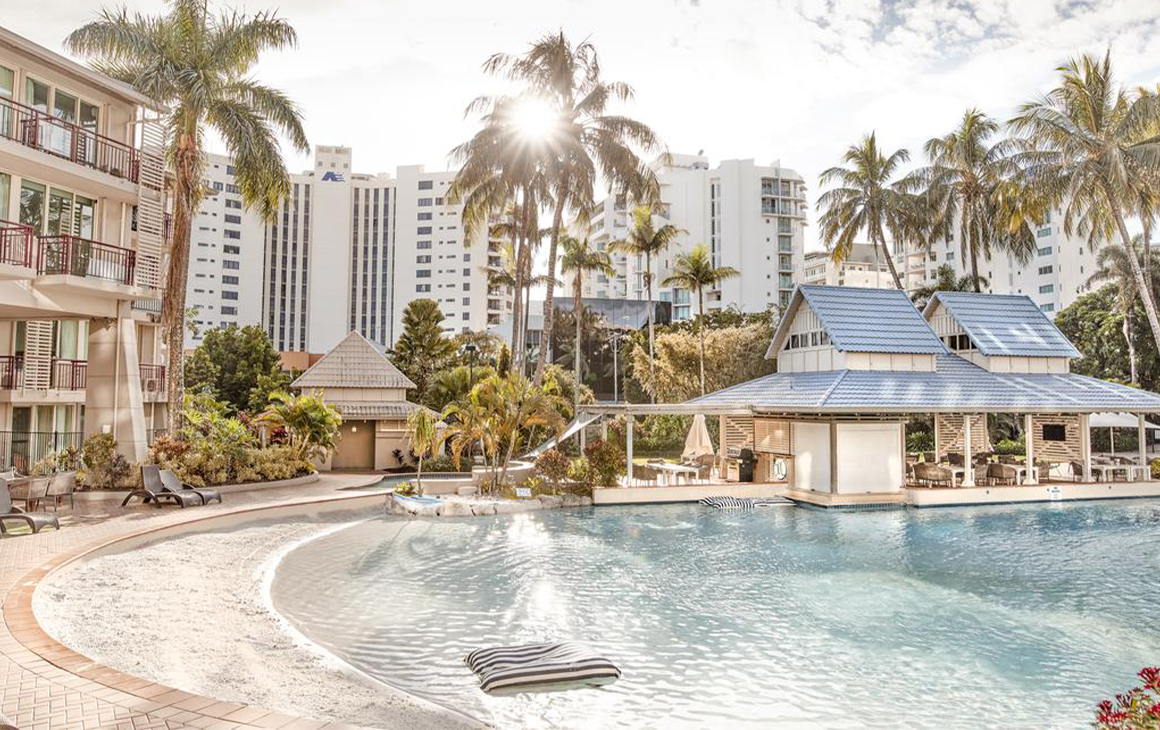 Novotel Cairns Oasis Resort
Knock back a Pina Colada poolside thanks to the swim-up bar at Novotel's Cairns Oasis Resort. They have a separate children's pool and Kid's Club so you can get day-drunk without little ones running around. While you're at it, treat yourself to a facial at Novotel's on-site spa, and feel all your worries wash away. Novotel offers all the benefits of Bali, without risking a case of COVID-19, making it the perfect stay for your next tropical getaway.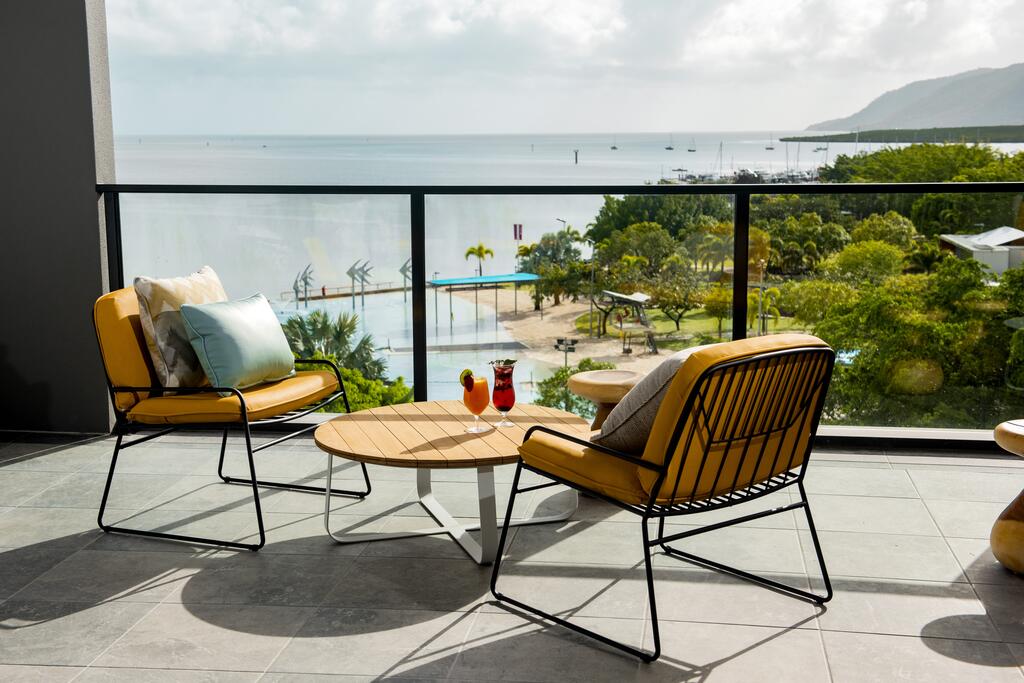 Oaks Cairns
With the beachfront on one side, and lush rainforest on the other, Oaks Cairns offers the best of both worlds. Take a stroll along the boardwalk and soak up the salty sea air as you duck in to the city's coolest restaurants and rooftop bars. The night markets are only just downstairs, along with the Cairns Esplanade Lagoon. We hate to say it, but this seaside swimming hole puts Brissy's Streets Beach to shame. The hotel's spacious rooms and modern amenities are like a home away from home—unless you're anything like us, in which case it's much, much nicer.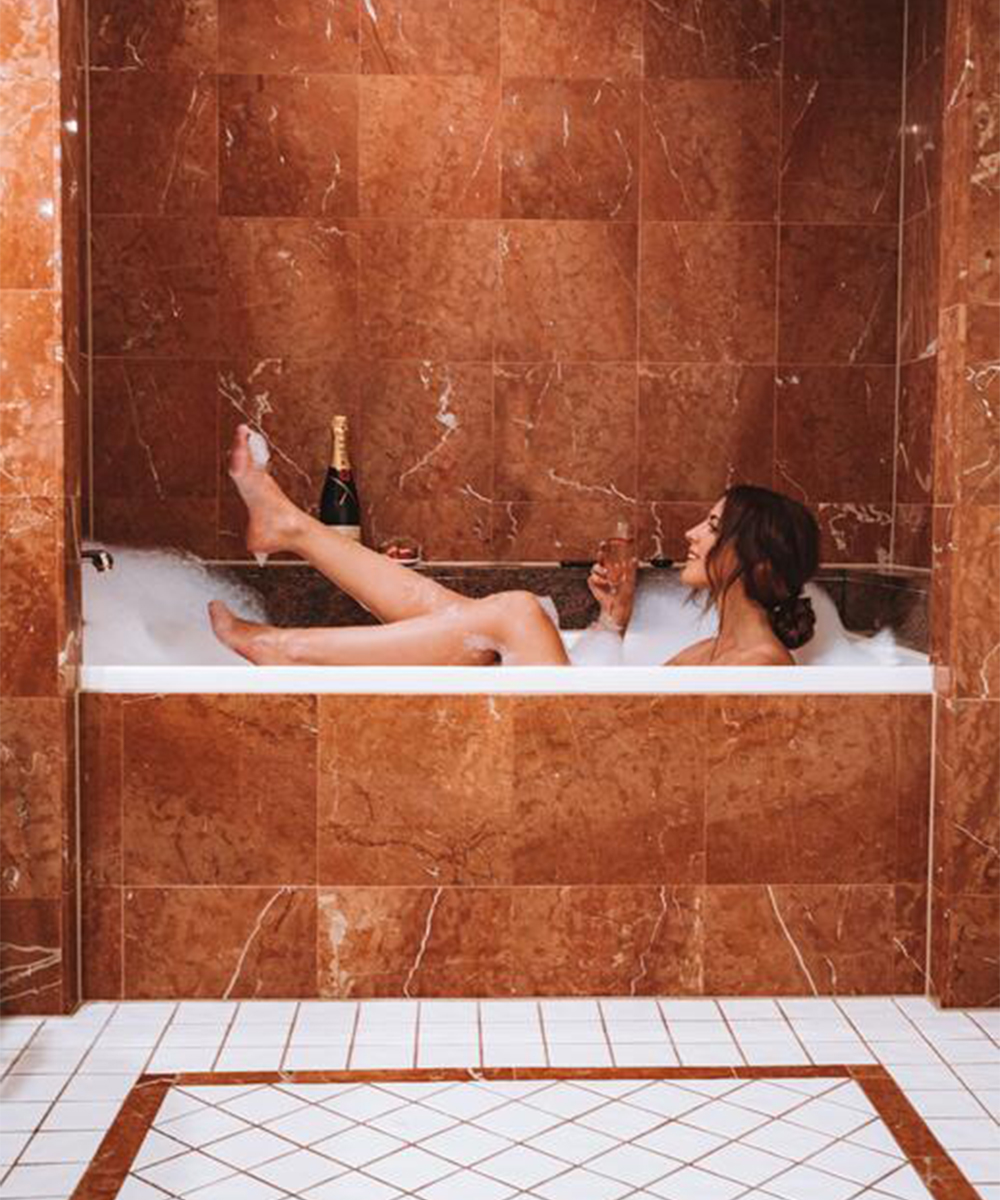 Pullman Cairns International
With beautiful big balconies looking out over the mountains, Pullman Cairns International is one for the tree huggers. The outdoor swimming pool is surrounded by tropical gardens, and the hotel itself is just a short walk away from the popular Cairns Pier. The on-site spa has 10 treatment rooms, meaning it's less of a challenge to score yourself that well-deserved massage after a long day lounging by the pool. BRB, just booking a flight...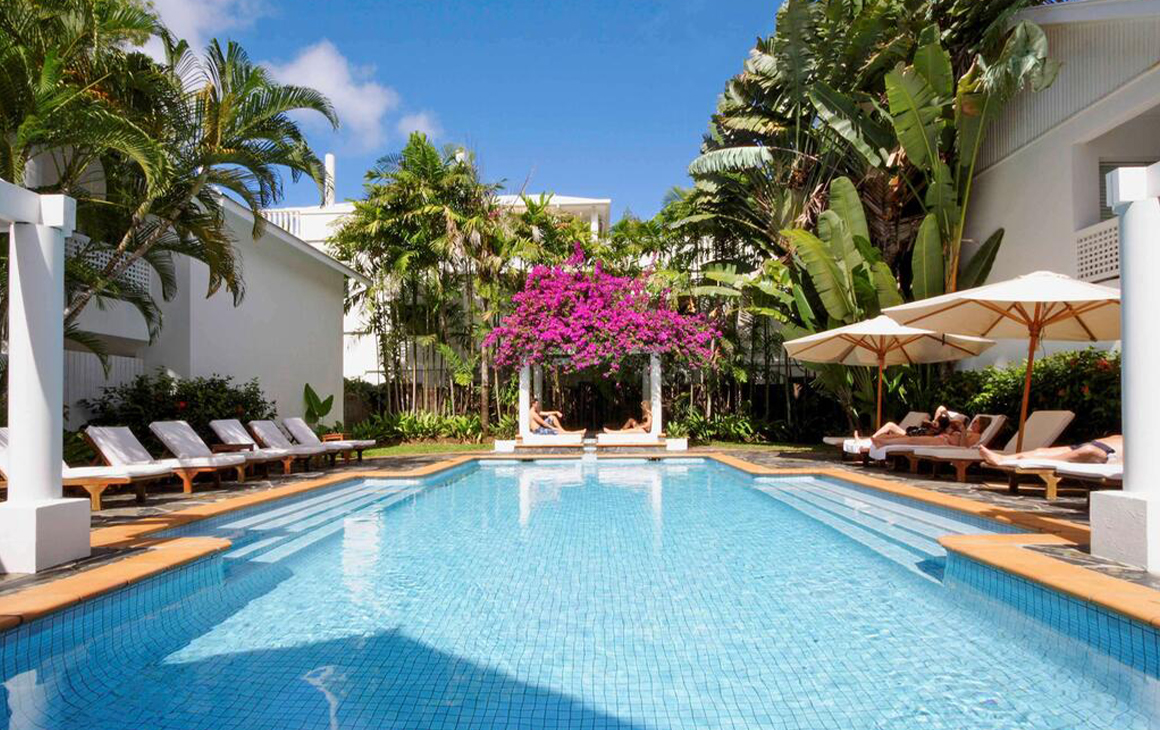 The Reef House
If you're looking for a taste of the quiet life without sacrificing those creature comforts, book in a night at The Reef House. This boutique, colonial-style hotel offers an escape from city life at its tranquil site in Palm Cove. With three swimming pools, two spas, and countless tropical gardens, the Reef House promises an indulgent holiday experience unlike any other. The rooms really dial up the romance, making it the perfect stay for couples—or gal pals who don't mind sharing a spa bath alongside a hefty glass of wine.
Looking for more vacay inspo? Sleep under the stars in this stunning luxury dome tent in the NSW Hinterland.
Image credit: Crystalbrook, Novotel, Oaks, Pullman, The Reef House