As much as we all love a cosy Sunday morning curled up in bed, sometimes you can't help but find yourself itching for adventure. You need to get out of the house, get your legs moving and your blood pumping. Plus, your Insta feed is in dire need of an update on life in the great outdoors.
If you've daylight to spare, throw on your fave workout wear, grab a water bottle and start the trek to one of the best national parks in and around Brisbane. Getting back to nature has never looked so good.
D'Aguilar National Park
Sitting in Brisbane's very own backyard is the spectacular D'Aguilar National Park, a region filled with remote gorges, stunning swimming holes, and incredible views of the Glasshouse Mountains. The park is littered with abandoned gold mines, so if you're keen for some spooky vibes, be sure to hit up the Golden Boulder track. If you're an animal lover, D'Aguilar is home to the ever-elusive platypus, so keep your eyes peeled for a chance to spot one in the wild.
Fort Lytton National Park
If you grew up in Brisbane's bayside, you'll no doubt remember Fort Lytton National Park from your schooling days. It was THE field trip destination of the year, keeping kids entertained with tales of its veritable arsenal and military history. While we're all well and truly past the days of school excursions, a trip to Fort Lytton is still well and truly worth your while. The heritage site is chock full of history, and its myriad of tours offer to take you back in time and bring the colonial fortifications back to life. History buffs, this is your kind of scene.
Venman Bushland National Park
For a true Aussie bush walk, set your GPS to Venman Bushland National Park. The site is only a 40 minute drive from the city, so you aren't headed out to the sticks, but still manages to retain its natural beauty despite its proximity to suburbia. The open forest is filled with eucalypt and melaleuca trees, as well as an understory of flowering shrubs that come to life in the springtime. Even better, the park is home to koalas, wallabies, possums and sugar-gliders, so you're bound to meet some furry friends. Just make sure to keep your lunch to yourself, even if they want a share.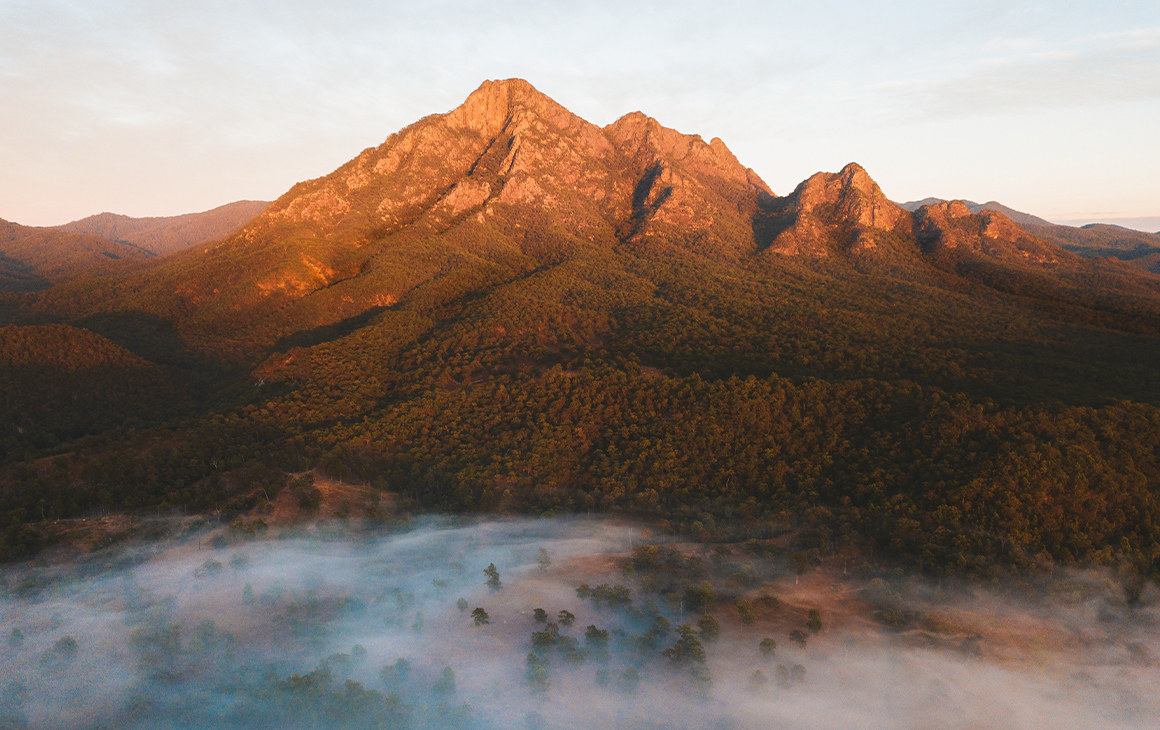 Mt Barney National Park
If you're looking for a breath of fresh air, look no further than a hike up Mount Barney. The site is part of the Gondwana Rainforests of Australia World Heritage Area, making it one of the most extensive areas of subtropical rainforest in the entire world. It's home to a tonne of ancient and primitive plant and animal species showcasing the different stages of life on Earth. The wild, rugged landscape is riddled with bushwalks known for posing a challenge, so unless you're experienced, keep this on the back-burner until you've built up your skills.
L

amington National Park

You can't go wrong exploring a park that shares its name with a delicious Aussie treat. Lamington National Park has long been a favourite of adventurers, thanks to its spectacular waterfalls, deep gorges and distinctive peaks. The park acts as a refuge for a number of animals unique to our shores, such as the truly stunning Richmond birdwing butterfly and the spotted-tail quoll. The tree-top walk is a must-do, offering unrivalled views of the flora and fauna that inhabit the forest canopy. It's 100% free, but donations are appreciated—and trust us, this is one experience you'll want to ensure you can keep coming back to.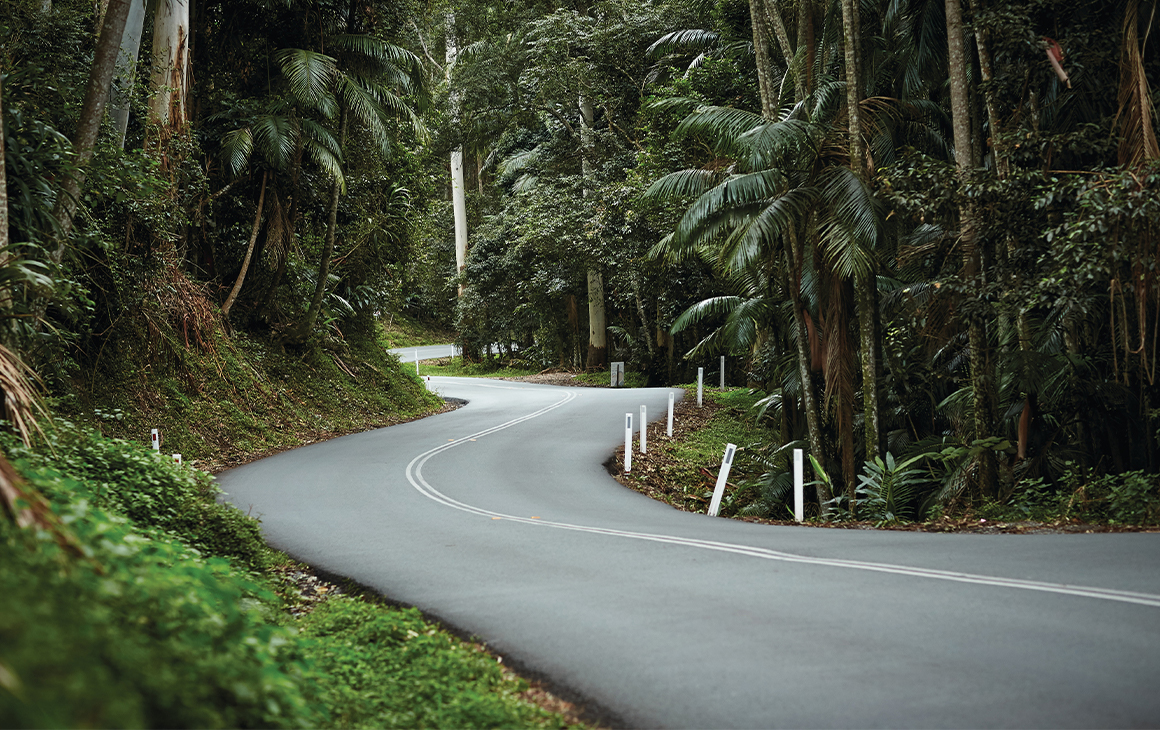 Tamborine National Park
Nestled in amongst the Gold Coast hinterland, less than an hour's drive from Brisbane, lies Tamborine National Park. Catch a glimpse of a red-legged pademelon, or the vulnerable Albert's lyrebird as you explore the walking trails of Queensland's very first national park. The rock pools at Cedar Creek and Curtis Falls tend to draw a crowd, so get there early to avoid the rush. On your way home, be sure to pick up some of the region's amazing wine and cheese as a memento of your time there.
Bribie Island National Park
Looking to soak up some sun? Slop on some sunscreen and head to Bribie Island National Park. The island is rich with cultural history, having long been home to First Nation peoples, but is also a refuge for plenty of Australian wildlife, like dingoes and dugongs. Bribie's white, sandy beaches are a huge draw for Queenslanders, and its picturesque lagoons provide the perfect place to float all your troubles away.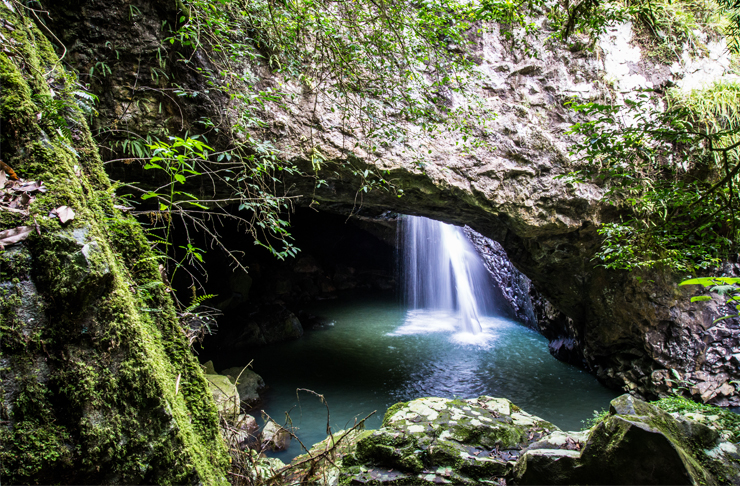 Springbrook National Park
For the best waterfalls in the state, set your sights on the ever-popular Springbrook National Park. Thanks to its World Heritage listing, the park is recognised as one of the most outstanding and valuable landscapes in the world. If you head to Natural Bridge in the park's west and hang 'round 'till dark, you'll be treated to the sight of the brilliant blue-green lights of glow worms (technically glow flies, but that doesn't sound nearly as nice, does it?).
Kondalilla National Park
Hidden in the Sunshine Coast Hinterland, amongst the lush green forests of Montville, sits Kondalilla National Park. The cool mountain retreat gets its name from the spectacular Kondalilla Falls, where Skene Creek plunges 90m into the valley below. The park has plenty of short walking trails, or if you're looking for adventure, the 58km Sunshine Coast Hinterland Great Walk also passes through the region. Pack a picnic basket and spend an afternoon feasting to the sound of freshwater creeks gently trickling into rock pools below.
Want to experience the state's best locally-grown produce without committing to the drive? Get a taste of the scenic rim delivered to your door with this farm box, loaded with local goodies that will tickle your tastebuds.
Image credit: Tourism Queensland, Brooke Darling