What do Leslie Knope, Stranger Things' Eleven and Homer Simpson all have in common? An unfaltering, borderline-obsessive love for waffles. And look, we can't say we blame them. Waffles are just like pancakes, but better—they're crispier, they're sweeter, and the square waffle texture holds all of your toppings perfectly in place as you lift your fork to your mouth. Let's face it, when it comes to breakfast food, waffles are god-tier, a fact that isn't lost on the local foodie scene. To make life easy, we've rounded up 12 of the best cafes around Brisbane to get your waffle fix. Whether you like them sweet or savoury, classic or quirky, trust us, we've got the waffles for you.
Sister
Hawthorne
If you're looking for a morning pick-me-up, you can't go wrong with a plate of buttermilk espresso waffles from Sister Cafe. Loaded with two dollops of ice cream, crunchy honeycomb and sweet espresso caramel sauce, you'll be firing on all cylinders thanks to the combined sugar rush and caffeine hit.
The New Black
Fortitude Valley
For waffles worthy of the Upper East Side, swing by The New Black's Insta-worthy digs in Fortitude Valley. Their brioche and malt waffles come complete with yuzu curd, cultured butter, puffed buckwheat and roasted white chocolate, so you can get a taste of high society without the exxy price tag.
Little Loco
New Farm
If you like your waffles sweet, crisp and with a healthy dollop of ice cream, you won't want to miss Little Loco's Golden Gaytime waffles. Topped with toffee, honeycomb and a drizzle of chocolate, these bad boys will have you drooling from the moment you see them on the menu.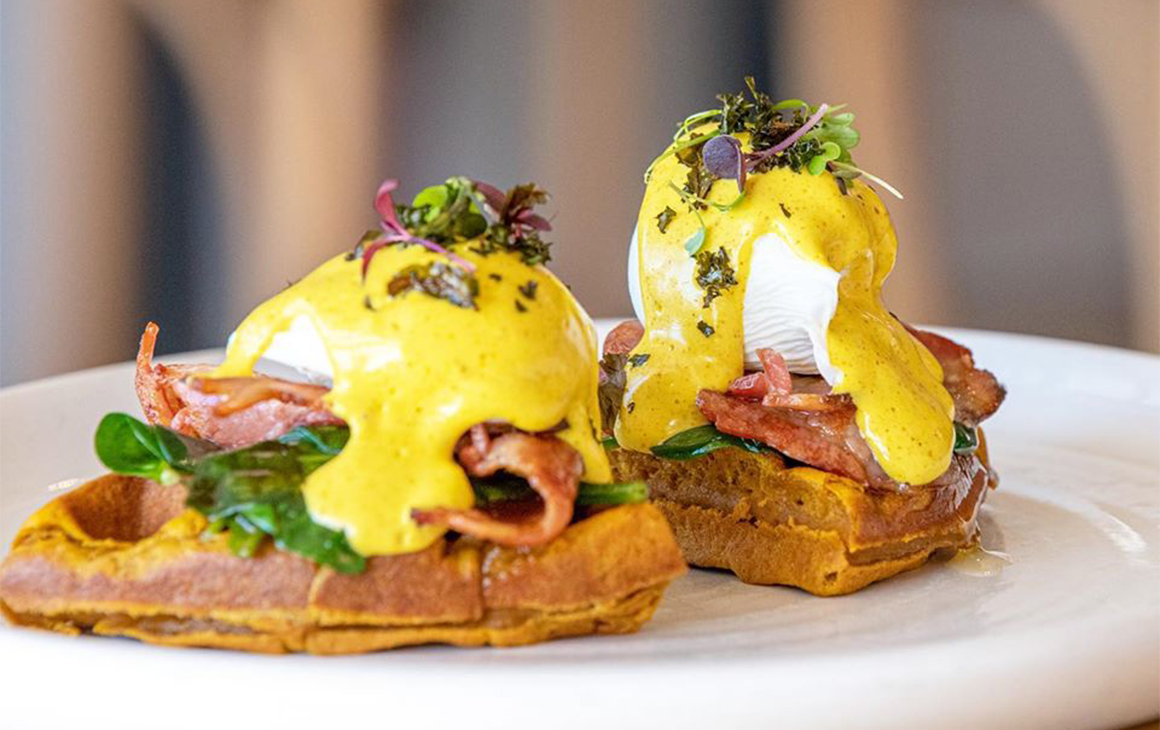 Miss Jones
New Farm
Warning: the banoffee waffles from Miss Jones are probably best saved for your cheat day. Thecaramelized banana, meringue and butterscotch sauce are just the beginning, with gingerbread crumb and coffee gelato adding the finishing touches. If you prefer to save the sweet stuff for dessert, go savoury with eggs benny on a sweet potato waffle loaded with curry hollandaise.
Stones Throw Cafe
Greenslopes
The red velvet waffles at Stones Throw Cafe are nothing short of a game changer. We're talking fresh raspberries, strawberries and blueberries scattered over two giant red velvet waffles, topped with crumbled chocolate brownie, vanilla ice cream, praline crumble and white chocolate sauce. This one's worth ditching your diet for. ⁠
Little Black Pug
Mount Gravatt
Take your waffle game to new heights with Little Black Pug's gluten free brownie waffle, stacked tall with choc top ice cream, raspberry liquorice, strawberry jelly, nut crumble, and fresh berries, not to mention actual chunks of gooey chocolate brownie, as well. Bonus points for being doggo friendly (the cafe, not the waffles).
My Mistress
Clayfield
If you always find yourself ordering the smashed avo when you go out for brunch, My Mistress's Strip Tease is for you. Southern fried buttermilk chicken is stacked atop baked waffles sandwiched with smashed avo and chilli mayo, with a drizzle of maple syrup for good measure. Holy guacamole.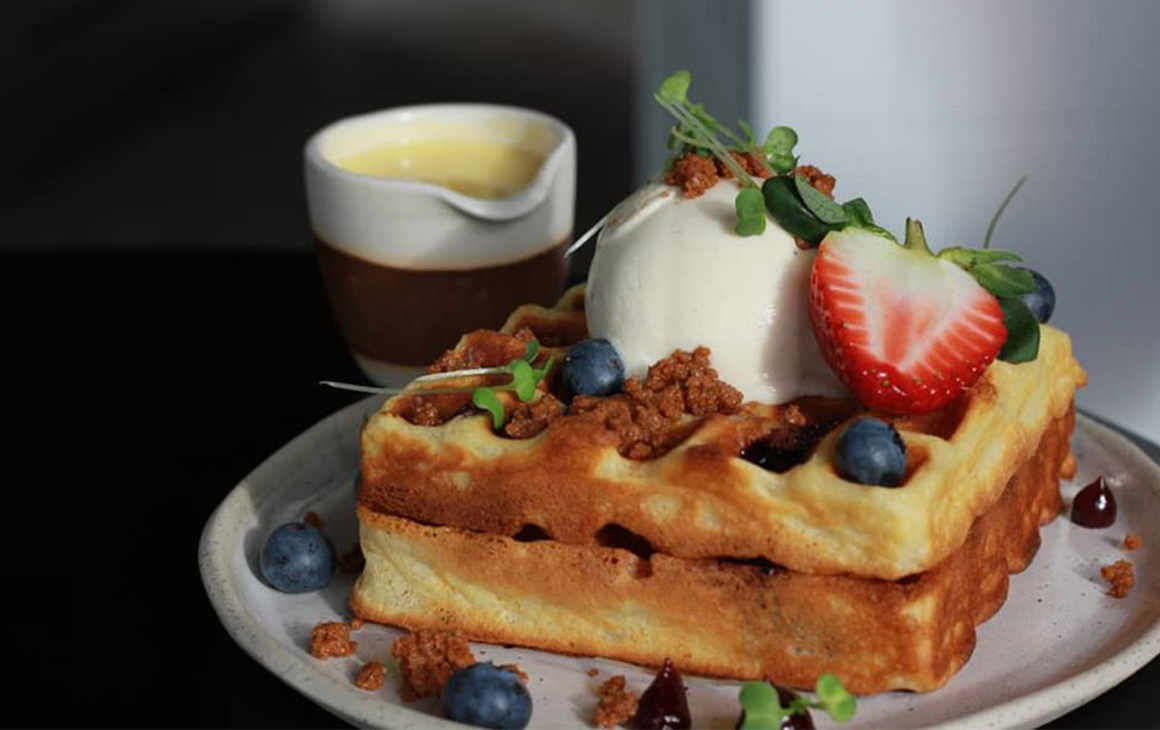 Allora Black
Newmarket
Known for their mouthwatering housemade gelato and specialty coffee, Allora Black has now added weekend waffles to their repertoire (available from 8am–4pm on weekends), and we couldn't be happier about it. Pair a warm, fresh, crispy waffle with any of their incredible artisan gelato flavours, and settle in for one unforgettable breakfast experience.
Blockhouse
Nundah
Enjoy a taste of Japan (with a few Western additions) by ordering up one of Blockhouse's okonomiyaki waffles. Hailing from Osaka, okonomiyaki is usually likened more to a pancake, but we won't say no to its waffle form, especially when it comes topped with maple bacon steak, soft poached eggs, and chipotle hollandaise. If that doesn't tickle your fancy, try their corn waffles, loaded with koji fried chicken and white sausage gravy—they're a sight to behold.
Pablo
New Farm
Pablo's toasted cinnamon waffles are just one of the many cult-worthy items on their incredible breakfast menu. With caramelized banana, chocolate mascarpone, caramel sauce and toasted pistachio, these waffles are worth getting out of bed for.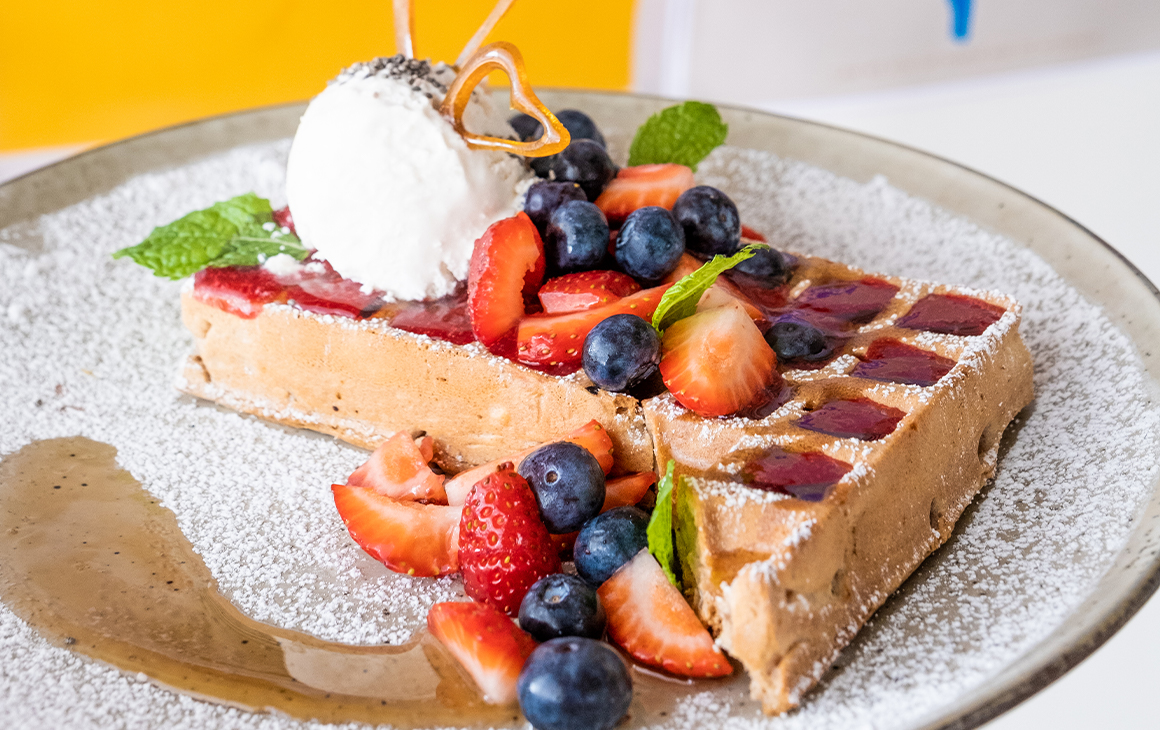 The Gift Shop
Mt Gravatt
Whether you're into sweet or savoury brunches, you're covered at The Gift Shop. For the sugar fiends, there's maple covered waffles with mixed berries, caramel shards and coconut ice cream, but at the other end of the scale, there's a potato gem waffle topped with poached eggs, avocado and spice beans, which quite frankly, sounds irresistible.
Joedy's Cafe
New Farm
This is one meal you'll want to whip out your phone camera for. Joedy Cafe's is dishing up purple ube waffles, garnished with fresh strawberries, jackfruit, white chocolate ube sauce and black sesame ice cream. New Farm has it all.
Chapter IV
Paddington
Take a trip down south of the border with a taste of Chapter IV's Mexican-inspired breakfast cuisine. Their cornbread chilli waffle is perfect hangover fare—loaded with chorizo and beans, sour cream, pico de gallo, jalapeno and fresh lime, you'll have your energy back in no time.
Let Minnow
Clayfield
Order a dish worthy of waffling on about with a little help from Let Minnow. Housed in what was once the Clayfield Aquarium, the cafe's berry waffles come topped with fresh berries, maple syrup, and an entire waffle cone (filled with vanilla bean ice cream, of course). Who says you can't have ice cream for breakfast?
Prefer to get your sugar high in doughnut form? Click here to read all about Doughnut Time's all-new caramilk doughnut, The Caramilk Baskin.
Image credit: Sister Cafe, Daniel Hine (for Allora Black), Miss Jones, Sophie Spencer (for The Gift Shop)