Summer has arrived and the next four to six months of Brisbane weather is going to be hot and steamy, and we want to be out there lapping up every sun-drenched second of it. Sheltering in the aircon ain't living, which is why we're getting pumped to spend summer crawling around to Brisbane's best waterside bars and scoring some of that breeze blowing in off the Brown Snake.
So, grab your mates, celebrate togetherness and check out this sweet deal to score a two for one Aperol spritz.
Mr Percival's
Howard Smith Wharves
With pale green interiors and striped umbrellas on the terrace, a sesh at Mr Percvial's is like spending a boozy afternoon in a rich lady's sunroom. The aesthetic value of this riverfront bar is off the scale, and something about being close to the water somehow means that the entire hexagonal venue is flooded in the most flattering selfie lighting we've ever encountered. To drink, Percival's likes to mix it up with spritzes, cocktail jugs and plenty of wine. For snacking, Percival's offers a tidy menu of Italian eats including antipasto and pizza, which perfectly accompany a jug. Stay until the evening to see a DJ pump up the jam from atop the tower of spirits behind the bar.
OTTO Osteria
South Bank
You probably know OTTO as the spot for a luxe Italian meal by the river with freeflowing wine, but they're also a brilliant venue for a spritz with a view thanks to their bar, OTTO Osteria. Perched over the river with a breezy deck where you can nab a seat overlooking the city views, the bar is for walk ins only, and boasts a lengthy list of refreshing cocktails like the Strawberry Basil Smash. Peckish? You can also order up snacks like oysters, cheese and charcuterie, or a larger meal (yes, including pasta) if you're extra hungry.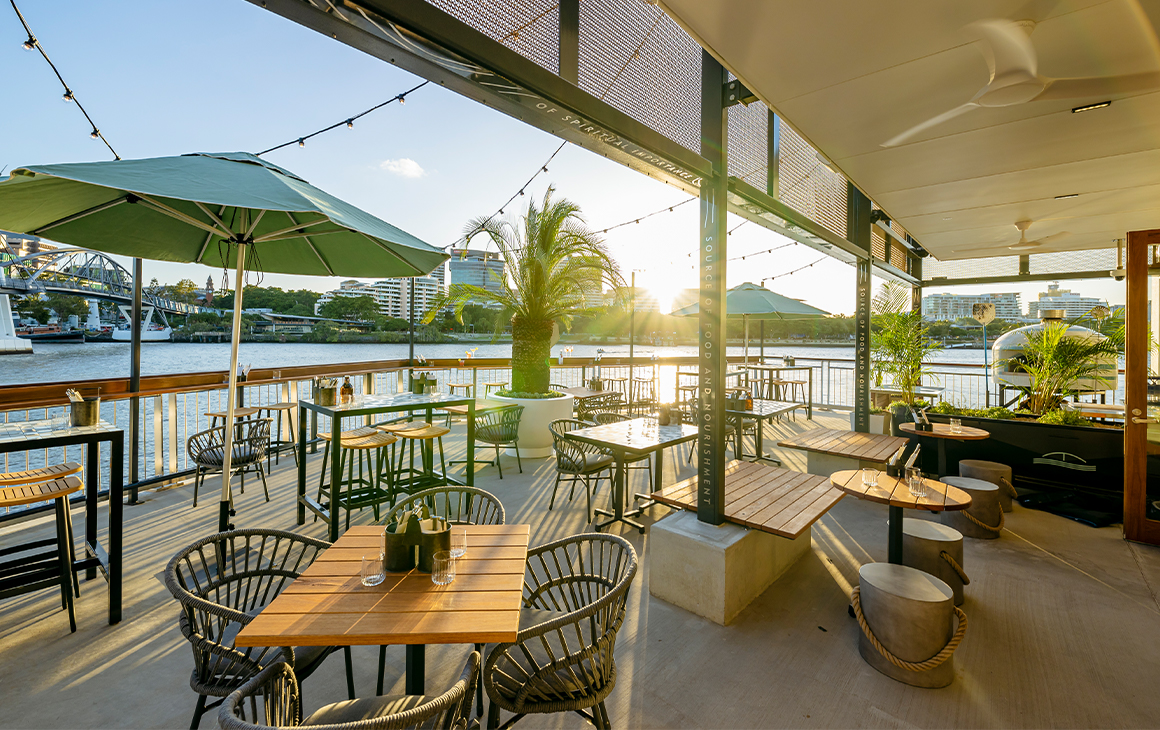 Will & Flow
Brisbane CBD
Will & Flow doesn't just overlook the water, it's over the water. From your perch above the Brisbane River here, you can sip on mango daiquiris while you nibble on seafood platters and take in the views of South Bank, and wave at the City Cats that charge past.
Mary Mae's
New Farm
Looking out over the river right next to the iconic New Farm Park, Mary Mae's replaces Watt as the Powerhouse's downstairs bar. Not to be confused with Bar Alto, Mary Mae's is accessible from the park, and is inspired by the sultry, soulful flavours of the American South. Expect burgers, fried chicken and a no fewer than three different iterations of the house cocktail: the Bloody Mary. Their breakfast menu is also an absolute riot so we definitely recommend incorporating Mary Mae's into your brunch rotation.
Riverland
Eagle Street
Comprised of a bunch of Brisbane's best street kitchens and a stonking central bar, Riverland is a revolutionary venue that allows guests to choose their own adventure. You want casual drinks with a mate? Take a seat at the 80ft bar and get a jug from one of their 16 taps. Feeling snacky? Get a bite from one of the rotating pop-up eateries in the shipping container kitchen. Whatever your fancy, Riverland can serve it with a side of river views, our favourite add-on.

Felons Brewing Co.
Howard Smith Wharves
The thrumming heart and soul of the Wharves, Felons Brewing is as hospitable as they come. Besides offering a cracking selection of beers (all made on site), Felons also fires up some of the best pizzas and pub grub in town. Felons is spread across an indoor seating area, a patio, a waterfront promenade AND a grassy knoll, but if the place is packed (which it probably will be), the entire precinct is licensed you can take your pizza and a jug down to the concrete steps on the water's edge and have yourself a boozy riverside picnic.
Tide Wine Bar
Manly
For this last one we're heading out west to check out the Tide Wine Bar. Positioned on Many's William Gunn Jetty, this overwater bar is the only one on this list with a view of the Pacific Ocean. How. Good. Tide covers everything including breakfast, lunch, tapas, dinner, and of course some slamming cocktails. Come by for live music from 3pm until 6pm on Sundays.
Wet Deck at W Brisbane
Brisbane CBD
Extending out from the city's W Brisbane, the Wet Deck bar is the waterfront-poolside-rooftop hybrid we didn't know we needed. Complete with a pool, a license, and an eyeful of the magnificent sunset every afternoon, the Wet Deck is the ultimate place to stay cool this summer. Make sure you time your visit to intersect with a live DJ set.

Riverbar & Kitchen
Eagle Street
Nautical and nice, Riverbar is a self-proclaimed oasis in the city and we can't argue with that. This beer garden sits right on the water and sends out a saltwater pub vibe. With al fresco dining, cocktail jugs, and tonnes of outdoor seating, Riverbar is our first stop for a long lunch or an arvo sesh.
Editor's note: Riverbar is still currently undergoing rennovations after the floods earlier this year, but will be reopening in mid-October.
Byblos
Hamilton
Chilling on the water out Hamilton way, Byblos is Portside's resident waterfront bar. Named after the oldest continually inhabited city in the world, Byblos always seems to be heaving with people and it's easy to see why. Between their Mediterranean cuisine, seasonal cocktails and breathtaking river views, there are scant few places northsiders would rather spend their summer.
Prefer your cocktails up high? Check out Brisbane's best rooftop bars instead.
Image credit: Mr Percival's, Stokebar Q, Grace Elizabeth Smith, Howard Smith Wharves, Riverbar & Kitchen