With the rise of farm-to-table dining and zero-waste living, it's no surprise more and more of us are interested in where our food comes from.
As we learn more about animal welfare, GMO farming and food miles, the thought of locally produced, zero-waste nosh becomes more and more appealing. Here in Brisbane we're lucky to have a strong variety of grocers and stores to stock up on organic matcha powder and locally grown lentils. We've flicked through our Rolodex (made from 100% recyclable materials, of course) to source our favourite sustainable grocers in Brisbane.
Who said it's not easy being green? These are Brisbane's best bulk food stores.
The Source Bulk Foods
Various Locations
The Source Bulk Foods has been satisfying sustainable shoppers across Brisbane for a while. With grocers in both Bulimba and West End, The Source Bulk Foods are big advocates for the zero-waste shopping revolution, offering a smorgasbord of bulk wholefoods, healthy snacks and organic goods. We like to take our own reusable containers and meander through the aisles, scooping up everything from ground turmeric and Byron Bay spiced chai to activated charcoal and local Aussie bee pollen. Plus, they also have zero-waste dishwashing powder, bamboo toothbrushes, beeswax wraps and other handy zero-waste tools.
The Produce Wholefood Pantry
Ashgrove
Full of snacks, treats and wholesome meals, The Produce Wholefood Pantry is your one-stop shop for all things sustainable. The café-cum-grocer aims to make organic, natural, wholefoods accessible and affordable for your average Joe and Jemima. By eliminating preservatives, pesticides and as much human intervention as possible, this northside grocer makes it easier than ever to enjoy food as nature intended. You won't find food this natural bar going out and foraging for it yourself. Charming atmosphere in here too. Big ups.
Naturally Hooked
Redlands
If you're trying to get your pantry as full as possible, Naturally Hooked in Redlands has you covered. The store is full to the brim with package-free groceries including everything from beans and flours to oils, muesli and herbal tea. Plus, they've got a whole range of cleaning products. For bulk foods in Brisbane's south east, you can't beat this place.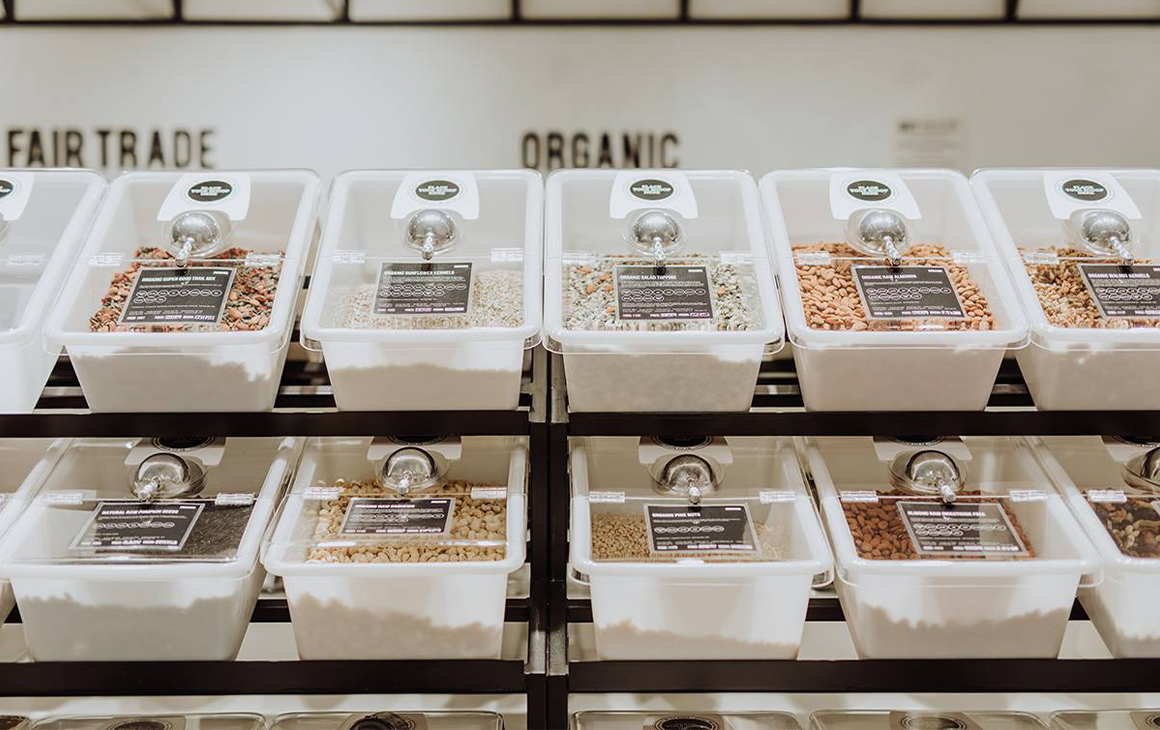 Naked Foods
Various Locations
One of the most widely spread bulk foods stores in Brisbane, with locations in Chermside, Indooroopilly Camp Hill, Toowong and West End, Naked Foods is all about organic, natural and sustainable foods. As well as your regular bulk goods like nuts, cereals, seeds, flours and coffee, you can also bring a bottle along for kombucha on tap, and reusable jars for nut butter and tahini.
Wray Organic
Various Locations
Despite their multiple locations across Brisbane, little Wray Organic seems to have slipped under the radar for a lot of Brisbane locals. Let's put an end to that. This certified organic market and café puts sustainable philosophy at the centre of everything they do. Every single product they sell is certified organic. Working alongside an impressive team of ACO-certified farmers and producers to source everything from dairy and kombucha to coffee and kimchi, Wray Organic empowers their shoppers to make smart decisions. We're big fans.
Market Organics
Various Locations
With a focus on working with a local network of growers and manufacturers, Market Organics began as an organic home-delivery company that aimed to support those wanting to eliminate chemicals and preservatives from their diet. While they still offer home delivery, they now also offer a product line that includes more than 8000 organic and wholefood items (did someone say organic salted butter caramel chocolate?). If you like the sound of freshly baked sourdough, locally and sustainably sourced meats, fresh produce and wholefood snacks, you'll enjoy wandering the aisles here.
Fundies
Paddington
What can be said about the glorious folk at Fundies that we haven't already said before? Fundies is a favourite among Paddington locals not just for their exceptional café and juice bar (which has a drool-worthy selection of vegan, vegetarian and gluten-free options), but also for the impressive wholefoods selection in grocer nextdoor. The team at Fundies understands how difficult it can be for shoppers to ensure that what they are buying has been sustainably produced or farmed. For this reason, they maintain the highest possible standards to make sure everything they sell supports their ethos of sustainable agriculture. That means you can stroll though the aisles and not feel guilty about picking up that extra packet of carob-coated almonds.
Flannery's
Various Locations
Largely regarded as the OG of wholefood grocers in Queensland, Flannery's is a super destination for those who are seasoned when it comes to sustainability, as well as anyone who's just wholefood-curious. Their teams are super knowledgeable and can share plenty of tips on how to incorporate healthy and sustainable shopping into your daily life. Top tip: If you head to Flannery's website you'll find an epic line-up of recipes—we know gluttony is a sin, but they have us daydreaming about vegan chocolate fondant with black forest ice-cream and we don't care.
Want more sustainable goodness? These are Brisbane's best ethical boutiques.
Image credit: The Source Bulk Foods