When it comes to great parmies, we're pretty spoilt for choice. Brisbane pubs, hotels and restaurants dedicate hours perfecting the parmy craft, so they can serve us up with crunchy, cheesy, golden chicken goodness. To help you get your parmy fix we've found some of Brisbane's best, with a little help from our readers.
Brisbane Brewing Co.
West End And Woolloongabba
Often hailed as the best parmy in Brisbane, this West End (which is now also in Woolloongabba) spot offers up an impressive, free-range chicken breast schnitzel crumbed and cooked to juicy perfection. The panko-crumbed Brisbane Brewing Co. parmy is topped with shoulder ham, bechamel, Napoletana sauce and mozzarella. Pair with a house-brewed beer, and you're in heaven.
The Paddo Tavern
Paddington
The Paddo has an entire section of its menu dedicated to parmies, with six variations to choose from. For a tasty twist, try their club parmy topped with tomato, avocado, bacon, cheese and bearnaise sauce, or the seafood parmy piled with salsa, garlic prawns, cheese and crumbed calamari.
The Regatta Hotel
Toowong
A classic in most regards, the parmy at The Regatta is known around town for being HUGE, at least according to @georgiahaigh. It's topped with the usual suspects and served with chips and salad. A definite favourite for Regatta regulars.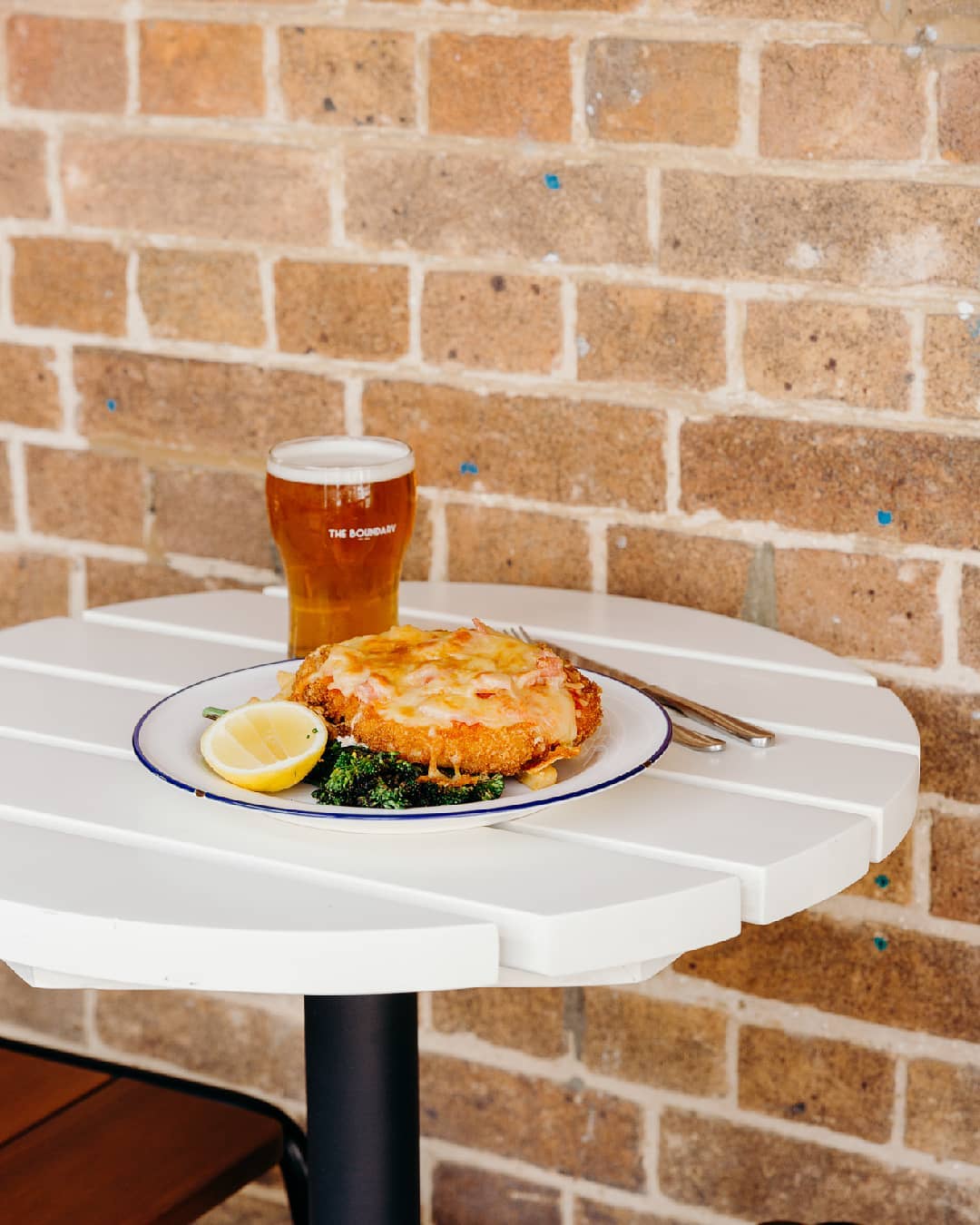 Boundary Hotel
West End
The Boundary is the spot to be for pub fare that's jazzed up, and their take on the parmy fits that brief perfectly. Park yourself in the sunny beer garden out the back or heritage-inspired public bar to munch on a classic schnitzel topped with double-smoked bacon, Napoli and mozzarella, served with fries, broccolini and gravy. Perfection, and according to @savoury_mince, the crumbage is supreme.
Breakfast Creek Hotel
Albion
While it may be a little unusual to go to the Breaky Creek and not order a steak, their parmy is worth the sacrifice. They offer up a traditional chicken parmy, served with slaw and chips and perfect for pairing with a XXXX off the wood.
Newstead Brewing Co
Newstead
It goes without saying that a pub classic pairs perfectly with a cold beer, and if you want that beer to be a local frothy, Newstead Brewing Co is the place to go. According to @franklyawesome, there's no fancy reinventions here, they just 'do everything right,' and we'd have to agree. To go with their parmy, served with slaw and hand-cut chips? A pale ale, of course.
Soapbox Brewery
Fortitude Valley
One cheese isn't enough at Soapbox Brewery, their chicken parmy features a grand total of three different cheeses. Panko crumbed and served up with a dash of fries, it also comes topped with the tastiest Napoli sauce, says @mrskatyalok.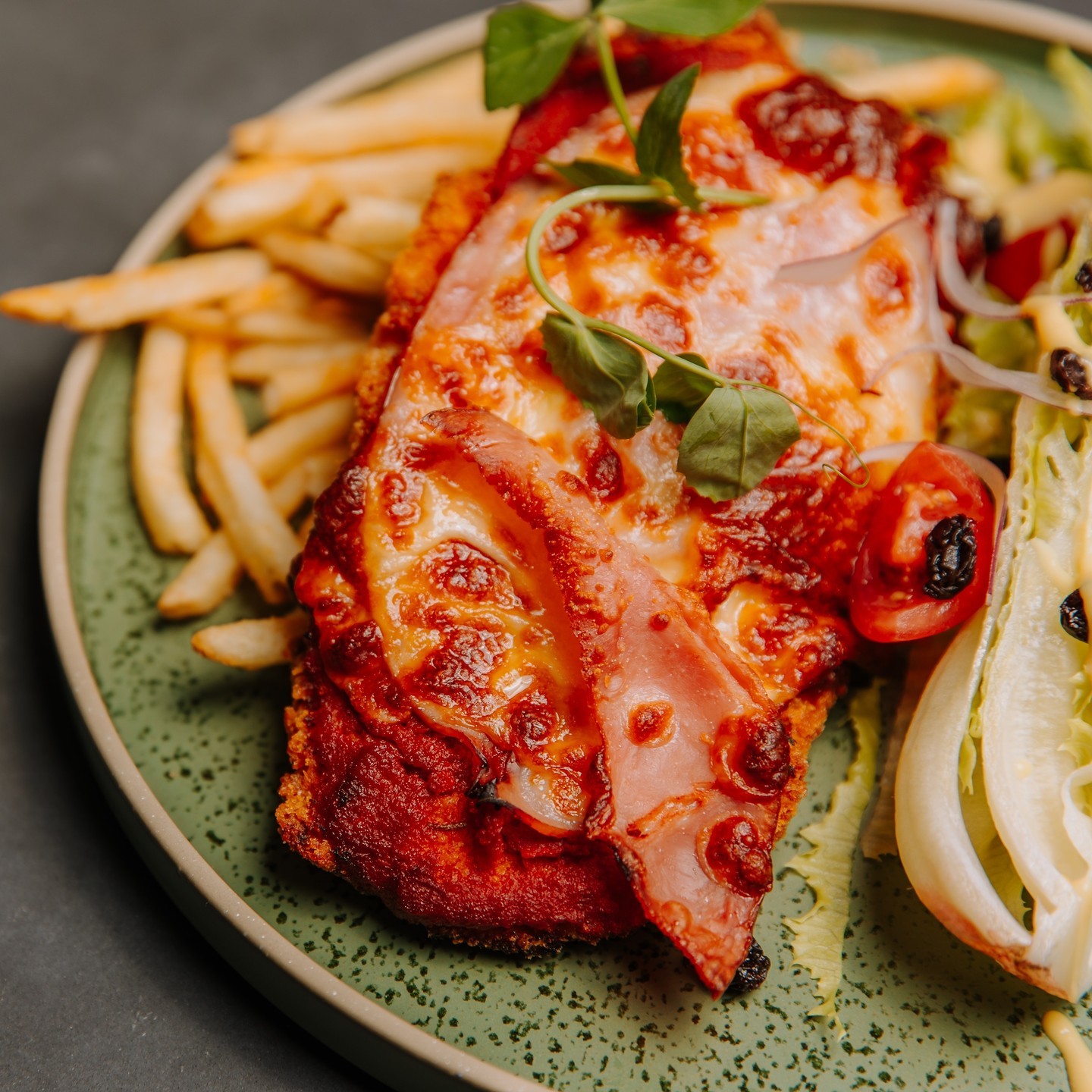 Newstead Social
Newstead
If your hanger levels have reached 'extreme,' get yourself to Newstead Social for one of their parmies, which are about the size of a small country. Topped with sugo, ham off the bone and mozzarella, they're just the cure for an empty tum. The eggplant and vegan mozzarella version is also a pretty good hunger buster, plus the bar just has a great atmosphere, says @jackiemspeirs.
Rocklea Hotel
Rocklea
The Rocklea Hotel's parmy is a double whammy—it's delicious AND enormous, or at least, @itsmecaitlinbee thinks so. If you're not quite up for a parmy the size of your head, they also do a lunch-sized version for a cheeky $18 that might be more your speed.
Cleveland Sands Hotel
Cleveland
After an epic multi-million dollar renovation of their beer garden, Cleveland Sands is just the spot to tuck into a saucy chicken parmy in the sun for lunch. Bonus, you might not need dinner afterwards, because this parmy is extra large. @At.on.the.bay couldn't even finish it all, but found it so irresistable he took half of it home.
Looking for more? Check out Brisbane's best pubs here.
Image credit: Brisbane Brewing Co, Boundary Hotel, Newstead Social