Brisbane might abound in natural splendours but camping takes getting back to nature to a whole new level. Not all camping spots are made equal, that's for sure. Toilets are a must—we really appreciate some things about modern society, after all—as are activities to suit every taste and a good old fashioned hiking trail.
Luckily, we've taken it upon ourselves to whip up a definitive guide to the very best camping in Brisbane (or at least nearby), so you can take the guess work out of where to head on your next trip. Now all you have to do is pack the car and gather the crew. You're welcome, guys.
Condondale National Park
From beaches to forests, it's all available for camping near Brisbane. Camping at Condondale (specifically Booloomba Creek) in the Sunshine Coast Hinterland will give you your fix of the latter, where you pitch your tent in lush rainforests. Once again, high-clearance 4WDs are the only vehicles that can get you to the spot, but for the crystal-clear waters of the nearby creek, it's so worth it. There are specially set fire rings for safe campfires, toilets nearby and designated camping spots, which you have to book here.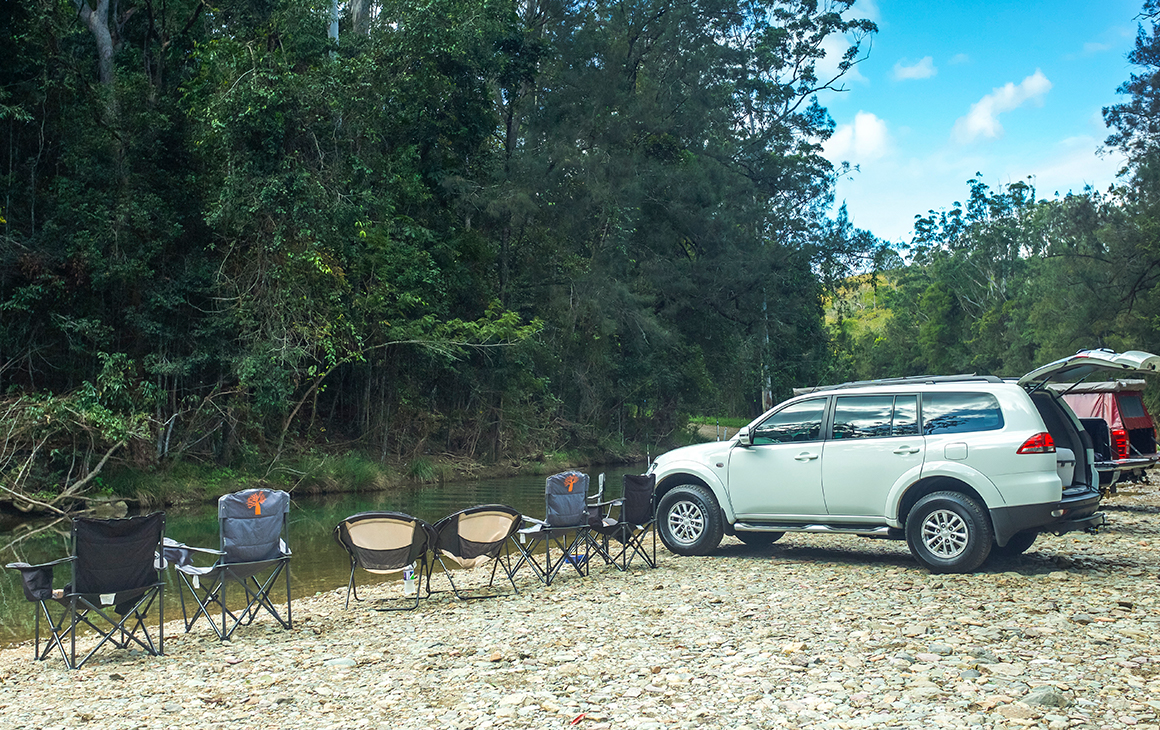 Bribie Island
Similar to Moreton, Bribie is unreal when it comes to camping in Brisbane. You can camp in the bush or on the beach on this infamous island' one spot is even so secluded that you can only access it by boat. Most of the sites have showers, toilets, barbecues, picnic tables and designated campfire circles. Besides unplugging and recharging, you can boat, fish and explore the expansive beaches and forests.
Wivenhoe Dam
A bit of a slower speed, Wivenhoe Dam is your spot if you're all about kayaking and canoeing. Because there are no powered boats allowed, the water is very calm which makes for an enjoyable, relaxing experience or a spot of fishing. If you want to elevate your experience, make a beeline for the Pure Glamping tents. But if you want to get some use out of that tent you bought last summer, pitch your own on the grassy banks of the lake.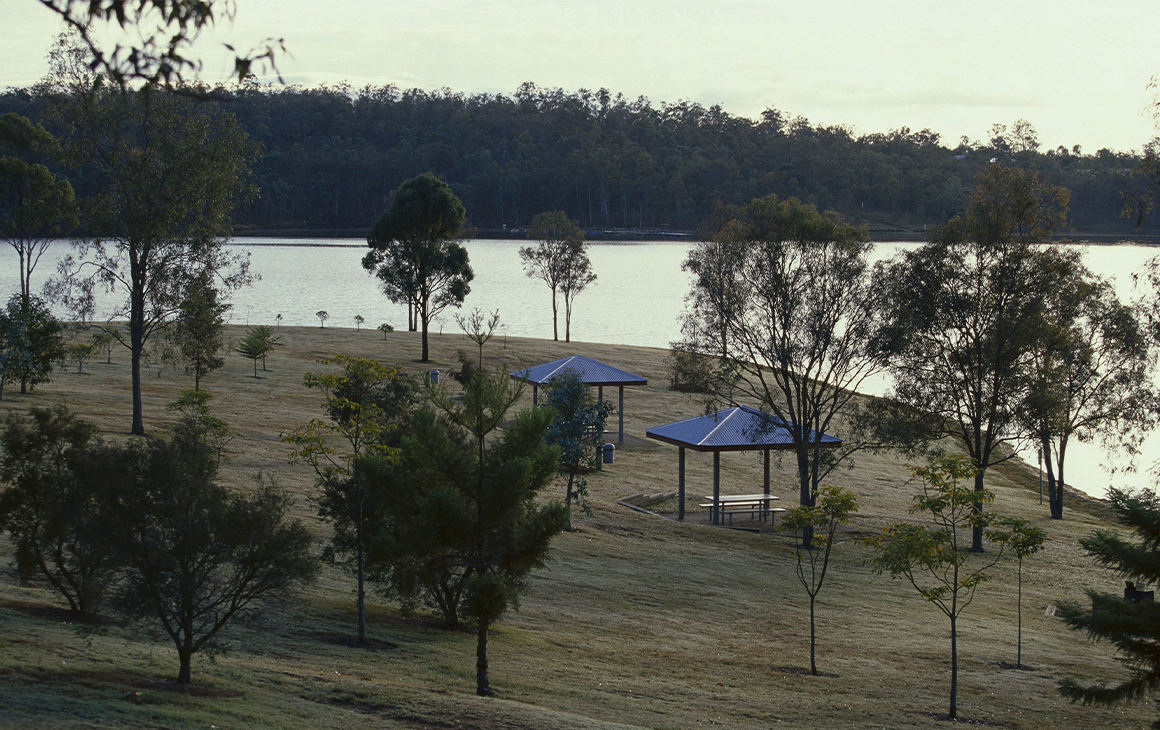 Stradbroke Island
You guys, nothing gets better than pitching a tent on the beach with a skinny latte in hand—which is exactly what Cylinder Beach on North Stradbroke Island has to offer. If you're a surf aficionado this spot was made for you, being only a few steps away from one of Straddie's most iconic surf beaches. Shopping enthusiasts can also do some damage at the nearby strip of cafes, boutiques, and restaurants of Point Lookout. Phew, we're exhausted just thinking about it, which is why you should remember to head on over to the Stradbroke Island Beach Hotel for a few cheeky afternoon beverages.
Lake Moogerah
Lake Moogerah Caravan Park is situated directly on the shore of stunning Lake Moogerah, a pristine slice of Queensland wilderness located a lazy 100 kilometres from the CBD. Framed by mountains and featuring one of the most tranquil lakes you'll ever see, Lake Moogerah is a favourite with both water-sports lovers and star photographers alike—meaning that the range of activities on offer is sure to keep every member of your party happy. Pitch a tent and curl up with a good book and we promise you won't be disappointed with this total retreat from the hustle and bustle of city life.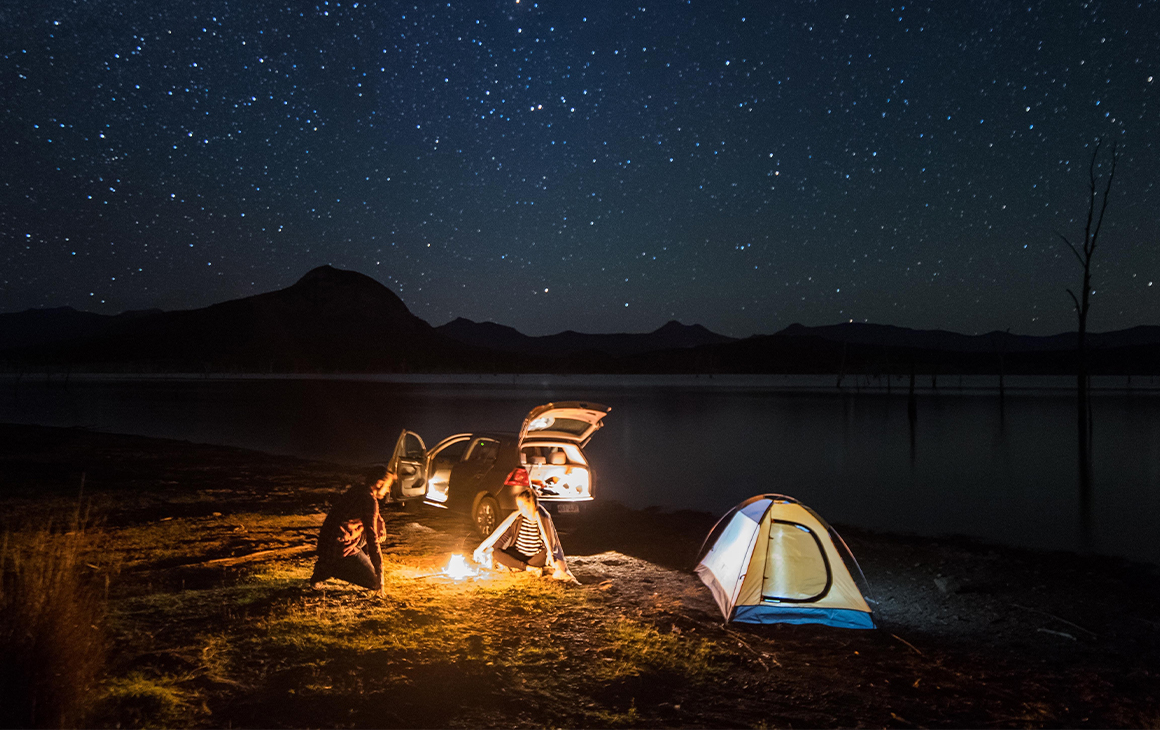 Bigriggen Park
Nestled between roughly 100 acres of hilltop greenery, gently winding rivers, towering gums and perfectly grassy sites, Bigriggen Park is one of Queensland's best kept secrets for a very good reason. An hour-long hike away from the campsite will bring you to a stunning swimming hole perfect for a post-hike dip, while creeks aplenty provide a burbling soundtrack to your relaxation. With a cap of 700 campers, even in the hectic long weekend season, staying at Bigriggen Park will feel like a true getaway into nature at any time of the year. Well, what are you waiting for?
D'Aguilar National Park
A quick 30 minute drive will land you at D'Aguilar National Park, a leafy camper's dream complete with all the creature comforts. The campgrounds are right next to Neurum Creek and draw a crowd for its trail bike riding tracks, swimming and stunning hiking paths. Pitch your tent and keep an eye out for a stunning blue-green-winged butterfly or two. Interestingly, Neurum Creek is one of the D'Aguilar Range's last natural breeding sites for Richmond birdwing butterflies, and you can often spot them flitting around the water at the creek.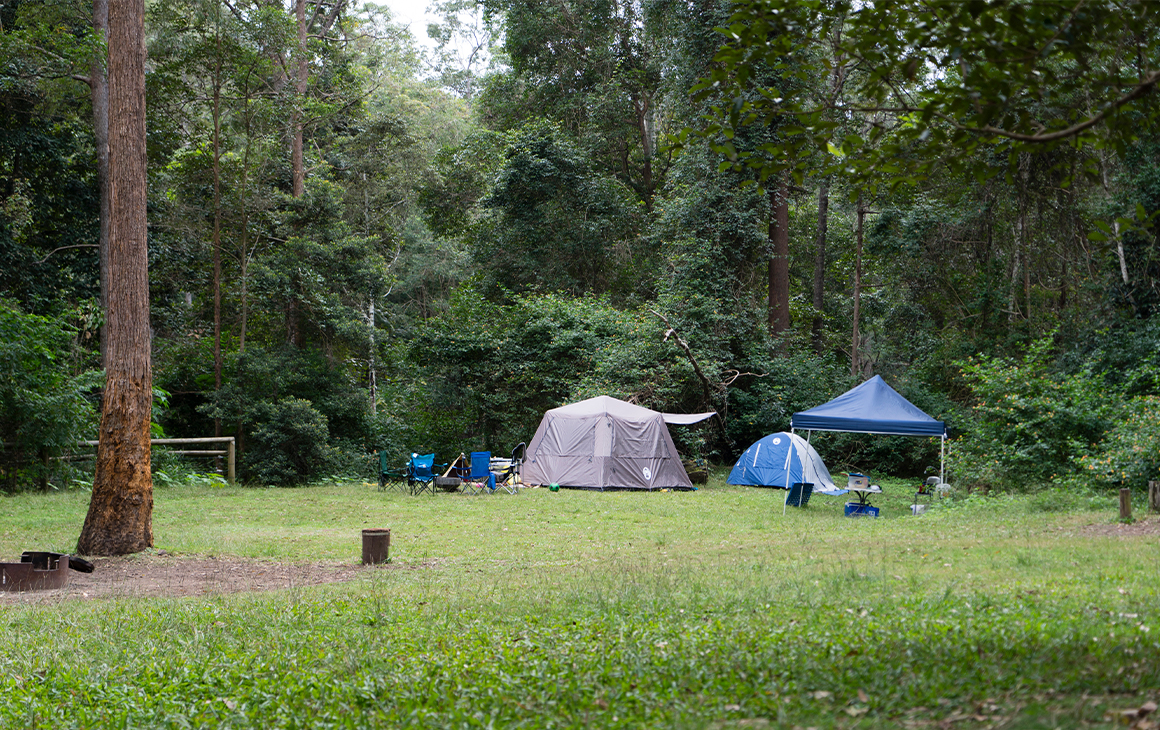 Amamoor Creek
Quick, name five things you know about Gympie off the top of your head. If Amamoor Creek isn't one of them, I hate to break it to you but you've been missing out on life. With two campgrounds in the vicinity—Cedar Creek Grove and Amamoor Creek—Amamoor Creek is a camping lover's dream with massive hoop pine trees, a swath of grassy land to pitch your tent, and kilometres of hiking through a bird-filled forest. Oh, and it also only costs $7 a night, so it's basically perfect. We'll see you there!
Lamington National Park
A camping spot guide just wouldn't be complete without at least one mention of Lamington National Park. Home to many of Queensland's best natural wonders, like Natural Bridge and Morans Falls, Lamington also boasts two camping grounds: a public one located in the Green Mountains section of the park and a privately-managed one adjacent to the Binna Burra section of the park. Both are awesome and provide access to the vastly different sides of the national park. While the process of acquiring a permit to camp in Lamington can be a bit of a hassle, due to the local governments desire to protect its pristine beauty, the end result is more than worth the trouble.
Moreton Island
Feeling like more of an 'island paradise' Brisbane camping trip? Moreton Island is where it's at. Now, there is a bit of prep involved so be sure to heed our (and Brisbane City Council's) advice. First of all, access to the camping spots and navigating the entire island is with high-clearance 4WDs only—the Corolla hatchback will not cut it. Secondly, you've gotta scoot over on the ferry which you'll need a pre-booked ticket for. Got your cruiser and your ticket? Great, now the most prime camping awaits you—secluded beachfront spots, snorkelling, diving, bird watching, sand tobogganing, bushwalking, fishing and even dolphin feeding.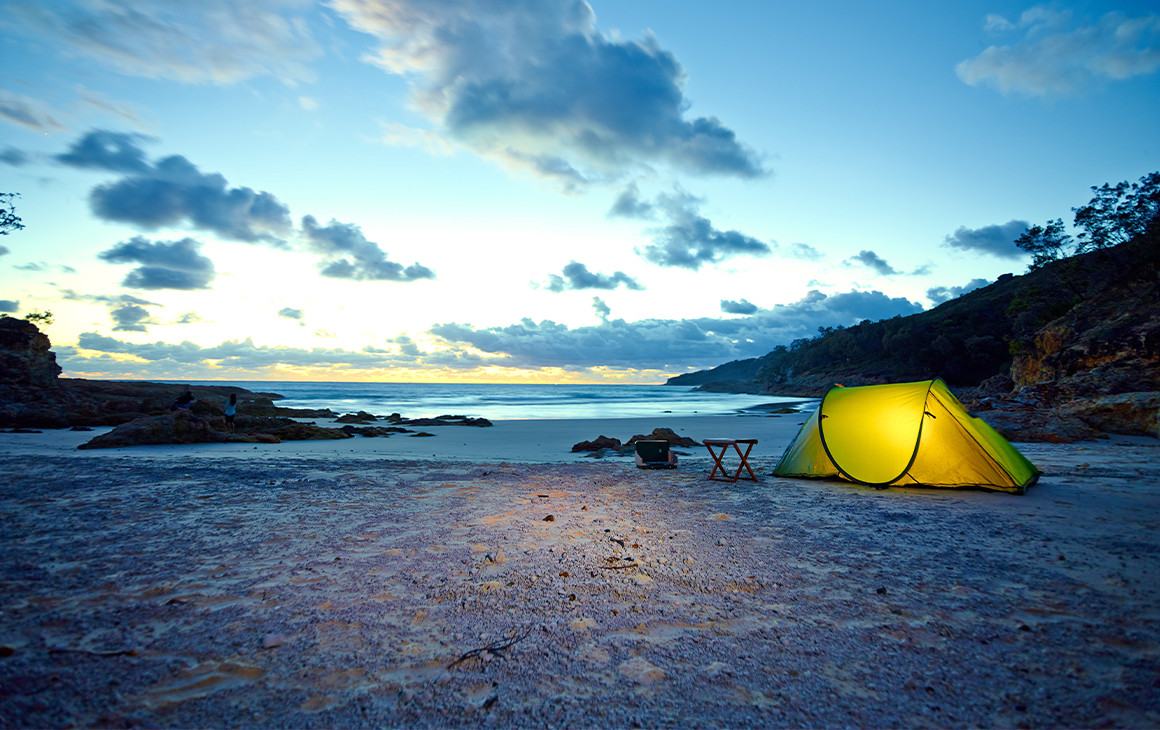 Mount Barney National Park
Located only an hour and a half away from Brisbane's CBD, Mount Barney National Park is a must-see for the seasoned adventurer among us, as the campgrounds on the mountain itself are only accessible by foot. That being said, there are a few campgrounds close by—chiefly the Mt Barney Lodge campground—for those who are keen to explore the stunning natural beauty of Mt Barney and retreat to a safe haven at the end of the day. Rising like a sentinel from the surrounding hills, Mount Barney's summit offers some to-die-for views of the surrounding landscape and more than one stream of water to traverse. Don your best fedora and pretend you're Indiana Jones, guys, because you're about to have the camping adventure of a lifetime.
Peach Trees Camping Area
Set beside the gorgeous Yabba Creek, in Jimna State Forest, Peach Trees camping area is the perfect weekend getaway for the family. A number of walks leave from the camping area, the most popular of which being the 700 metre Yabba Creek Circuit Walk which crosses a suspension bridge and delivers you to the opposite side of the creek, where you can dip your toes in the cool, sparkling water. Open fires are also permitted in barbeques and fire rings, so make sure to pack some extra marshmallows for a truly authentic camping experience. Plus, the campground's called Peach Trees and that is the most adorable thing we've heard all week.
Want to get a bit further away? Here's where to find the best camping in Queensland.
Image credit: Chris Holder