Have you ever visited Pearl Café? Well, you'll know her work. Jade was the one responsible for decorating the countertop with the bountiful selection of cakes, tarts, éclairs, brownies, and danishes.

More recently, she's taken a leap of faith and started up her own venture, Cake Kiosk. Transforming a '70s-built vintage caravan into a sweet tooth's haven, she's decked it out with a commercial kitchen, couch-cum-coffee-corner and a quaint front countertop. Yes, this is where the magic happens. Busy cooking up a storm during the week, Jade carts the van all over Brisbane on the weekend to sell her baked goodness. You may have already spied her at the Powerhouse markets?
Aptly dubbed (by us), The Queen of Cakes, we've been in the presence of this foodie legend before. But, not to this extent. We caught up with Jade, inside the Cake Kiosk and at her beautiful Greenslopes home, to find out more about the woman with the glorious gift for desserts.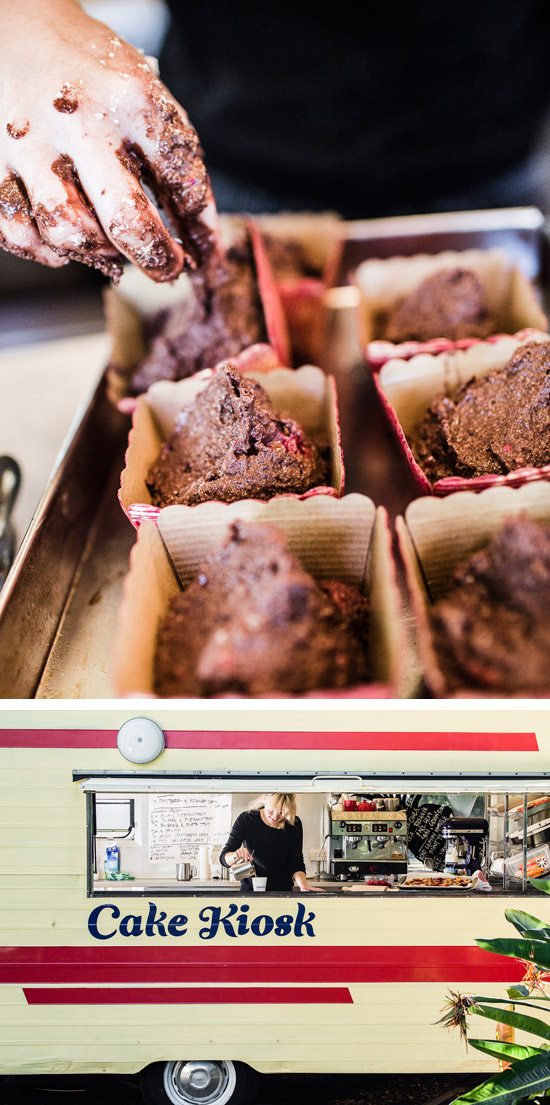 TUL: Tell us a bit about your training and background? Where have you previously worked?
JH: I started my apprenticeship as a chef, when I was 18, in Victoria. When I was 24, I moved to Brisbane and finished my apprenticeship at Green Papaya in Woolloongabba. After that I worked at Vine Road Deli, before moving onto Jocelyn's Provisions for 4 and a half years. I always did desserts and cakes everywhere I worked, but wanted to focus on becoming a pastry chef. A friend told me that if I wanted to do a pastry apprenticeship, Jocelyn was the woman to learn under. So that's where I went, and did another 4-year apprenticeship as a pastry chef. I loved it there. There were 16 girls in the kitchen and some of them are still my closest friends. We were all terrible together, eating brownies and cakes the whole time. I then went over to Japan for a stint. When I came back to Brisbane I was looking for somewhere to work and that's when I walked into Pearl Café. I had breakfast there that morning and just fell in love—I knew that's where I wanted to be. I went home that day and called the owner, Dan to enquire about a position and the next thing I knew I was working in the kitchen. I started out doing breakfast and lunch, as well as baking muffins, brownies, and rocky road. From there, the cakes and pastries just built up and built up and built up to the point where I could no longer share the kitchen with the rest of the chefs. That's when Dan decided to turn upstairs (his living quarters at the time) into a kitchen. And it went from there…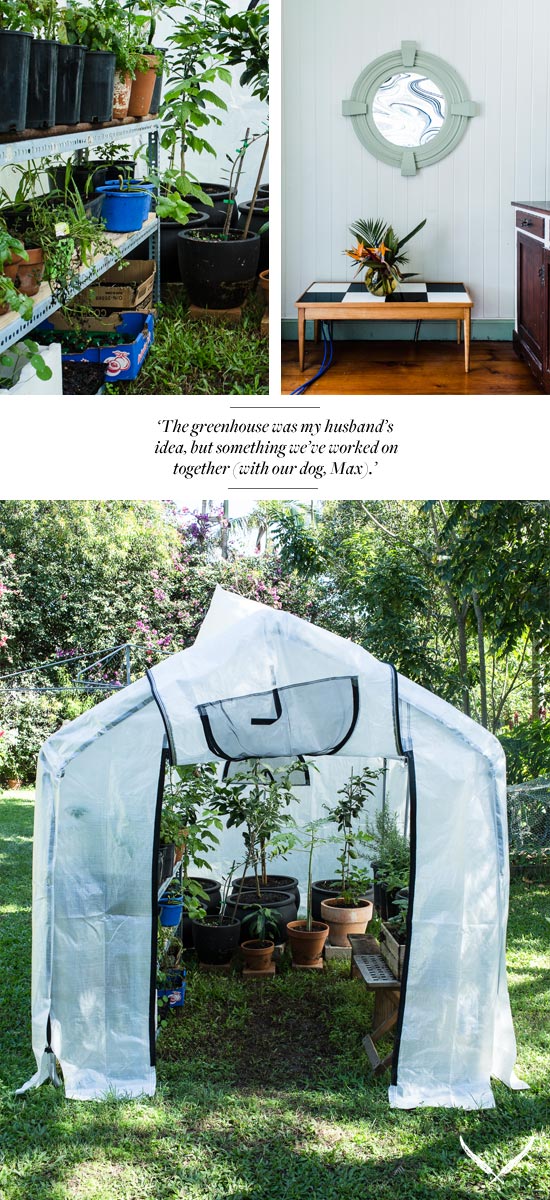 TUL: When did you decide to make the transition between a chef and a pastry chef?
JH: I always loved baking at home when I was young. I always baked cakes for my Dad and brother. My Mum can't eat sugar, and she hates cooking, so I took to the kitchen. At my first job, as an apprentice at a gastro pub in Victoria, I was in charge of entrées and desserts. From that point, I just knew desserts were what I liked. Now, here I am, and that's what I do.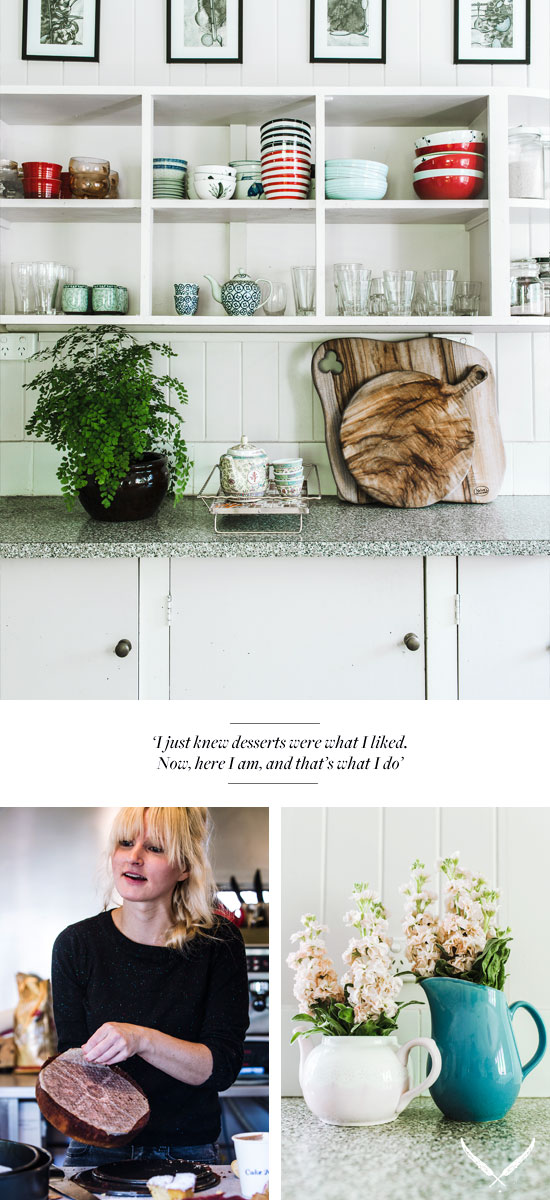 TUL: When did you decide to start Cake Kiosk?
JH: It was a year or so before buying my caravan that I started seriously looking for some form of a food truck. I nearly fell of my chair when I saw how much they were going for. Besides the price, I didn't really like any of them. They were either brand new and looked like a cold room on wheels, or they were a greasy old kebab vans that were foul and still overpriced. I guess I was drawn to my van because someone had already converted it in the '80s, and it had the cute window and counter. And, a bit of charm.




TUL: Where did you source the caravan? Who did the fit-out?
JH: When it came to buying my caravan, it was very spur of the moment. I was trawling through eBay, like I always do, and found it. That was on Sunday, and by Monday it was sitting in my driveway—it only just fit. I got home and was like, what have I done? My husband and I had to get the driveway widened just so that it could fit properly—that was in October. From there, I gave Pearl my notice and set off on my own adventure. For the next four weeks, I'd just go and sit in the van and get a feel for it and try and decide what I wanted to do with it. I then got a draftsman to come over and draw up the plans, got the builders on board and 6 weeks later I got it back. Two days before Christmas, so it was a pretty good present.




TUL: Where can we find Cake Kiosk?
JH: At the moment, mainly Jan Powers Powerhouse Markets. During the week I do wholesale and a lot of customer orders. I basically give out my card wherever I can, and am now doing a whole lot of one off orders; birthday cakes and wedding cakes. I've done three wedding cakes so far, and have two more booked in. I also supply to a few restaurants and cafes. I'm really aiming for 2-3 big clients with weekly orders, and then the rest are just order as you go. I'm also a bit of a rev head and love cars, so I've been taking the Cake Kiosk to a few of the vintage car rallies. They're great because they're free events, I'm the only one supplying coffee, and food, and there are nearly 800 people at these kinds of things. I'm actually going to be doing Splendour In The Grass this year, too. I'll be parked in the Very Small Mall. It'll be really fun. Apparently, there will be a day spa and a champagne bar in there too, which is a bit fancy.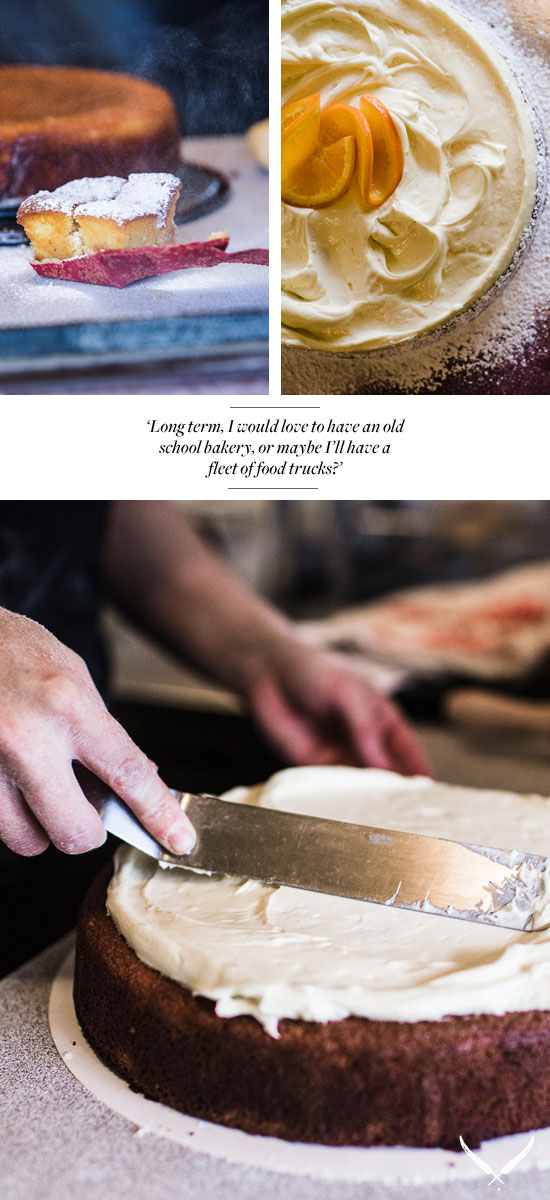 TUL: What a typical week look like for you?
JH: I'm baking probably 5 or 6 days a week. I try to have Sunday as a day off, but if it's after the Saturday markets or another event, I'm usually cleaning the van and packing it back up with all the equipment for the week ahead. Monday I try to keep as a planning day—I try not to bake on Monday. I leave it for ordering, accounting, invoicing, emails, quotes, and planning for the rest of the week. I order all my ingredients wholesale once a week, as well as a weekly visit to the fruit shop to buy a bulk order.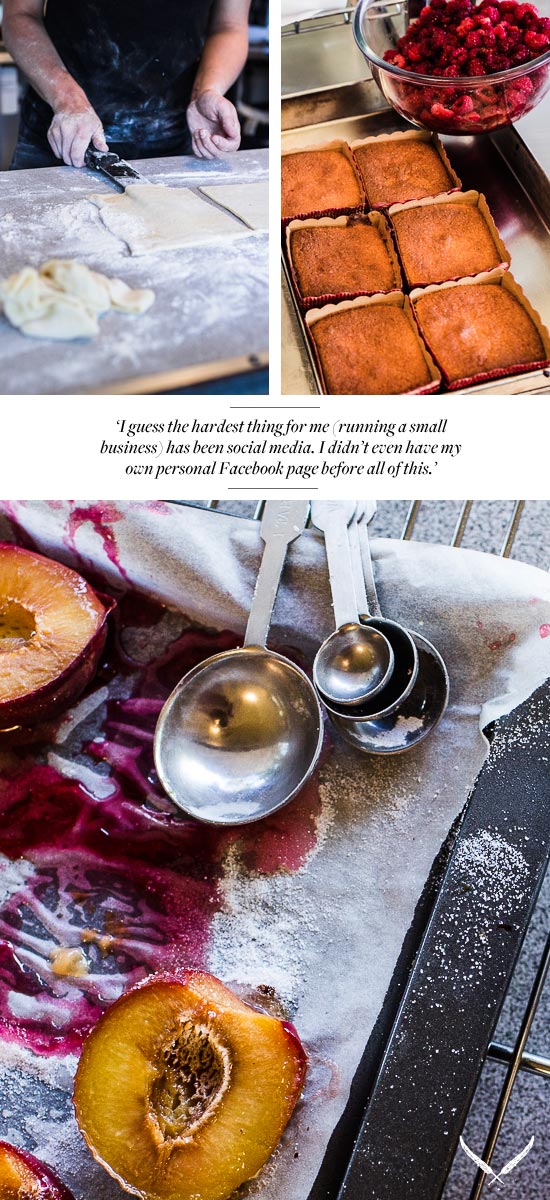 TUL: What's it like working for yourself and running a small business?
JH: It's more work, but different work. When I was working at Pearl, I was getting up anywhere between 2-3am, 5 days a week. And that wears you down a bit. Now, on market days, I get up at 2.30am, but that's really only one day a fortnight. The rest of the time, I get up at around 5am depending on what orders I've got on that day. And, I don't have to get properly dressed—I do get out of my PJs, don't worry. Baking aside, I guess the differences are that I now have to deliver all the cakes, order all the ingredients, and do all accounting and invoicing—the business side of things. I just did my first BAS statement with the accountant. Now, that was a HUGE learning curve. Also, looking after the caravan. Three weeks in, the jockey wheel broke, and I'm like, what on earth is a jockey wheel? But, you Google it and work it out. While the business side of things has definitely been tricky to get my head around, I guess the hardest thing for me has been social media. I didn't even have my own personal Facebook page before all of this. Now, I've got Facebook and Twitter and I've got to keep on top of all of that.

TUL: How hands on are you? Do you employ other staff?
JH: I do all my cooking in the van parked in my driveway myself—it's a commercial kitchen. The initial setup was a big outlay with the fit-out and equipment a big expense. Other than that, it's literally $25 a week for power, which is ridiculous. Baking from home is a great way to get around a paying a lease, superannuation, and massive insurance. I do have to pay staff, or my main girl, Cara (a good friend) when I go to the markets, or an event as I can't do it all myself. Cara was the floor manager at Pearl and is great on the coffee machine— she smashes them out and they're all perfect. Other than that, my husband helps me with all the moving and cleaning. Basically, he gets home from his high-pressure media job and gets roped into moving the van around and hooking power up. I don't think he minds it.




TUL: Any pipeline plans? What's next for you? Big dreams?
JH: I'm sort of still getting my head around Cake Kiosk. I'm only really 4 months in. I mean, long term, I would love to have an old school bakery, or maybe I'll have a fleet of food trucks? If I wanted to do that, I'd have to buy a bigger house to park them all—it'd be like a bus terminal. I do really love the Veggie Patch van in Sydney. It's all vegetarian food in a big Winnebago type truck. Next time, I'd definitely buy something like that so that you don't have to worry about hooking the van up to a truck. It would make things a lot easier. I love The Bun Mobile, too. Oh, and Wandering Elephant!




TUL: Leisure time?
JH: I love gardening. We've got a big backyard, and a greenhouse, too. The greenhouse was my husband's idea, but something we've worked on together (with our dog, Max). Other than that, just relaxing; reading, having a few drinks with friends, and going out for brekky.

TUL: Favourite place to eat?
JH: Sono at Portside for something special, or Crosstown Eating House for the whiting burger—I hope it's forever on the menu.

TUL: Favourite coffee spot?
JH: Grindhouse Specialty Coffee or Reverends Fine Coffee. Although, having a coffee machine and Genovese coffee in the caravan means I get my daily caffeine fix at home while baking, most days.

TUL: Favourite place for a drink?
JH: My kitchen and backyard, or the local pub with friends.

TUL: Favourite place to shop?
JH: Any outdoor food market for fresh produce, or Rocklea Markets for plants.




Since catching up with Jade, she's made into Gourmet Travellers Hot 100—the global hit-list for the most exciting food and drink trends across the nation. This is an absolutely outstanding achievement, and one we wish to congratulate her for!
We've also pried into the lives of Marcus Allison of Bunker Coffee and Jessy Cameron of Molten Store... Have a squiz!