Ok, so we've cracked the code. The key to a consistent supply of serotonin is to always, ALWAYS have a trip booked to look forward to. We are keeping our eyes on the Scoot website for those sweet cheap international flights too, but sometimes a bit of a staycaish' is just what the doctor ordered. Even better, a staycation in the most aesthetic Airbnb's known to man, just a short drive from home. Stay legit inside the pages of Australia's most prestigious interior design magazines in these stunning design Airbnbs around Brisbane.
Cabin Retreat
Gold Coast Hinterland | Sleeps 4
Starting strong we have the Cabin Retreat in the Gold Coast hinterland. With interiors that give the British house in 'The Holiday' a run for their money, this homey yet luxe cabin is the perfect spot to unplug and unwind from the frantic city energy. A huge-as indoor fireplace awaits you, as does the original claw foot bathtub. Two bedrooms mean you can bring your bestie and her questionable new man and wine the night away in the downright expansive kitchen. Get organised though, as this beauty is pretty booked out for a few weekends ahead and you do not want to miss out. Book a stay here.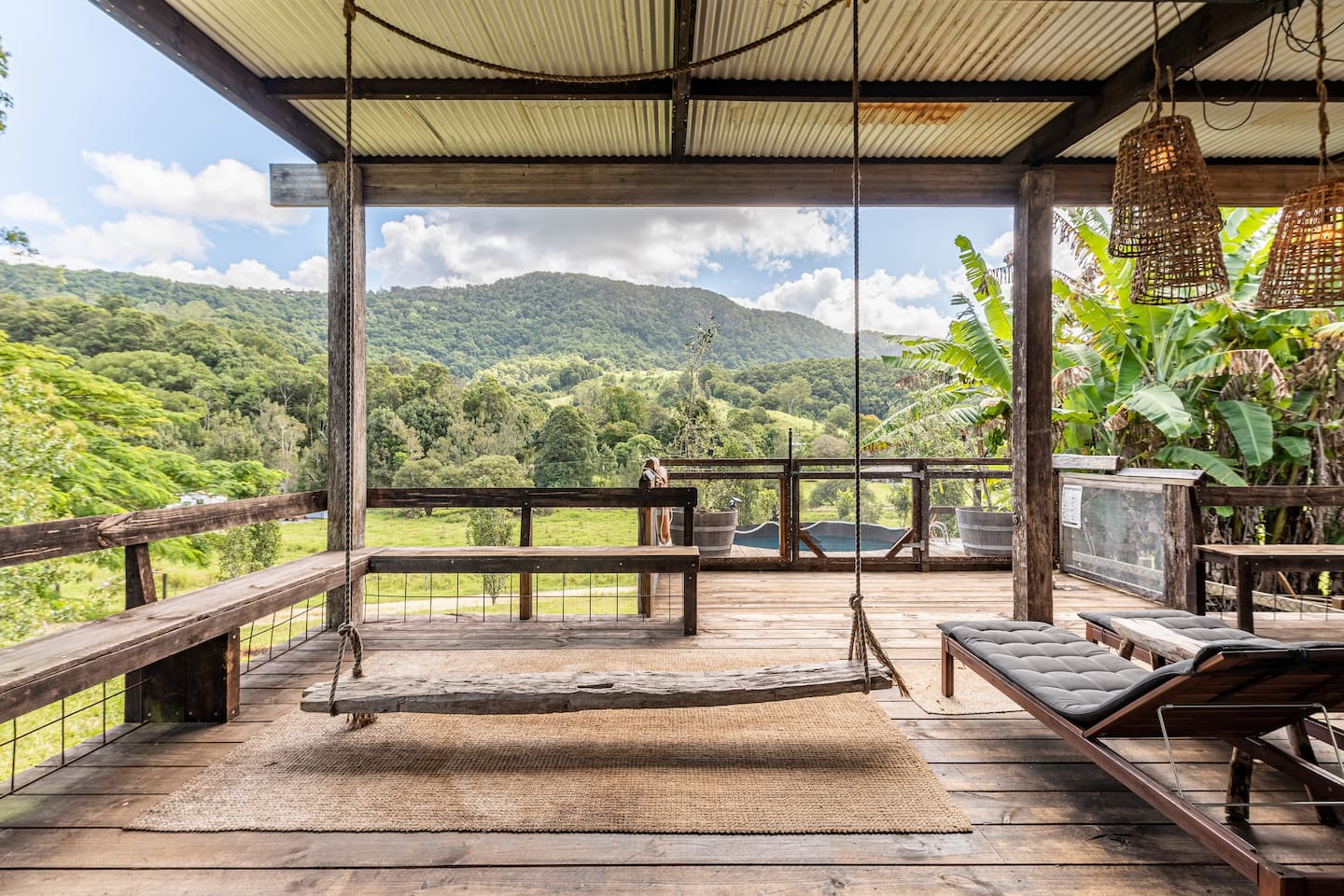 Hillview Dairy
Currumbin Valley | Sleeps 8
Another celebrity Airbnb fresh off the pages of Qantas Travel Insider Magazine, Country Style and even us, Hillview Dairy is your farmhouse-chic dreams personified. A stone's throw away from the southern end of the Gold Coast, the Hillview Dairy overlooks the stunning Mt Tallebudgera and Currumbin Creek and Valley. How's that for screen-free time? In true five-star hosting fashion the hosts have kindly left some retro cruiser bikes with baskets to explore the valley, waterfalls, rock pools and the nearby markets. Book a stay here.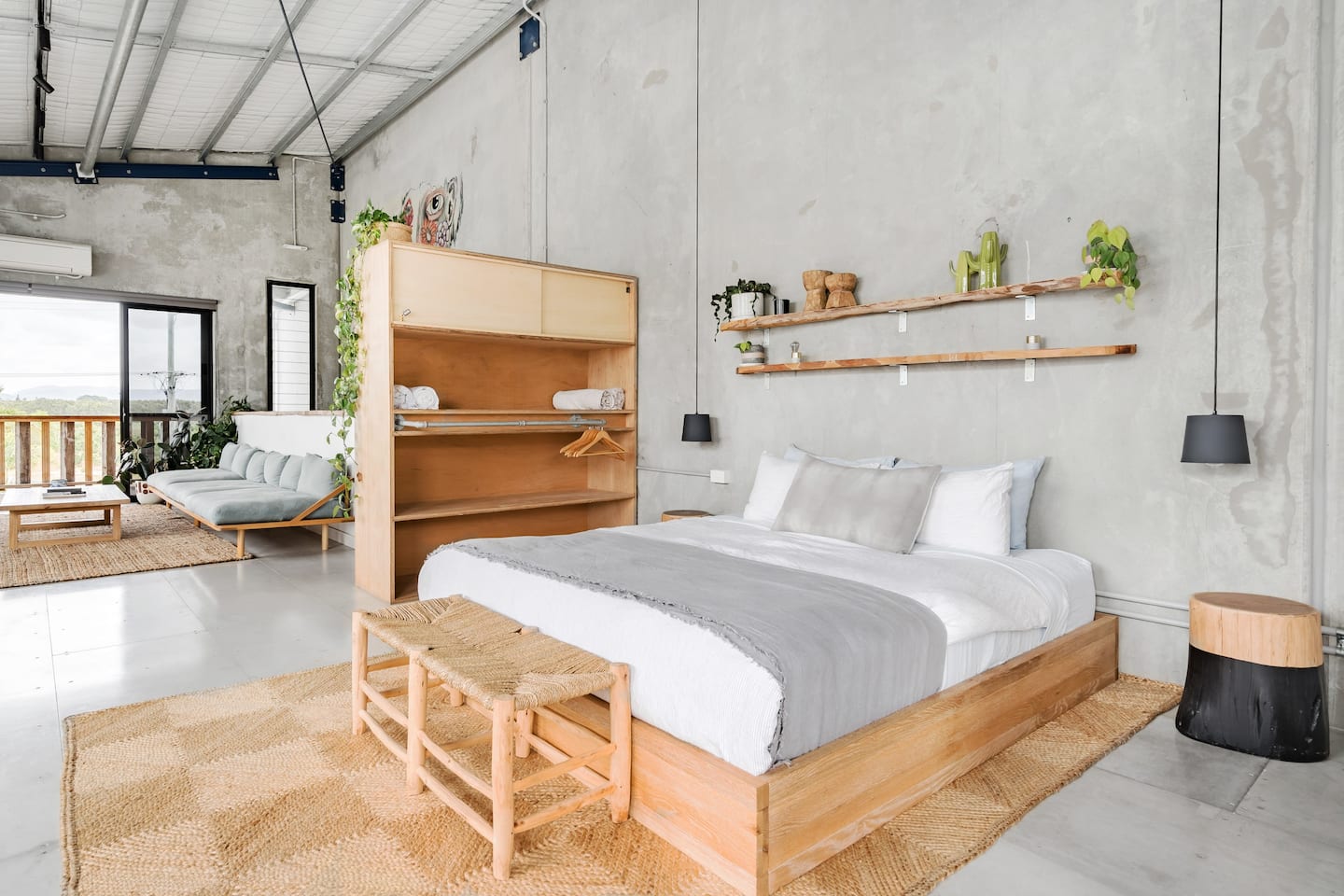 Artful Warehouse Conversion
Byron Bay | Sleeps 2
Oh Byron, God you're good. A quick two-hour drive will land you not only at some of the coolest restaurants in northern New South Wales, but also at Artful Warehouse Conversion - the perfect spot to stay to soak it all in. Serving loft vibes, the hoards of reviews all basically say the same thing: 'This Airbnb was the best we have ever stayed in.' There's free parking, complimentary bikes for exploring AND (the best bit) you can bring your pets. Surprisingly, there are still a bunch of weekend spots free so get to booking here.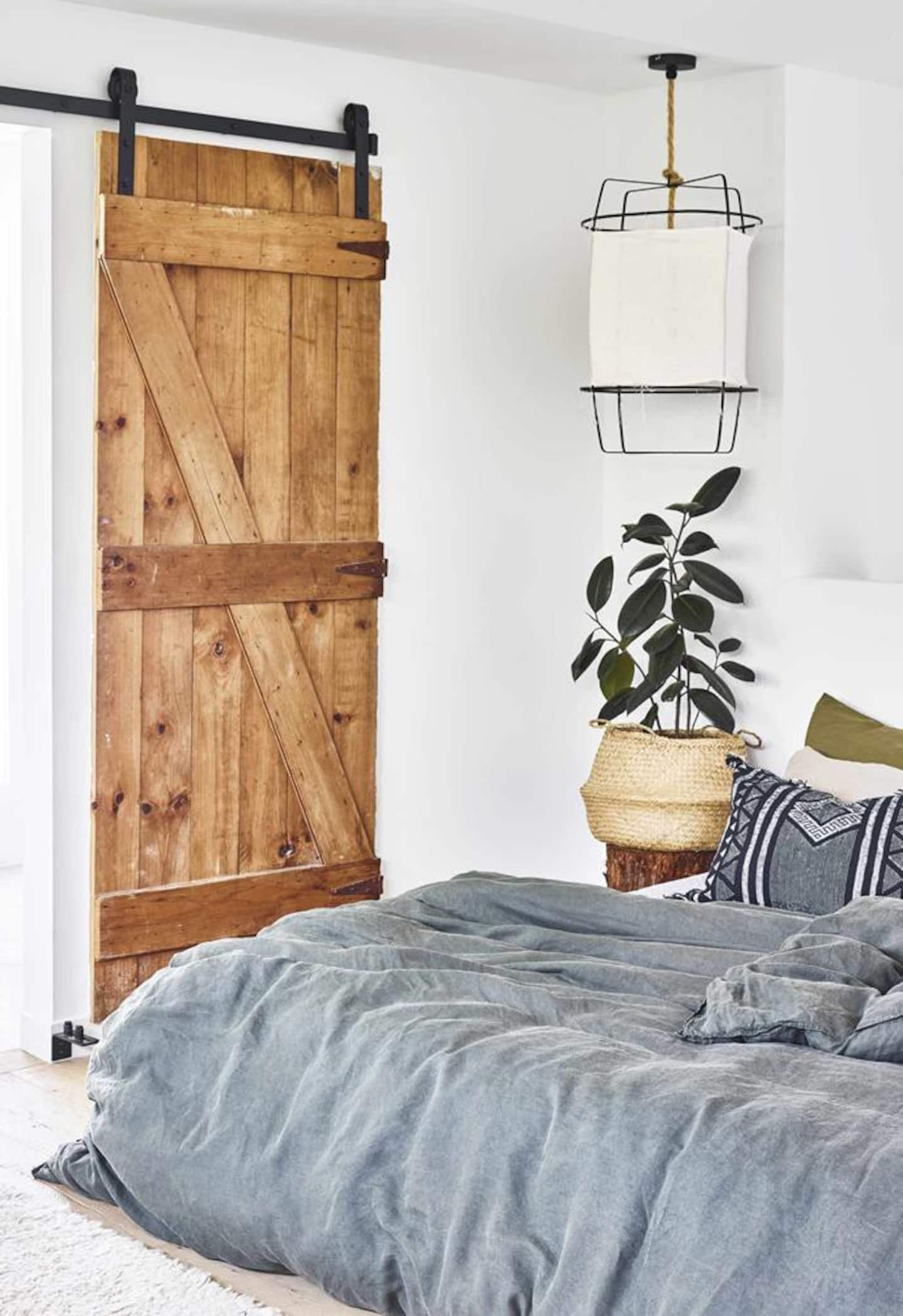 The Palm & Pool House
Mooloolaba | Sleeps 8
In the heart of bustling sunshine coast town Mooloolaba, The Palm & Pool House sits luxuriously- waiting for you. The absolutely perfect spot for large groups or families, this Airbnb is straight out of Inside Out magazine (literally, they were in the 2019 issue), and has everything you could ever need. Every finish and detail is polished to perfection, from the herringbone floors to the gorgeous linen sheet fit-out. Of course, there's a huge pool, fire pit and 2.5 bathrooms. Honestly what MORE could you want? Book here.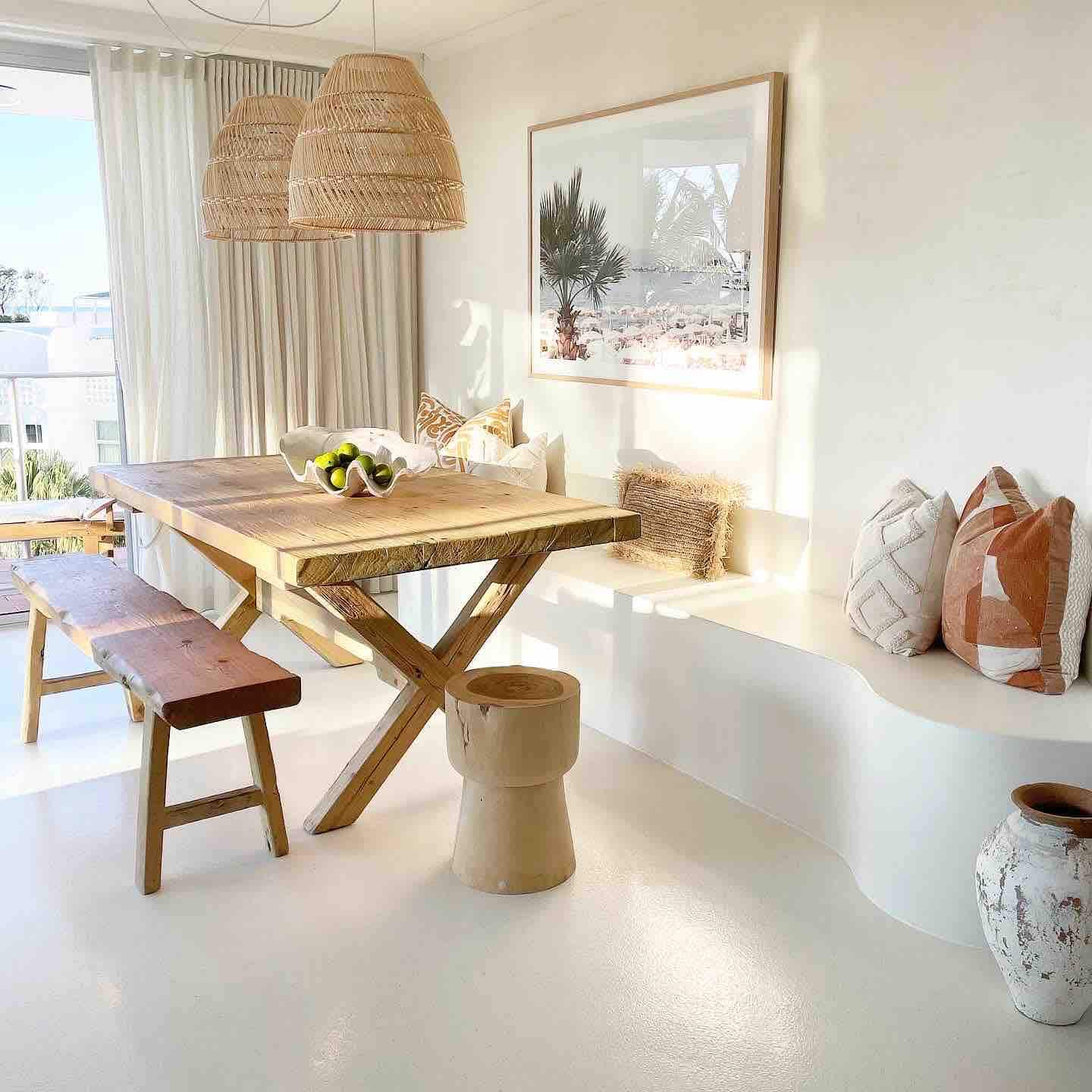 Luca—Luxury On The Beach
Maroochydore | Sleeps 4
Sticking on the Sunny Coast train, next up is Luca—Luxury On The Beach. This spot is on the third floor of the iconic Chateau Royale complex, has a perfect five-star rating and sits directly opposite Maroochydore's pristine beach. The interiors are downright swoon-worthy and beachfront views just can't be beaten. Sweeping, airy rooms host four, with two bathrooms to boot. Stroll on down to iconic waterfront sunny coast restaurant The Boat Shed for a delicious dinner, or, even quicker, just across the road to the beach. Book here.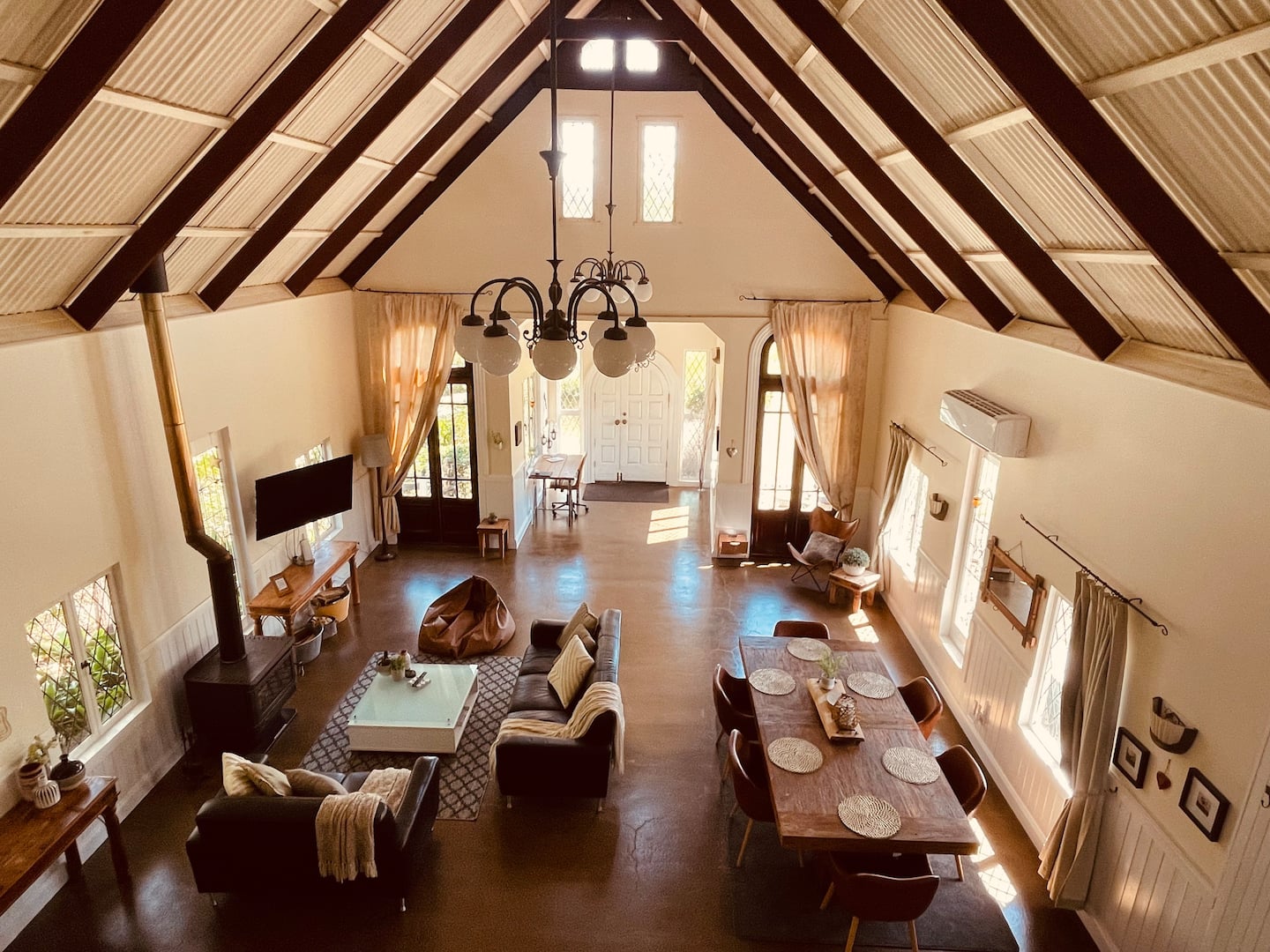 Magnolia Manor
Gold Coast Hinterland | Sleeps 5
Ok seriously, what a great name. The name isn't the only cool thing about Magnolia Manor though—the whole place is a rustic converted chapel. Another gem is hidden in the GC hinterland, the manor houses five guests with four bathrooms. Small to medium furry friends are welcome to soak up the sunshine with you, which you can do on the gorgeous grounds that include your very own pond and a guard of honour of intoxicatingly delicious-smelling magnolia trees.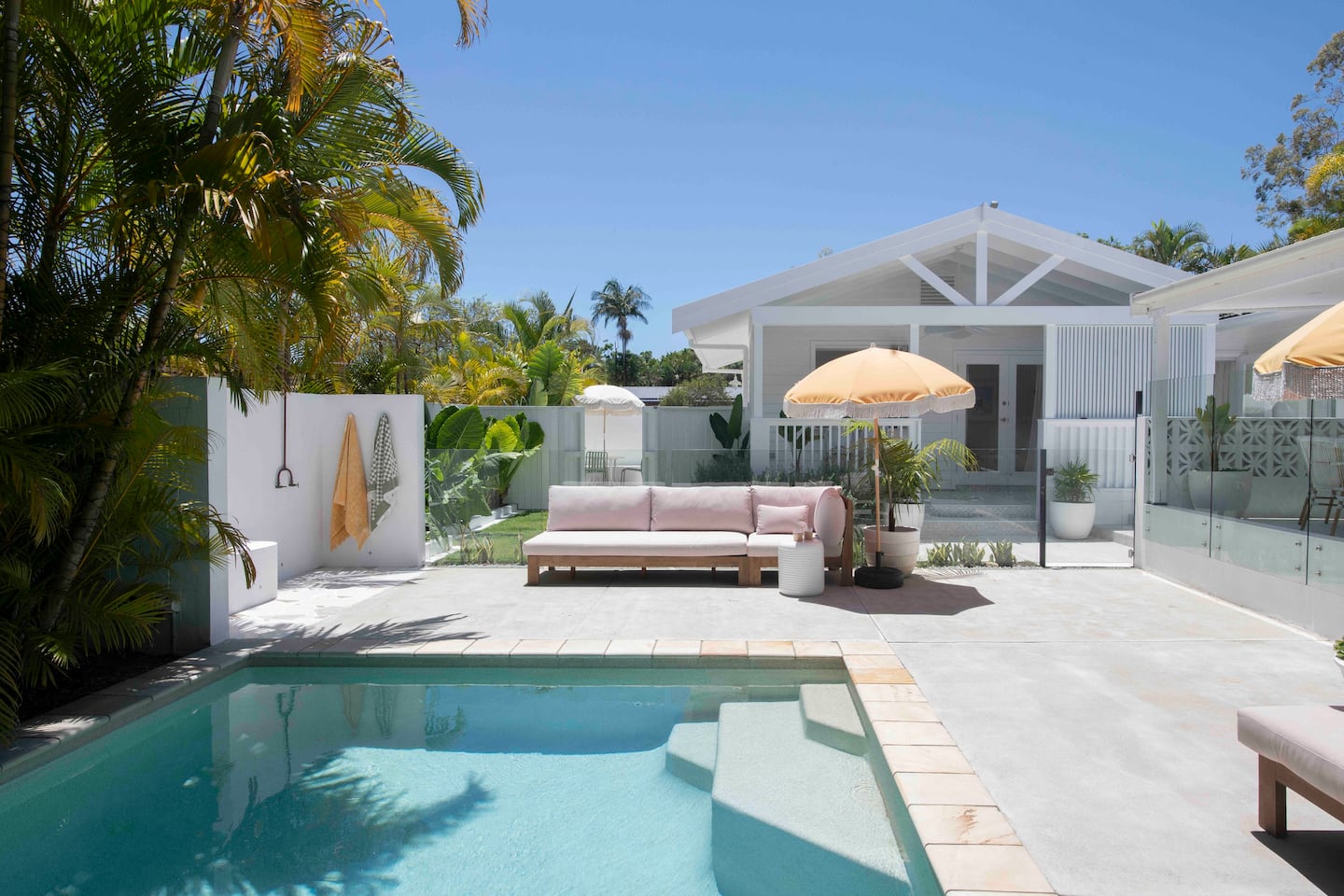 Hillie Pool House
Gold Coast | Sleeps 2
Another five-star rated Airbnb, Hillie Pool House is a straight-up Mediterranean dream. Even though you're situated in the Gold Coast suburb of Ashmore, you can't help but be swept right to the Amalfi Coast with these interiors. Staying at a place like this makes it so hard to go back to your inner city Queenslander sharehouse, let us tell you. This abode is only a one bedroom though, so romantic getaway it is, which you can book here.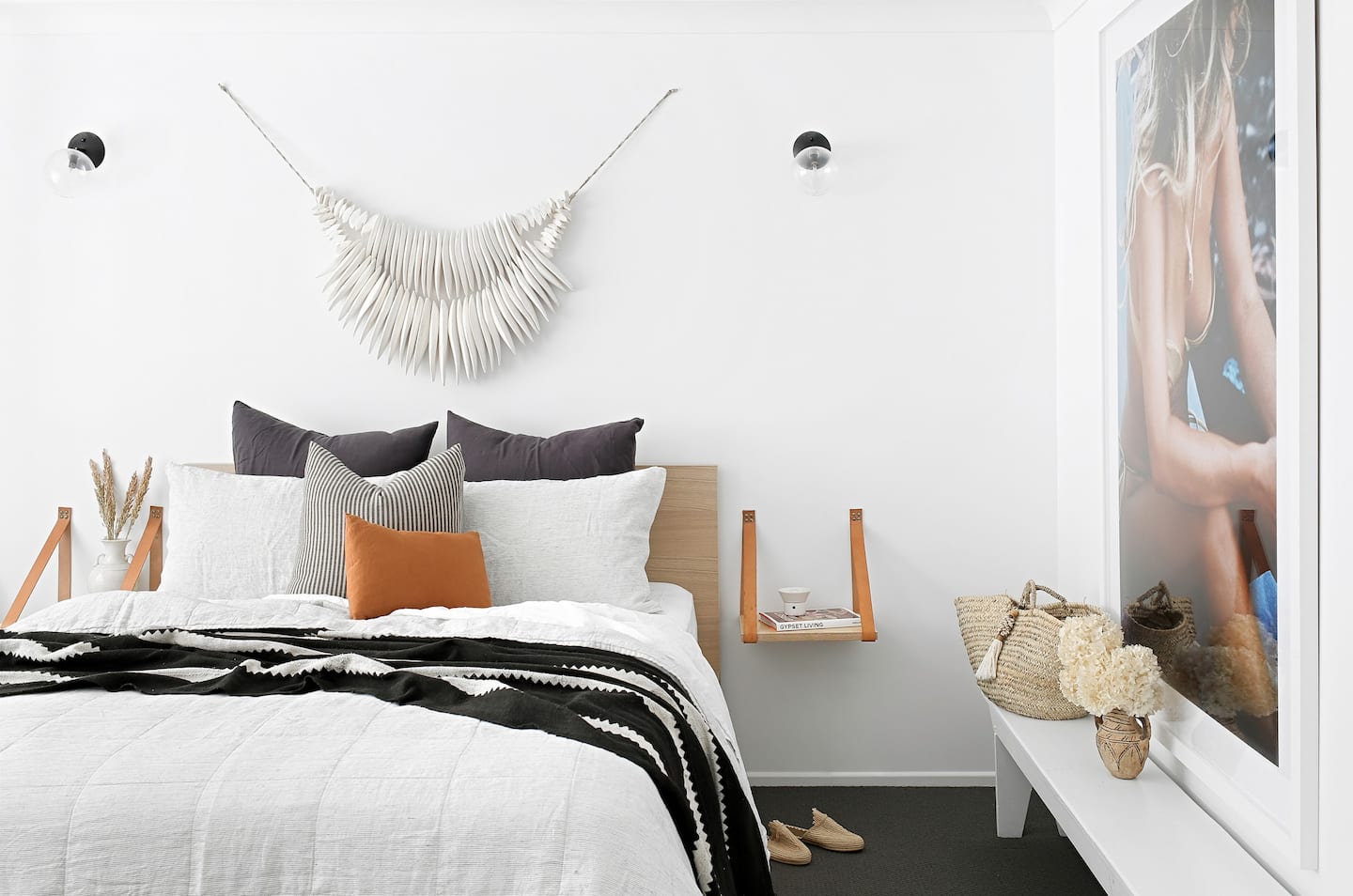 The Lodge
Noosa | Sleeps 4
You know we had to include the luxe coastal town of Noosa in our roundup. From the calm and stunning beaches to the stylish boutiques of Hastings Street, it's a certified 10 outta 10 holiday spot for us. These such vibes are epitomised at The Lodge. A quick 20-minute walk away from Hastings Street, The Lodge is a beautiful three bedroom, two bathroom beach house and perfect holiday space if we do say so ourselves. Every square inch of this place is just waiting to be photographed—from the outdoor shower to the small but mighty circular pool and the styled to perfection bedrooms. If you're vibing The Lodge (and how could you not) get in quick because this baby books out at the speed of light and trust us—it's for good reason. Book here.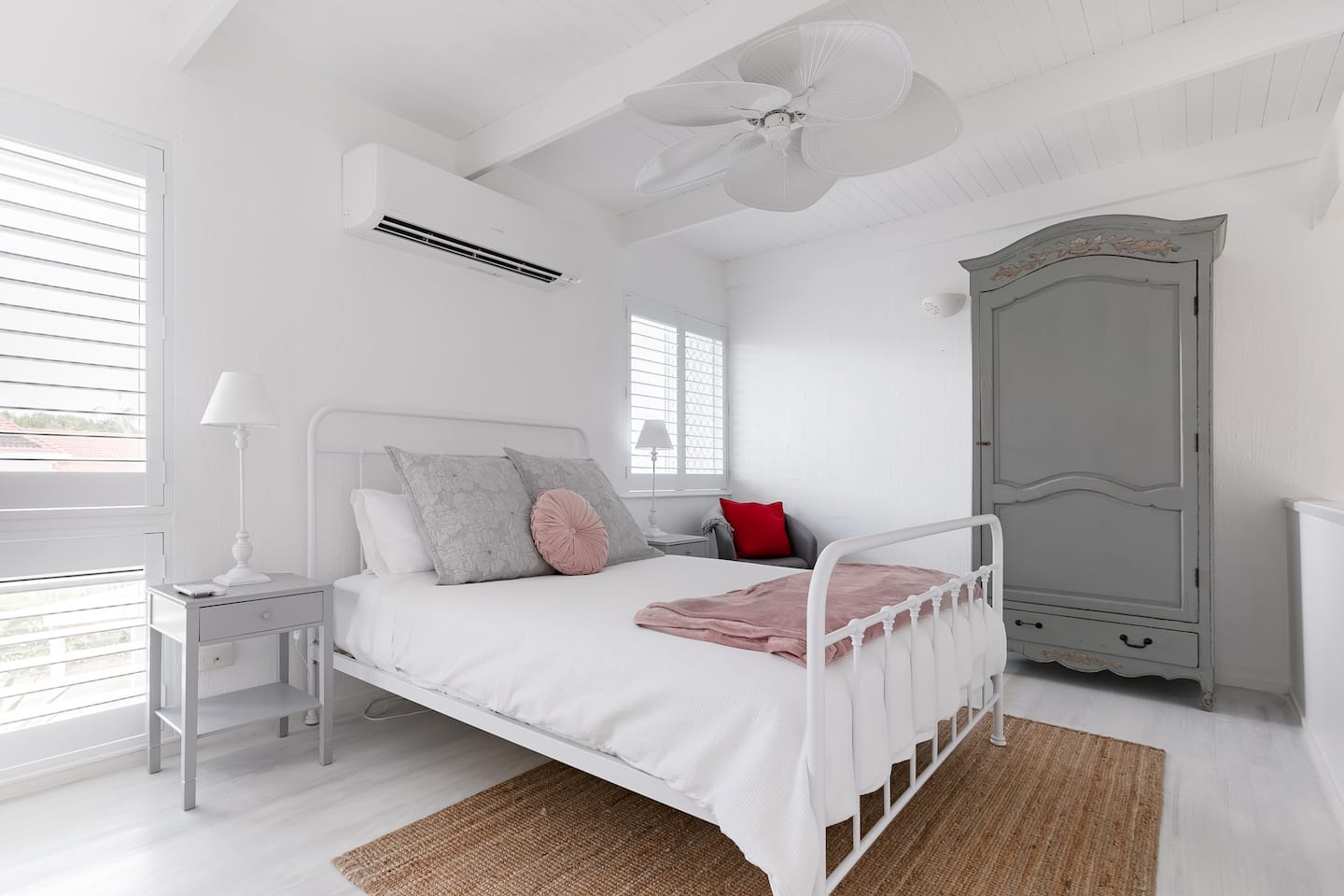 Noosa Boutique Loft
Noosa | Sleeps 2
Speaking of boutique vibes in Noosa, we've got to include Noosa Boutique Loft. A handy one-bedder, the Loft has everything you need for a holiday to remember. The mezzanine-style interior sees raked ceilings soar above you, plus a huge bathroom with double rainforest showers. The hosts have chucked in some bikes for exploring those winding streets to Main Beach—and honestly what a score because forgetting your birks on one of those summer walks means sudden death of your foot skin cells. Watch the sunset on the outdoor patio chairs and maybe fantasize about never returning to work. Book here.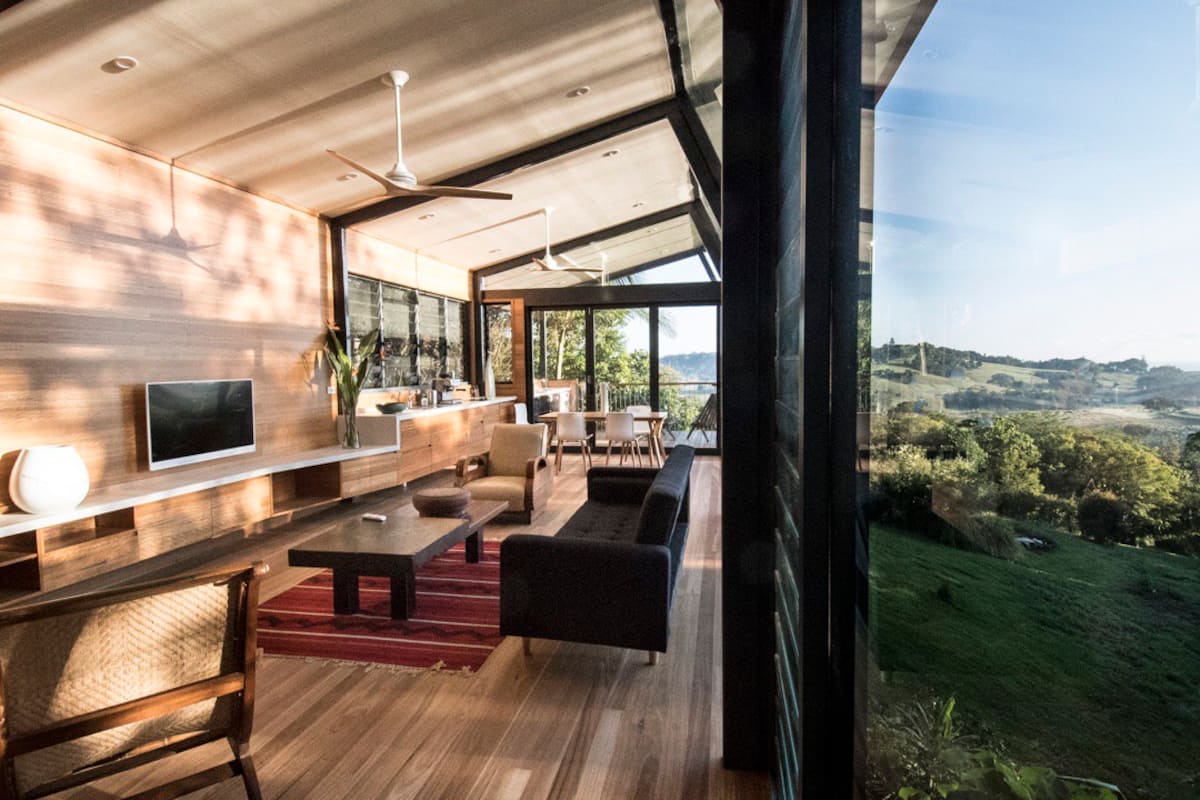 The Treehouse
Byron Bay | Sleeps 2
Truly in a lane of its own, The Treehouse is like any other stay on our roundup. Prefer a bit of greenery to a beach for a holiday? Well, how about panoramic views of the breathtaking rainforest canopy from floor to ceiling windows in both the living and dining rooms and the bedroom? It's truly swoon-worthy—you literally feel your shoulders relax on arrival. A sneaky look out to the north, and you can even see the ocean. Aesop bath products, a bottle of prosecco and a state-of-the-art coffee machine await you, as well as any and all other amenities you could possibly need. Oh yeah, how could we forget, as if you need any more convincing—this spot literally swept the competition at the 2017 A.I. Architecture awards. Book here.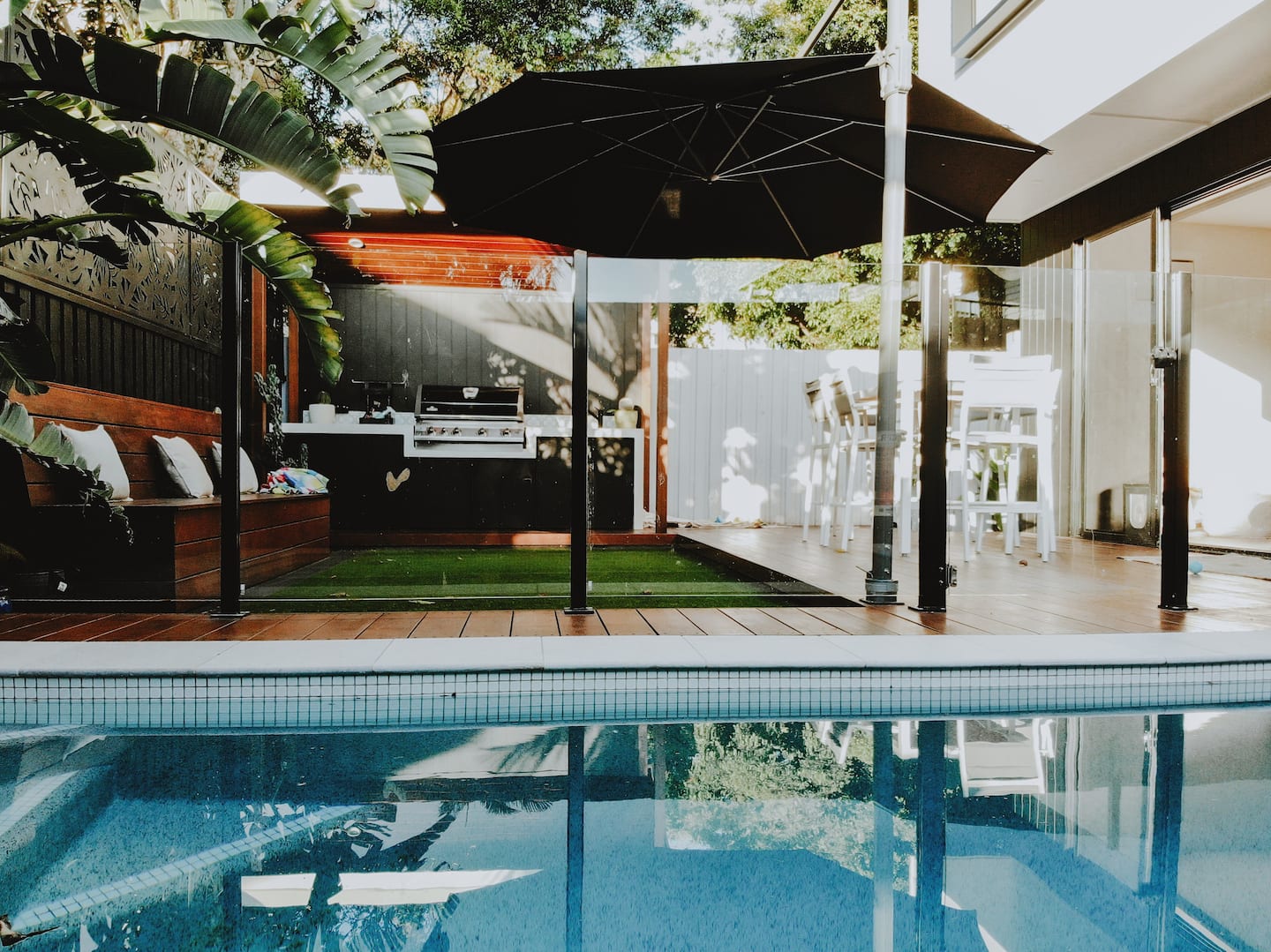 Villa De Palms
Gold Coast | Sleeps 8
Ok, need a spot for the WHOLE family? Enter: Villa De Palms. Not only does this accom boast four bedrooms to fit eight guests AND two-and-a-half bathrooms to fit absolutely everyone, but boy oh boy does it do it in style. The architecturally designed abode is obscenely close to Palm Beach on the Gold Coast and includes an open floor concept with entertaining area that features a BBQ, day bed and plunge pool. It's clear that every detail has been thought out in this home, with not a hair out of place in the stunning interiors. Your stay also includes a fully equipped kitchen, wifi, air conditioning and tea and coffee for ultimate ease. Book here.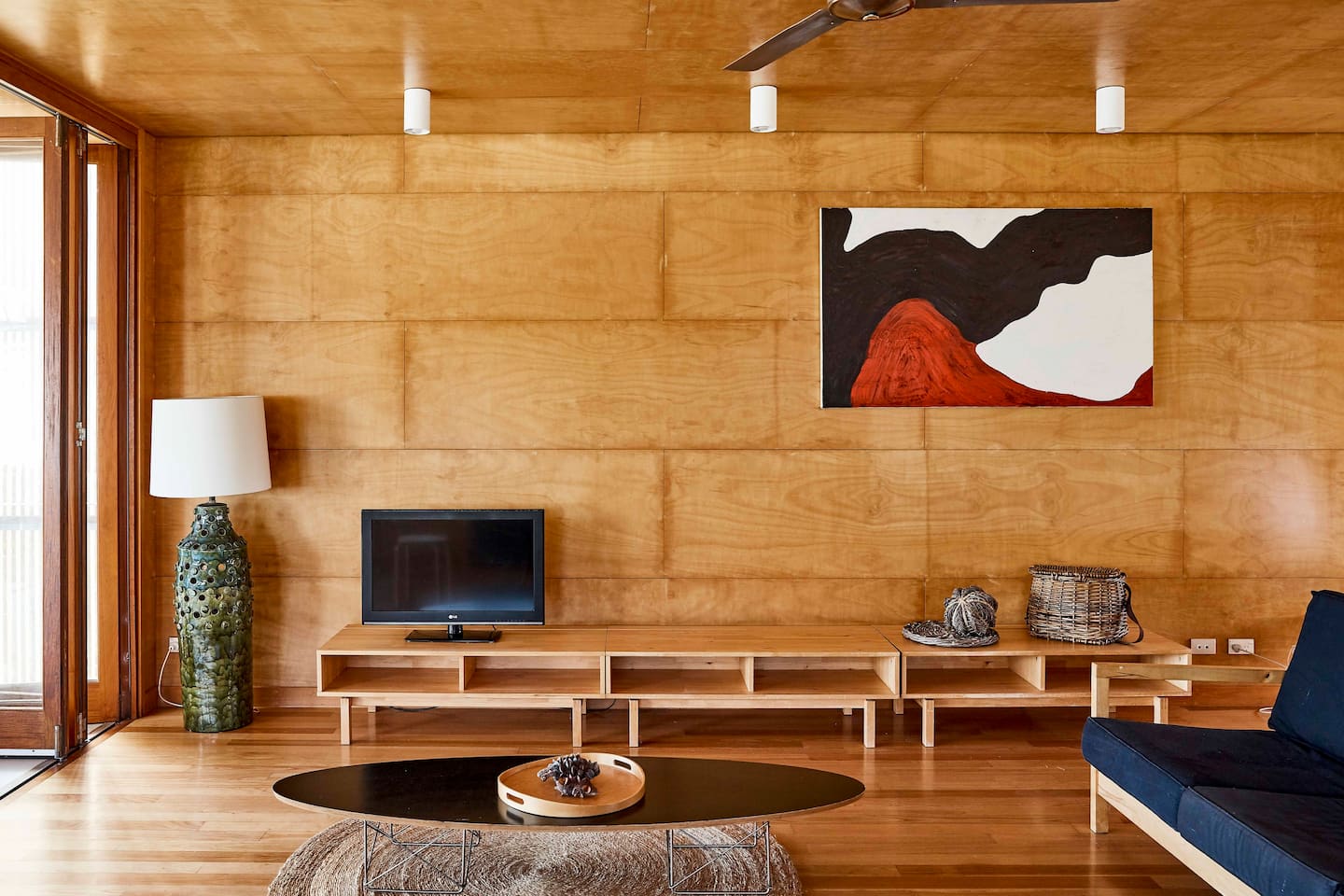 Boolarong
Stradbroke Island | Sleeps 6
Perhaps the most acclaimed stay on our roundup goes to Boolarong at Point Lookout. Perched atop a lookout in a small suburb in Stradbroke Island, Boolarong is a three bedroom oasis. This multi-award-winning three-level beach house shows off expansive views of the Coral Sea to Moreton Island that are unlike any view on any holiday you've had before. The Spotted Gum timber interiors are surprisingly sleek and complemented by top-of-the-range appliances. This spot is within walking distance to Home Beach, Straddie Pub, Kokomo Restaurant and extensive bush walking tracks—not that you'll want to leave your Airbnb though. Book here.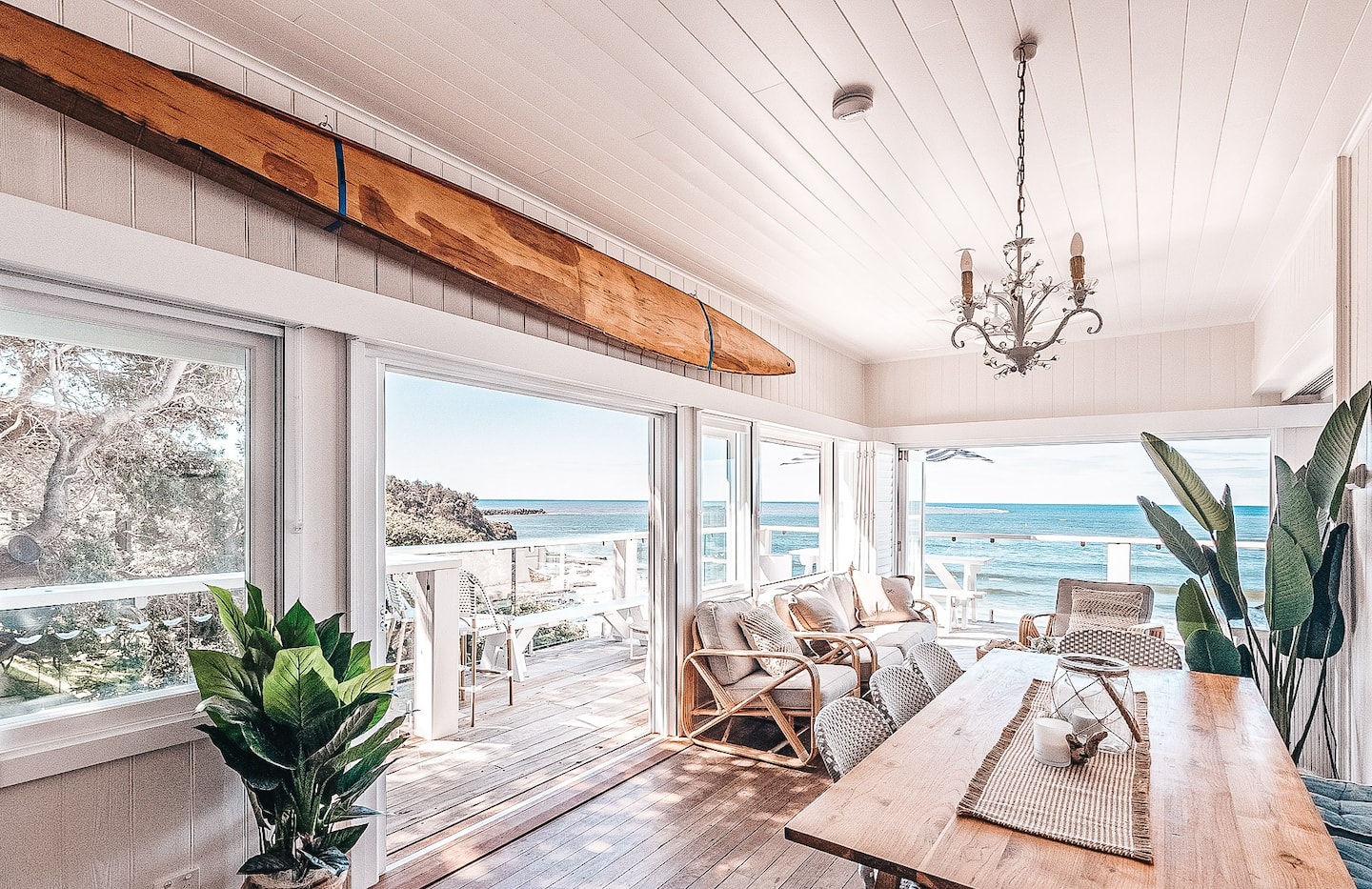 Beach House Yamba
Yamba | Sleeps 6
A little more south, the beach town of Yamba is too underrated for our liking. The same cannot be said for Beach House Yamba though, which has a solid 4.83-star rating. This not-so-humble, downright breathtaking Airbnb overlooks the Main Beach and Lovers Point and has been added to our wishlists on the app INSTANTLY. You can host six people in this amazing abode, complete with all the essentials you could ever need to have the best stay of your life. Book here.
Check out these treehouses you can stay in in Queensland.
Image credit: Airbnb