What do you get when you combine Japanese and Mexican fare? Well you can find out thanks to the arrival of Dos Manos in Newstead, which is dishing up Mexican flavours with Japanese techniques. Forget whatever you know about Mexican and Japanese food, because this eatery and bar is breaking all the rules, turning tacos, quesadillas and maki rolls into something very different indeed.
Featuring a sushi train, robatayaki and pan-Pacific counter, the venue looks as though it would fit right in in a coastal Mexican town, decked out as it is in white furnishings, touches of rattan and more than a few cacti, with seating both outside and in. As for the eats, a few of the menu items have been curated by Chef Angelo Sosa, the man behind one of California's best new restaurants, Death by Tequila—so you can expect good things.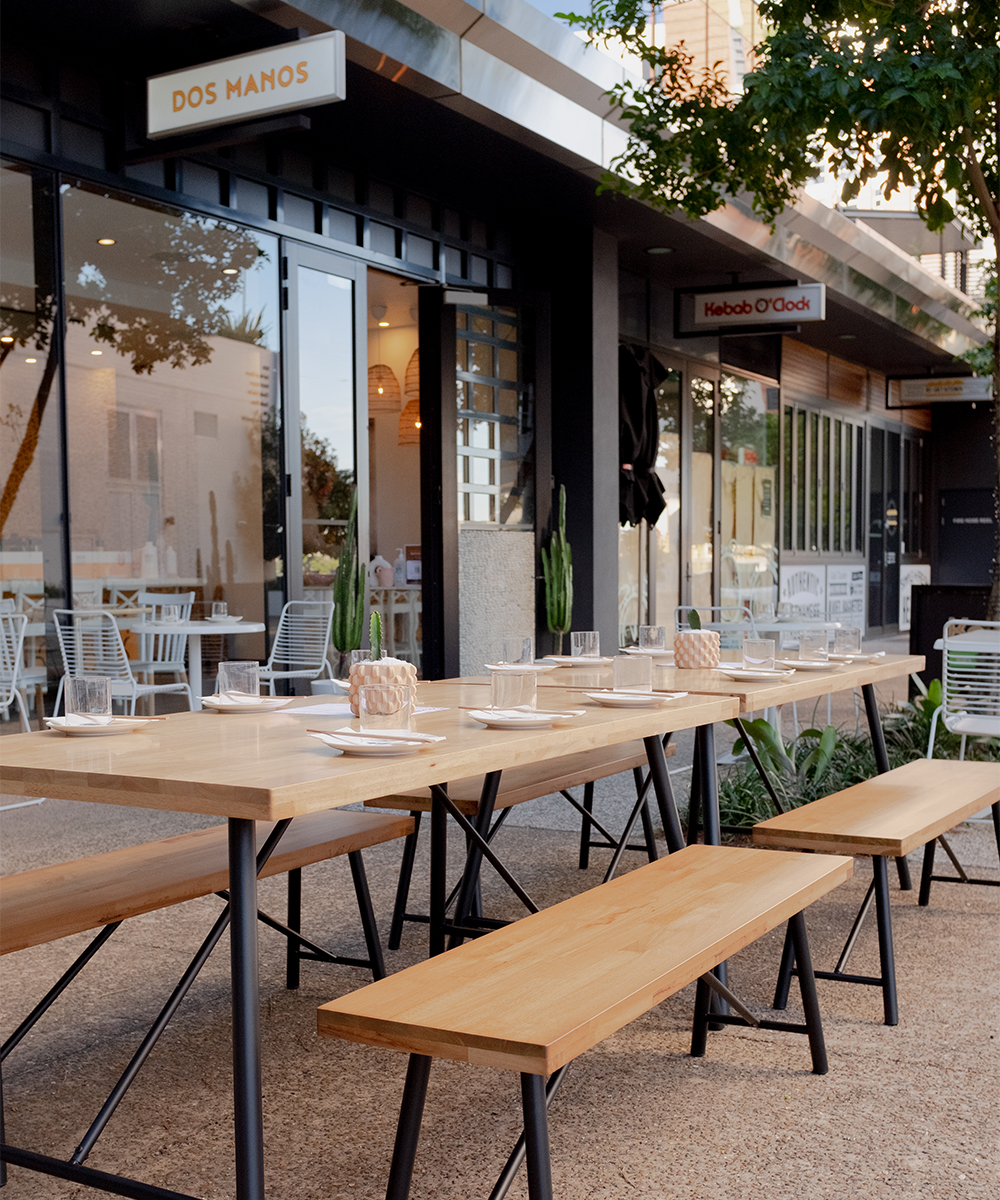 Puzzled about what could be on the menu? Well, you'll find a pretty expansive list of small plates, tacos, ceviche and sushi awaiting you, putting an end to any difficult decisions over whether to get Mexican or Japanese for dinner. The international flavours don't stick to their own lanes however—you'll find tacos with Japanese influences and sushi inspired by Mexican flavours, so it really is fusion fare.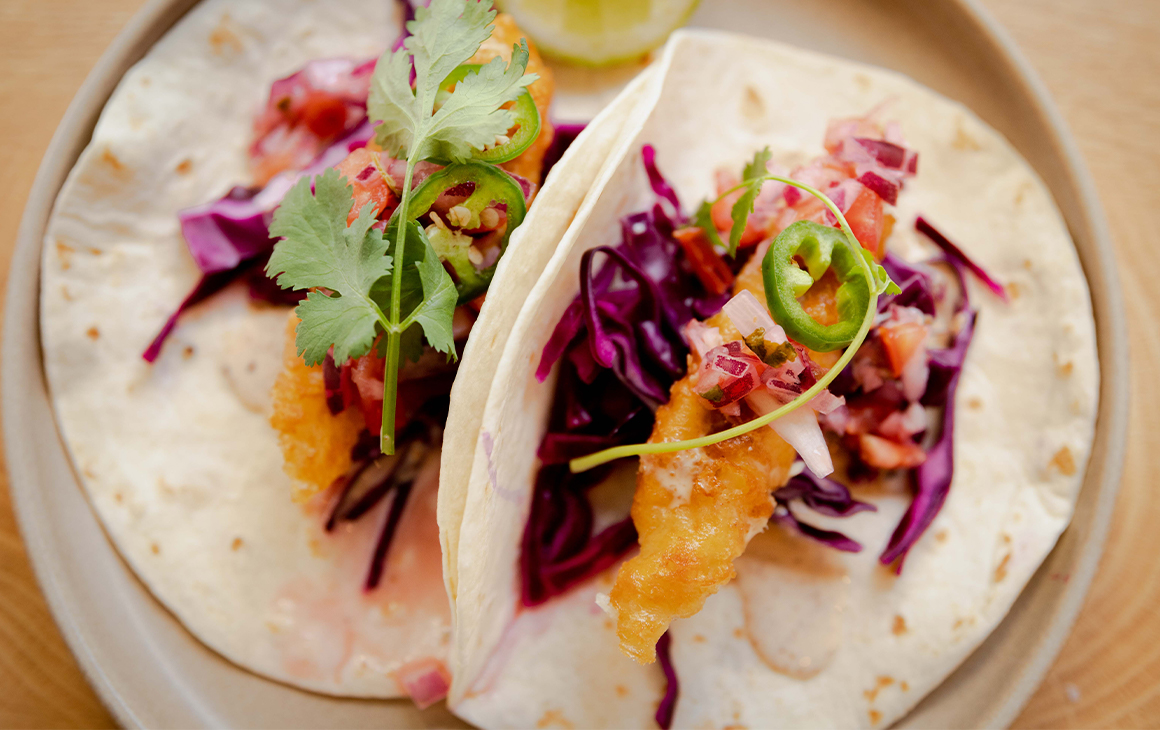 The tacos are plentiful, coming in flavours like chicken karaage with mixed peppers, cucumber salsa, yuzu aioli, coriander and jalapeno; braised beef short rib with BBQ seasoning and guajillo chile; and prawns with pickled cabbage, red onion and bang bang sauce. There's plenty of vegetarian options too—think cauliflower tempura, teriyaki mushroom and slow cooked jackfruit, all as drool-worthy as the meaty choices.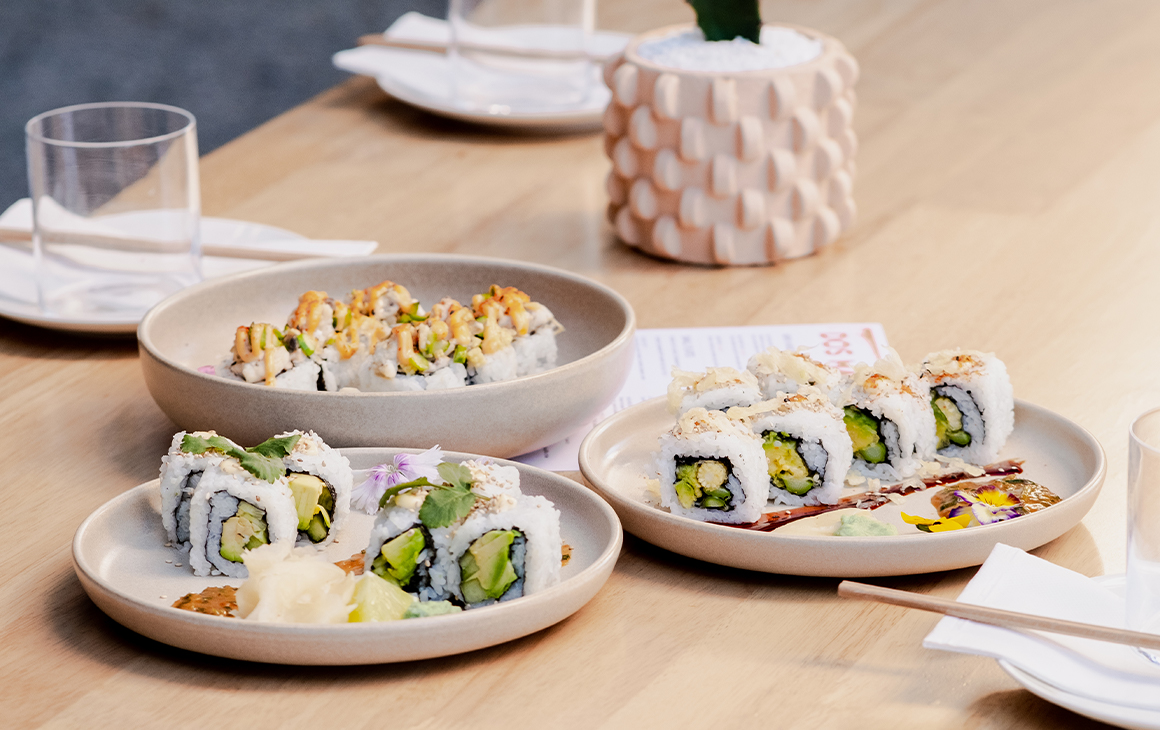 You can mix and match those tacos with sushi plates like spicy vegetable tempura, salmon avocado and tuna asparagus, with Mexican flavours coming through in options like the cucumber avocado, which comes topped with coriander, lime and jalapeno salsa verde. Or, hit the salad and ceviche menu, with shrimp or tuna ceviche as well as sashimi platters and a crispy chicken salad. If that's not enough, a couple of small plates like grilled corn with miso butter, kimchi fries and truffle fried rice should round you out nicely.
Bonus the bar will soon have both tequila and sake on the shelves, to ensure there's the perfect sip to complement every dish. What more could you want for a casual weeknight dinner or mid-week lunch? Currently though, they're still waiting on their liquor license, so it's BYO for now. You can find all the details you need on Dos Manos here.
You can see more of Brisbane's best new openings here.
Image credit: Supplied