Easter is soon to roll around once again, bringing with it some beloved extra days off work and even more beloved treats to have you drooling—and quitting the diet, pronto!
We've done the hard yards to provide you with a ganache-paved path to the best Easter chocolate, seafood, desserts and cocktails in Brisbane and where to find them. No need to thank us...
Hot Cross Bun Eggs
31 Degrees | Woolloongabba
Some people don't like hot cross buns, and that's ok... but if you turned up your nose at 31 Degrees' hot cross bun eggs, we'd have to end the friendship. These creamy chocolate eggs are stuffed with hot cross bun-spiced marshmallows, sweet sultanas and rice puffs, all coated in 35% Valrhona milk chocolate and standing up on a chocolate base. You can also get them filled with chocolate freckles or rich gianduja, or pick up some classic milk, white, or dark choc eggs in a couple of sizes.
Easter Sunday Seafood Lunch
La Costa | Fortitude Valley
Spend some quality time on Easter Sunday with a three-course seafood lunch at La Costa. For $45pp your Sunday lunch will kick off with a cocktail, wine or beer before diving into king prawns with cocktail sauce, clam tagliolini or pan-seared salmon for mains, and a ricotta-filled cannoli for dessert. Seatings are available for 12pm–2:30pm or 2:30pm–4:30pm, and you can make your booking here.
High Tea And Take-Home Chocolates
Belle Epoque | South Brisbane
Emporium Hotel's Belle Epoque is once again handcrafting chocolate Easter eggs, as well as offering a charming Easter Weekend high tea. Book in for hot cross scones, bunny cookies and prawn vol au vents paired with tea or bubbles on Easter Saturday, Sunday or Monday, or take home dark or white chocolate handpainted eggs filled with truffles and wafer egg nests to cradle your Easter treat.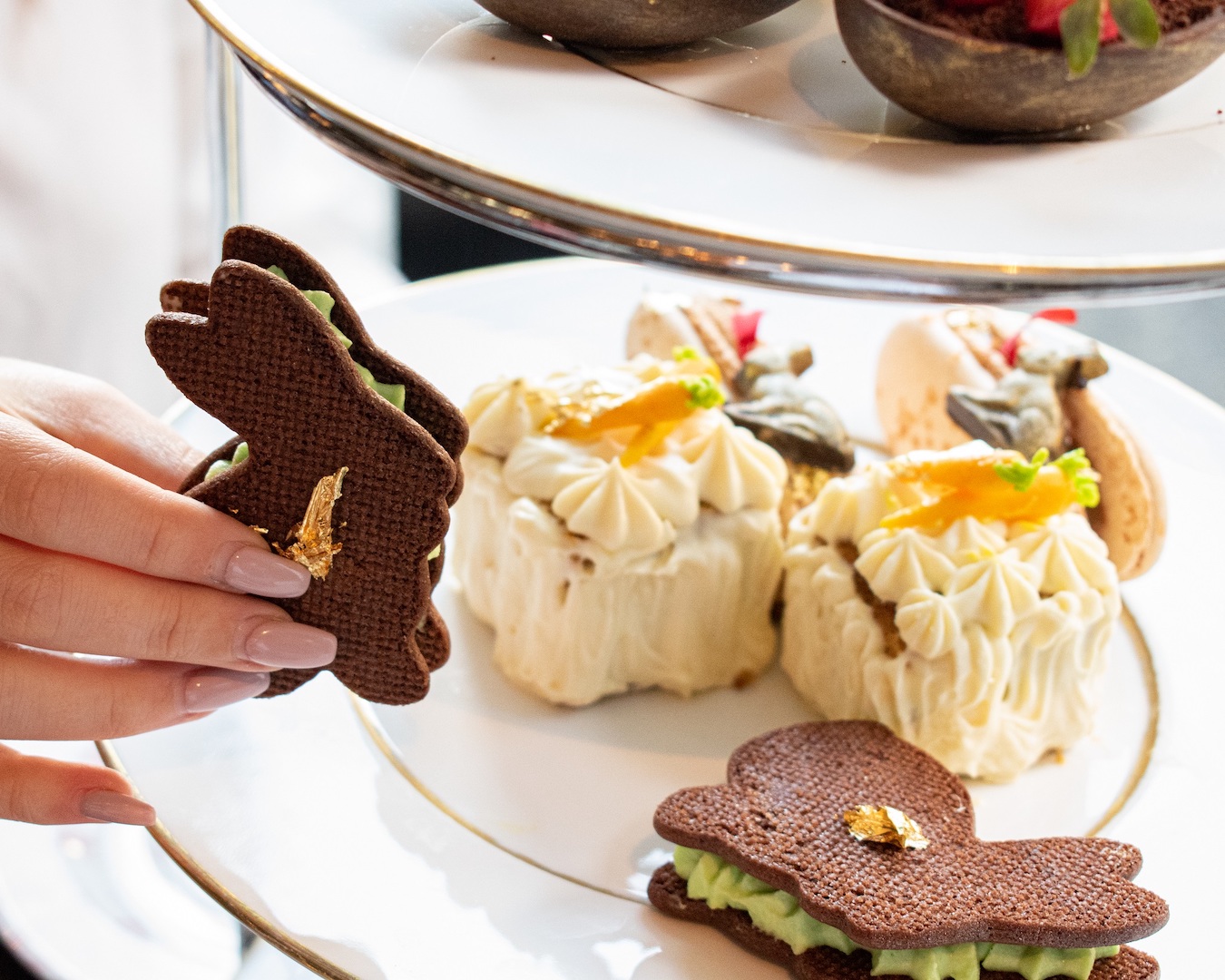 Flat Back Honeycomb Chocolate Eggs
New Farm Confectionary | New Farm
If you are looking to reach new heights of decadence this Easter, you can't go past New Farm Confectionary's solid Easter eggs. There's no cracking into these babies and finding a hollow centre, instead you'll be digging your way through couverture chocolate and handcrafted honeycomb shards. Try a pack of the caramel-filled eggs or chocolate-covered speckled almonds for a smaller sweet treat.
Good Friday Seafood Lunches
Regatta Hotel, Toowong | Friday 15 April
The iconic Regatta Hotel is celebrating Good Friday with two delicious options: a four-course seafood lunch with three-hour premium beverage package in The Boatshed for $210pp (starting off with an epic seafood tower with Moreton Bay bugs, prawns, oysters, mussels and smoked salmon), and a seafood buffet on the verandah upstairs, welcoming guests with a glass of sparkling, for $180pp. Learn more about these tasty ways to spend the public holiday here.
Crème Brûlée Easter Egg Dessert
The Jetty | South Bank
Available on Easter Saturday and Sunday, catch a river breeze with this decadent dessert creation at The Jetty. There's crunchy hazelnut praline, dulce de leche crème brûlée, mud cake, mousse and hazelnut cream hidden inside the chocolate shell, which blooms open when the hot chocolate sauce is added. Talk about an Easter surprise.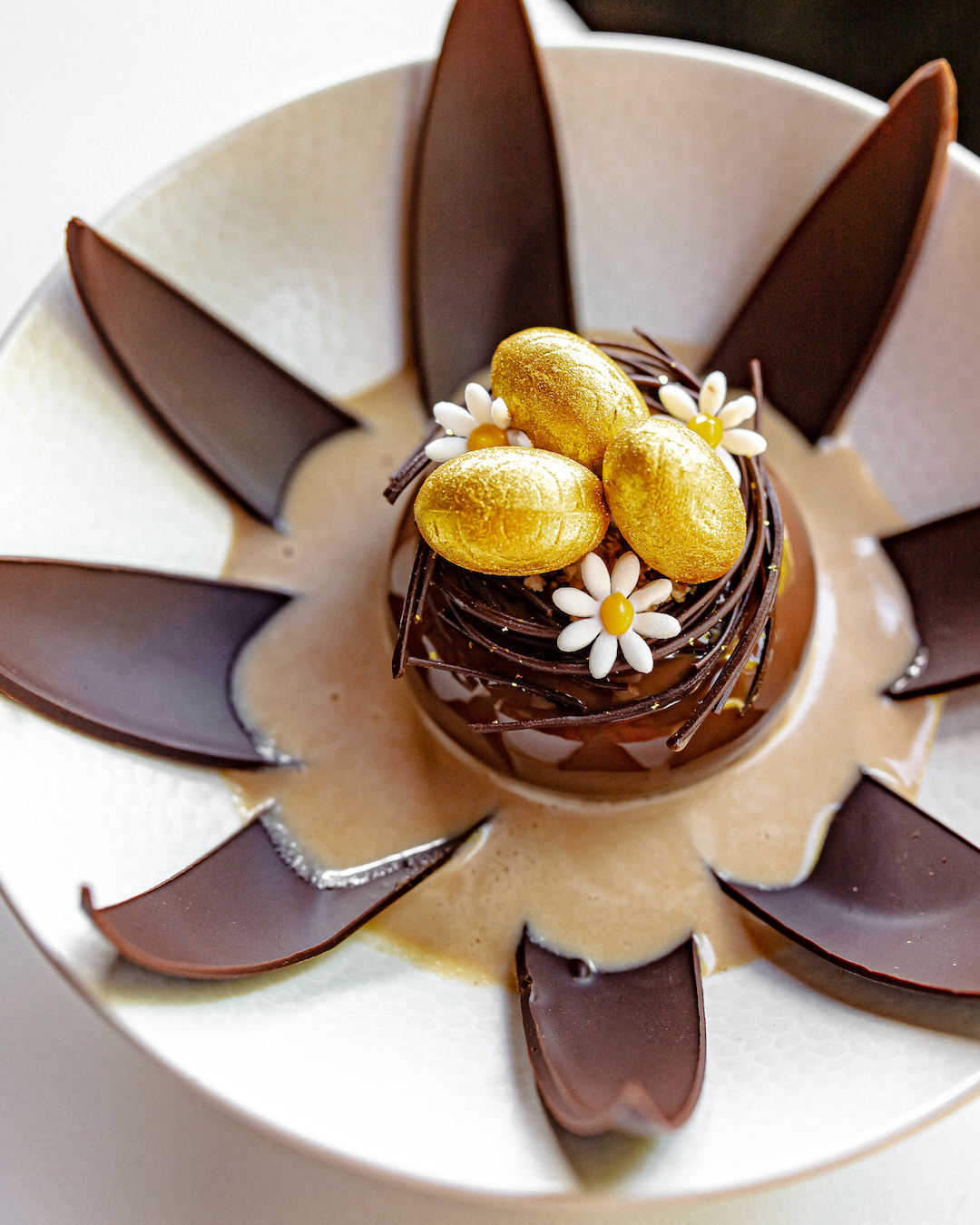 Seafood Platter And Cocktail Special
Easter Weekend | The Terrace At Emporium Hotel, South Bank
With sweeping views of the river and city, The Terrace is the perfect spot to enjoy an elevated Easter weekend. You can dine on a $65 seafood platter with the Bribie Island oysters, Moreton Bay bug, Mooloolaba prawns and Ora King salmon sushi served with yuzu aioli and an heirloom tomato from Friday 15 to Monday 18 April, or grab a Cold Cross Bun cocktail with spiced rum, cold butter and saffron syrup until 19 April.
Bake-At-Home Sticky Snail And Giant Egg
Gelato Messina | South Brisbane And Fortitude Valley
Like the sun will rise every morning, Messina will come through with a hectic Easter special. Headlining the Easter Snack Pack for 2022 is an XL bake-at-home hot cross bun sticky snail, which is complemented by a one-litre tub of triple choc gelato to scoop on top. There's also a smashable giant Easter Egg, filled with white and milk chocolate "chickens", white chocolate and passionfruit gel "fried eggs", caramelised white chocolate and waffle cone mini eggs, and milk chocolate hot cross bun bites. Pre-orders open Monday 4 April here, with pick up available in-store between Thursday 14 and Sunday 17 April.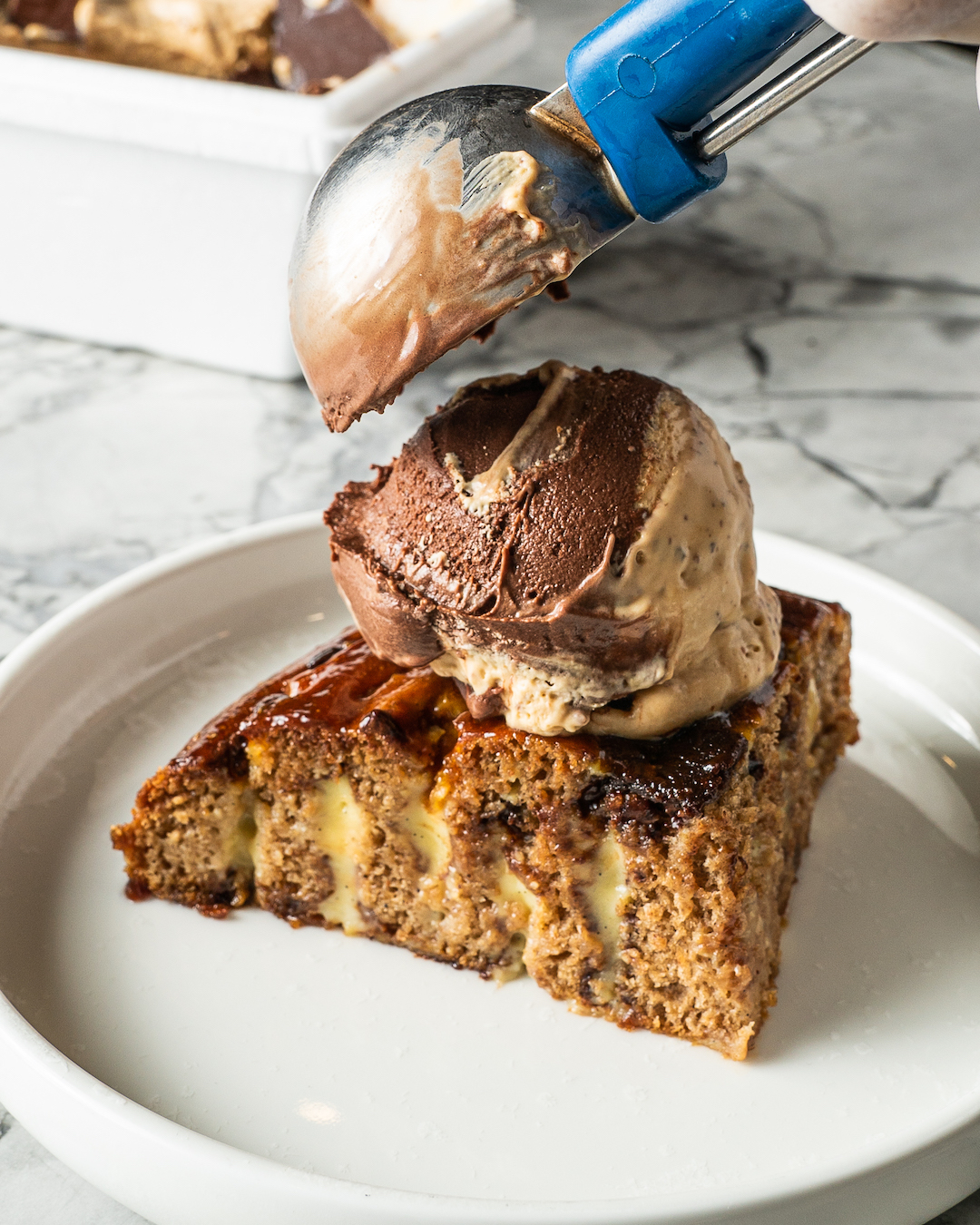 Easter Egg And Hot Cross Brownies
Dello Mano | Brisbane City
Easter is all about chocolate, and what is more chocolatey than brownies? Dello Mano is rolling out their epic Easter brownies once again this year (they've done so since 2008), each coated in rich Belgian chocolate and finished with a Belgian white chocolate cross to make them totally Insta worthy. If a li'l brownie square can't satiate your hunger for choc, they also do bigger brownie Easter eggs topped with icing and a hard Belgian white chocolate top.
Great Friday
One Fish Two Fish, Kangaroo Point | Friday 15 April
Good Friday has all the more reason to be great this year as One Fish Two Fish put on a seafood spread assured to start your Easter weekend in the best way possible. The lunch and dinner seatings, for just $95pp, include a six-course menu featuring Mooloolaba banana prawns with sriracha and lime aioli, salmon sashimi, and grilled Goldband snapper with Tuscan roast vegetables. Find more and book your table here.
Eggstravagant High Tea
The Lab At Treasury Brisbane | Weekends Until 30 April
If you're feeling a little more classy than your standard Easter egg or hot cross bun this year, The Lab at Treasury Brisbane has you covered with their Eggstravagant Easter High Tea. Don your finest Easter-inspired hat for the chance to win a dining voucher and come prepared for a two-hour package of either bottomless tea (from $50pp) or bubbles (from $70pp) as well as an array of sweet and savoury delights. If you can't make it on the Easter weekend, the high tea is available every Saturday and Sunday throughout April.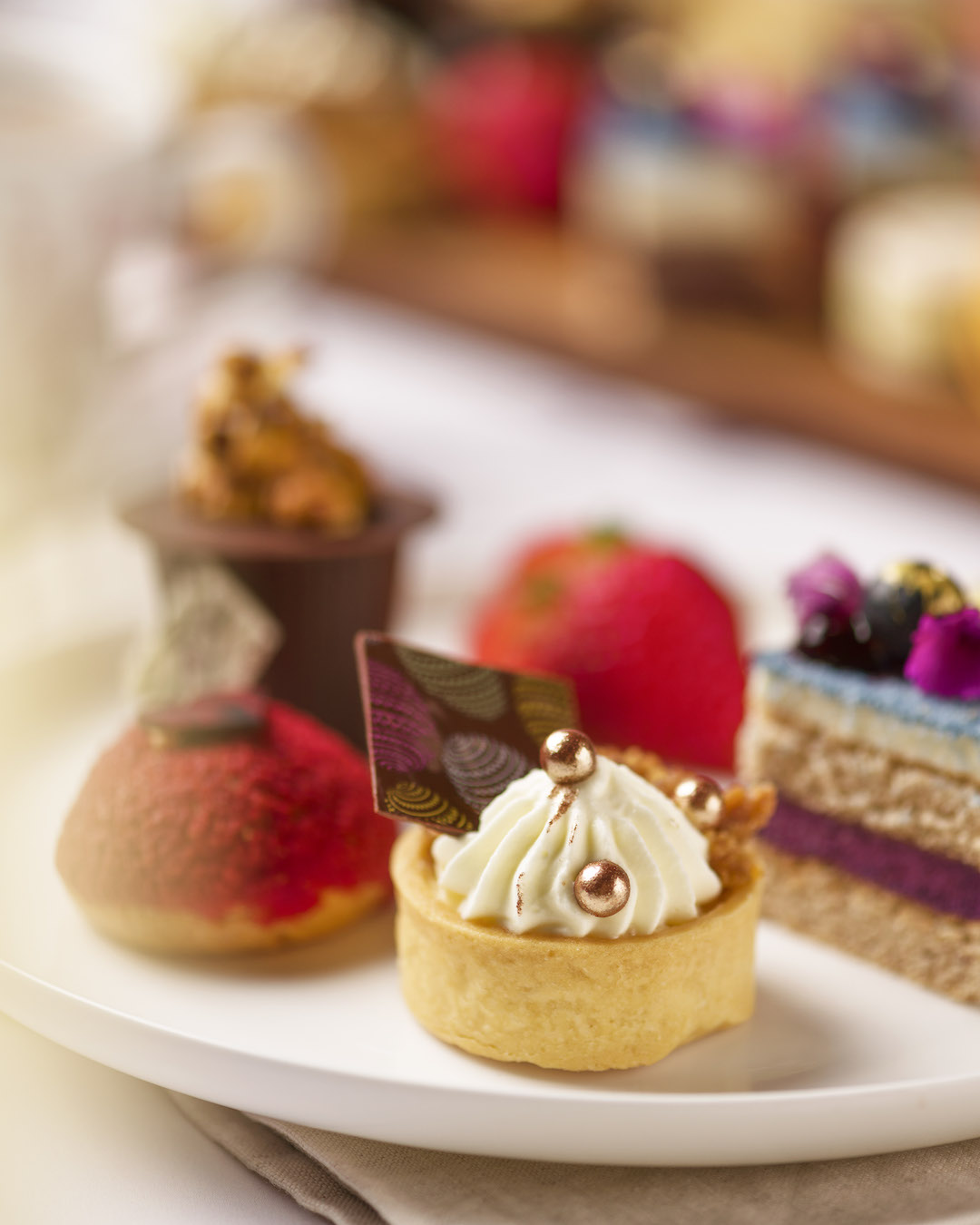 Chocolate Eggs And Bunnies
Noosa Chocolate Factory | Brisbane City
Noosa Chocolate Factory is bringing back their delicious range of Easter eggs and bunnies, including the insane rocky road-filled Easter egg stuffed with luscious marshmallow, soft strawberry jelly and delicious toasted coconut in a handcrafted shell. The only thing better than sinking your teeth into a chocolate egg for breakfast is knowing that they are all handcrafted in Queensland daily and 100% palm oil-free, giving you a true Aussie Easter experience without the guilt.
Curated Easter Boxes
Curatorial Chocolates | Online
Brissie-based small business Curatorial Chocolates collates Australia's best chocolatiers in the one place, so you can order your favourites and discover new ones—and what better excuse to sample loads of choccies than Easter? You can shop individual items like Vespa-riding bunnies and golden goose eggs, or add hampers for you and the kids to your cart, all delivered in time to crack into on Easter Sunday (or before, no judgement here).
If you're chasing a classic hot cross bun, you'll find Brisbane's best here.
Image credit: 31 Degrees Custom Chocolates, Belle Epoque, The Jetty, Gelato Messina, Treasury Brisbane