Would a moveable, Olympic-sized swimming pool floating in the Brisbane River make our city more interesting to the millions of people who'll be visiting and watching from afar in 2032? According to one of the design studios, university students and industry bodies called on to put forward creative ideas to elevate Brisbane in time for the Brisbane Olympics, yes it is.
Brisbane City Council put out the call out for bold suggestions, and the community delivered, with dozens of ideas under the themes of welcoming, connected, animated, beautiful, future focused, green and resilient submitted. Some of our favourites include widening the river under the William Jolly Bridge and creating a wild green space, creating green zones throughout the CBD, sculptures installed in the Brisbane River and a suspended walkway through the city.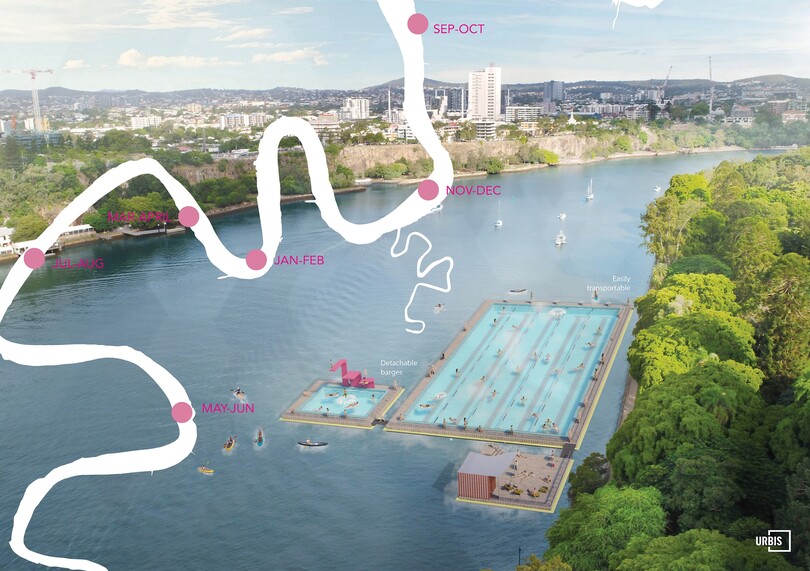 The big ideas are for now just that—ideas—with no guarantee that any will make it past even the pitch stage. However, you can vote for your favourites and let the Council know which ones people really want to see come to life—who knows, maybe if there's enough votes on that swimming pool it could really happen (we know it's an unrealistic hope, don't come for us).
You can see all the futuristic ideas and vote for your favourites here.
Meanwhile, check out what's happening at Victoria Park.
Image Credit: Urbis, ARIA