If you haven't heard the news that Brisbane's Victoria Park Golf Course is being transformed into an epic inner city green space to rival New York's Central Park, you must have been hiding under a rock. But if you have, and you've been waiting with bated breath to find out just what the park is going to look like, boy do we have some daydream material for you.
After revealing their Barrambin (Victoria Park) vision in 2020 and getting community feedback on the proposed plans, Brisbane City Council have finally revealed the Draft Master Plan—complete with animated fly throughs and maps—for what Brisbane's massive new park development will look like when it comes to life. After a few conceptual ideas, a heap of comments and thoughts from local residents and some early renderings, the overwhelming response from Brisbane locals was that we all want to get back to nature in creative ways—and it looks like that's just what we're going to have the chance to do.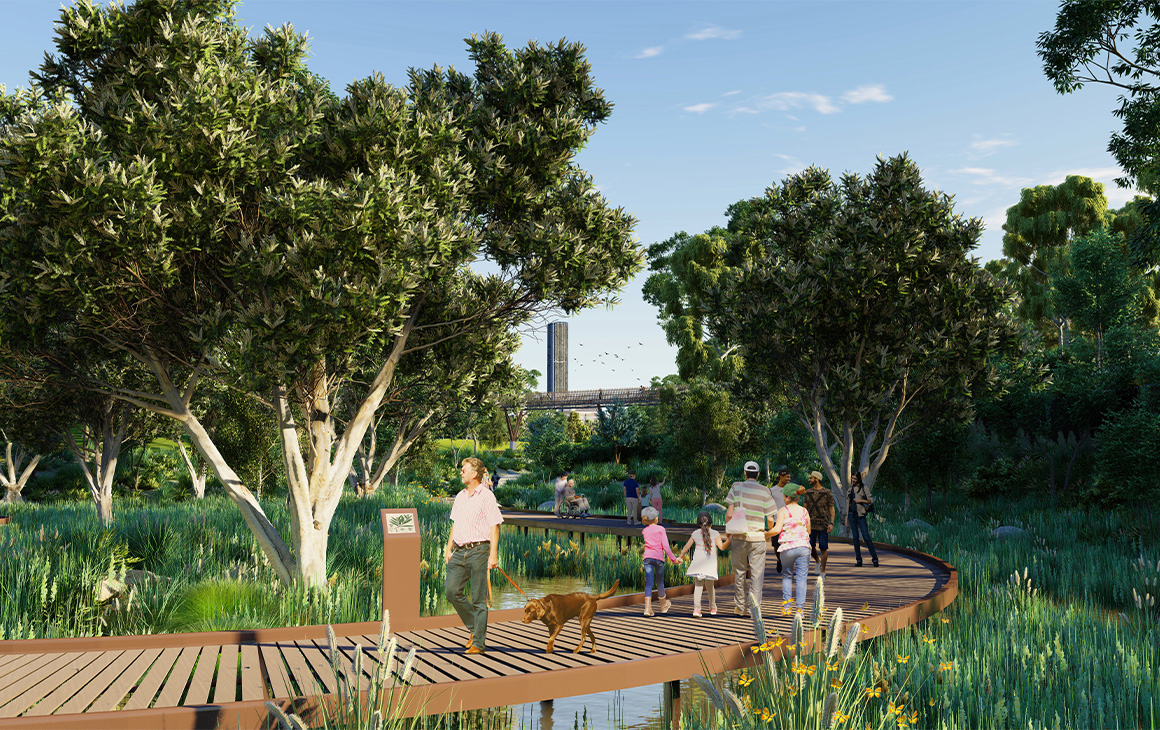 Features of the park that have us wanting to fast forward to the eventual opening are active experiences like mountain biking trails, an high ropes course through the trees, adventure playground, treehouse cafe, community edible garden and plenty of boardwalks and running trails. Water will be a huge element of the new green space, with plans for extensive wetlands as well as a water gully where kids (and big kids) can splash about on stepping stones, water play areas and misters. An off-leash water play area for dogs is also on the cards, so tell your furry friends they've got something to look forward to.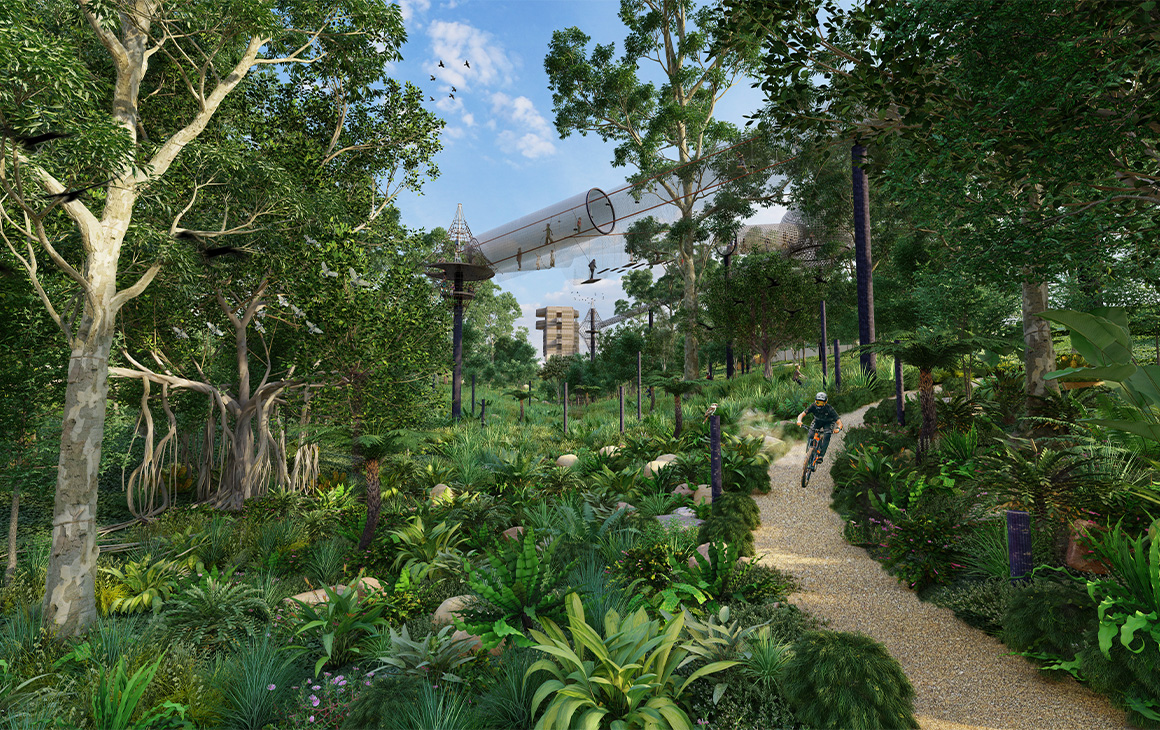 In this Draft Master Plan, the council has also outlined their plan for acknowledging and celebrating the cultural heritage, history and significance of the site to local indigenous people, which will be reflected in design elements, learning experiences and discovery trails, not to mention place names, traditional spaces and cultural programs. The Visitor Centre will share the park's Aboriginal and heritage stories, while the park's landscapes will celebrate the seasons and support education and cultural knowledge sharing, with cultural rangers to manage and maintain the landscape.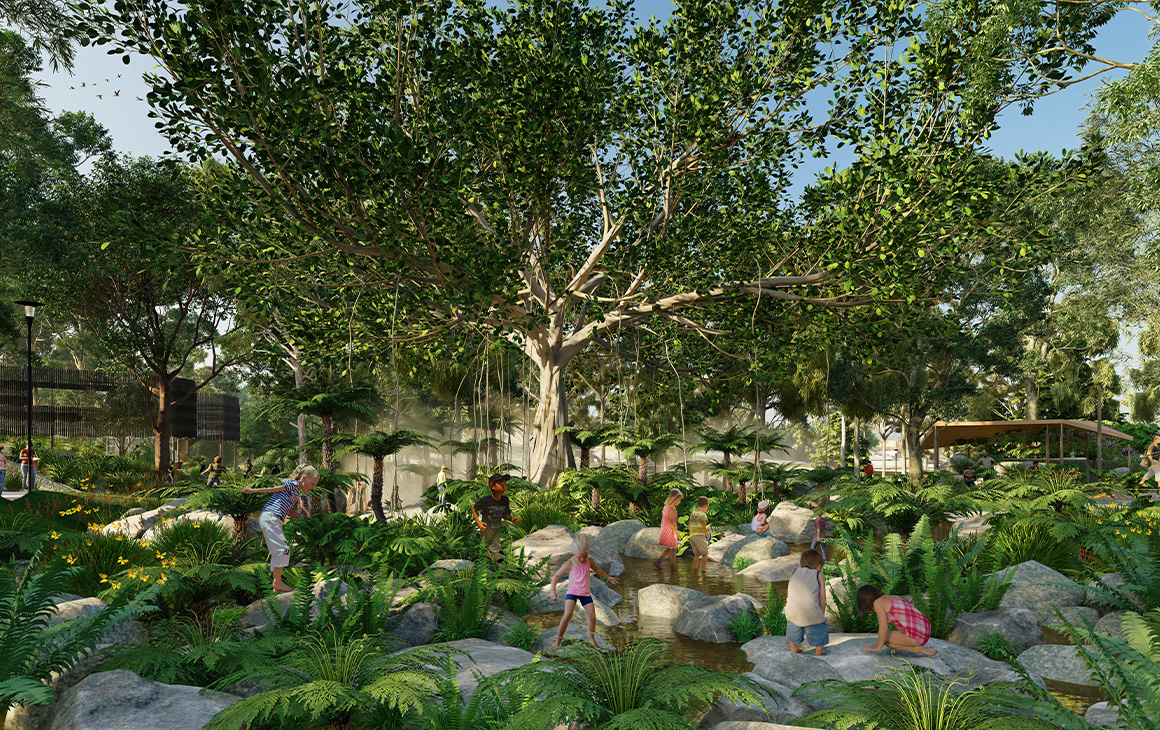 We could go on for hours about what else the Draft Master Plan includes, including an aesthetic water feature, healing/sensory gardens, sporting facilities, accessible and inclusive play spaces, a community fitness precinct, shared bike stations and ample transport options, but we'll just let you read it for yourself, which you can do on the Brisbane City Council website right here.
Construction on all of the above isn't tipped to begin until sometime in 2023, but the park is already open to the public—though it's mostly just green grass and trees at the moment. Still, if you're looking for a new wide open spot for a picnic, you're bound to find plenty of space here.
Meanwhile, have you found this Ninja Warrior-inspired obstacle course?
Image credit: Brisbane City Council