Forget hitting the gym, what better way to get fit than reshaping our lungs, tightening the laces on our hiking boots and going up a mountain. We've found some of the best mountain hikes near Brisbane that will either shock your cardiovascular system back to life or act as a fitness challenge for those of us who have been so far sticking flat ground.
Do note, these are strenuous hikes, one and all. If you don't have a good level of fitness, experience with bushwalking, or think it's ok to attempt them in pair of thongs, maybe try one of these flatter walks around town instead. And remember, always check park websites for details on track closures and facilities before or after your hike.
Mount Ngungun
Where: 1hr North
For those with an eye for scenery, Mount Ngungun offers fantastic views with a relatively easy hike to get to them. Although the total route is only 2.4km, the track gets very steep, so make sure you've got proper shoes, or just take a stop at one of the rocky outcrops for views of Mount Tibrogargan, and a chance to get your breath back if you were a tad overconfident.
Length: About an hour and a half return.
Mount Coot-tha
Where: 15min West
A classic for Brisbanites, Mount Coot-tha is peak rising from the 'burbs, offering plenty of intersecting walks that will get your calves burning and your lungs breathing in the fresh air. Whether you want to keep to the tracks under the canopies or make your way to the top for city views, Mount Coot-tha accommodates plenty of fitness levels and has some nice waterfalls to rest by. There's even a brand new walk to tackle if you've conquered the mountain many times already.
Length: Varies from 20 minutes to 1 hour.

Mount Maroon
Where: 1hr 45min South West
If you've kitted yourself out with hiking boots and trekking poles, Mount Maroon might be the best mountain to trial them on. Offering gorgeous views of South East Queensland through Mount Barney and Lamington National Park, the hike goes over ridges and through valleys for a panoramic view that will take your breath away, if you've got any left. It is a pretty strenuous six hour return hike that involves a bit of clambering though, so don't say you haven't been warned.
Length: About 5–6 hours return.
Mount Edwards
Where: 1hr 20min South West
For a hike that offers a real uphill kick, Mount Edwards will get your blood pumping. The hike can be broken down into three sections; a gradual rise to an outlook with views of Little Mount Edwards and the gorge that creates Reynolds Creek, a steep, loose rock scramble and a gradual rise to the summit where you can explore left and right, and take in the views as well. The trail here is rough and unmarked, but still fairly easy to follow, just don't wander off a cliff, ok?
Length: About 3 hours return.

Mount Coolum
Where: 1hr 30min North
Best completed during the cooler months, Mount Coolum (get it) is a relatively easy trek that offers views of the coast from its rocky summit. Starting out in light forest before opening into exposed rock stairs and light rock-hopping, Mount Coolum is usually a busy track, and is best scaled in the morning or evening to keep the sweat at bay.
Length: About an hour and a half return.
Flinders Peak
Where: 1hr West
With a track that progresses through a variety of landscapes, Flinders Peak is one for the more experienced hikers that will get the adrenaline pumping, with exposed rock scrambling and a definite remote feel. Get to the track early to avoid the sun, as there isn't much shade, otherwise pack your sunscreen, a water bottle and get ready for fantastic views from the top.
Length: About 4–5 hours return.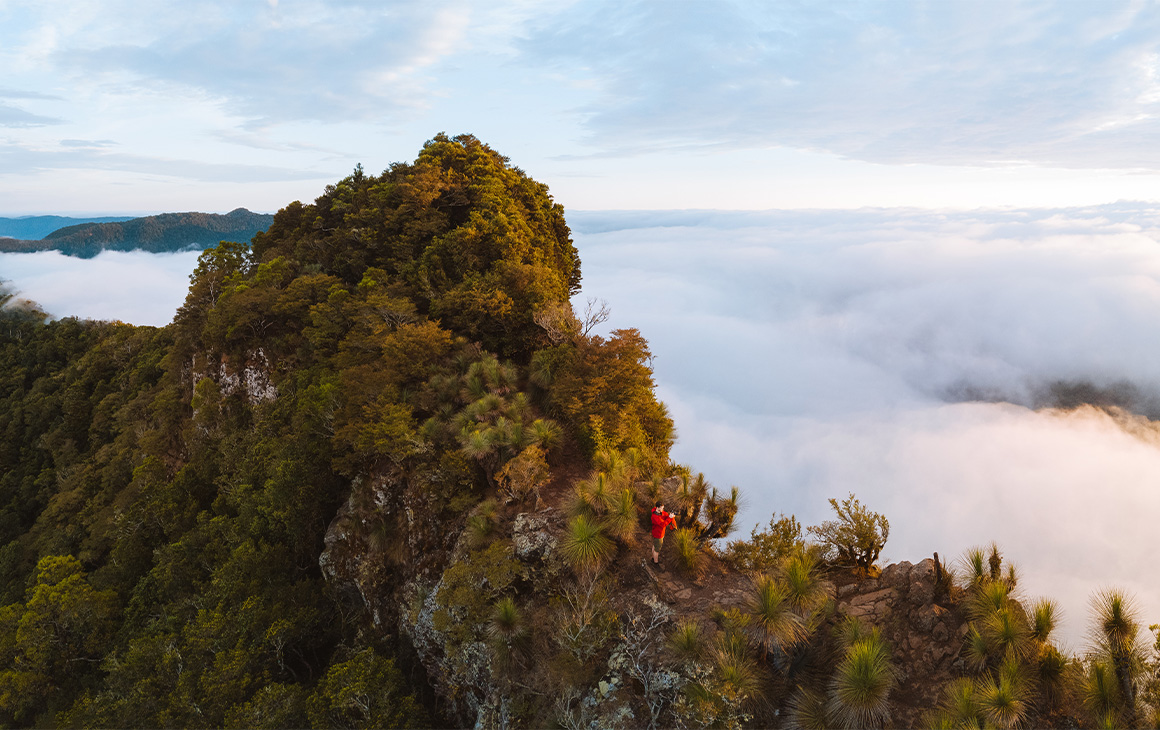 Mount Mitchell
Where: 1hr 20min West
Mount Mitchell, one of the two peaks either side of Cunningham's Gap, is a gorgeous but lengthy walk that offers some sweet views of Main Range and the Moogerah Peaks. Not overly strenuous, but definitely not a walk in the park, take a packed lunch up the mountain and feast on the views as you relax before descending.
Length: About 3 hours return.
Mount Beerburrum
Where: 1hr North
A candidate for one of the best mountain walks north of Brisbane, Mount Beerburrum is situated in the temperate Glasshouse Mountains and boasts views of the surrounding peaks as you climb. The walk is unforgiving, getting steeper and steeper until you reach the summit, where the views will reward your (lack of) fitness.
Length: About 1 hour return.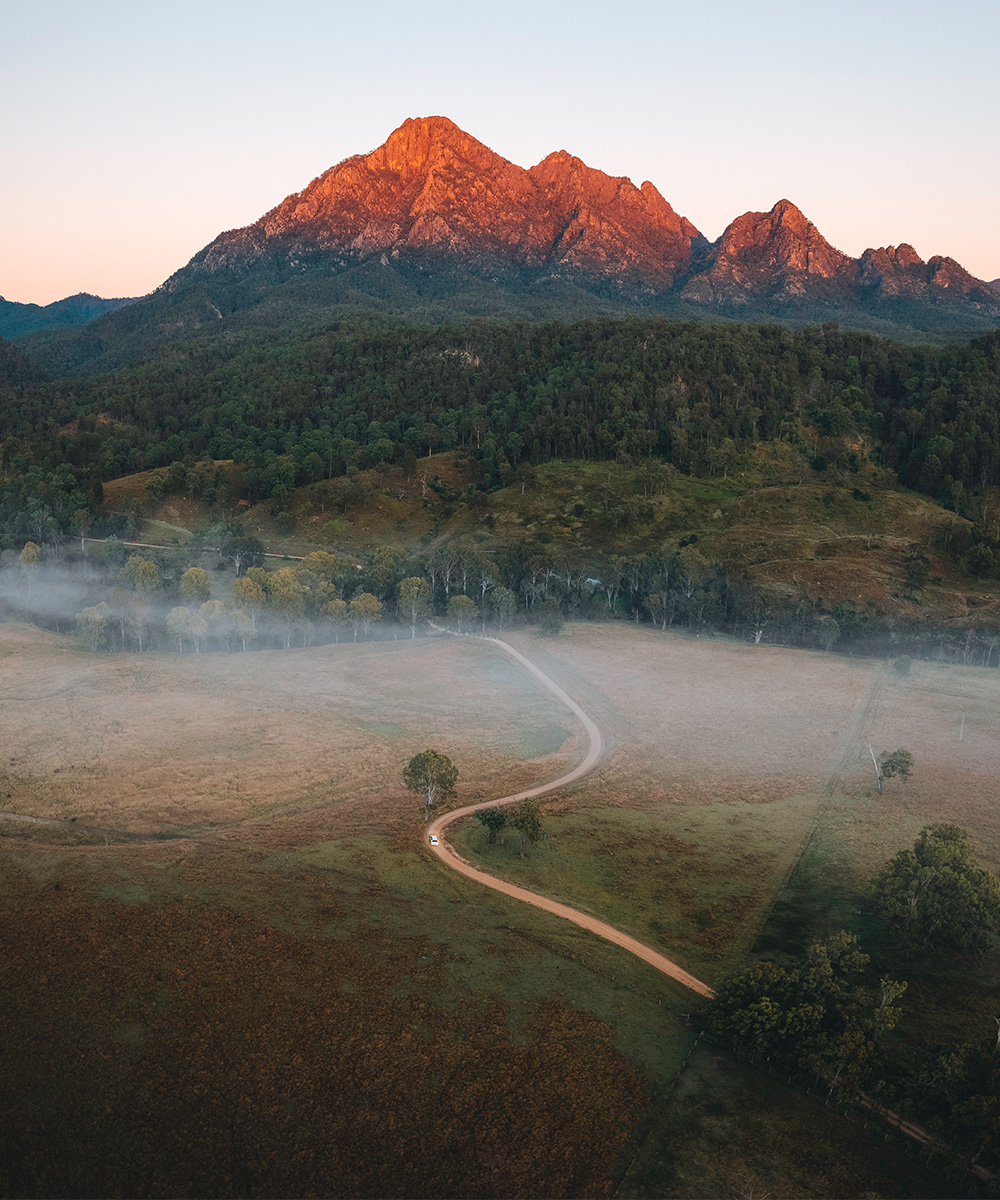 Mount Barney
Where: 1hr 45min South
Before you read on, we should warn you that the Mount Barney summit route is absolutely not for beginners. An 8–10 hour return journey that involves a constant, strenuous climb on the way up and traverses steep ridges with rock scrambling and climbing, this is definitely one hike to leave until you've had a bit of hiking experience. Of course, you could try one of the other Grade 4 walking tracks in the national park, but they're no picnic either. Essentially, although the views are stellar and the effort is well worth it, if you're a newbie (or you've let yourself go in iso), steer clear.
Length: 8–10 hours return.
Tabletop Mountain
Where: 1hr 45min West
Tabletop Mountain, just outside Toowoomba, will have you rock-hopping and scrambling to your heart's content, and with a picturesque sight to greet you at the top, it'll be worth the elevated heart rate and shortness of breath. The walk has a lot of variety, spanning windswept grasses and steep rock faces, to have you feeling like a ninja in no time.
Length: About 2 hours return.
Prefer something a little less strenuous than one of the mountain hikes near Brisbane? Try one of these waterfall hikes instead.
Image credit: Tourism And Events Queensland


Gamble Responsibly.
Help is close at hand.
GambleAware
gambleaware.nsw.gov.au
1800 858 858