South East Queensland is home to more than just beaches, FYI. The hinterland and national parks around Brisbane are littered with dreamy hidden waterfalls and hikes just waiting to be uncovered. We've done the hard yards to track down the the best hidden waterfalls Brisbane's nearby regions have to explore, so you don't have to. All that's left for you to do is enjoy, kick back, and relax. Here are the best waterfalls near Brisbane to chase—and which ones you can swim under.
Curtis Falls
Mount Tamborine
Everyone loves a waterfall as much as they love singing "Waterfalls" by TLC at the mention of the word. It just so happens one of the best to visit for a good jaw dropping happens to be off Eagle Heights Drive, Mount Tamborine. It's a pleasant 1.5km walk to the falls surrounded by lush rainforest, all sorts of Australian creatures, and that roaring sound of water thundering its way over a cliff towards the ground. Nature just knows.
Can you swim here? No, the waterfall is fenced off, however you can dip your toes in the creek further down.
Booloumba Falls
Conondale National Park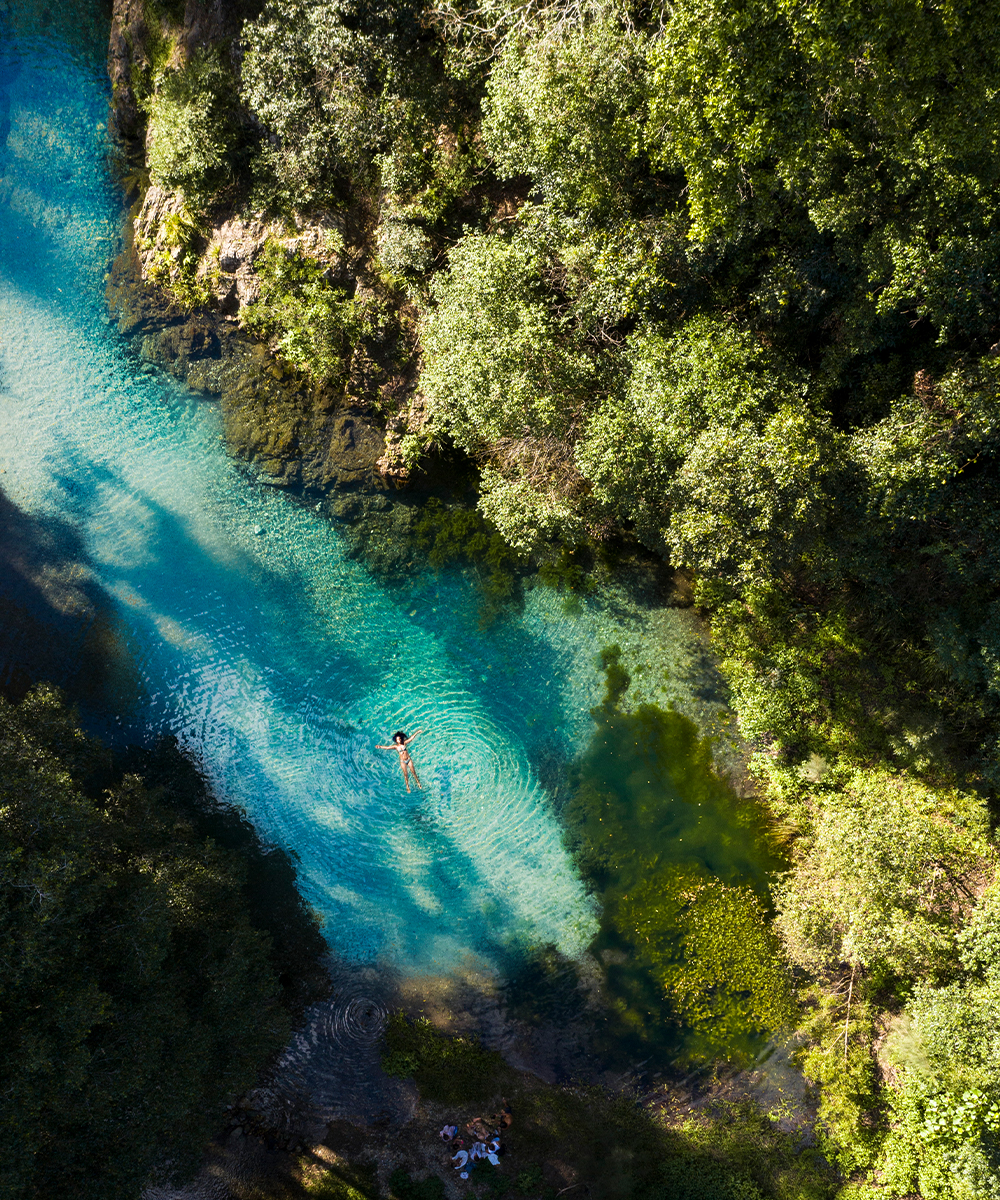 Continue along Booloumba Creek Road, you'll pass the camp area, keep going until you reach the falls car park; from there, walk along the tracks until you see steps down to the pool. If you're driving, you may need a 4WD, but you can just extend the walk and trek it to the falls—the swim is totally worth it.
Can you swim here? Absolutely—there's a stunning creek to paddle in.
Cedar Creek Falls
Mt Tamborine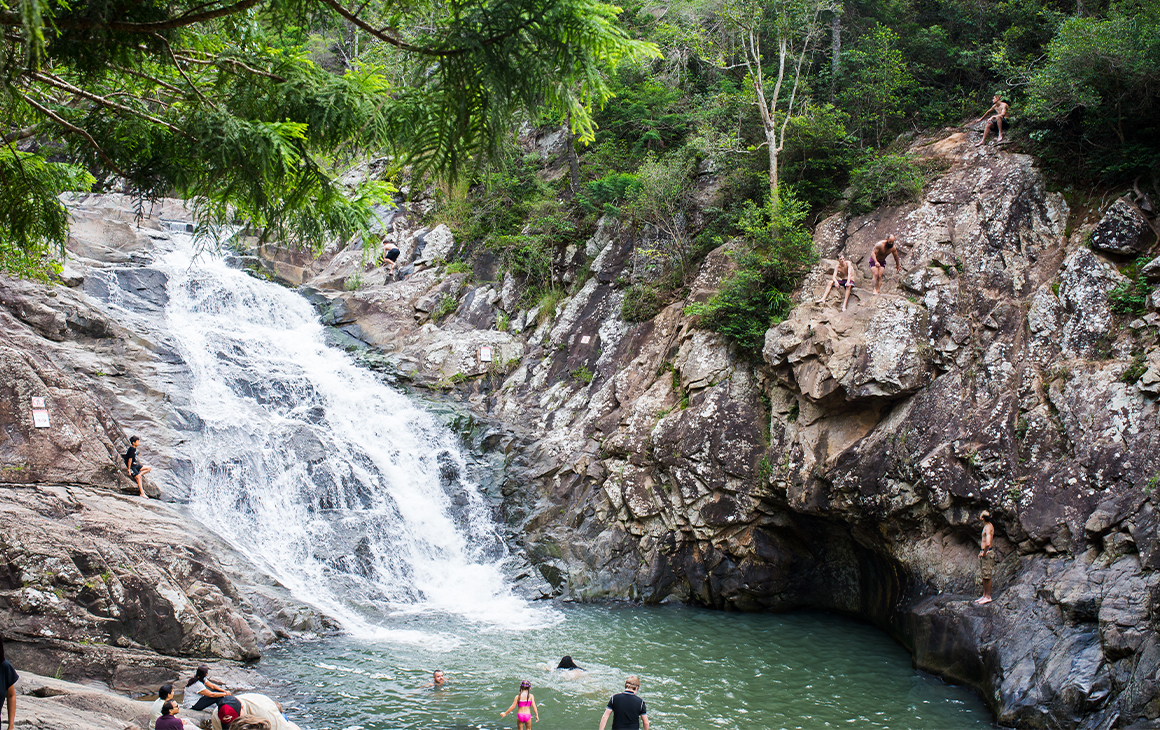 Pretty sure we all know about Cedar Creek by now, but it's still an awesome spot for a day by the falls. Cedar Creek Falls are probably the easiest to access: simply follow Cedar Creek Road to the end and then follow the sealed path.
Can you swim here? You know it.
Cougal Cascades
Currumbin Valley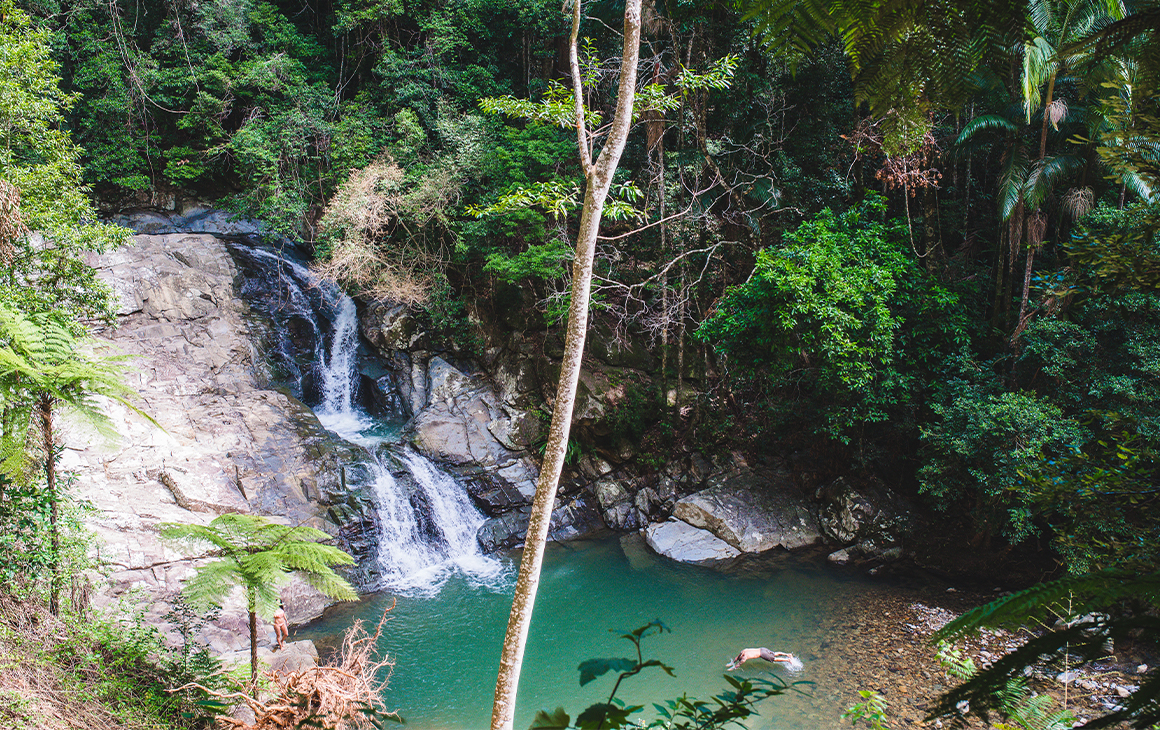 Tucked away in the Currumbin Valley, Cougal Cascades is hands down one of the best places to escape to on a hot day. Waterfall Cougz will mesmerise the heck out of you with its short rock face rushing with fresh water and plunging deep into an emerald pool of heaven. It's an easy 500 metre meander from the carpark and a somewhat sketchy hike down onto the rock face (be careful!). Dazzle your mates by whisking them away to this slice of paradise this very weekend.
Can you swim here? You can—we recommend heading upstream to the smaller pools and falls.
Elabana Falls
Lamington National Park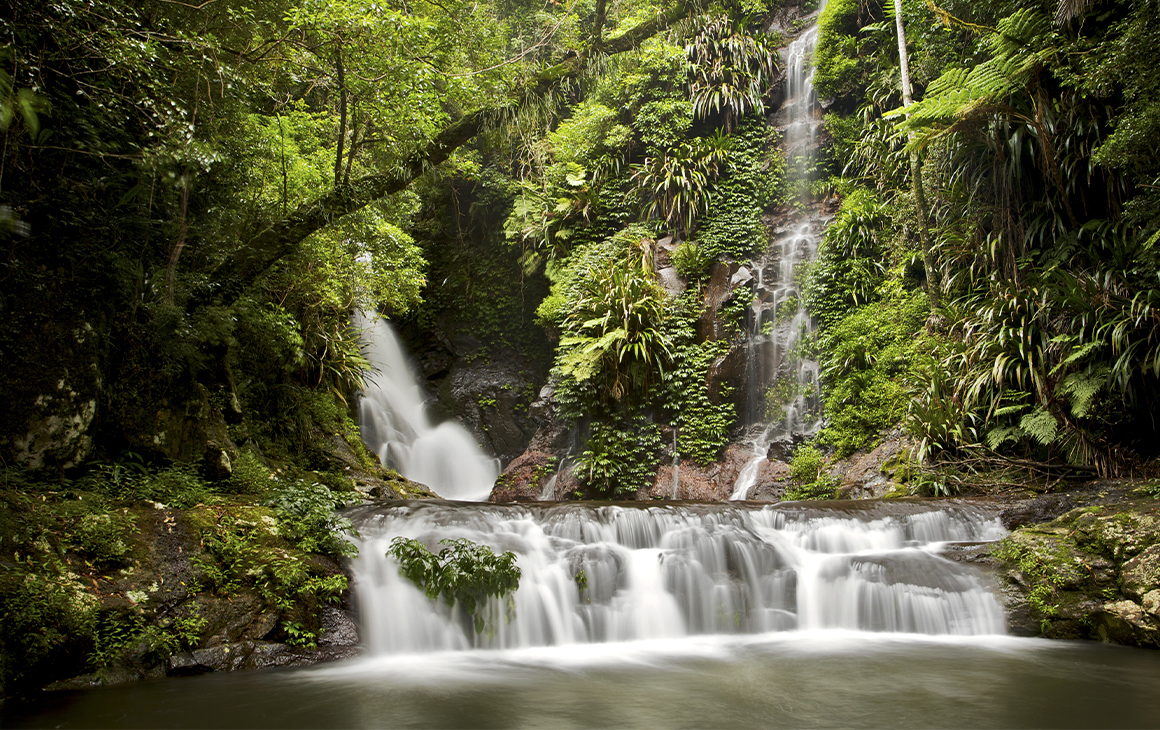 Our super close, super underrated neighbourino O'Reilly's has some pretty impressive spots. But perhaps the most impressive of them all is Elabana Falls, hidden away in Lamington National Park. Hike 3.5 km through the lush rainforest region to reach this picturesque spot and roll around under spilling waterfalls. Keen to explore a little further? Then take the gutsier route home with the Box Forest Circuit's 10.9 km track or the giant 17.4 km Toolona Creek circuit. A fully stocked snack pack is 100% necessary.
Can you swim here? Swimming in Lamington National Park is discouraged as the waterways are a delicate ecological environment.
Gardners Falls
Maleny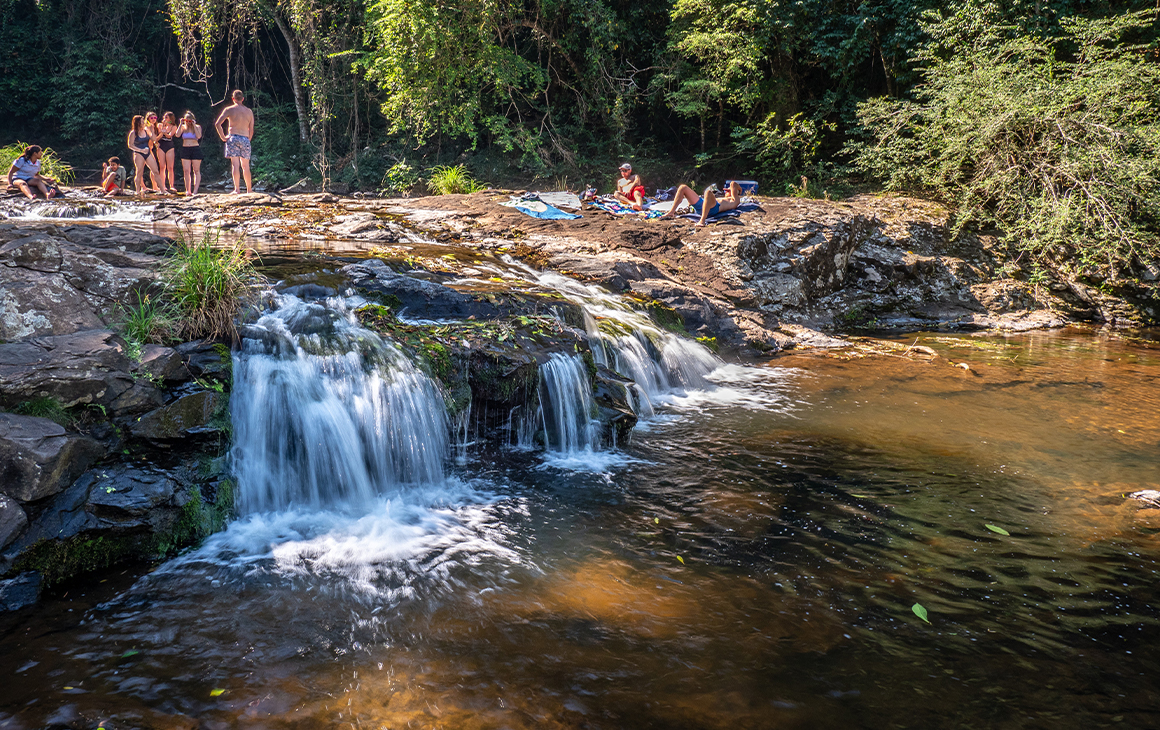 This little hinterland hideout is a favourite among Sunshine Coast locals, so be warned: you're not going to have this waterfall near Brisbane to yourself. But if you weigh up the easy stroll from the car, the beautiful bush setting, the gentle waterfall, and the rock pools below complete with rope swings, it's worth battling a little crowd to enjoy a dip at this Maleny swimming hole.
Can you swim here? Yes you can.
Kondalilla Falls
Montville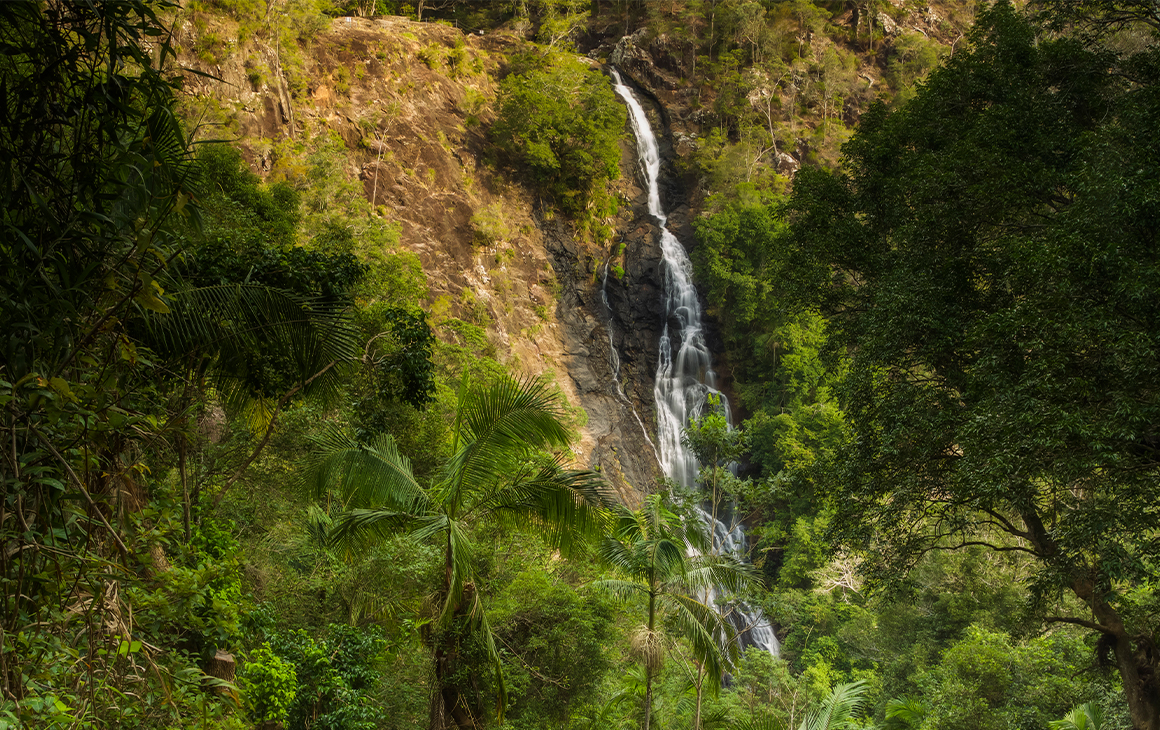 So you like your waterfall chase to involve working up a sweat? We get it! After a bit of a bush walk there's nothing like seeing a stunning four-metre waterfall surrounded by lush greenery and plunging into a deep waterhole appear before your eyes, and then knowing that you can jump right in for an instant refresh. Skip the beach and hit this waterfall in summer aka the wet season, to see its real power and discover first hand the reason behind its name "Kondalilla". We'll give you a hint in the meantime though, it's the Aboriginal meaning for something that starts with "rushing" and ends with "waters".
Can you swim here? You can, and there's also rock falls at the top if you're not up for the 300 stairs to get there and back.
Larapinta Falls
Lamington National Park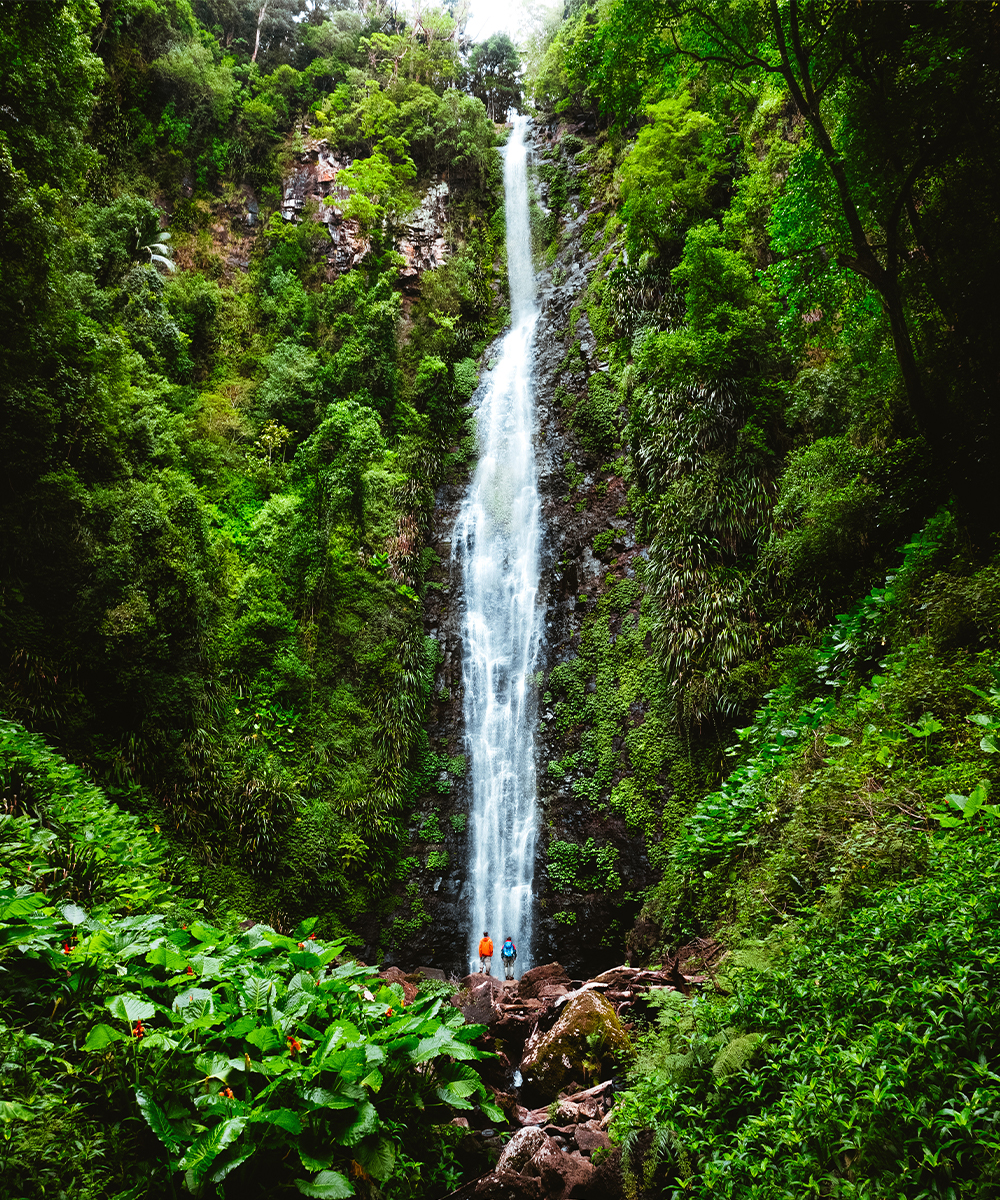 One for the thrill-seekers out there, Larapinta Falls are a hidden gem within Lamington National Park accessible via a challenging off-track trail with a rock-hop to put your hiking skills to the test. Check the weather conditions in advance and prepare for an early start when you set out to conquer the six-hour round-trek of Larapinta (yep, it's a long trek), stopping for a rockpool swim that confirms the physical effort is 100-percent worth the sweat.
Can you swim here? Swimming in Lamington National Park is discouraged as the waterways are a delicate ecological environment.
Purling Brook Falls
Springbrook National Park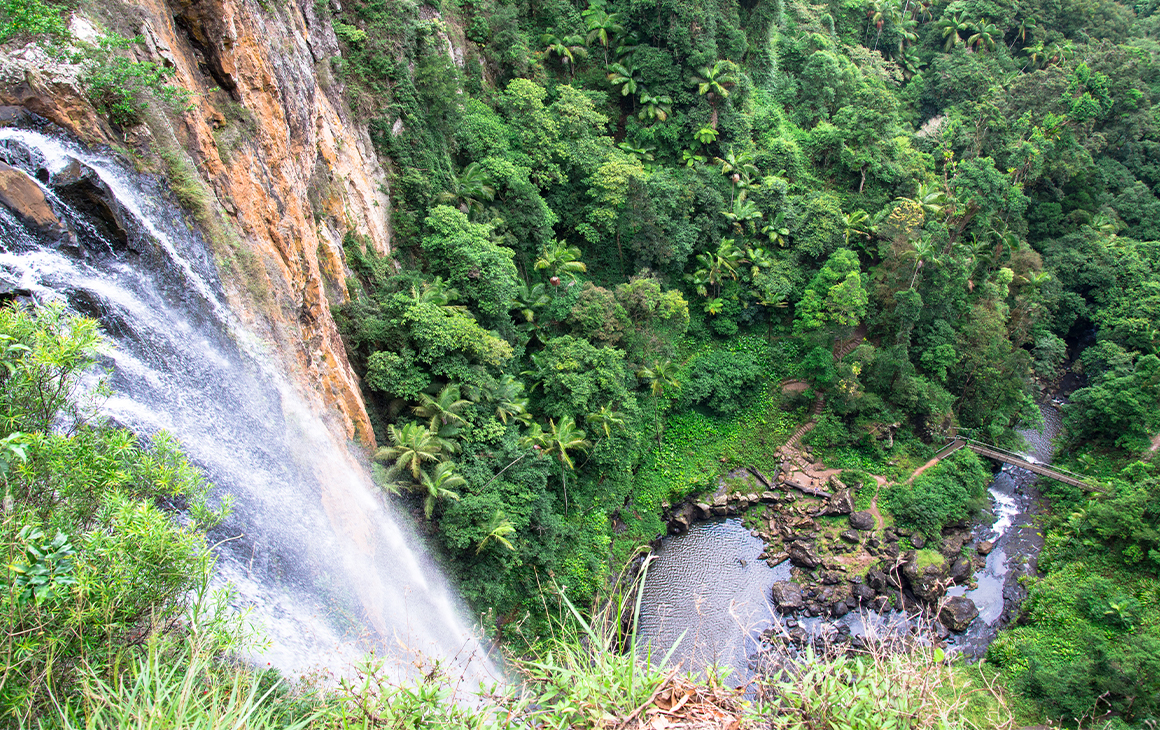 Springbrook National Park is home to Purling Brook Falls which can be reached via a four kilometre circuit. Traipse through open Eucalyptus forest as you make your way to the bottom of the gorge and view the falls from the bottom. Plus, if you're up for an extra stroll, you can keep on trekking down the Warringa Pool track for about six kilometres through rainforest to find arguably the best swimming spot in the national park. But shh, it's a secret...
Can you swim here? Swimming at the falls is not recommended—head for Warringa Pool instead.
Serenity Falls
Buderim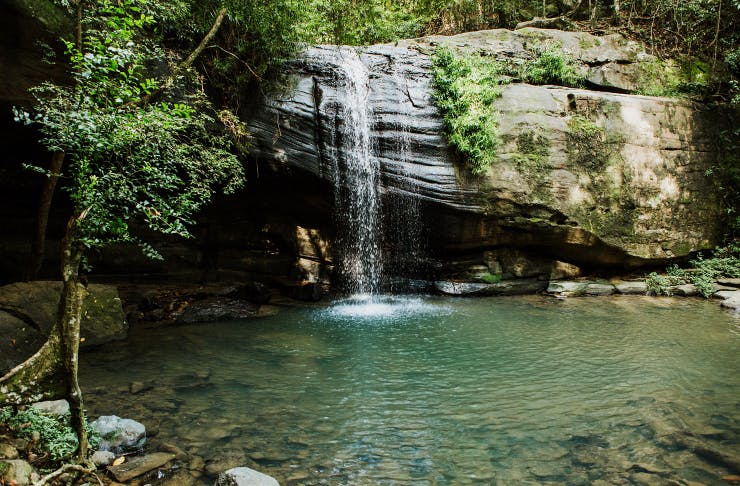 Buderim's best but not-so-well-kept secret swimming spot has got to be Serenity Falls. Explore Buderim Forest Park—make sure you wear swimmers under that active wear—and finish off with a dip in the rock pool. Best bit? You can re-enact those Decore shampoo commercials under a waterfall. Insta-famous video right there.
Can you swim here? Yes you can, and there's dozens of rockpools to choose from.
Baxter Falls
Flaxton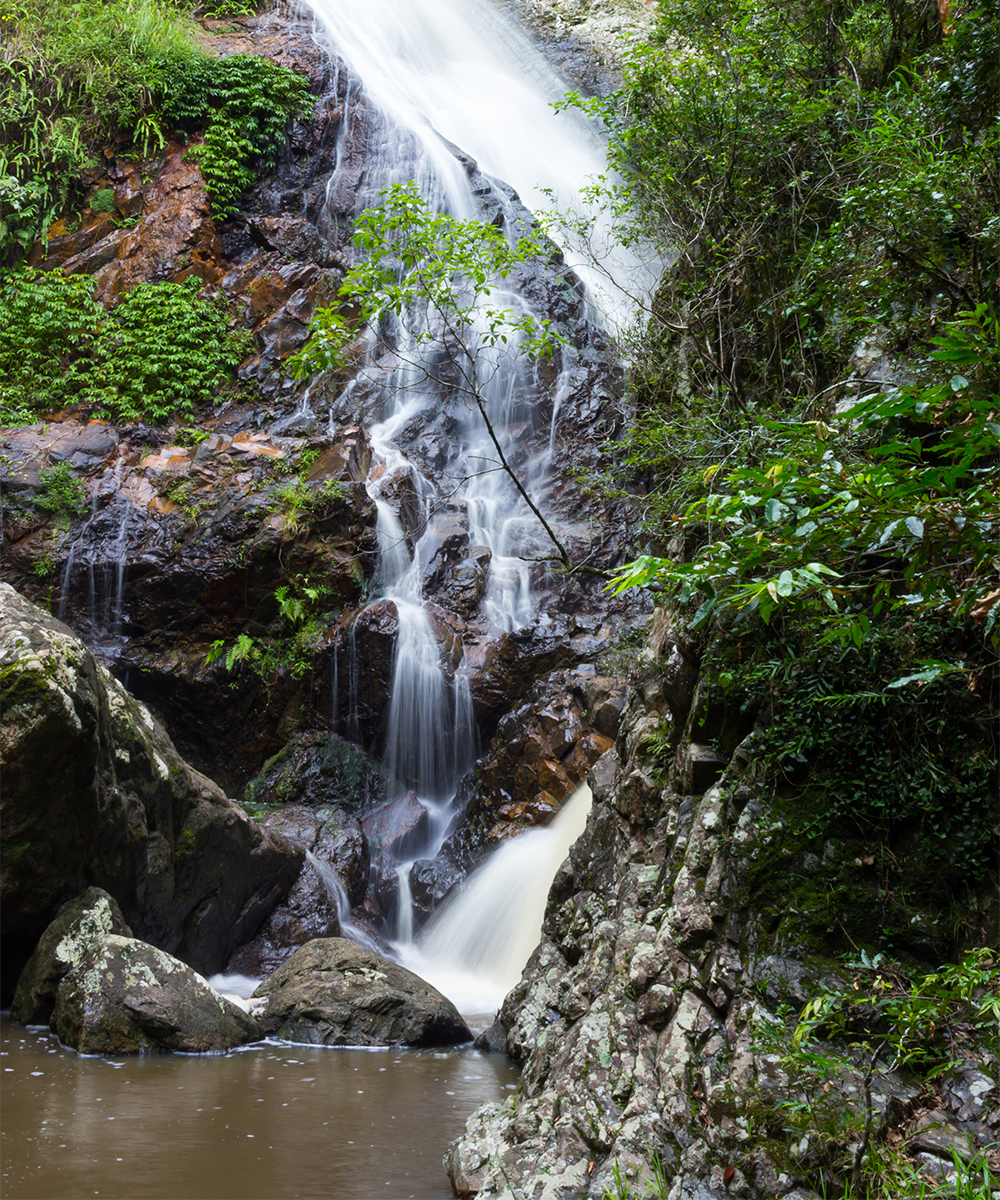 You've done Kondalilla Falls, and Serenity Falls is old news to you too. But have you checked out Baxter Falls in the hinterland? Not only is there a suspension bridge over Baxter Creek—perfect for that "weekend adventure" Insta pic—it's not a strenuous walk. Totalling up to just over 6kms, start and end at Flaxton Mill Road in Flaxton, before hopping back in the car and bee-lining straight to Little May Espresso's in Montville for a golden turmeric smoothie.
Can you swim here? You can, but the pools are quite small, and water isn't often running.
Twin Falls
Springbrook National Park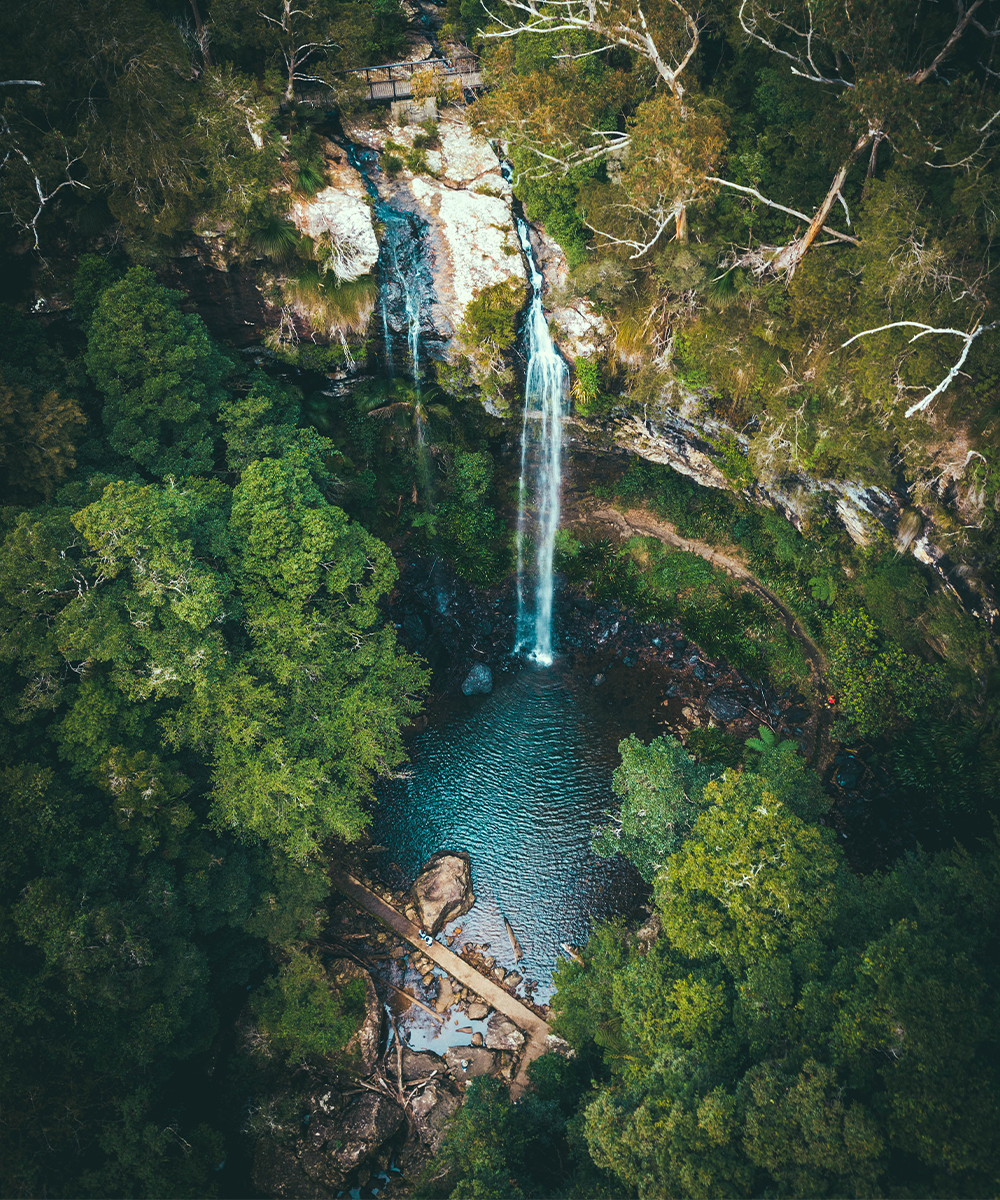 Twin Falls are one of the best swimming holes at Springbrook: three levels of rock pools, a water fall and some pretty spectacular scenery are pretty epic if you ask us. Follow the track to Twill Falls from Canyon Lookout; it takes about 30 minutes each way.
Can you swim here? Yes you can.
If you're still feeling hot, here's 11 of other natural swimming holes around Brisbane.
Image credit: Mel Campbell Creative, Tourism & Events Queensland, Brooke Darling, Dan Campbell, bmphotographer, Lumea Photo