Ahh, summer in Brisbane. A period when the only reason you ever leave the air conditioning to brave the heat and humidity is to tear the washing off the line before a storm—or to dip your toes into the cool water at one of South East Queensland's beautiful rivers, creeks, lakes, waterfalls and beaches.
But which watering hole deserves your undivided attention? Well, that's where we come in—because not all Brisbane swimming spots were made equal. Here are our favourite natural swimming holes in and around Brisbane.
Lower Portals
Mt Barney
It might be an hour-and-a-half drive plus a three-hour return walk along a rocky trail to the Lower Portals, but trust us, these crystal clear rock pools are worth it. Framed on either side by granite boulders, there always seems to be enough cool water for a splash here, which is lucky, because you'll need it after the hike in. Not just a stellar spot for a dip, you can also camp nearby, though you will need to score a permit in advance.
Cedar Creek Falls
Mount Tamborine
The rock pools of Cedar Creek Falls form part of the Tamborine National Park, and are the reward of a 30-minute round walk inclusive of quite a few steps. After a substantial soaking and some deep pondering at the lookout, you can balance out your outdoorsy time with a trip to the nearby Cedar Creek Estate Vineyard.
Enoggera Dam
The Gap
Enoggera Dam, in the middle of The Gap's D'Aguilar National Park, is surrounded by lush green forest, allowing you to think you're escaping to nature while only having to travel 30-ish minutes west of Brisbane. This reservoir is heritage-listed, its construction dating way back to the 19th century, and remains one of Walkabout Creek's leading attractions for a very good reason. If you've managed to pick up a comical floaty you're dying to try out, this is the perfect spot, with the influx of people on summer weekends transforming this spot into a swimming paradise.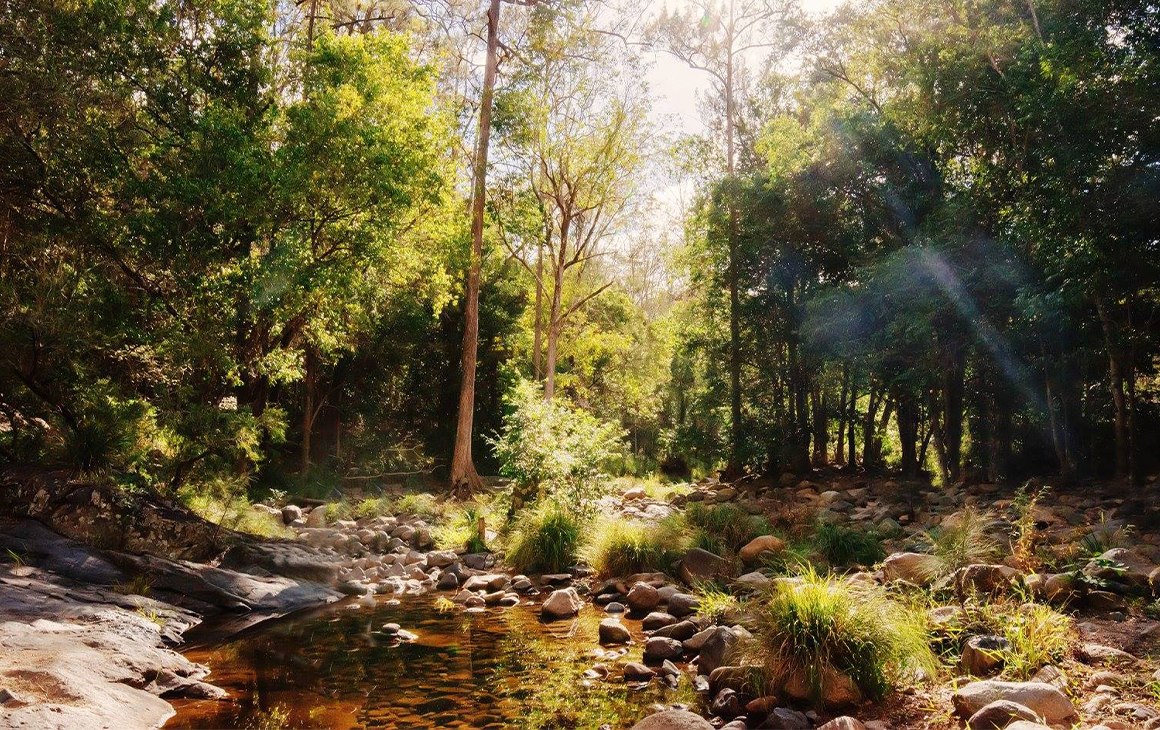 Cedar Creek
Samford
Blowing that other Cedar Creek out of the water, the Cedar Creek in Samford is home to many a tranquil rock pool worth donning your swimmers for. Nestled in the shadow of Mt Glorious, the Cedar Creek rock pools boast emerald green water, a Tarzan-esque vine made for living out your jungle swinging dreams, and ample space for floating all your stresses away. To get there, drive along Mt Samson Road, turn left onto Cedar Creek Road and take your pick of a number of rock pools at Andy Williams Park. Alternatively, if swimming in peace is more your style, follow the creek until you find your own private spot.
Bunya Crossing Reserve
Albany Creek
This secret swimming hole is tucked away in the 'burbs of Brisbane's northside Hills District, making it perfect for a serene escape without going too far. There's something for everyone here, with clear shallows for wading and deeper waters perfect for paddle boarding and kayaking. The Bunya Crossing Reserve is also doggo-friendly, so put your pooch in the car and get there ASAP.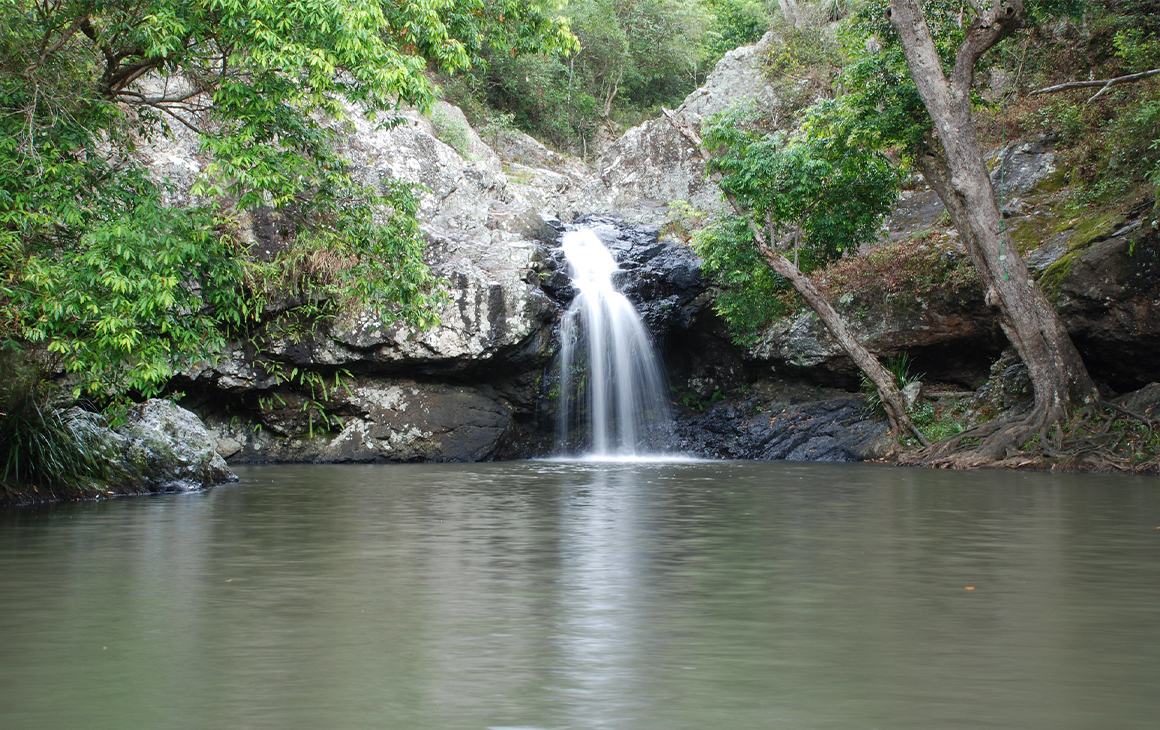 Kondalilla Falls
Montville
Located in the Blackall Range, Kondalilla Falls marks the point where Skene Creek plummets 90 metres into the eucalypt rainforest below. Talk about majestic AF. Keen hikers can make the 100-step climb down to the rock pool and picnic area that the falls flow into. Alternatively, you could score a killer view of the falls from the lookout above. Here's what we'd do: pack a picnic lunch (BYO dranks optional, of course), enjoy your wander through the subtropical rainforest, take a dip in the turquoise waters, then spend your after-swim snacking time trying to identify as many of the 32 species of frog that call Kondalilla National Park home as you can. Oh and did we mention it's all just over an hour's drive from Brisbane. Weekend plans = sorted.
The Gorge
Lake Moogerah
If you're looking for a nature escape far from the madding crowd, Lake Moogerah is right up your alley. Famous as the place to take seriously good photos of the stars or to enjoy a quiet camping weekend – with a cheeky trip to the nearby wineries a must if you're so inclined – Lake Moogerah is also home to quite a few swimming holes. Water-fiends can choose between getting their swim on in the lake itself, complete with a designated swimming area designed to keep those pesky boats from interrupting your much-needed paddle time, or head to The Gorge for an under-the-radar swimming hole well worth exploring. Think a pool framed by rocky outcrops, quiet waters and the chance to sit underneath a real-life waterfall.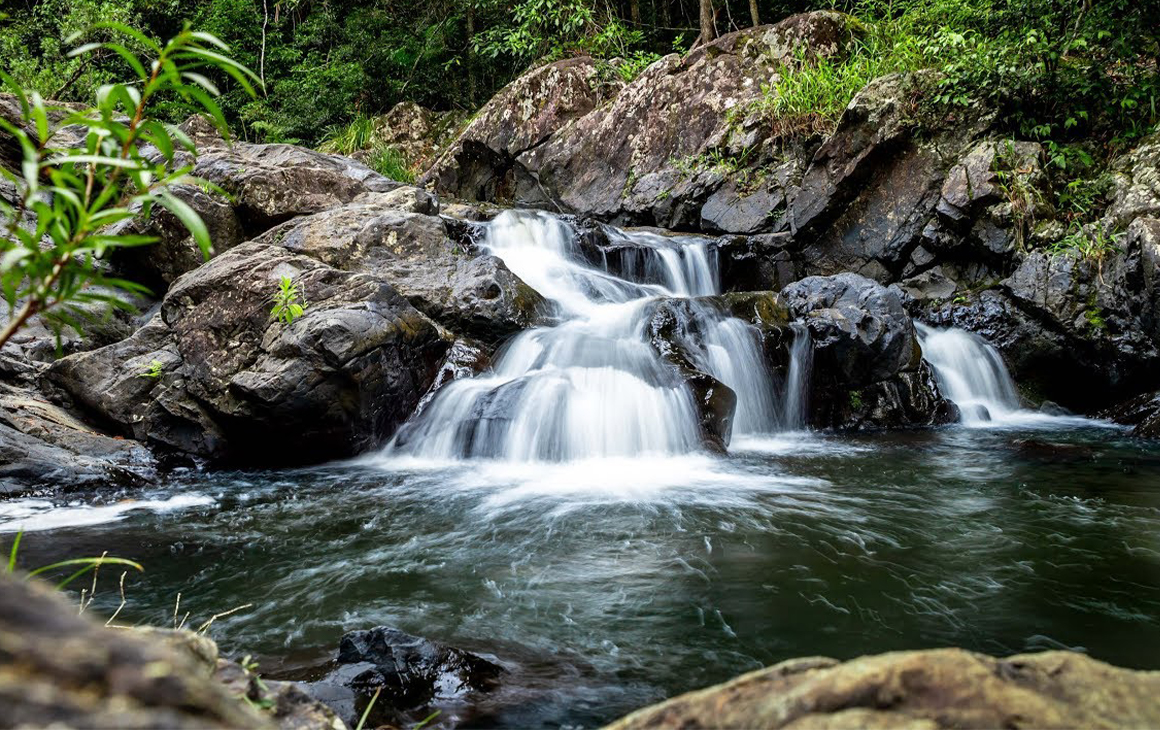 Booloumba Falls
Conondale National Park
Thrill-seekers, this swimming spot was made for you. Booloumba Falls, located in the gorgeous Conondale National Park in the Sunshine Coast Hinterland, is only accessible by packing the squad into a 4WD and navigating gravel roads and several creek crossings until you reach the falls car park. The view, and the swimming hole, at the other end, however, makes it all totally worth it. When you arrive you'll be greeted by a watery paradise framed by tall, open forests and the gushing cacophony of the falls. Kick back under a tree and breathe everything in or go straight for it with a graceful belly flop into the cool waters of the rock pool in front of you.
Currumbin Rock Pools
Currumbin
It finally happened: you've stayed on the Gold Coast so many times that the gorgeous golden sands of the beach are starting to look ordinary and dull. What do you do? Why, head inland to the Currumbin Rock Pools for a much-needed change of scenery, of course. Located about 20 minutes west of the township of the same name, these rock pools boast the same leafy surrounds and turquoise waters that make Queensland's swimming holes worth the drive. Afterwards, head a little bit further down Currumbin Valley Road to get a look at the nearby Cougal Cascades, a waterfall accessible via a short hike.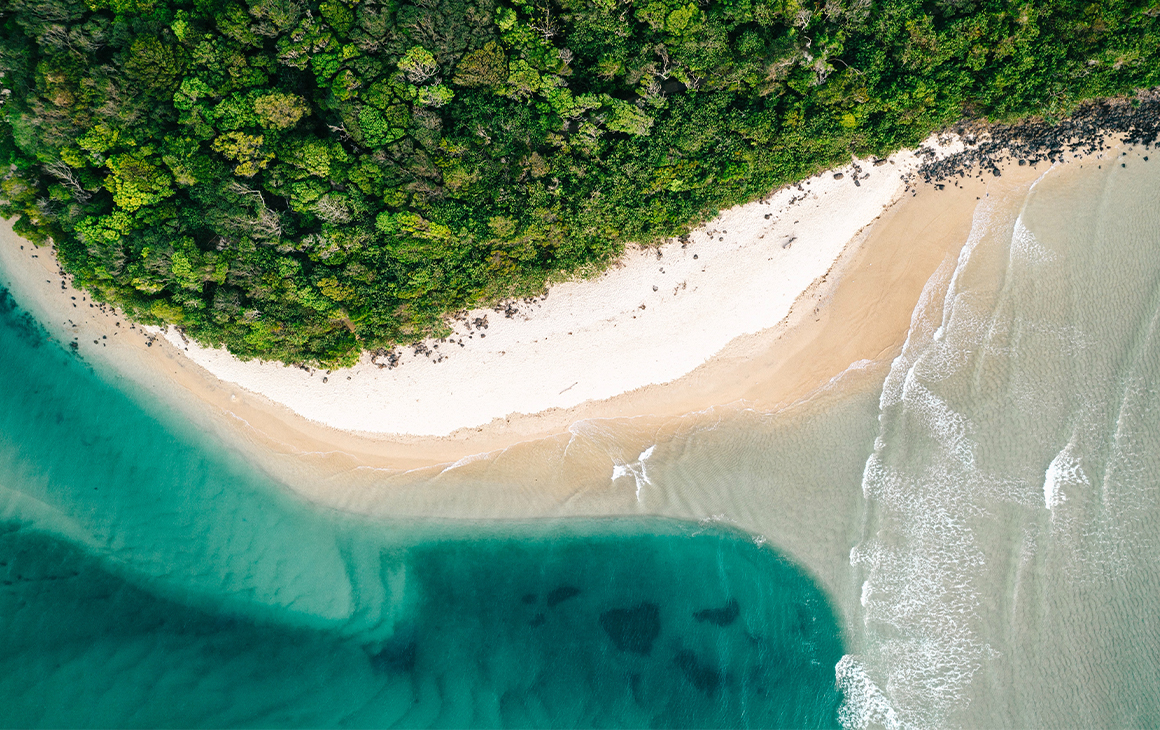 Tallebudgera Creek
Palm Beach
Hardly a secret for locals, but if idyllic azure waters are more your jam than being tumble-rolled in the breakers (after all, that hot new two piece is barely holding on as it is), seek out this stunning sandy spit on Tallebudgera Creek. Find a park north or south of the bridge and enter the leafy nature walk at the southern end of the Burleigh National Park headland. Follow the path for about 300 metres or half way around the point, popping out at a magical beach protected inside the breakwater. Backed by native sub-tropical rainforest and frequented by the odd bush turkey, if you can sneak in a visit mid-week this gem is pure heaven.
We've also rounded up the best places to walk and hike around Brisbane.
Image credit: Tourism and Events Queensland, Tatiana Geris, Andy Z, Damian Dempsey, Leeroy Todd, Josh Withers