Its official: we are embracing those summer vibes in the air. Goodbye cozy blankets and nights in with Netflix, hello Pina Coladas and wriggling our toes in the sand. But with all those cafes and restaurants to try in Brisbane, who has time for driving to the Sunshine Coast or Gold Coast to get your daily seaside fix?
Well, fear not citizens, because your friendly neighbourhood us is here with the best beaches in Brisbane or only a short drive away. Yep, we do actually have some. Move over Sunshine Coast, Brisbane's coming through—and we are completely on board.
Suttons Beach
Redcliffe
Located only 36 kilometres from the CBD, Suttons Beach is the family-friendly beach day trip we all need in our lives. Gentle waves make it perfect for those seeking a gentle paddle or afternoon float, while a massive playground and barbeque facilitates provide a cracker excuse to invite the squad around. Or, if swimming isn't really your style, why not kick back with your next summer read underneath one of the many trees dotting the beach. Saturday plans, sorted.
Raby Bay Foreshore Park
Cleveland
A well-kept hidden gem, Raby Bay Foreshore Park is not only a quiet beach escape only a hop, skip and jump from the CBD, it's also dog central. That's right, you could not only be wiggling your toes in golden sand within a 45 minute drive of Brisbane, you could also potentially be petting quite a few doggos. At Raby Bay, puppers are totally welcome to run and splash about in the shallows of the bayside—much like their human counterparts are. C'mon guys, who doesn't want to spend a cheeky Sunday arvo with a cheese board and a view of majestic fur babies frolicking in the surf. Sign us the heck up.
Nudgee Beach
Nudgee
Another dog-friendly Brisbane beach located only a 30 minute drive from the CBD, Nudgee Beach also doubles as a chance to get back in touch with nature without leaving the concrete jungle too far behind. Nudgee Beach lays claim to a generous stretch of beach made for walking that is bordered by protected wetlands teeming with birdlife on one side and a picnic area on the other. A favourite spot among locals, the nearby wetlands also make for one killer sunrise picture—if you can rouse yourself early enough (#followyourbliss). Otherwise, don your best walking outfit, pack a post-exercise picnic hamper and load your fur baby into the car for a beach-trip that ticks all the boxes.
Woorim Ocean Beach
Bribie Island
Okay, okay, Bribie Island might be a teensy bit more of a drive than the other gems on this list, but we're convinced that the 90 minute drive from the CBD is more than worth the trip. Woorim Beach, located on the surf side of Bribie Island, is exactly what you've been looking for if you're feeling those summer vibes. Woorim Beach is the perfect place to learn how to surf or to crack out the fishing rods, but the white-sand beach and surf life saver flags also make it ideal for an all-around beach experience. Have a swim, munch on some fish and chips from the nearby outlets (you know, just in case the whole fishing thing doesn't work out) then lay back and soak up some Vitamin D. Just be careful to always swim between the flags, the ocean can get rough on certain days around Bribie Island.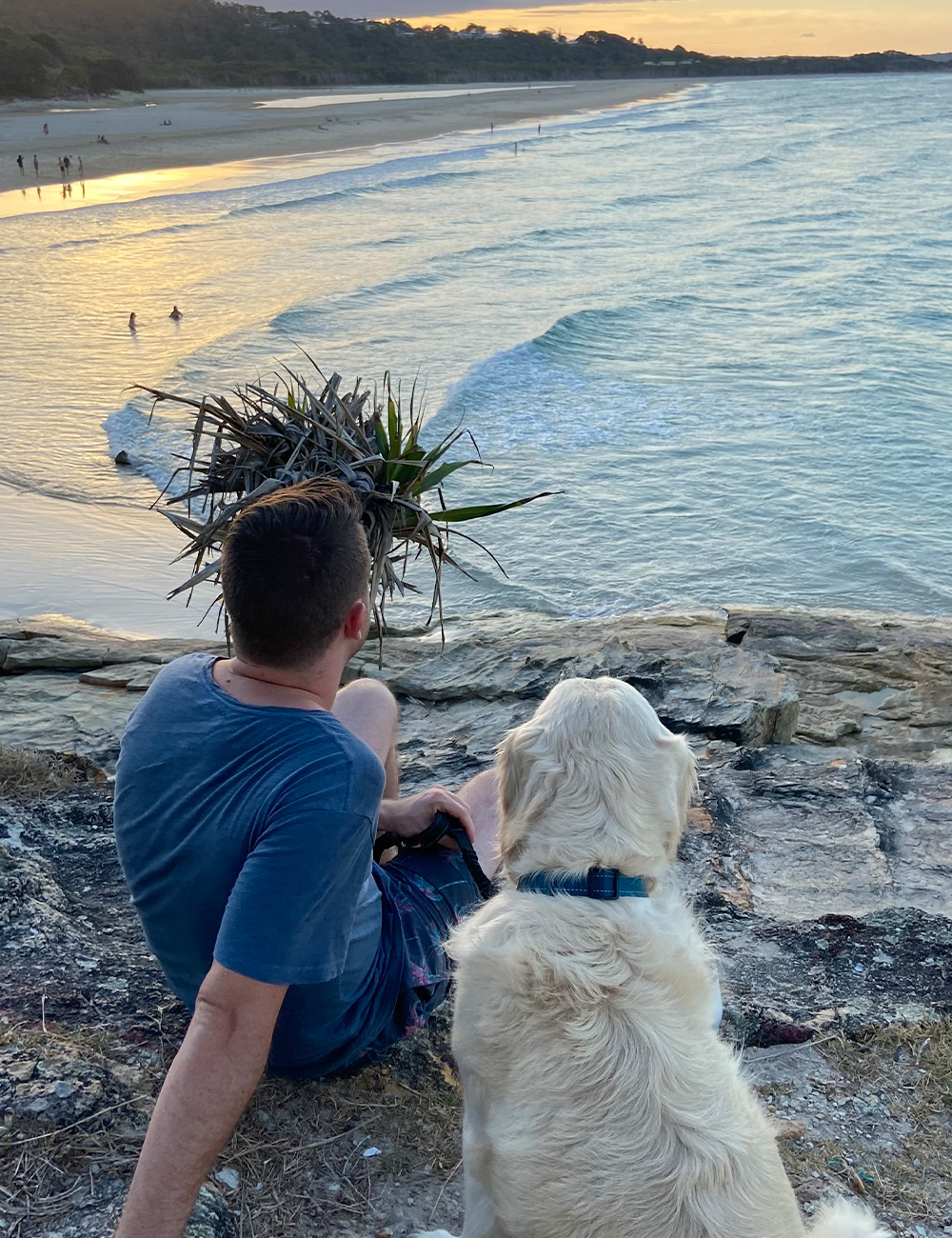 Cylinder Beach
Stradbroke Island
There are plenty of beaches that make the ferry trip to Stradbroke Island well worth it, but Cylinder Beach and its calmer, slightly protected waters are definitely a favourite among regulars to the island. Pack yourself a beach umbrella, an esky full of drinks and snacks and set yourself up for a blissful day of lazing in the sun before heading back to your holiday house.
Coochiemudlo Island
Moreton Bay
Guys, did you know there's an almost-private island you can take a ferry to and it's only 41 kilometres from Brisbane? Enter: Coochiemudlo Island, nestled between Brisbane and the Gold Coast. While Coochie, as it is affectionately called by the locals, isn't exactly Whitehaven Beach (its name means 'red rock' after all), it does provide a chill, beach-side escape only a short trip from the city. The whole island is only 5 square kilometres large, so you can easily tackle it without the use of a car. Plus, the waters are both shallow and protected; meaning both kids and grown-ups will be safe if you decide to go for a swim. With the city just visible in the distance, stepping onto Coochie is as close to a private island vacation as you can get near Brisbane. Now all we need is some palm leaves and a Long Island iced tea.
Wellington Point
Cleveland
Okay, so a private island isn't really your thing, what about an island you can walk to? Wellington Point, located 25 kilometres south-east of Brisbane, is, we admit, more of a reserve with water on both sides than a Brisbane beach. But, when the tide is right, Wellington is connected to an island in the distance with a sand bridge that you can totally walk on. Yes, it's just as magical as it sounds. Inside tip: start your adventure with gelato at The Lighthouse, take a quick stroll along the waterfront, then start trekking your way across to the island. Just remember to keep an eye on the tides—no one wants to accidentally re-enact Castaway if they can help it.
Tangalooma Beach
Moreton Island
Calm, crystal clear aqua waters, squeaky white sand and a stunning reef just metres off the shore—no, we're not talking about the Bahamas, we're talking about Moreton Island. Yes, you will have to jump on a boat to get to this one, but it's only a 75 minute trip and well worth it for the paradise that awaits you at Tangalooma Beach. You can hire SUPS, kayaks and snorkels while you're over there, and even book a guided reef snorkelling tour with Tangalooma Island Resort's day trip options if you're new to the game and unsure of the currents.
Scarborough Beach
Redcliffe
Another Redcliffe favourite, Scarborough Beach is popular for its calm shallow waters at low tide, which stretch out for a good 20 metres until dropping off into deeper ocean seas. Great for families, a stroll down to the rocky end of the beach will lead you to volcanic rock pools where crabs can be seen scuttling across the rocks if you sneak up on them slowly enough.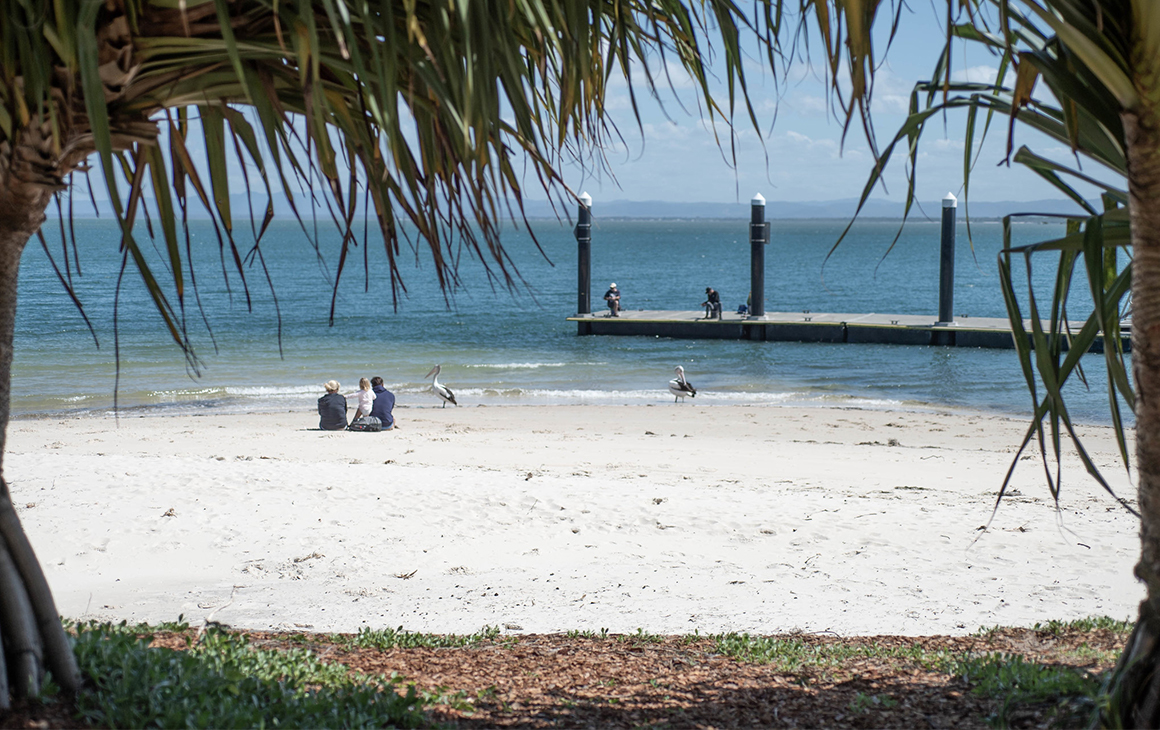 Bongaree Beach
Bribie Island
Overlooking the stunning Pumicestone Passage, Bongaree Beach is a Queensland white-sand beach at its very finest. Located only an hour's drive north of Brisbane, Bongaree Beach has everything you could ever want from a beach-themed escape. Its family friendly, the views are to-die-for, there are more than a few swimming spots near the jetty, and did we mention it's just really pretty. Like, a beach straight out of your best dream pretty. Think turquoise waters, pure sand and the perfect tree to set up your picnic under. And you don't even have to hop on a ferry to get there. Go on, give yourselves this one.
Streets Beach
South Bank
There's sand, there's water, there's an amazing view over Brisbane, what more could you ask for from everyone's favourite inner-city beach. Streets Beach, a tourist favourite and guilty-pleasure for many locals, has been fulfilling beach in Brisbane cravings for many a year—and it's all located smack bang in the middle of South Bank. Our recommendation: smash a handcrafted burger at Brooklyn Depot, relax on the sand at Streets Beach while you nurse a food baby, jump in the water and watch the sun set over the CBD (majestic AF), then head to Cowch for dessert. Be right back, we're just living our best lives this weekend.
Lower Moora Park
Shorncliffe
Located just south of Sandgate and right next to the stunning Shorncliffe Pier, Lower Moora Park is home to a gorgeous cliff, complete with a Sound of Music-esque rotunda, and a small, calm beach perfect for a splash. It's also home to one epic playground, which consists of interconnected beach-themed huts and a no holds barred obstacle course. The beach itself is sandy (it may be brown sand, but it's still sand) and still, so you can enjoy the sand between your toes without getting stuck in traffic on the Pacific Highway.
Colmslie Beach Reserve
Bulimba
Adjoining the Brisbane River and located only 9 kilometres east of Brisbane City, Colmslie Beach Reserve was made for those of you with littlies. Think sand perfect for creating epic sandcastles, a dog park and one spectacular playground. Seriously, we kind of want to be kids again just so we can enjoy it. Colmslie Beach Reserve is also home to shady picnic spots a-plenty and bike tracks, so you can kick back and enjoy the view. Do we reccommend going in the water? Absolutely not, but you know, it's still got beachy vibes.
Still holding onto Spring? Have you seen our round-up of everywhere you can cuddle baby animals this spring.
Image credit: TEQ, Urban List archives, Dan Woodrow/Flickr