If it's poached, smashed, drizzled with maple, or can have smoked salmon on the side, we're all over it. Thankfully, our love for the morning meal has resulted in us being utterly spoiled for choice by the sheer multitude of cafes serving up truly spectacular feeds first thing.
Whether you dig on granola or the greasy fry-up, these are 50 of the best cafes in Brisbane (in no particular order) you can depend on—consider it your 2022 to-do list.
St Coco Cafe
Daisy Hill
St. Coco Cafe is pumping out the breakfast and lunch dishes of your dreams. We're talking spiced biscuit Belgium waffles, bratwurst benedict, panna cotta bowls, you name it. If all that wasn't enough, St. Coco cafe's decor is a Pinterest lover's wet dream—all rustic, Cali-style fit-out, featuring a plethora of cacti and succulents, rugs and mismatched seating.
Bear Boy Espresso
Windsor
Tucked away in Windsor's Colwill Place, Bear Boy Espresso is the younger sibling of the Gold Coast cafe of the same name. This pastel pink spot doesn't just get our tick of approval for their cute interiors, but also for breakfast plates that will cure even the grizzliest of hangers. The eggs benny on a crispy potato hash waffle is a classic, but we can never go past the chicken and waffles.
Chapter IV
Paddington
Housed in an old Queenslander complete with a verandah that offers up some pretty epic views of the city, Chapter IV takes your fave brekky dishes and gives them an epic twist. A must-try for anyone with a sweet tooth is their waffle French toast of banana bread, mocha caramelised bananas, rocky road ice cream and chocolate fairy floss —it has to be seen to be believed.
Pawpaw
Woolloongabba
Woolloongabba fave Pawpaw knows a thing or two about putting on a killer breakfast in a stylish Brisbane cafe. Our go-to dishes include their signature potato hash with turmeric hummus, smashed avo and haloumi, or just whatever insane variation of pancakes or waffles they've cooked up for the season.
Nodo
Newstead, Camp Hill, South Bank and Hawthorne
Not only is Nodo one of our favourite Brisbane cafes thanks to their iconic baked, gluten-free doughnuts (if you know, you know), but they're also one of our go-to breakfast spots. Some might go for their extensive list of supernatural health shakes, but we'll be the ones in the corner chowing down on the eggs benny with mandarin hollandaise on a house-made brioche.
The Cornr
Sunnybank Hills
A fairly new addition to the southside's breakfast scene but, nonetheless, still absolutely delicious is The Cornr at Sunnybank Hills. With chic, matte black interiors, this venue has kept furnishings simple so you can just focus on picking the tastiest (and most Insta-worthy) breakfast. Their grilled lobster roll and duck croissant with slow-cooked duck, feta, rocket and caramelised onion are a few highlights which take their brunch menu to the next level.
Florence Cafe
Camp Hill
Trading out of a converted cottage on the corner of Martha Street, Florence Cafe is a happy little hutch of goodness. Their all-day menu offers a broad range of wake-me-ups, from vanilla cream and Nutella millefeuille to curried eggs with fried sourdough, spinach cream, watercress, and curry leaf. As a sweet added bonus, every jam, pickle and relish on the menu is made right there in house by the Florence team.
Little Black Pug
Mount Gravatt
So dog-friendly they've even named their menu items using puppy puns, Little Black Pug looks cosy from the front, but they're hiding an adjoining dining space out back, with plenty of room to tuck into a Dog's Breakfast (their version of a big brekkie), or something more creative. But the real drawcard? The menu for your doggo, complete with a warm puppycino or doggy biscuit.
The Green
Fortitude Valley
Definitely one of the greenest cafes on the list, The Green may be a recent addition to Brisbane's cafe scene, but won us over from the get-go with its cacti collection, not to mention the Lebanese-inspired breakfasts. Avocado on regular sourdough will never be good enough for us after having sampled The Green's avocado on manoush flatbread with Persian feta, za'atar and green tomatoes, and we love that you can add on potato croquettes when you're extra hungry.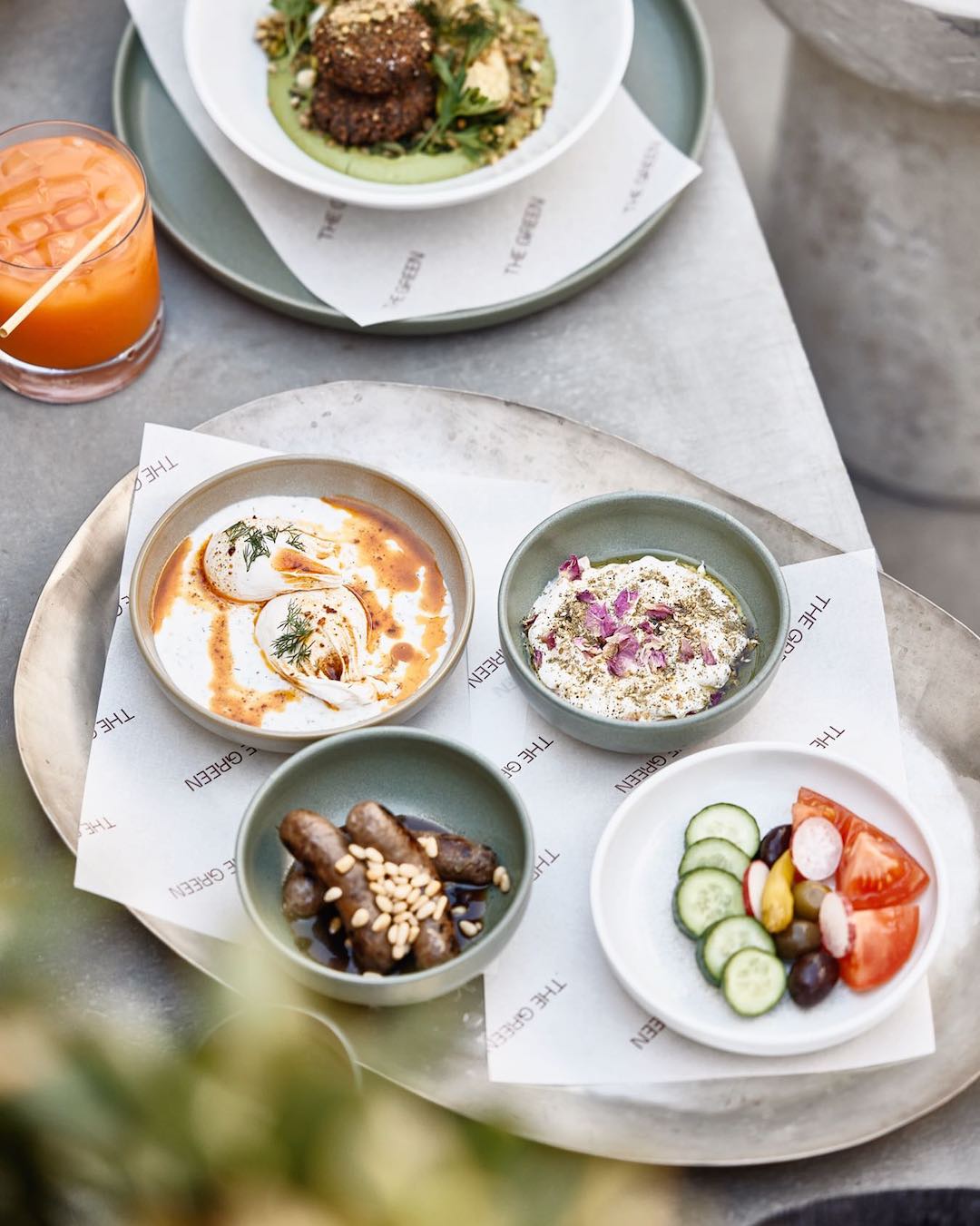 Morning After
West End
They'll take care of you in the morning and well into the afternoon with their hearty breakfast and equally tasty, lunch fare. This iconic Brisbane brunch venue may always have a line of people waiting out the front, but trust us, it's worth lining up for. A typical brunch date at Morning After usually includes their iconic breakfast carbonara (always say yes to pasta for brunch) and an order of crispy hash browns on the side.
Sister Cafe
Hawthorne
A bright and colourful corner of Hawthorne, Sister takes after sibling Miss Jones' peachy pastel aesthetic and offers a brunch menu to knock your socks off (the pork-belly eggs benedict and breakfast gnocchi are both must-orders). Add a few cups of their Single O coffee poured with perfect latte art and you'll have the Insta flat lay photo of your dreams.
Banter Coffee House
Manly West
One of the best cafes in Brisbane's bayside, Banter offers one of the most comprehensive all-day menus we've ever seen. With extravagant features like the miso breakfast carbonara and Gotchujang pork ribs eggs benedict on a kimchi pancake, it's literally impossible to be bored by their offerings. That said, they'll happily whip you up a sage and reliable avo smash or big brekky no wukkas.
Café O Mai
Annerley
It's 11 in the morning. You're hungry and hung. What's the first thing that pops into your head? Café O Mai's pork meatballs in rich tomato sauce with quail eggs and a fluffy white baguette of course. You could go for something less adventurous, but why would you?
Felix For Goodness
Brisbane CBD
Looking for organic, locally sourced breakfast that's lovingly made from scratch in the Brisbane CBD? Look no further than Felix. This Burnett Lane café is a hidden gem that offers up the perfect all-day breakfast menu, including chocolate-filled French toast, classic avo smash, and housemade frittata as good as mums, alongside fresh smoothies and specialty coffee.
Andonis Cafe
Yeronga, Yeerongpilly and Fortitude Valley
Is 10 dishes on a menu not enough for you? Well, Andonis Cafe has upwards of 20, each one of them as drool-worthy as the last. Bonus, they've got three locations where you can tuck in—so you've got plenty of opportunities to try everything on the list. We're all about decadent feasts like the big Canadian breakfast on a house-made waffle and the loaded croissant, but you might prefer one of the classics like their eggs benny or breakfast burger.
Huskk Cafe
Grange
Don't let Huskk Cafe's cosy, minimalist space fool you—on the breakfast menu here you'll find an adventurous selection of dishes far bigger in flavour and flair than the venue lets on. With everything sourced locally and seasonally, tuck into feeds like gingerbread pancakes with pistachio brittle and lemon curd, or the epic Moreton Bay bug roll with lobster bisque mayo and chips (and you can even add on a glass of cold rosé for just $5).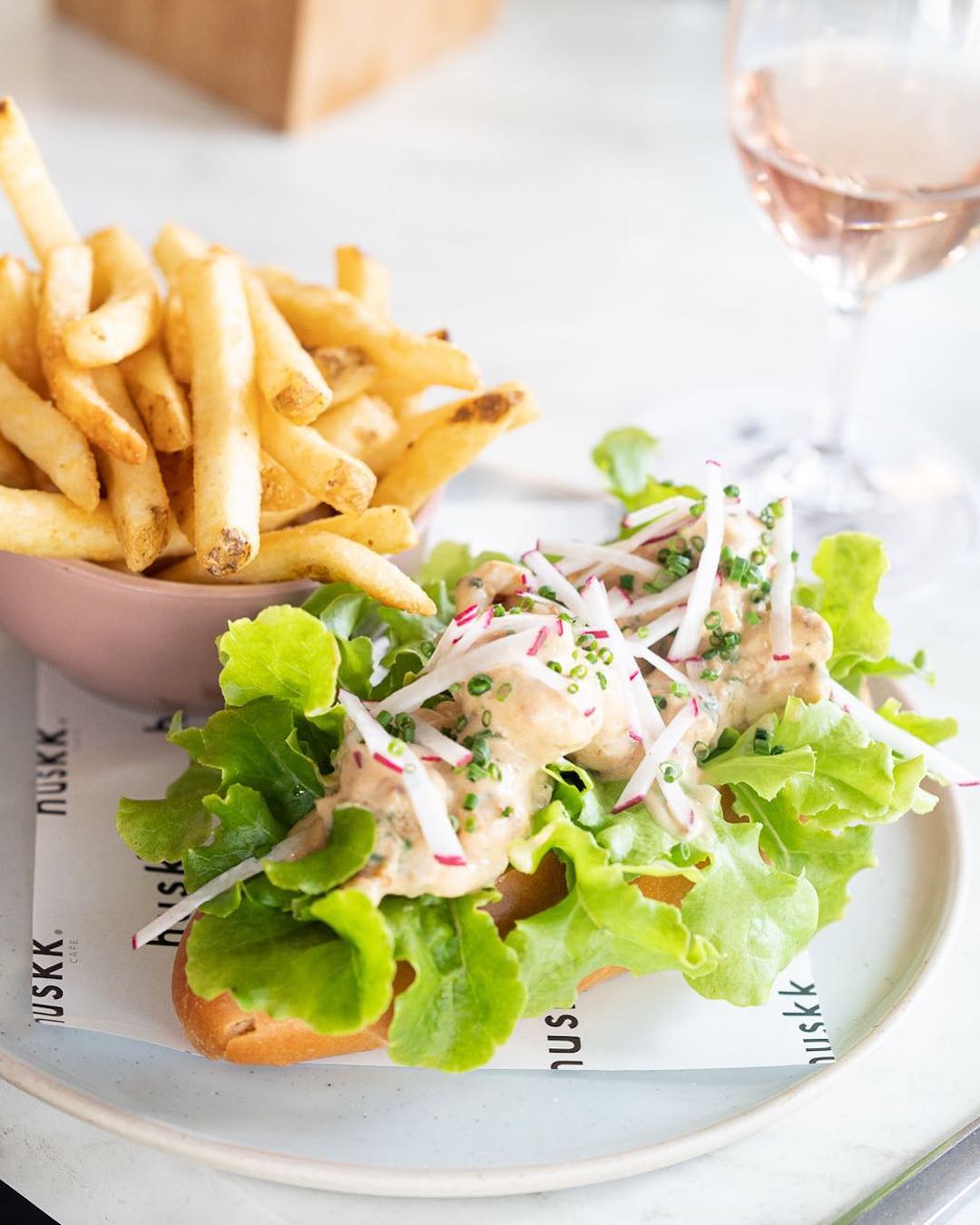 Blockhouse Eat + Drink
Nundah
Nundah favourite Blockhouse has a moreish and creative breakfast menu that's all over the shop in the best possible way. Fried chicken and corn waffles. Duck eggs Benny complete with house-made pickles and chipotle hollandaise. Avocado on toast with popcorn chicken. We could go on. Added bonus, if a visit for breakfast is simply not enough, they are now also serving dinner from Thursday-Saturday.
Farmhouse
Kedron
Managing to give off country barn vibes despite being located in a suburban street in Kedron, Farmhouse usually has a line snaking down the street on Sunday mornings—but it's worth the wait. Maintain your position for breakfast gnocchi in arrabiata sauce with thick-cut bacon, twice-cooked parmesan souffle or their brioche French toast with passionfruit curd and lemon-thyme honey syrup.
My Mistress
Clayfield
Everything about this warm, earthy northside Brisbane cafe is fun and laid back, including the My Mistress menu. If you're in the mood for something light, consider a 'Cheeky Fling' like Middle Eastern fruit load with ricotta and seasonal compote or an acai bowl with seasonal market fruit. After something a little more serious? Get involved in a 'Main Affair' including the aptly named Eggs Marilyn or Eggs Monica.
Goodness Gracious
Graceville
The only thing you really need to know about Brisbane cafe Goodness Gracious is that they don't do anything by halves. They're big fans of the whole hog and offer an all-day menu that pops off with decadent dishes like the karaage chicken omelette, stacked pancakes with salted caramel sauce and even a cheeky crumbed mac 'n' cheese benedict.
Petrichor & Co
Hamilton
Head to Petrichor & Co for a Brisbane breakfast and you'll find a little slice of South America waiting for you. Drawing on the owners' Colombian heritage, the menu features spicy options like huevos rancheros and pulled beef empanadas, but you'll also find more familiar brunch fare like spiced pumpkin pancakes and acai bowls.
Mylk & Ko
New Farm
Gorgeous Brisbane café, Mylk & Ko is, quite literally, food for the soul. From lamington and Ferrero acai bowls to halloumi burgers and hokey pokey hotcakes, many of the items at Mylk & Ko are dairy-free, gluten-free and/or vegan. A win win for everyone!
Kin & Co
Teneriffe
A maven in the avo toast game, Kin & Co is committed to delivering the goods at all times of the day. With delicious coffee roasted exclusively for Kin & Co, this breakfast venue is located just off the Teneriffe riverwalk—perfect for taking a stroll after you've indulged in a hearty brunch. For ultimate breakfast satisfaction, look no further than the breakfast burger with house-made spiced pork sausage, although we're also quite partial to their buttermilk hotcakes.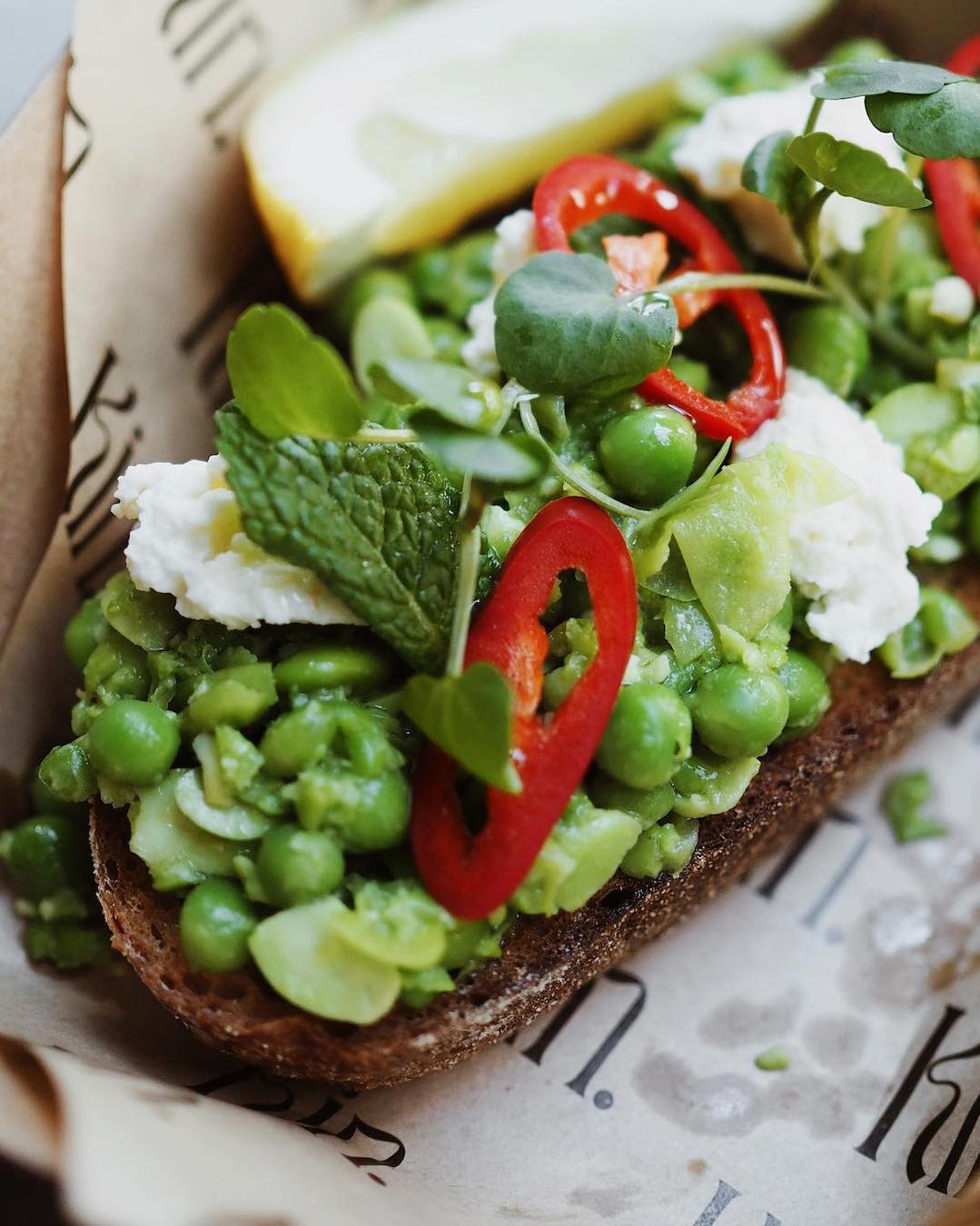 Blue Bear Coffee House
New Farm
The breakfasts coming out of this cottage turned cafe on a breezy corner in New Farm are nothing short of drool-worthy. Another spot with almost too many options, Blue Bear Coffeehouse has every brunch craving covered. You want eggs benny? You got it, on a Belgian waffle with halloumi and paprika hollandaise to boot. A croissant? Try their version loaded with brisket, fried eggs, herbed aioli and grilled halloumi. Plus there's a brekky burger, French toast, avo on toast, savoury mince, a bacon bagel...you get the picture.
Botero House
Brisbane City
If you're dashing to Botero before work, their coffee is some of the best in town, but catching an earlier bus so you can tuck into mushrooms with fried gnocchi and truffle pesto or their amazing mochi French toast with peanut butter and raspberry powder is always a good idea. Even their version of avo toast is suitably extra with pumpkin, feta and house dukkah.
Willow & Spoon
Newmarket
A quaint little northside café with a retro feel, Willow & Spoon is sitting pretty on Newmarket Road and waiting to fulfil your every breakfast whim. Their all-day brunch menu is always evolving, but right now you can enjoy the likes of cured pork belly with truffled scrambled eggs or Knackwurst sausage wrapped in bacon with a cheddar hash brown.
The New Black
Fortitude Valley
With a creative new special coming out of their kitchen every week, there is always a new excuse to head back to this laneway cafe. The New Black's usual menu features plenty of familiar favorites, including an epic eggs benny creation and though small, their laneway seating is a Sunday morning vibe.
Smoked Paprika
Bardon
One quick scroll through Smoked Paprika's Instagram feed and you'll be drooling excessively, already planning your visit for their next weekly special. Last week it was a mac 'n' cheese scotch egg, next week, who knows? Their regular menu is pretty damn tasty too, and with their portion sizes you'll be full until dinner.
Lady Marmalade
Stones Corner
There's two main reasons we love this Stones Corner Staple. One, instead of table numbers Lady Marmalade uses animal figurines—adorbs. Two, their confit duck on chili cornbread waffles with pecan butter and a fried egg is always the hangover cure we need.
Todd & Pup
Moorooka
Southsiders like keeping Todd & Pup under wraps, but we're about to blunder in and blow the lid off of this cheeky secret and send everyone rushing in for their 12-hour slow-cooked pulled pork brekky quesadilla. Think neighbourhood gem, this local joint jumps with a community vibe powered by primo coffee and is, as the name suggests, dog friendly.
Smug Fig
Stones Corner
They might have left their old East Brisbane digs and moved over to Stones Corner, but Smug Fig is still one of our fave cafes in Brisbane and still dishes up a mouthwatering brunch. Best of all, their everchanging French toast special is still on the menu, though you might not be able to go past the pumpkin seed pancake with ricotta, figs, lemon myrtle honey and topped with pumpkin seed ice cream.
Picnic Cafe
Camp Hill And West End
Picnic Cafe has been in the lazy weekend breakfast game since before sourdough hit the mainstream, so they have their menu stacked with crowd favourites like smoked salmon and avocado toast, halloumi and egg roll as well as four different types of eggs benedict. They've also now got a second cafe in West End, that if possible, is even better than the OG location.
Plant Vibes
Bowen Hills
They may be all about the plant-based eats, but trust us, you won't miss the bacon at Plant Vibes if you're not a vegan. From the breakfast croissant loaded with tofu scramble, relish, mushrooms, potato chive cake and avocado to the mango and dragonfruit waffles with vanilla ice cream, everything on the menu here is designed to make you feel good from the inside out—and their Scandi-looking interiors are pretty cute too.
Peach Cafe
Auchenflower
After a rough start to 2022, when the flood took out their entire venue, Peach Cafe is back pinker than ever, with a new menu to boot. We'd happily visit just for one of their gooey Nutella cookies and a latter, but if it's brunch you're after, there's creative options like their dulce de leche fondue-filled French toast, eggs benny po' boys on brioche subs and pumpkin croquettes with greens and poached eggs.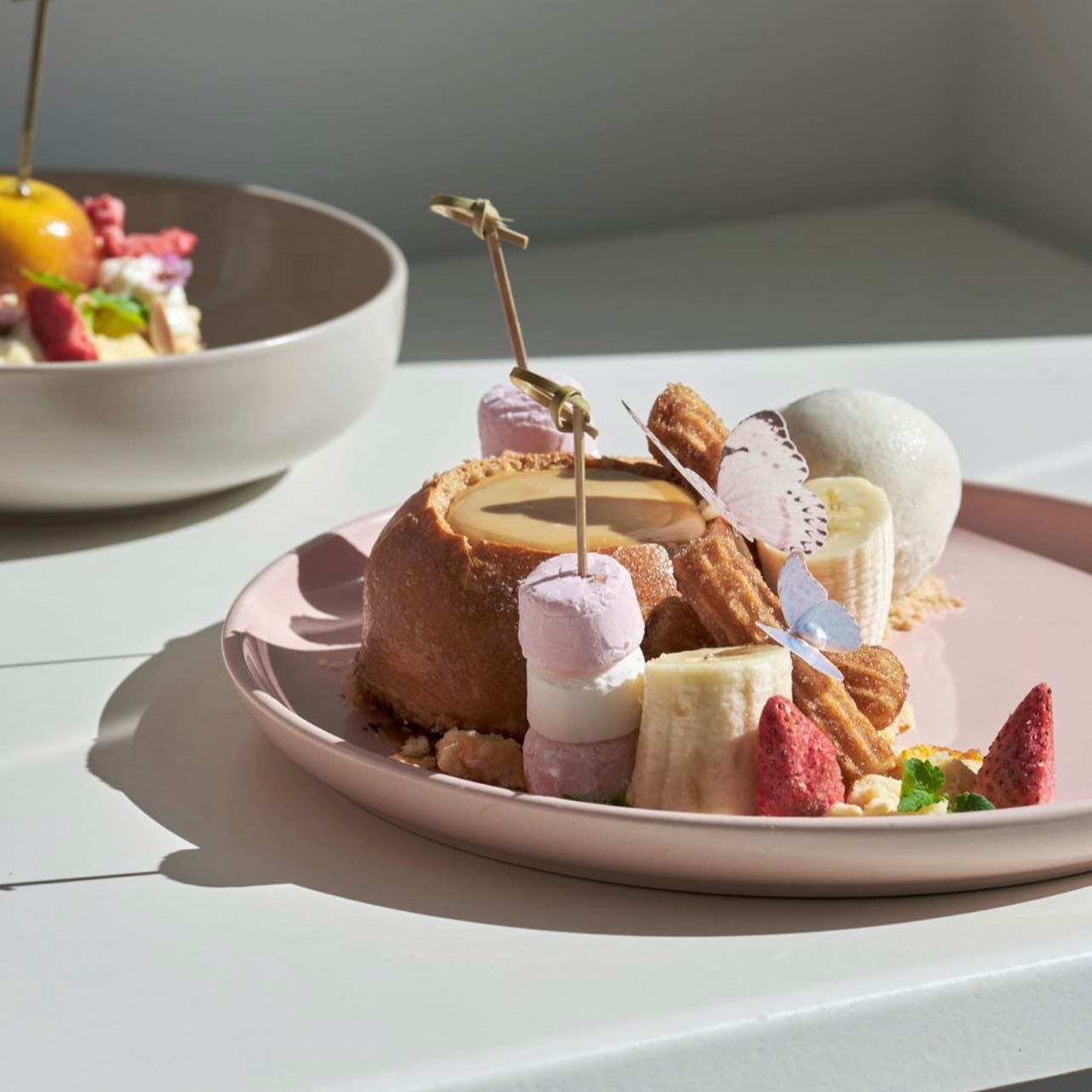 Halo Ground
Fortitude Valley
Tucked away on a quiet street just outside of the Valley's main hub, Halo Ground is somewhere you've probably passed by once or twice without even noting its presence—but you really need to make a beeline for it at your earliest convenience. Their Instagram feed has us drooling on the regular, thanks to epic plates like their pork belly benny and orange blossom hotcakes.
Piggy Back Cafe
Jindalee
If it's a colourful breakfast you want, you'll want to head for Piggy Back Cafe, where the only thing more vibrant than the fairy floss-adorned French toast are the rainbow lattes. You may leave in a sugar coma, but it will have been worth it.
The Corner Store Cafe
Toowong
The Corner Store Cafe is pretty much the cradle of brunch for the entire west side, paving the way for breakfast trends the city over. Their latest menu has some amazing inclusions (hello pear and rhubarb crumble waffles) but we're fanging for the wagyu pastrami, kale and potato hash.
Billykart
West End
We're big fans of classic brekkies, and no one does classic with a twist quite like Billykart. They take cheese souffle and turn it into a breakfast dish with bacon or cured salmon (you choose), poached eggs and herb hollandaise, and top their housemade crumpets with pork and foie gras rillette (it sounds fancy but believe us, you will be glad you tried it).
Pitch & Fork
Toowong
The best thing about Pitch and Fork is that their menu always changes to reflect the season, so you know you're always getting the freshest ingredients. So get your pitch and/or fork ready to yield to some tasty brunch fare. Some absolutely cracking features on their latest menu include vanilla bean panna cotta with macadamia crumble, a crab omelette and breakfast gnocchi.
Cache Cache
Rochedale
Who says the cafes on Brisbane's outskirts aren't delicious? Rochedale's Cache Cache doesn't just look good, it's also got a seriously drool-worthy breakfast and a selection of delectable cakes to boot. With eats like their cornflake crusted chicken stack with eggs and avo, and epic breakfast platter for two you'll want to have your stretchiest pants on for this one. We also can't go without mentioning their decadent smoothies, including their staple chocolate and banana smoothie topped with whipped cream and fresh banana.
To Be Or Not To Be
Westlake
To brunch or not to brunch? The answer is always to brunch if To Be Or Not To Be is involved. This Westlake cafe may be Shakespeare-inspired, but the eats here are anything but tragedies, with a menu full of creative breakfasts like purple-hued taro pancake stack with passionfruit gelato, market fruits, and cotton candy or the aptly named "Benny-Act 3" with chorizo, parmesan croquettes, chilli jam, sauteed greens and gochugaru hollandaise. Shakespeare himself would be drooling.
Hunter & Scout
Graceville
Lush and green, Hunter and Scout is the place to go to make the most of Brisbane's perpetual summer. Their all-day breakfast menu covers the entire spectrum from stalwarts like the big breakfast and a classic avo toast, to ricotta hotcakes with caramelized figs or a three-cheese hash brown benedict.
Anouk
Paddington
An all-day menu is tough to pull off because it needs to provide zesty lunchtime options that are also feasible for breakfast. Safe to say that Anouk nails it every time. Their seasonal menu has some hectic features like a folded omelette with Thai pork stir fry and mind-expanding lemon ricotta doughnuts.
Little Dreamer Café
Calamvale
Breakfast dreams are made (and eaten) at Little Dreamer Café. All their breakfast eats are a stunner to look at, but none as much as the Dreamer's breakfast tower. Comprised of two levels (yes, TWO), it features a board piled with eggs, bacon, hash browns, avocado toast, and other breakfast goodies, crowned with a plate of waffles.
Joedy's Cafe
New Farm and Fortitude Valley
Conveniently located across the road from the stunning New Farm Park (as well as tucked away in McLachlan Street for their recently opened second venue), Joedy's Cafe has one of the best seats in the house when it comes to Brisbane's best cafes. Their all-day menu offers options for everyone, including eggs benny on a toasted croissant and house granola with raspberry sorbet.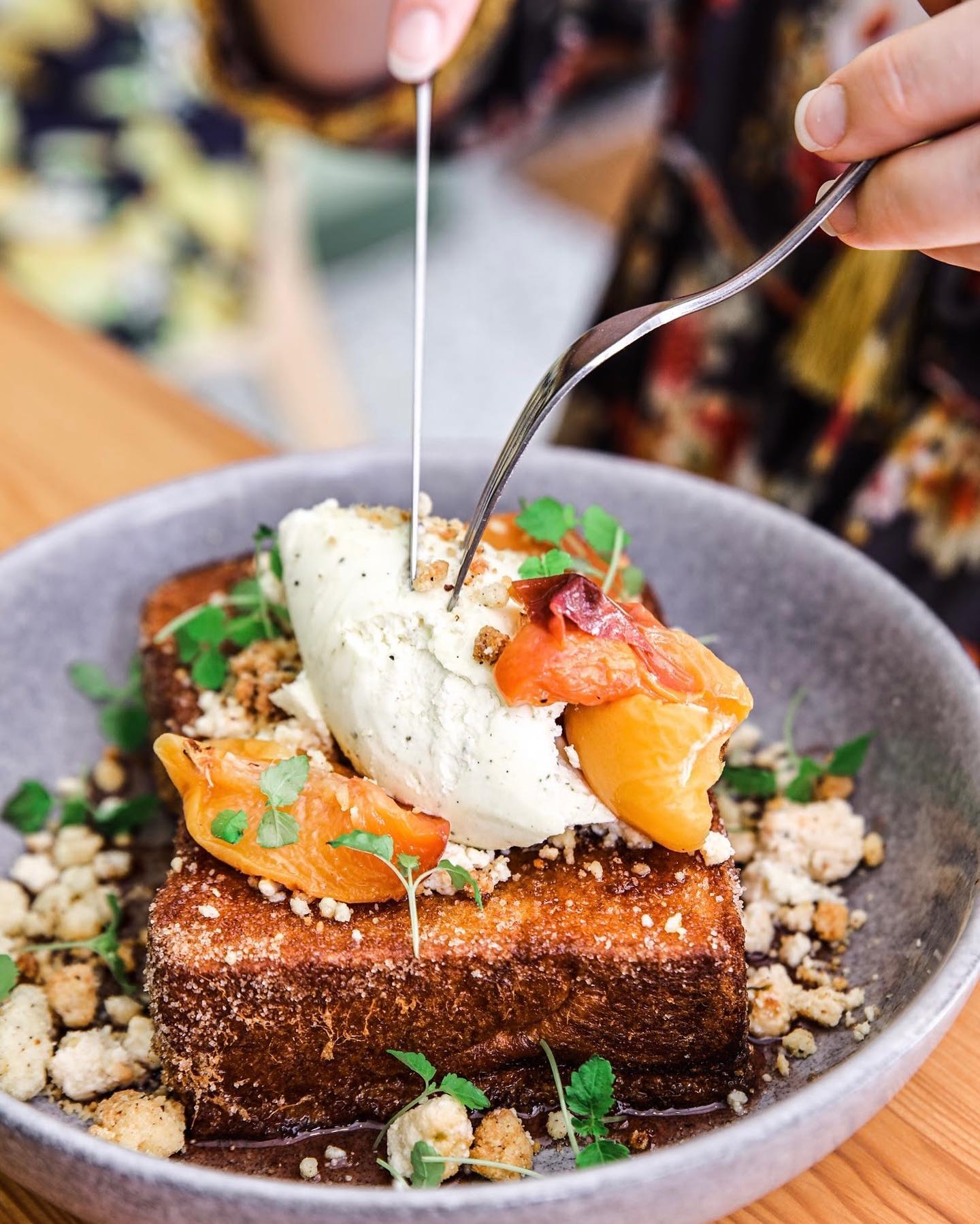 Plentiful
Graceville
The newest spot on our list, Plentiful has been wowing brunch lovers since the day they opened, thanks to their generous servings and luxe surrounds. There's so much we love on their menu, from their weekly special filled croissants (previous editions include flavours like Ferrero Rocher) to the buttermilk fried chicken and house-made potato and chive waffle.
Southside Bistro
Sunnybank
Tucked away in Sunnybank is Southside Bistro, a cosy spot that dishes up the breakfast you never knew you needed: The breakfast puffle. With spiced honey poached fruits, cream Anglaise and salted plum jelly wrapped in a Hong Kong egg waffle, it's a sight for sore eyes—and stomachs.
Naim
Paddington
Naïm has earned quite the reputation for its beautifully plated, Middle Eastern-inspired breakfast menu featuring dishes like tiramisu waffles and brekkie pita boards. If you're a sufferer of meal envy opt for the shakshuka (baked eggs) with toasted Turkish bread—it's one of the best dishes on offer.
Gramps Cafe
Red Hill
With mismatched furnishings and a cosy feel, there's no better place to get a home-cooked meal than at Gramps Cafe. They'll fix you up with some early morning staples like savoury mince with labna and capsicum chili jam, pumpkin bruschetta or their signature gooey ham and cheese toastie, all made with love and best served alongside a fresh brew.
Deedot Coffee House
Holland Park West
If you're one of those people who thinks the more creative the breakfast the better, Deedot Coffee House might just be your match made in heaven. You could just opt for something off the all-day menu, like the chicken katsu eggs benedict with cornflake fried chicken and curry hollandaise or the pumpkin and feta fritter with eggplant relish, but really, it's the weekend special you'll want to dig a fork into.
Want more than just the best cafes in Brisbane? Check out these 50 Brisbane meals you should have eaten by now.
Image credit: Chapter IV, The Green, Huskk Cafe, Kin and Co, Joedy's Cafe